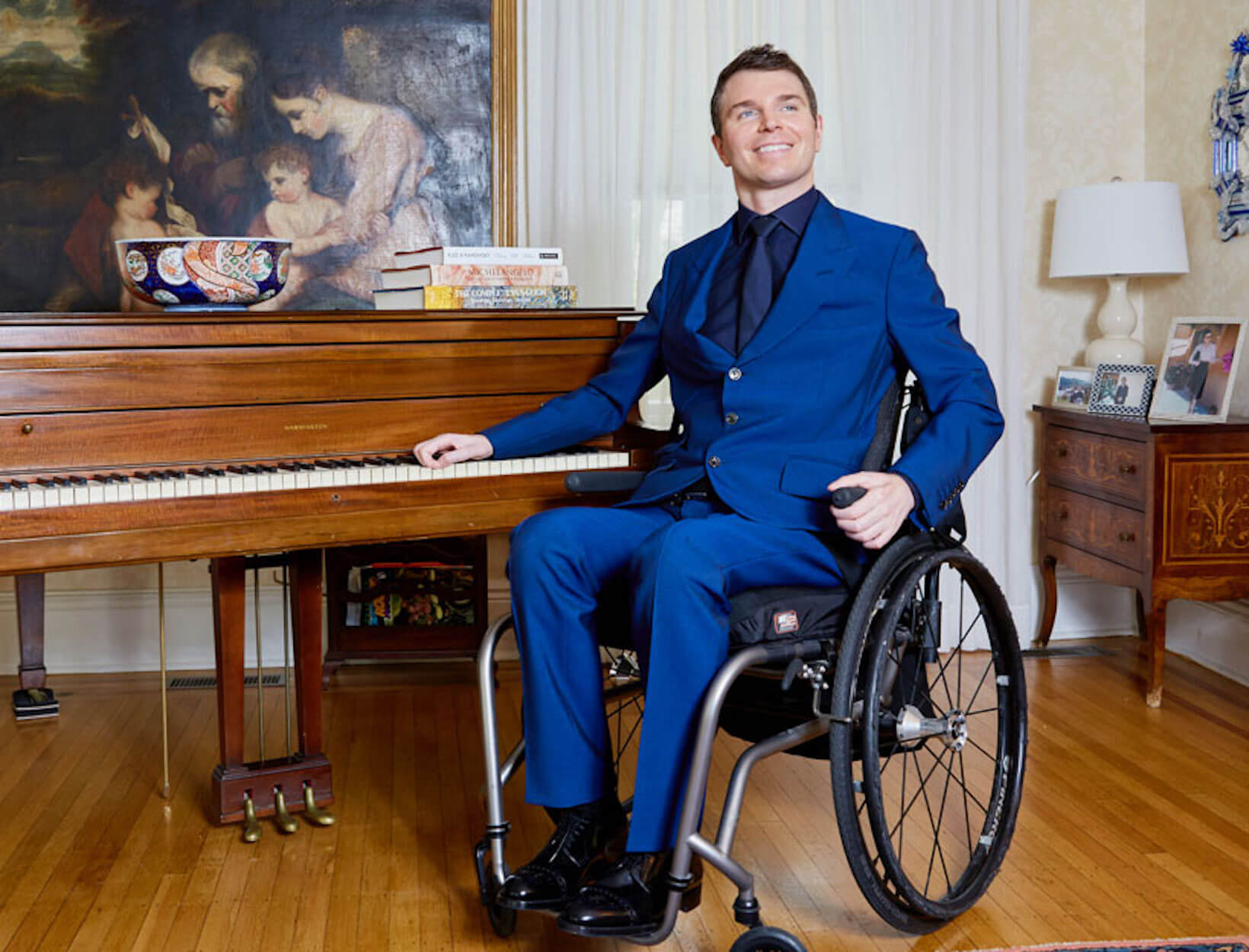 Photo courtesy of The Select 7
The Beauty Closet Questionnaire
The Power of the Mirror Moment
goop beauty editors Jean Godfrey-June and Megan O'Neill love to ask—and answer—questions. In their podcast, The Beauty Closet, they're doing both. To familiarize you with each week's guest, we came up with a goop beauty (and life) questionnaire.
THIS WEEK WE'RE TALKING TO:
Francesco Clark, president and CEO, Clark's Botanicals
The few minutes every morning you take to smooth on skin care and consider yourself and the day ahead are far more significant than they seem, says Francesco Clark, the founder of Clark's Botanicals, a national ambassador for the Christopher & Dana Reeve Foundation, and the author of Walking Papers: The Accident That Changed My Life, and the Business That Got Me Back on My Feet. "It's about bringing forth and strengthening your inner hero," says Clark on the latest episode of The Beauty Closet. "And that spine-tingling sensation of walking down the street and feeling so in tune with yourself that a stranger smiles at you."
Clark survived—and has thrived in the aftermath of—an injury that paralyzed him from the neck down, and he created his wildly luxurious, results-oriented skin care out of his need for something that would work on his reactive skin (a side effect of paralysis). He helps raise millions for people with disabilities and is something of a medical miracle in terms of his own physical progress. Clark credits the mental shifts he made (he was even profiled in a documentary on happiness) for the life he has today. He's about as inspiring as it gets—and also hilarious—but it's his perspective on the little habits, gestures, and rituals we do every day (including a moment with something called Jasmine Vital Cream) that's really life-changing.
We got the details on those habits and rituals on the podcast, then got even more specifics when we sent him the goop beauty questionnaire.
First job?
I was hired at Condé Nast to be the assistant to the special projects director (now a dear friend). It was a dream job for a twenty-two-year -old. They flew me out to LA to assist with a cover shoot and a movie premiere and to meet many amazing film-industry people. It was a lot of work with long hours, but it was so much fun. I couldn't get enough. The hours were a bit haphazard, so it was perfect for me at that age but would be difficult now.
Currently in your goop shopping cart?
I'm getting the Birkenstock Arizona sandals for my mother. My mother is always on the go, working with my father, and as an active and chic mother and grandmother, she wants comfort and style even during the summer months.

The Caraway Ceramic Cookware Set: We're renovating our house and making it accessible for my wheelchair, which has been a feat, but as we are getting ready to settle in, I want it to be cheerful and comforting. I love the fact that this cookware set is a little whimsical, and it's Teflon-free and nonstick, super-duper clean, and healthier for us.

The stone diffuser is natural and fits in so well with any style room, whether you're looking at it through a more antique lens or contemporary. It's welcoming either way, and I like how the stone naturally absorbs the scent you love without even having the diffuser filled all the time.

And the G. Label Deven Link Necklace for I don't know who yet for Christmas. I'm pleasantly surprised by G. Label's jewelry designs—the timeless aesthetic of this necklace reminds me of a casual European-country elegance, almost a little Mr. Ripley–esque.
Go-to weeknight recipe?
Barefoot Contessa's lemon shrimp because it's so quick and easy to make, except I cheat and add white wine to the butter sauce.
Essential beauty products?
Um, hellooo: our Jasmine Vital Cream when my skin is oily or reactive and needs soothing, plumping, and calming. And our deep moisture mask to make me look like I've slept more than four hours. Right now, I'm formulating some new products, so my face is half one product, and the other a new biotech serum. Let's hope I don't look like a mummy tomorrow.
How often do you charge your crystals?
If by crystals, you mean my iPhone, then twice a day. Joking aside, I do have some large crystals near a large glass door: In the sun, the light refracts into a prismatic veil. And it always happens when I'm stressed out, as if nature wants to remind me how despite all the troubles, there's still room for the unexpected and beauty.
Glowy-skin trick?
Add three drops of Jasmine Vital Oil to our Deep Moisture Mask and the micronized red algae will plump your skin. I call it candlelight in a bottle.
Favorite hotel?
The Gritti Palace in Venice, Italy. I grew up in Italy, splitting time between Bologna and Cortina d'Ampezzo and miss it so much. I'm resolving to travel more despite some of the inconveniences because of my wheelchair.
Shower or bath?
I have a crazy shower routine because I always mask and exfoliate before going into the shower. I get bad acne and in-grown hairs and our Dual Charcoal Detox is my savior. It smells light and fresh. My scalp gets incredibly sensitive and raw, and it reacts as quickly as my skin if I use a regular or aggressive shampoo. So I use a sea salt or coconut oil scrub shampoo twice a week and Grown Alchemist shampoo. Everyone in this house gravitates toward my bathroom, so I hide a stash. If a product has artificial scent added to it, I look like a lobster five minutes later, and I am scratching to the point where I look even more crazy.
Typical hair look?
Christophe Robin natural hair wax with a very light touch. If I need to be more formal, I like to use texture hair spray. DJ at Serge Normant is a dear friend. He cuts my hair so I can try to forget my high school bowl cuts.
Best book?
Brave New World by Aldous Huxley. It's insane to think how prescient it was and stands up even today.
Preferred form of exercise?
I am hyperactive, so cardio is my go-to. I have a bike that I pedal with my arms that also helps move my legs. I pedal lying on my back, and I'm on work calls the entire time. I love it.
Drink of choice?
Negroni.
Perfect Sunday afternoon?
We have family dinner nights every Sunday, where my mother cooks a three-course meal. Skipping the meal or her handmade pasta is sacrilegious. She grew up in Reggio Emilia, where Parmigiano-Reggiano comes from, and then moved to Bologna for university studies. Bologna, beyond being home to the oldest university in the Western world (Dante is an alumnus), is also known as the culinary capital of Italy, so we push our carb loading to its limit.
goopiest thing you've ever done?
I once burned sage and used the burnt sage to make tea. Burnt sage in a tea is disgusting, let me just say.
What would you put on your neon sign?
The best revenge is success.
Beauty philosophy?
You know those five minutes you have after you shower in front of the mirror, as you are getting ready for the day? It's that short window of time where you're not looking at your phone and you're applying moisturizer or face oil, but your mind is transported somewhere else. That's what I like to call our mirror moment. We all have these moments every day, and they are truly those instances where we visualize what we need to do for the day and how great it'll be. In that visualization, I imagine this dynamic person getting everything done with ease and joy, and after a couple of seconds I realize that there's no reason that the person I'm visualizing can't be me. It's empowering.
What I love about skin care is that it's about being completely transparent, but at the same time, being the strongest, most confident version of yourself. Skin care is not about hiding anything but more about bringing forth and strengthening your inner hero. And that spine-tingling sensation of walking down the street and feeling so in tune with yourself that a stranger smiles at you. People will notice.
---