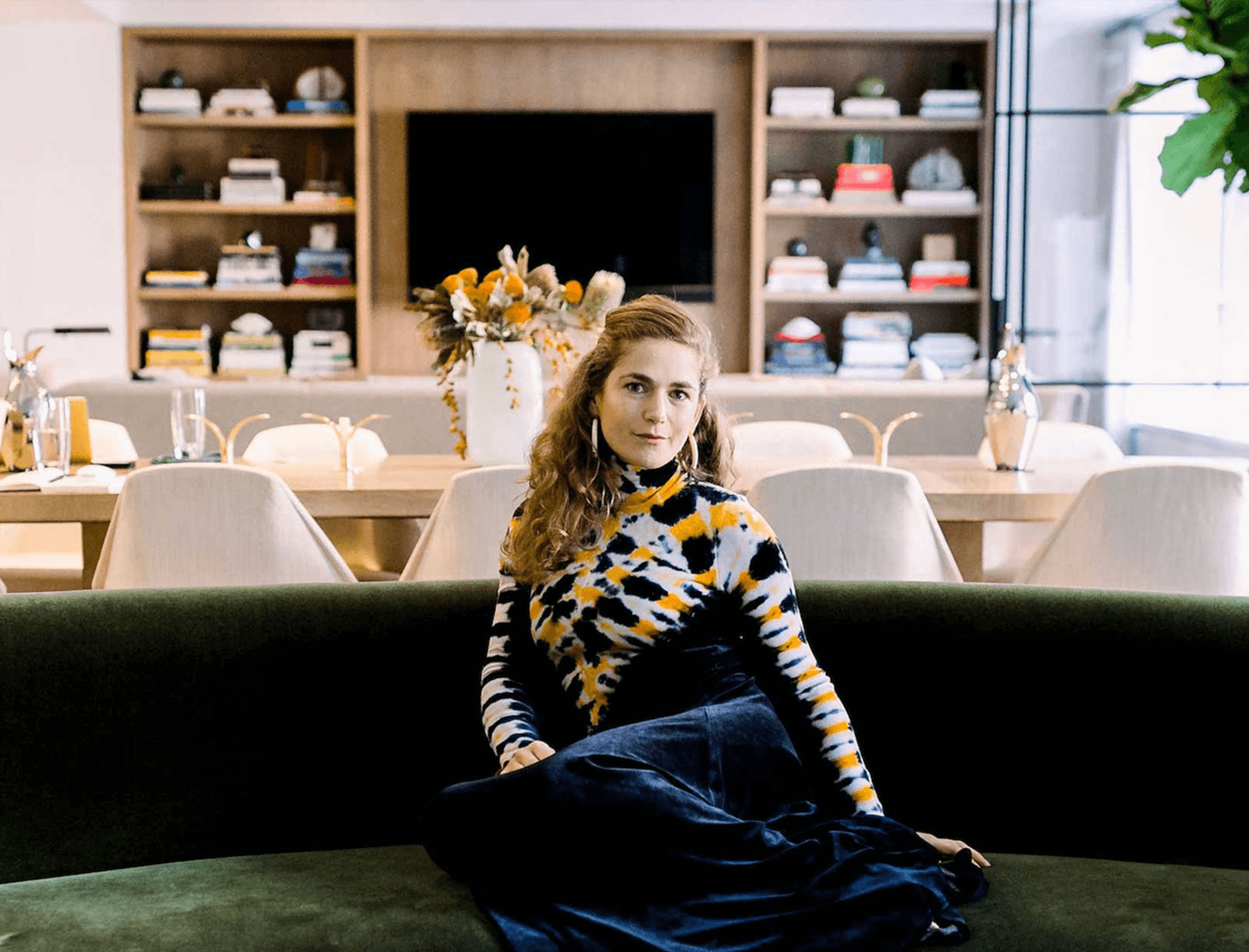 Photo courtesy of Yumi Matsuo for Guest of a Guest
My Morning Routine
A New Baby,
Two Businesses
to Run,
and a
Moment of Quiet
Claire Olshan |
Founder of Fivestory and DADA
Claire Olshan rarely takes the beaten path. As the founder of New York's Fivestory, she created an eclectic, trend-agnostic, wildly successful fashion boutique inside a townhouse. Now that the store is well on its way, she's founded DADA, a chic healthy snack company (we cannot say enough about the hot turmeric cabbage petals and the almond-butter Brussels sprout chips). "Beautiful things bring me joy, and I've always wanted to bring that joy to other people," she says. "With Fivestory, I wanted to get away from the idea of trends: Clothing can live forever if you buy classically interesting pieces. With DADA, I want to break the rules of health food. All the rules and restrictions are a recipe for failure. I want to get rid of the 'nos' in eating (cheeky note—'da-da' means 'yes-yes' in many Eastern European languages), the calorie counting, and the dieting. If people listen to their own bodies and eat clean, well-sourced food, they'll be in a very good place. Why diminish the joy of a snack by making it into a calorie-counting math problem?"
Olshan says she wants to bring joy, beauty, and elegance to snacking; the packaging alone makes this apparent. "We want these little snacks to sit on your desk, be brought to the dinner table, and even be served at a dinner party," she says.
Olshan had a baby eight months ago—so her mornings can get pretty busy. But her forever focus on ease and elegance is infused into her morning rituals.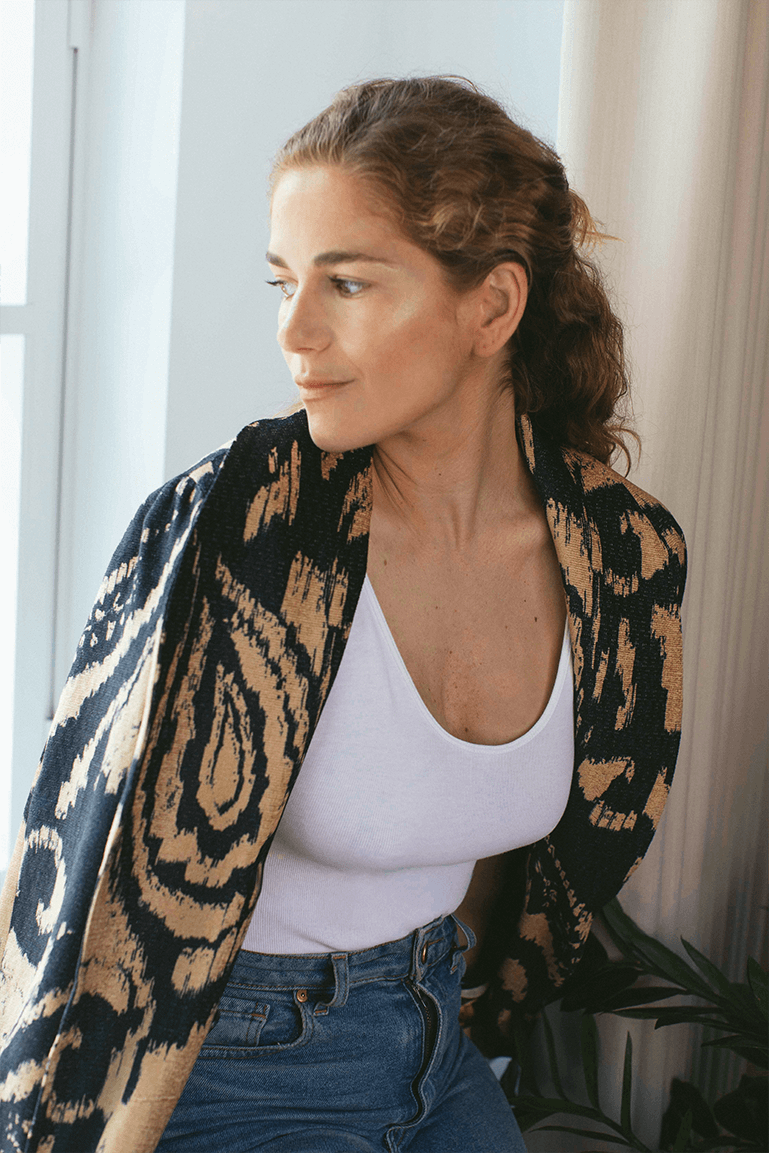 6:15 a.m.: I've always been a morning person—I absolutely love quiet. Silence is the unsung hero of our day, and we often take it for granted…or rather, we try to fill it when it creeps up on us. I do ten minutes of meditation, usually using "semi-guide" on Headspace, and then get ready for the next twelve to fifteen hours of my (very much) silence-free life. I used to think if I couldn't do something perfectly—like meditate for twenty minutes in silence—I shouldn't do it at all, but I've learned to stop looking for perfection in that way. Just being kind to myself and saying (I literally say it out loud) "Do your best" creates beautiful rituals that are way more enjoyable and easy to keep up.
6:45 a.m.: I make my son's bottle. I just stopped breastfeeding, so I did a ton of research, as I was very wary of most formulas. I landed on Holle goat's milk formula and have been really happy with it. There's nothing better than a tiny human staring at you in the morning all smiley and excited to start the day, so for a little over an hour, we giggle, read books, and honestly just have the best freaking time. He is more of an energy boost than any coffee, matcha latte, Barry's Bootcamp, you name it.
8 a.m.: Three things go into my body before anything else—juice, matcha, and vitamins. I usually have some version of spinach-beet-carrot-celery-lemon-ginger juice. I make my matcha with Kilogram matcha and Milkadamia unsweetened vanilla milk, then I take Genesis Gold, a magical mix of vitamins.
8:30 a.m.: I run on the treadmill for as long as three miles takes me; sometimes it's leisurely, sometimes not. Either way, it's the best way to get my juices flowing. If I have time, I take a class at Forward Space, which is the greatest dance class on the planet and an incredible way to create a fun, carefree mind-set for the day.
My new obsession is Ghost Flower workout clothing. The duo behind it collaborated with Eastern-medicine experts to design around the body's energy channels and acupressure points.
9:15 a.m.: I shower with True Botanicals shampoo and conditioner, both of which I love.
9:25 a.m.: I start my beauty routine, always populated by goop (I love the balm cleanser) and Drunk Elephant (the face oil and serum).
Then I head into the makeup portion of the morning with Kosas. The tinted face oil and the combination blush/highlighter (in Tropic Equinox) are just brilliant.
9:30 a.m.: Time to get dressed! My favorite designer is Rosie Assoulin—her clothing is just easy and fun and always so original. I own about ten of her suits; usually I throw one of those on with a turtleneck and some Feit hiking boots and call it a day.