This 51-Year-Old London Facialist Has Gorgeous Skin (Here's How She Gets It)
Written by: Megan O'Neill
|
Published on: December 12, 2019
|
Updated on: May 1, 2023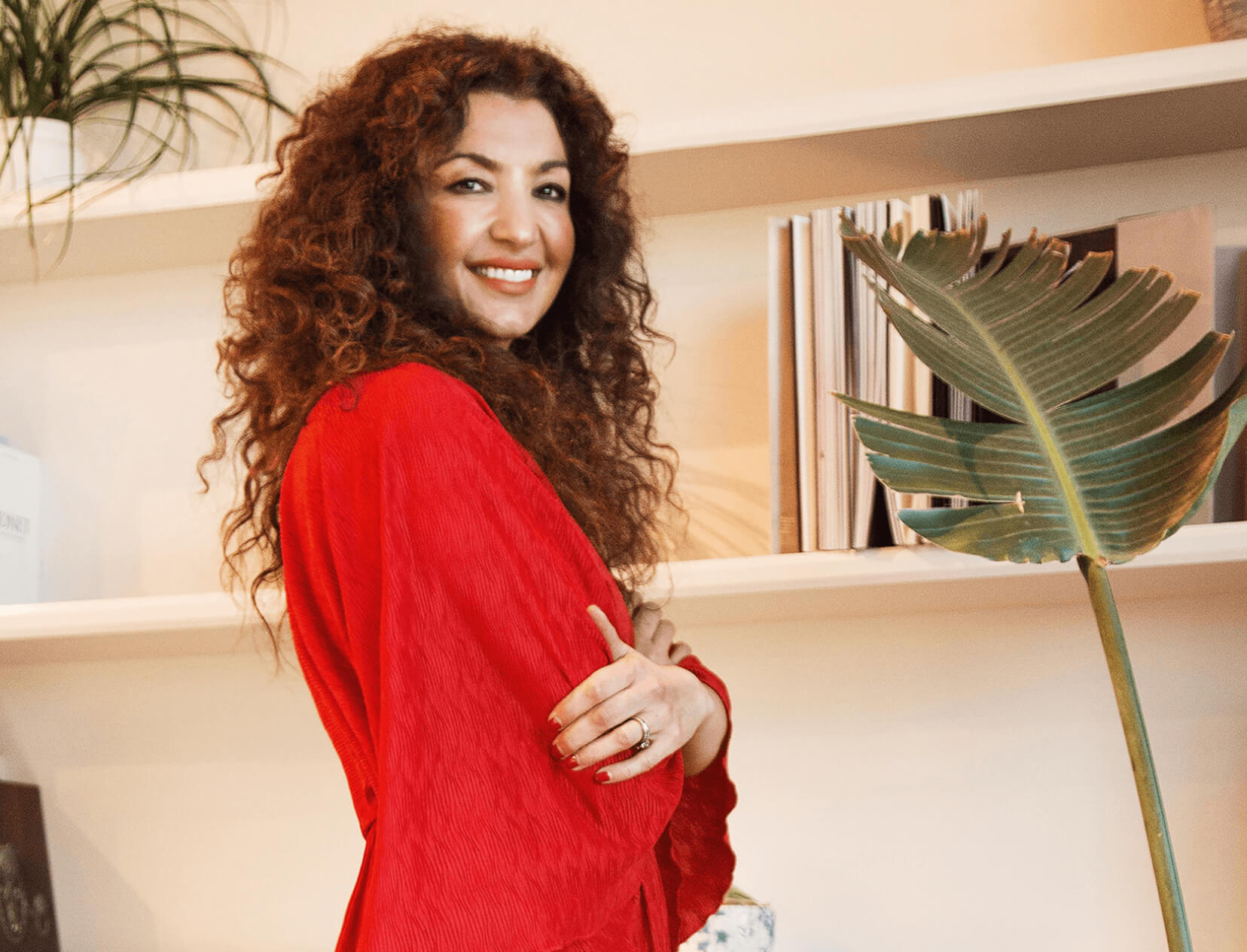 When Fatma Shaheen walked into the goop office one afternoon, the patter of fingers flying across keyboards stopped abruptly, chatter dissolved, and the room stood still for a second. Shaheen's wind-whipped curls, killer dress hugging her killer body, and gleamy, flawless skin were impossible to ignore. Her complexion looked even more radiant up close. When we found out she was 51 years old, we practically fell out of our chairs.
London-based Shaheen is, of course, a professional: Vogue Italia calls her one of the most famous facialists in the world; her clients include Naomi Campbell, Naomi Watts, and supermodels Candice Swanepoel and Irina Shayk; and her appointments at Matchesfashion's townhouse in Mayfair are booked months in advance. (Her most popular facial is the SDL Facelift, a bespoke mashup of ultrasound, vitamin peels, radiofrequency, and something called a Glow Pen—which combines microneedling and electroporation, a form of microcurrent designed to deliver active ingredients into skin—for sculpted, lifted, luminous, incredible skin.)
But it's Skin Design London, her line of fast-acting peels, creams, and serums, that Shaheen—she's the founder and CEO—is most proud of. Aimed at rejuvenating skin with complexion-clearing active ingredients and powerful moisturizers, the formulas feel gorgeous on, they deliver noticeable results, and the packaging is some of the sleekest we've seen.
The whole line is stunning, but the new Cherry Gloss Peel, which took Shaheen more than eight years to formulate, is one of the most skin-restoring, luxurious-feeling, and incredible-smelling (think fresh-picked cherries) treatments ever. Swirled with fruit-derived antioxidants and glycolic and lactic acids, it targets dullness and pigmentation, leaving skin brighter, softer, and absolutely radiant. "It's great for waking up tired, dry, dull skin," says Shaheen, who uses it on clients before they storm the red carpet at the Grammys, Oscars, and fashion week.
In addition to her miracle peel, Shaheen recommends this works-for-all-skin-types routine for stoking the glow she's famous for.
1
Cleanse Thoroughly
"Cleanser is as important as serum; when skin is clean, it means all the actives in the treatments you use afterward can work more efficiently to really treat your skin. I wash my face in the morning with Face Bath—it's a whipped balm that melts away dirt, oil, and makeup with exfoliating fruit acids and floods skin with antioxidants and lipid-based hydration. I massage it over my skin using upward lifting movements, then smooth it off with a cold damp face towel."
2
Brighten with Vitamin C
"I use vitamin C every single day—massaging it over my face, neck, and chest. I've seen a big difference in my skin over the years, especially in texture."
3
Lift and Firm with Peptides
"A few pumps of Face Tight serum—it's made with our triple hexapeptide technology and is designed to plump and lift—leaves my skin tight, glowing, and ready for the day. It's also the best makeup primer; it works so well under foundation."
Potent Peptide Concentrate

Skin Design London

Face Tight Serum

goop, $220

SHOP NOW
4
Moisturize
"This cream is like a layer of love for your skin. It melts right in and creates a semimatte finish, depending on your skin type. The actives in here—the most significant being alpine rose from the Swiss Alps—are blended with antioxidants, mild acids, and plant extracts, so the cream fights free radicals while also hydrating and plumping your skin."
5
Sunscreen
"I always finish my skin routine with sunscreen—I love the dewy finish."
6
Pamper Your Body, Too
"I love the body butter from goop—I put it on after my shower in the morning."
7
Eff Up Your Eyeliner
"I always have a smoky, smudged look (I have so many brown eyeliners). I never leave the house without it."
goop Pick
8
Customize Your Lip Color
"I mix goop lip balm with my favorite lip liner—the best combination."
goop Pick

Ere Perez

Coco Crayon

goop, $27

SHOP NOW
9
Target Pigmentation and Dullness at Night
"A strong treatment-based nighttime routine is key for keeping your skin looking fresh. I remove my makeup with Face Bath, then apply a layer of the Cherry Gloss Peel over my face, neck, and chest, leaving it on for 30 minutes. I massage just a dab of Face Bath on again over the peel to remove it and smooth everything off with a cold face towel. I press in a few drops of Face Tight serum and layer on moisturizer."
10
Love Your Skin—and Take Care of It Consistently
"The trick is to figure out how to make your routine feel like an indulgence so that you want to do it every day. Find products that feel amazing on and give you real results."