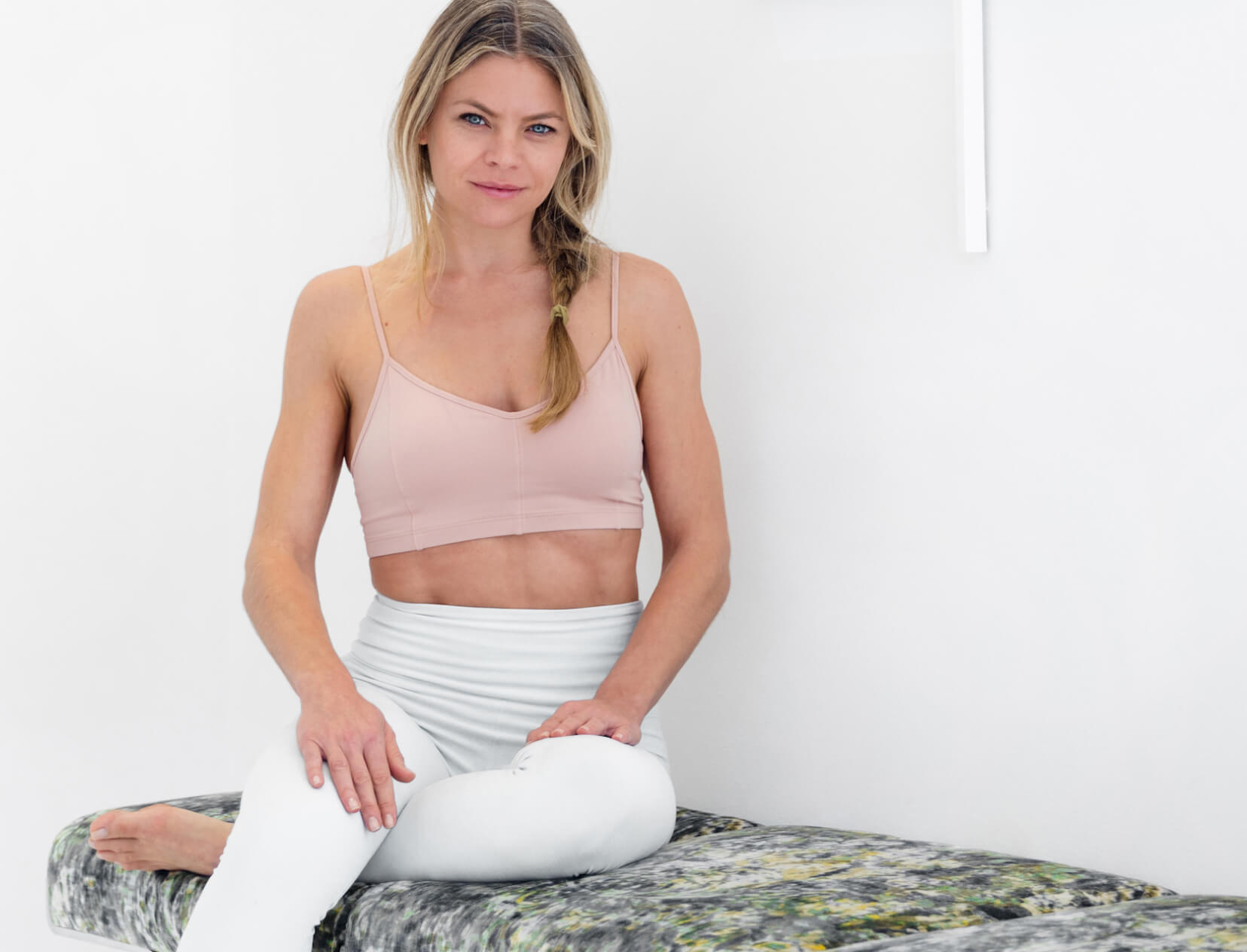 Photo courtesy of Patricia Pena
Hello, My Age Is: 41
Age Beautifully with Pilates and
Some Amazing Clean Skin Care
Erika Bloom |
founder of Erika Bloom Pilates
Book a Pilates session with Erika Bloom and, in addition to activating muscles you never knew you had, you can't help but be more than a little in awe. Everything about her is inspiring—her glowing skin, graceful body, and cascade of beachy hair, as well as her incredible range of knowledge: She's studied nutrition; she's developed programs to help people with osteoporosis, structural alignment, and diastasis recti; she previously practiced as a birth and postpartum doula; and she's one of the biggest names in Pilates. "My natural body type is different from what I've achieved with Pilates," says the Manhattan-based single mom of two. "Pilates allows us to continue to move beautifully as we age, whereas a lot of exercise methods break down the body and cause injury as we get older."
It's hard to imagine, but before Bloom started her successful business—she's got airy studios in New York, LA, the Hamptons, and the Amanyara hotel in Turks and Caicos, and she also now teaches remotely—she was unhealthy. "I have an autoimmune disease, and I was very sick from it," she says. "Biomedicine didn't have the tools to make me better; I was determined to figure out how to feel good and not die young. I started exploring nutrition, acupuncture, and other ways to support myself and my body." She'd always been attuned to the mechanics of muscles and movement—she grew up in a family of physicists and was a professional dancer in her twenties—so she got certified in different bodywork therapies, eventually turning to Pilates to help rehabilitate herself after suffering an injury. Her mastery of anatomy is one of the reasons why she's such a brilliantly intuitive instructor, able to detect even subtle misalignment by merely glancing at a client who's standing completely still.
At forty-one, Bloom looks impossibly sleek in the spandex she spends much of the week in and exudes a calm, radiant energy that she credits, in part, to a powerful clean skin-care routine and to having had kids. "I'm healthier and more connected to my body now than I was before I had my children," she says, "I think that's possible for anyone." Her advice on aging gracefully, perhaps unsurprisingly, starts with Pilates.
1
Make Work Joyful
I wake up every single day wanting to do Pilates. Never, ever am I not in the mood. I taught at 6:30 a.m. this morning, and I couldn't wait to get into the studio. As for the business part of running a company: Hire people who know more than you, who have a similar life outlook, and who bring you joy. Does work ever stress me out? I can't let it—my business is about being calm.
2
Caffeinate in the Morning Only
Caffeine can cause anxiety, and I don't sleep as well if I have it later in the day. Drinking coffee when you're tired is ignoring a signal. If you're tired in the afternoon, that's an indication to look at your sleep or nutrition habits. It can be as simple as someone not eating enough lunch, and that makes them sleepy midday. Just drinking water or taking a break to disconnect from your screen can be tremendously helpful in giving yourself a boost.
3
Moisturize in Layers
I definitely have a routine, and if I skip it, it's not cute. I smooth the Vintner's Daughter essence onto clean skin—it has this incredible brightening effect. I'm obsessed. I had it on the other day and someone thought I was wearing foundation! For serum, I use the antioxidant elixir from de Mamiel. It's so moisturizing and feels almost jelly-like going on, plus it's super light, so it's perfect under makeup and for summer.
4
Exfoliate
On days when I don't need as much moisture, I like the Resurfacing Serum from Tata Harper, which has exfoliating acids and gives a subtly sculpting effect. I have wrinkles and my skin is dry but it also breaks out, and this mask from Tammy Fender moisturizes, exfoliates, and clarifies all at once, which I love.
5
Have a Body-Skin
Routine, Too
I love dry brushing—it helps me with stress and tension—and I love the goop one, which I use before I shower. As a single working mom, I shower whenever I can find ten minutes, and the dry brush beforehand makes it just a little more indulgent. To moisturize, I use this body oil every day—the rose hip oil smells so fresh and amazing. When I want to slip on a white silk dress, I love the body serum from de Mamiel. It's magic, like everything she makes.
6
Go Subtle
with Makeup
I don't want makeup to change how I look, so it's more about enhancing than covering. What's wonderful about clean products is that they're healthy for your skin and support it with nourishing ingredients. I dab the lip and cheek tint from Tata Harper on my lips, cheeks, and eyes for a natural flush; do a little mascara from Ere Perez; and smooth on the tinted moisturizer with SPF from Josh Rosebrook.
7
Good Fats Make Great Hair
My texture is naturally wavy, but for me the key to healthy, shiny hair is eating good-quality animal products and the fats and collagen and vitamin B12 they naturally provide. I eat regeneratively farmed, pasture-raised meat and boil the bones to make broths. I don't eat or purchase processed foods.
If I have breakfast (I skip it if I'm not hungry), I have scrambled eggs and a salad of cruciferous veggies with lemon, salt, and olive oil. For lunch, I like a protein—pork or salmon—with two different green veggies, like braised rainbow chard or broccoli rabe. I try to avoid snacking by eating enough at each meal. If I do need to eat something, I try to have more of whatever I ate for my meal. For dinner, I might have a grass-fed, local, regeneratively farmed steak; kale salad; and one more vegetable for dinner. If I'm craving a carb, I add squash, beets, or something cruciferous, like cauliflower.
8
Choose a Uniform
I've been wearing the same exact thing since I was a little girl (when I'm not in workout clothes, that is): a white peasant top and high-waisted vintage jeans. Sometimes I'll wear a white dress, but that's kind of it.
9
Love Every Wrinkle
If you're enjoying life—loving your family, having orgasms—the wrinkles on your face look good. I didn't grow up in an environment where physical beauty mattered, and later, as a professional dancer, I was more focused on how I was performing as an athlete than on what I looked like. There was a woman I became friends with when I first moved to New York who had a big influence on me: She was always happy and confident and had these lovely folds on her face that showed her beauty and intelligence.
10
Cut Sugar
I don't eat refined sugar. I think a lot of people don't even necessarily like how it tastes; they just love the buzz. It also has such strong emotional associations: We think of it in a celebratory context. My kids and I have made a habit of celebrating holidays and special occasions by doing an activity together rather than making it about, say, eating Christmas cookies. We're a no-sugar family, but we're not restrictive. If one of them has cookies at a friend's house, that's fine. We have steak and bacon and vegetables and have so much joy around food. My philosophy around drinking is: Enjoy it. But I don't do it if I recognize that I want to drink because I'm not processing feelings.
11
Stay Calm (and Dance Around)
The more we can shift our nervous system from fight-or-flight to a place of rest and calm, the less we age and the better we feel. I have daily practices to keep me calm: I do restorative movement based on the Feldenkrais Method [a technique that uses gentle movement to retrain the body to move more efficiently], and I connect with nature, whether by taking time to look up at the sky from my terrace in the morning or by going on a hike when I'm not in the city. I dance to '90s post-punk indie music—super random, but it's my favorite. I don't meditate every day, but I do breathwork. Cooking is also very stress-relieving.
12
Embrace the Beauty and Power of Birth
I became a doula because I wanted to help women make better choices, ask questions, and educate themselves before going into labor (I'm not currently practicing). I was premed working in an ER and witnessed women having obstetric and gynecological emergencies. Often, they weren't given choices, and I saw surgeries happening that didn't necessarily need to happen. Biomedicine is incredible and saves lives, but I felt we needed a better way to support women in birth. So I left the idea of becoming a doctor of biomedicine and moved into prenatal Pilates, diastasis recti [helping to rebuild postpartum clients' core after the separation of abs during pregnancy], and pelvic floor rehabilitation. Pregnancy and labor can be about getting in touch with your body and finding out how powerful your core really is. You don't have to be stuck with certain issues: You can strengthen and change your body and feel empowered after giving birth. I had wonderful, joyful, orgasmic births and saw that that was possible. It wasn't just luck and genetics, either—my son was posterior and had his cord wrapped around his neck. But I was still able to have some beautiful birth experiences.
13
Your Body Can Change
I have scoliosis—it runs in my family—and one consequence is it makes you shorter and rounder as you age. I'm committed to counteracting that. You can improve scoliosis curves with movement and alignment, just as you can change bone density by changing how you move: If you're putting more weight on one foot your whole life, the bones in that foot will be thicker and denser. That can happen throughout the entire body. Pilates sharpens awareness and forges connections in the body, supports breathwork and meditation, corrects posture, and teaches the body how to maintain biomechanically correct movement. I love adding in Bala Bangles—weights allow you to feel which muscles you're accessing and help tone and improve form and proprioception. Keep your weights light enough so that you can do a full range of motion, keeping the intrinsic muscles of the joints and postural muscles engaged while working the area you're targeting. The result is a healthy body and lean-looking muscle.