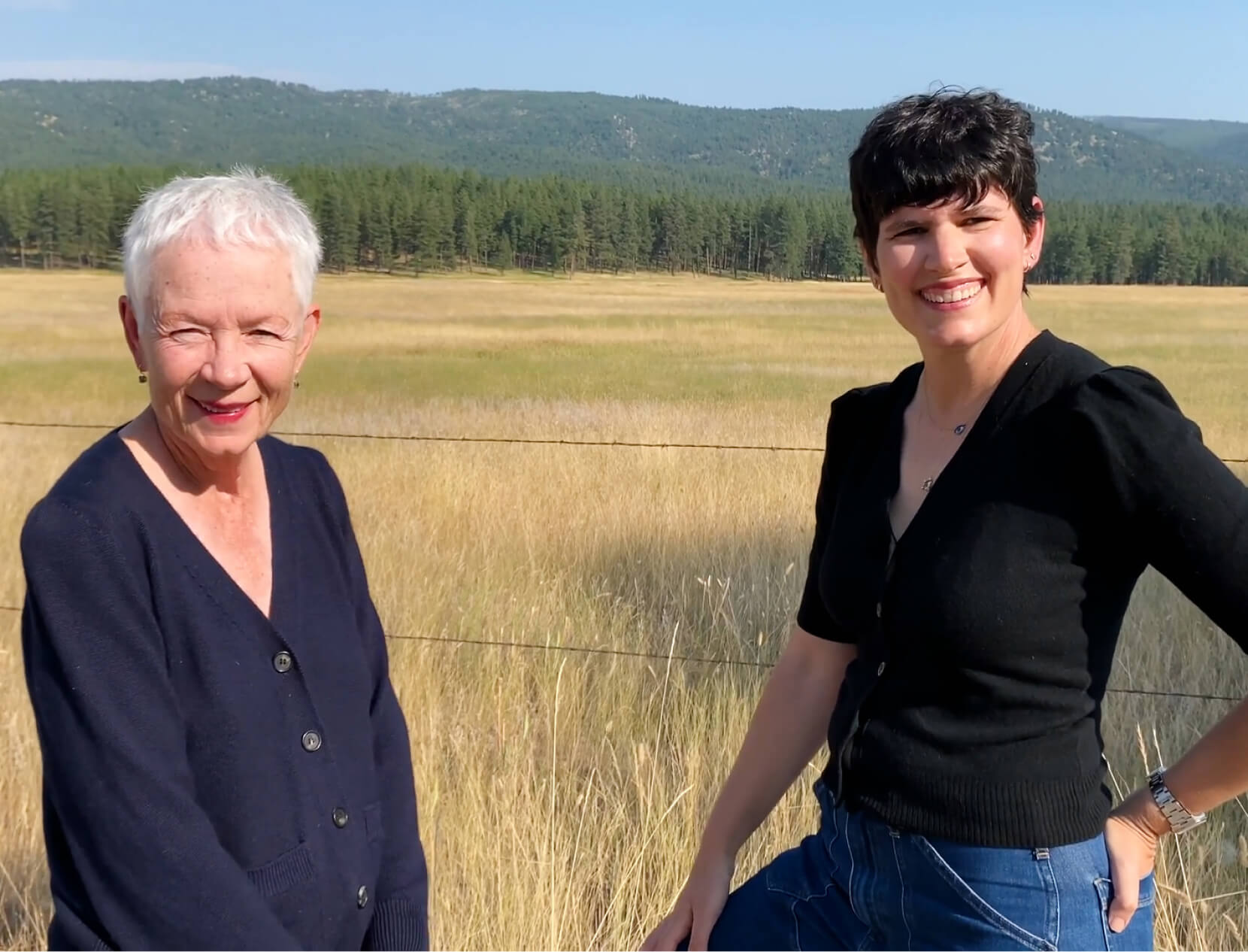 Elise, 40, and Her Mom, 70, Talk Skin, Aging, and Their Signature Short Hair
We now know for sure where editor at large Elise Loehnen gets her gorgeous skin, trademark cropped hair, and no-nonsense approach to beauty. Visiting her family at home in Montana, Elise compared routines with her mom, the stunning-at-seventy Elizabeth (Elise's dad, Paul, worked the video camera and very charmingly chimed in). The two laughed a lot—the video (below) is both funny and poignant.
Their similarities are striking: Both rely heavily on sunscreen, love their short hair, and eschew lots of makeup in favor of superpowered moisturizer. "You always emphasized sunscreen," Elise reminds Elizabeth. "And hats! And wrapping us in hospital scrubs at the beach under umbrellas!"
"Worth it," says her mom. "I never expose my face to the sun. I'm careful to use a good brimmed hat and protective sunglasses, too." The two both favor SPF 50. In the video, they're wearing different versions of the same G. Label sweater, not to mention the very same shade of lipstick—Royal, by Kosas.
Both tested GOOPGENES face cream before it launched, and both were instant converts. "It makes my skin soft and glowing, and it feels like a million bucks," says Elizabeth, who uses it both morning and night.
Elise, too, uses the face cream morning and night: "I slather it on right after my vitamin C serum, and my skin loves it," she says. "I love that it absorbs so quickly: I only have to give it about thirty seconds before I apply concealer, which you can't do with a lot of other face creams. The only other makeup I use is the Kosas blush-highlighter compact—only if I need to host something for goop."
goop Beauty

GOOPGLOW 20% Vitamin C + Hyaluronic Glow Serum

goop, $125/$112 with subscription

SHOP NOW
At night, Elise uses even more. "I am very, very generous with the GOOPGENES cream at night," she says. "I almost make myself look like I'm wearing zinc sunscreen for a minute. I do that every night, except when it's time for my weekly peel pad ritual, which is an overnight, glow-inducing miracle. I skip the face cream, swipe on the pad, and go to bed. After I wash my face in the morning, I go back in with the GOOPGENES, and it really makes a difference in my skin. Then, a few times during the week, I like to do the Microderm face scrub to keep that glow going."
goop Beauty

GOOPGLOW 15% Glycolic Acid Overnight Glow Peel

goop, $125/$112 with subscription

SHOP NOW
Beyond the Kosas Royal, GOOPGENES, and sunscreen, Elizabeth does little else in the way of beauty. "I started using a little eyeliner on my upper eyelids—I observed that my girlfriends started using eyeliner," she says.
"Is that the thing to do when you're seventy?" asks Elise.
"I guess!" Elizabeth replies. "It looked pretty good on them, so I thought, I'll do a little bit of that." Otherwise, she credits her vibrant skin to a healthy lifestyle: "I drink coffee only in the morning, water in the afternoon, and I have one glass of red wine at night," she says. "And I almost never eat processed foods, apart from an occasional pastry. I get outdoors every day for a brisk walk or eighteen holes of golf. I make a conscious effort to greet and smile at everyone I encounter. I read a couple hours a day and play bridge online three times a week. And I practice the piano almost every day."
"I think smiling and being happy are very important to prevent aging and to create the best wrinkles," she continues. "I also love my new electric bike and smile while taking a good joyride. Oh, and I floss every day, religiously, and sometimes more."
Mother and daughter are unequivocal on the subject of short hair, a signature for both (watch the video for the full story). When asked if she'll ever go long, Elise laughs. "I have sh*t to do!" she exclaims. "I have always been unconventional-looking—and I have unconventional hair. I had it as a kid but then grew it out for my teen years, twenties, and thirties. But I'm in that space where I really don't care what people think of me, and it feels so good. I'm no longer battling my hair (I was the queen of blowouts and pulled-back buns when I lived in NYC because my hair is so unruly and big)." Beyond cutting it regularly and brushing, Elise is devoted to the goop Himalayan Salt Scrub shampoo. "I love it with a particular passion," she says. "When my hair is on the shorter side, I use it multiple times a week. If my hair gets longer, I use it a little less often, because it gives me too much volume otherwise."
goop's newest beauty product is currently in a box on its way to Elizabeth in Montana. "She is going to flip for this cream," says Elise, who already loves it. "The Montana climate is perma-dry all year long, so body cream is an essential. Truly, she is going to flip out."