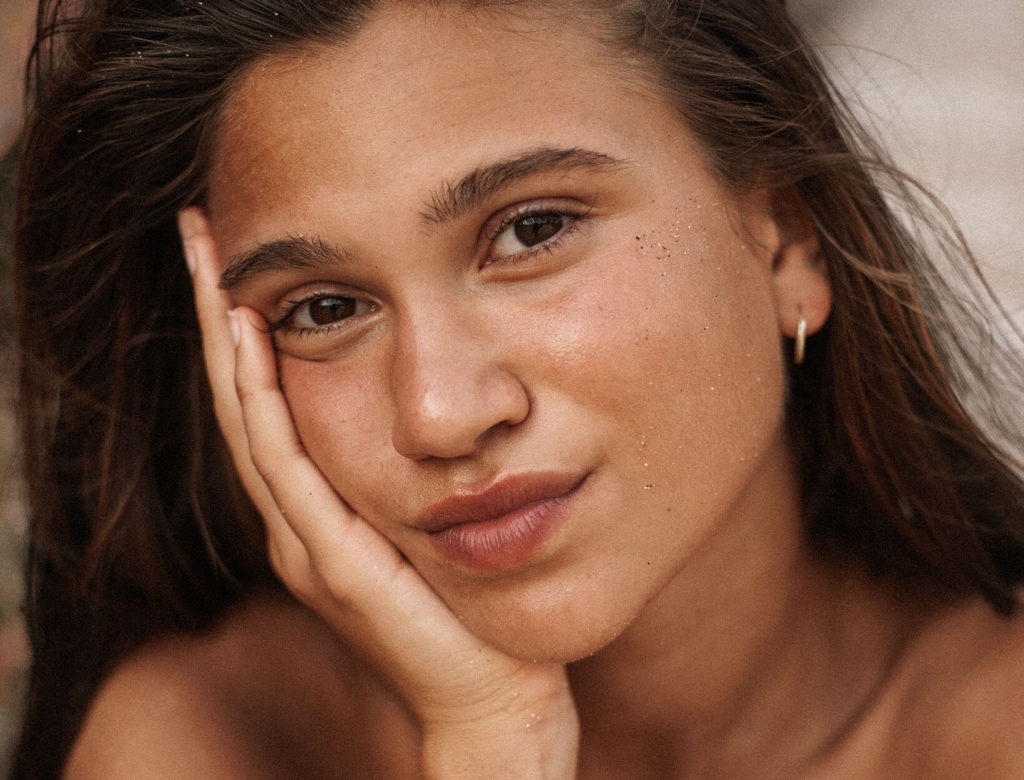 How the Skin Microbiome Can Affect Aging, Breakouts, and More
How the Skin Microbiome Can Affect
Aging, Breakouts, and More
In partnership with our friends at Symbiome
A healthy gut microbiome plays a significant role in our health and well-being; recently, attention has turned toward the microbiomes that exist in other parts of the body, like the mouth and the skin. Larry Weiss—the chief scientific and product officer at the new skin-microbiome-focused skin-care company Symbiome—says the skin microbiome is our skin's first line of defense. "Our research has found that we have lost almost 80 percent of our microbial diversity and the capacity to make many essential vitamins, nutrients, and biomolecules that contributed to our skin health," he says.
This is why Weiss believes in fewer ingredients, fewer steps, and less intervention. "Reducing the number of products and ingredients in your skin-care routine reduces your chance of ingredient interactions, irritation, inflammation, and sensitivity," he says. The entire range does wonders for all skin types and is incredibly gentle and effective on both problematic and sensitive skin.
Most Symbiome products are made with fewer than four ingredients. "Symbiome embraces simple and natural ingredients—biologically intact plants sustainably sourced from the Amazon rain forest to nourish, hydrate, protect, and calm the skin," says Weiss.
Each ingredient is chosen in part for its ability to work synergistically with the (few) others. Rich and silky, The One Restorative Cream, for example, is made with just three ingredients and sinks into skin instantly, leaving it soft and ultramoisturized. It combines soothing lactobacillus ferment, a postbiotic that supports barrier function; Amazonian-derived sanoma leaf oil, which can help protect against oxidative stress; and good old H2O. Together, the combination—whipped into a soft cream—leaves any skin type nourished and glowing.
The foaming gel-to-milk cleanser is made with seven ingredients, including the lactobacillus ferment—which can also help even skin tone—and geranium leaf, which calms.
Along with using fewer ingredients, Symbiome is intentional about sourcing them: They are primarily grown on an organic farm in Brazil that focuses on sustainable practices, including regenerative farming and harvesting techniques, recycling, and low energy consumption. And the packaging is made of 100 percent recyclable materials.
A Q&A with Larry Weiss
Q
Where are we in our understanding of the skin microbiome compared to, say, where we are in our understanding of the gut microbiome?
A
Interest in the gut microbiome dates back to 1907, when Elie Metchnikoff suggested that Bulgarian peasants lived longer because they ate yogurt. In contrast, interest in the science of the skin microbiome began just nine years ago with a landmark paper by Heidi Kong and Julia Segre at the Human Microbiome Project.
The gut microbiome has received most of the research attention, because early studies suggested that gut dysbiosis (a microbial imbalance) played a role in diseases ranging from diabetes and obesity to Parkinson's disease. It's only in the past seven years that research into the skin microbiome has confirmed the role of skin dysbiosis in common skin problems, including psoriasis, eczema, and acne, as well as wrinkles, dry skin, and aging. Those discoveries have sparked interest in the role of the skin microbiome in health and disease. The research on the skin microbiome is still far behind the research on the gut, but we are catching up fast.
---
Q
How did you become involved in the skin microbiome?
A
About twenty years ago, I was working in infection control when the first microbiome data became available. This fundamentally transformed our understanding of microbiology: Suddenly, what had been a blur came into focus; it was as though a light had come on and we suddenly realized that we had been sitting in the dark. It sparked my interest in the skin microbiome, which led me to the cofound CleanWell in 2005 and then to develop Mother Dirt, the first live skin probiotic, in 2014. Since then, advances in microbiome technology have continued to transform our understanding. We have some amazing things going on in the lab here at Symbiome, and we are just getting started.
---
Q
What kind of external factors can upset the skin microbiome?
A
Skin is constantly exposed to a vast array of pollutants, environmental chemicals, makeup, cleansers, and cosmetics; your skin-care regimen alone could be exposing your skin microbiome to hundreds of individual chemical ingredients every day. We know almost nothing about the short- or long-term consequences of this exposure for our skin and our skin microbiome.
Given this uncertainty, it is our belief that we should reduce the number of products, ingredients, and chemicals that we intentionally apply to our skin and skin microbiome. Symbiome products are minimally formulated, each with fewer than ten ingredients—most have fewer than four. Each and every ingredient is intentional and functional. Symbiome products are primarily organic and sourced from a sustainable Brazilian farm.
Of course, anything that adversely impacts your general health may have a corresponding adverse impact on your skin health and the health of your skin microbiome. This includes poor diet and lack of sleep or exercise. Systemic antibiotics can be lifesaving but may adversely impact your skin or gut microbiome, and these effects may be long-lasting. It is also important to pay attention to changes in the weather, especially in the winter when the air is cold and dry. Your skin and your skin microbiome both need moisture.
---
Q
Why do we need a healthy skin microbiome?
A
The health of your skin and your skin microbiome are intimately connected and dependent on each other. Some of the benefits of keeping the skin microbiome healthy include:
Protection from infection

Reduction in inflammation

Modulation of immune response

Production of healthy microbial metabolites—essential fatty acids, vitamins, nutrients, and other biomolecules that support skin health

Support of skin barrier function

Contribution to orderly healthy cell turnover and exfoliation

Reduction in appearance of wrinkles and fine lines

Hydration resulting in soft, supple skin
---
Q
Does the skin microbiome change as we age?
A
It does. This has been well established in several published clinical studies. For example, the most significant change as we age is a reduction in the population of microbes that thrive on oily skin, which parallels the reduction in skin oil (sebum) production. Along with this is an increase in microbiome diversity that is associated with dry skin. The composition of all of Symbiome's postbiomic oils reflects the composition of healthy human sebum, moisturizing the skin, supporting barrier function, and improving the appearance of fine lines and wrinkles.
---
Q
How much does routine matter in microbiome maintenance?
A
Your skin microbiome adapts to your routine, and every time you change your routine, it will adapt to the change. By finding and establishing a routine, you will minimize the stress on your microbiome and your skin.
Symbiome's product lineup is a complete system that includes all you need to build a simple, balanced, and healthy skin-care routine.
---
Q
What if we did nothing to our skin—would its microbiome flourish?
A
Today's skin microbiome is not set up for success because we've broken many of the biological connections to the microbial world. The best way to support it is to add back what we have lost—the missing microbial metabolites: essential vitamins, nutrients, cofactors, and fatty acids. These are the biomolecules of life that can help keep our skin resilient and healthy and enable us to respond to the stressors of modern life with clear, beautiful skin.
For example, sanoma leaf oil—one of our supercharged, postbiomic hero ingredients from the Amazon—is packed with triglycerides and fatty acids that mimic our natural skin oils to help soothe even sensitive skin. Rich in natural antioxidant tocopherols and polyphenols, sanoma scavenges free radicals, which protects the skin against oxidative stress. It is also rich in thymol, a beneficial terpene that can help rebalance the skin microbiome.
---
Q
Can you use other favorite skin care in conjunction with Symbiome products?
A
Symbiome products are compatible with other skin care, sunscreen, and makeup, so it's not necessary to give up other products to use Symbiome, but we are confident that your skin will be healthier when you reduce the number of products and ingredients in your routine.
Symbiome was formulated to be used as a simple, balanced, and complete skin-care system. Our products work synergistically with one another to simplify your routine, reduce your ingredient exposure, and give you beautiful, healthy skin.
---
Q
What about exfoliants—can we scrub away our microbiome?
A
Exfoliation, whether chemical or physical, removes the outer layer of the skin. This is certain to have at least a transient impact on the abundance and possibly the composition of the skin microbiome. But your skin microbiome is deeply engrafted in your skin, hair follicles, biofilm, and sweat glands: Soon after exfoliation, it quickly grows back.
---
Q
Does Symbiome have live bacteria in it?
A
Developing a safe, effective, and shelf-stable probiotic—a product with live bacteria in it—is not just incredibly difficult; it is also unnecessary. The skin microbiome defends against invaders and there is no evidence that live bacteria survive long enough to deliver their benefits.
So we've taken a different approach: Our products are self-stabilizing and self-preserving. Our unique postbiomic fermentation process stabilizes and preserves all of the postbiotic skin benefits in simple, bioavailable, and shelf-stable formulations.
---
Q
What's next at Symbiome?
A
Our research and development team is me, three PhD microbiologists, and a board-certified dermatologist. We are actively advancing our understanding of the genetic and metabolic blueprint of the healthy human skin microbiome and using this blueprint to develop a number of exciting new biointact ingredients that we will formulate into the next generation of Symbiome products.
For 2021, we will build on our collection of biointact skin-care products with a focus on body care and targeted treatments—and we're especially excited about a new serum that will debut in January 2021.
---
Q
Can the gut microbiome affect the skin microbiome? What about oral probiotics?
A
There is ample evidence that an imbalance or dysbiosis in the gut microbiome and the resulting inflammation can spill over and trigger or exacerbate inflammation on the skin. Reducing gut dysbiosis and inflammation with appropriate medical treatment, diet, probiotics, or all three often results in an improvement in skin health. Although it has not been studied, this probably has an indirect effect on the skin microbiome.
There are a number of small clinical studies reporting promising early results for oral probiotics alone or in combination with topical treatments for inflammatory skin diseases such as acne, eczema, and rosacea.
Our focus at Symbiome is on the skin microbiome—and developing simple, effective, biologically intact skin care. Our research shows that our modern-day skin microbiome no longer has the ability to produce the essential biomolecules that once protected and nourished our skin. Our work at Symbiome aims to help replace those biomolecules topically through innovative skin care.
---
Larry Weiss is the chief scientific and product officer of Symbiome. He was the chief medical officer at AOBiome, which focuses on microbiome-focused therapies, as well as founder of the Mother Dirt skin-care and CleanWell home-product lines.
---
This article is for informational purposes only, even if and regardless of whether it features the advice of physicians and medical practitioners. This article is not, nor is it intended to be, a substitute for professional medical advice, diagnosis, or treatment and should never be relied upon for specific medical advice. The views expressed in this article are the views of the expert and do not necessarily represent the views of goop.