Hello, My Age Is: 45
Eat Great Food, Go on Dates—and Don't Forget Retinol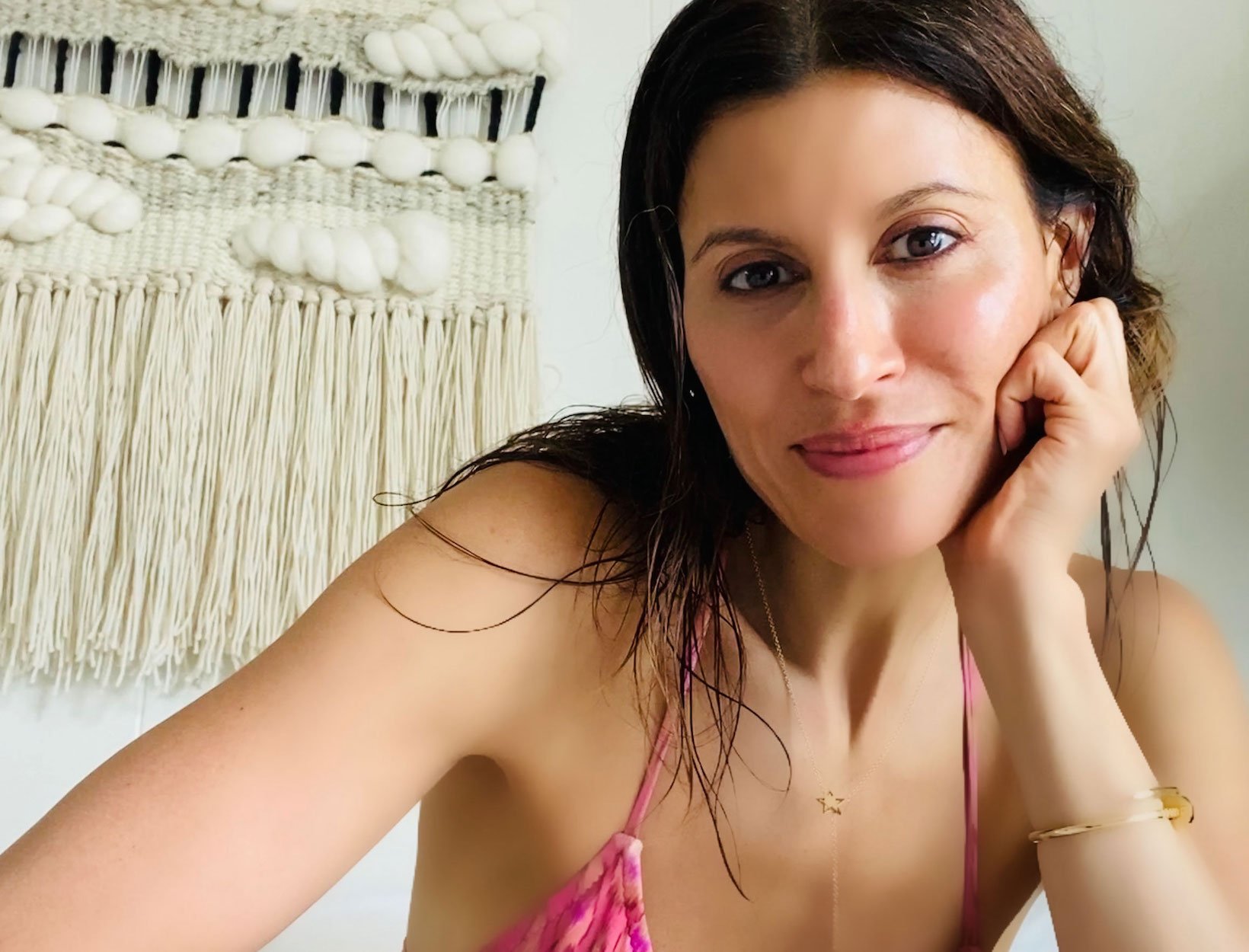 TATIANA BONCOMPAGNI |
founder of Eat Sunny
It's a brilliantly sunny day in Montauk—the kind that makes it feel like sacrilege to spend any time indoors—and Tatiana Boncompagni couldn't look any beachier, bronzier, or more graceful in her string bikini (that's her above). The NYC-based single mom of three teenagers is spending the week at the ocean as a respite from work. While she says that running Eat Sunny, her healthy meal delivery company, feels more like a soul-fulfilling endeavor than an actual job, taking time to regroup is key, even if the food is delicious. (Note: The shrimp pad Thai, savory crepes in red pepper sauce, and chocolate hazelnut biscotti are goop editor favorites.)
"I've always thought of what I eat as part of my beauty routine," says Boncompagni. "So we're plant-forward, but you also get healthy portions of lean protein—wild fish or cage-free chicken. We don't use gluten, hydrogenated oils, or refined or artificial sugars. We do use whole grains; spices that can help with inflammation, like cinnamon and turmeric; a little dairy; lots of nuts and olive oil; and fats—we all need fat to age well."
One look at Boncompagni's glowing olive complexion and you'll want more of her beauty secrets. "My half–Costa Rican mom—my biggest influence when it comes to beauty and aging—stayed out of the sun," she says. "So since my mid-30s, I've been a fanatic about sunscreen."
goop Pick
"She also taught me to practice yoga, shop at health-food stores, and eat whole foods," continues Boncompagni, whose previous career as a health and wellness journalist for the New York Times, the Wall Street Journal, and Self helped set her up for what she does now, as did getting certified as a holistic health coach and personal trainer. When the print edition of Self closed, Boncompagni grappled with what she could do next to help nudge people toward healthier, happier lives. The result was Eat Sunny.
"When we eat nature's food grown by the sun, we're connected to the universe, to ourselves, and to each other," says Boncompagni, who just launched lower-priced options in grocery stores in New York and New Jersey. "Eating clean is so hard for too many people—many customers said they wished the meals were more affordable. So we've launched this new line with full meals for $12.99."
Here, her rules for happy, healthy aging; great skin; and eating well.
---
1. PRIORITIZE PLEASURE—EVEN WHEN YOU WASH YOUR FACE
Everything should be pleasurable: food, workouts, and even washing your face. I'm obsessed with this cleanser—the way it smells, the amazing lather, that it's made with malachite (I'm a crystal fiend), and the way it leaves my skin beautifully clean and supple. I love it morning and night.
The toner has the same great smell, and I just smooth it over my chest and face after cleansing. It's light and perfect for summer and helps with congestion.
---
2. HEALTHY HABITS—AND RETINOL—CAN CHANGE YOUR SKIN
I know sleep, exercise, and diet make the biggest difference in how I look and feel, but powerful skin care can enhance the results. I'm a big believer in retinol: I use it nightly to help maintain firm, bouncy skin.
goop Picks
---
3. INVEST IN VITAMIN C
Everyone should use vitamin C on their skin. This one is really potent—you mix the pure vitamin C powder into the hyaluronic acid serum before your first use—and I love that I don't have to use a whole other hyaluronic acid product. I use it in the morning and it plumps my skin.
---
4. EXFOLIATE (AND LOVE YOUR BODY)
I'm proud of my body—it created three lives. I love it more now at 45 years old than I did when I was in my 20s, even though it probably looked pretty great back then. I get more pleasure from my body now, and I'm more comfortable in it. Working out has always been a big part of that. My skin gets congested from sweaty yoga and runs (those endorphins—there's no drug like them), so I dab Sleep Milk onto my chest and back and the alpha hydroxy acids in it really help clear things up.
I also like physical exfoliators for getting my skin super smooth. This one leaves my skin incredibly soft, plus it's amazing for taking with you on vacation because it comes in an easy tube.
---
5. LISTEN TO YOUR MOM'S ADVICE ABOUT
SUNSCREEN AND VITAMINS
I'm usually slicked down in, like, three layers of sunscreen. I have olive Latina skin, so I don't easily burn, but I do get sun spots. I use only mineral sunscreen because I had adult acne, and chemical sunscreen makes me break out.
goop Picks
My mom taught me everything about beauty from the inside out. My whole life I've taken vitamins.
goop Pick
---
6. GO ON SOME DATES
Women sometimes have trouble putting themselves on the list—but it keeps you youthful. Post-marriage dating is an important component, full stop.
---
7. MODEL WELLNESS
You don't even have to preach—your kids learn because they're always watching you. Mine saw me doing yoga and going on runs; it's so nice to see my oldest son work out in his room now and eat healthfully. Wellness is a big piece of our family life: We walk a lot, and they eat the nourishing food I cook for them. I'm so proud of who my children are turning out to be.
---
8. WALK
My biggest recharge is going on walks in Central Park. When I'm stressed out, my kids are like, "Mom, go for a walk." I listen to music while I walk the reservoir, watching the sunlight bounce off the sides of the buildings. Sometimes I even cry. These days it's mostly happy tears. I have a beautiful life, and I'm so grateful for that. You can pick up on when someone radiates warmth and kindness and gratitude, and every day I try to connect to that feeling of gratefulness, no matter what else is going on.