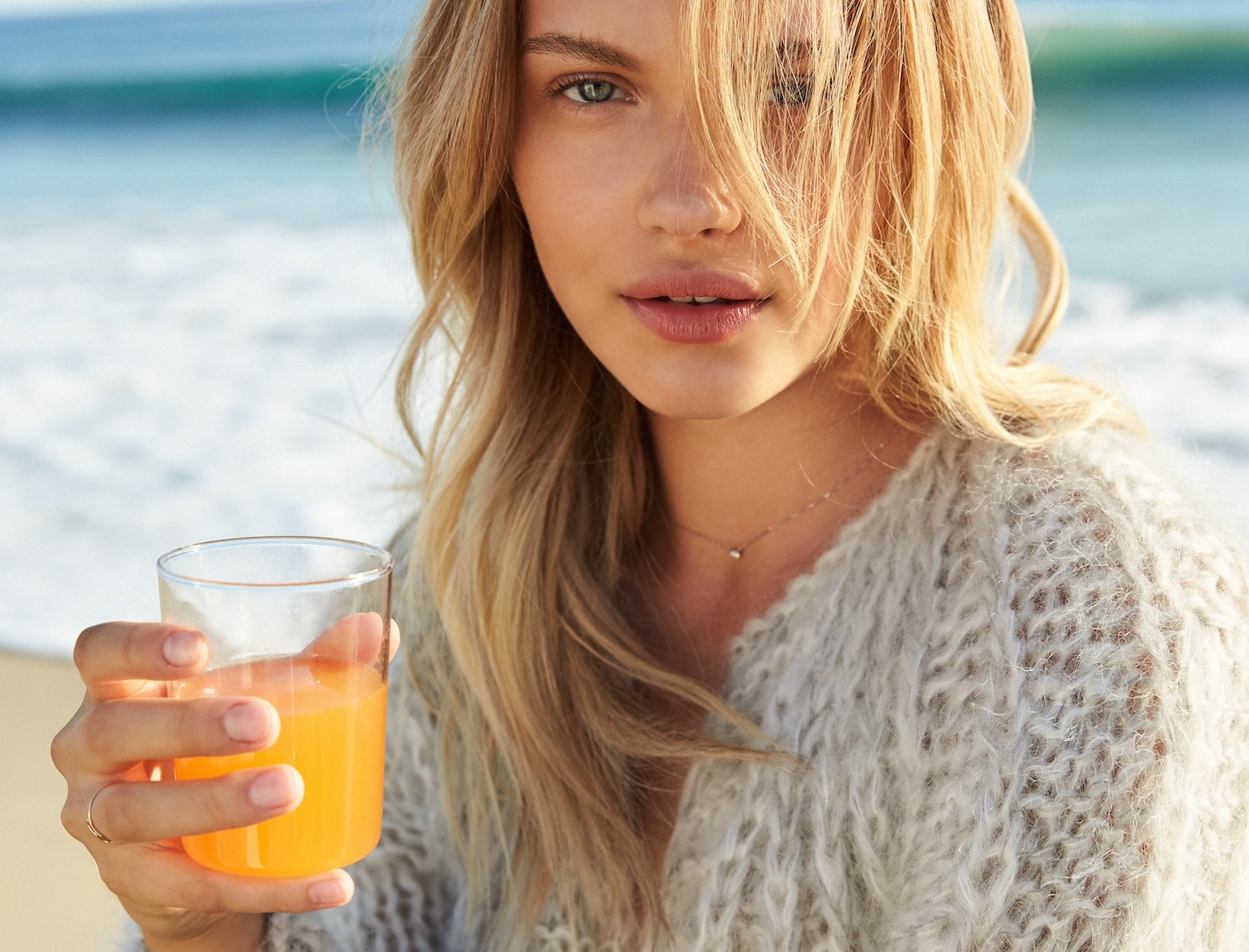 Drink Up and Glow
Radiant skin involves multiple factors, from skin care to exercise to a colorful, plant-based diet. Though our individual needs are different, antioxidants are key for a glowing complexion. These extensively researched molecules work to prevent free radical formation (caused by environmental aggressors, like pollution and UV rays) from damaging, among other things, skin's collagen reserves.
One beautifully effective way to give skin more antioxidants is topical: True Botanicals Vitamin C and Antioxidant Booster, and Vintner's Daughter Serum, for example, are some goop favorites for flooding skin with powerful free radical fighters.
But a second route has emerged: Studies have shown that oral antioxidants have a protective effect on skin, too. Which is why we developed goopglow, a new, antioxidant powder that works essentially as drinkable skin care. "I don't wear makeup most days, so I love this new way of taking care of my skin," says GP. "It's a healthy morning ritual that makes a serious difference in your skin all day—and long-term."
The lemon-verbena-spiked powder is brilliant in the morning; it comes premeasured in individual doses, which are as easy to use as they are adorable to look at. (They're also incredible for travel, not to mention gym- and makeup-bag-friendly.) They mix easily into water, and they taste refreshingly—addictively—citrusy and clean.
Infused with vitamin C (an antioxidant for your skin), and clinically active levels of lutein and zeaxanthin (amazing-for-you carotenoids linked not only to eye health, but also shown to help preserve elastin and collagen and to support moist, healthy skin), as well as coenzyme Q10 (another powerful antioxidant shown in preliminary research to be beneficial for collagen production by skin cells), goopglow is designed to support your healthiest, glowiest skin, every day. It also works in sync with goop's vitamin/wellness protocols, so there's no worry about taking too much of any given nutrient; the two work in tandem for optimum nutrient levels for both skin and overall body health.