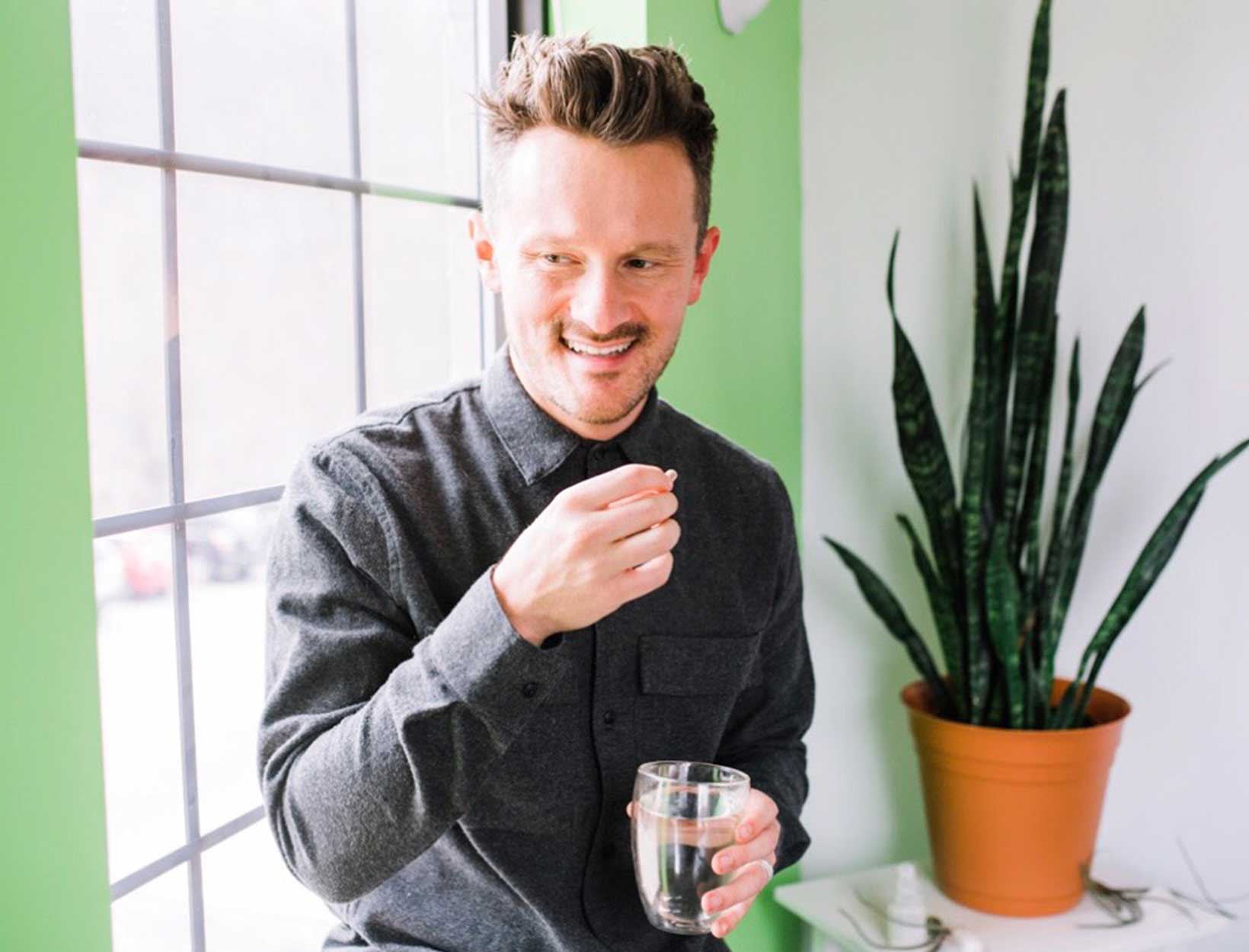 MY MORNING ROUTINE
My Morning Routine: A 5 A.M.
Workout,
Clean
Skin Care,
and Intermittent Fasting
In partnership with our friends at KILN
Will Cole, IFMCP, DC | leading functional-medicine expert, author of

Ketotarian: The (Mostly) Plant-Based Plan to Burn Fat, Boost Your Energy, Crush Your Cravings, and Calm Inflammation

, and cohost of the goopfellas podcast

If you doubt that changing your diet can increase your health and energy, goopfellas podcast host Dr. Will Cole is proof that it can. He's up at 5 a.m. most mornings, bursting with enough energy to jump right into a workout. The functional-medicine expert spends the early morning on self-care, exercise, and family time before going to work. Most days, he consults with clients all over the world via webcam (he sees clients locally in Pittsburgh, too), helping them find the causes behind their chronic disease as well as customizing programs for issues ranging from thyroid and autoimmune diseases to hormonal dysfunctions, digestive disorders, and brain problems. Other days, he's podcasting with his goopfellas cohost Seamus Mullen. But either way, a clean shower-and-skin-care routine, exercise, and intermittent fasting set him up for the day.
5:00AM
I wake up and go for some sort of workout for about thirty minutes—maybe a cycling class on my Peloton bike, with or without weights, or a circuit-training routine or HIIT training. I love the simplicity of not having to drive anywhere—I live in the country, and I'd have to get up even earlier. The early rising is not about willpower, I should note. I listen to my body, so if my body needs more sleep, and I sleep in till 7, I don't beat myself up. Balance is the key.
6:00AM
I'm really ready for a shower. And I'm really committed to my clean products. I love the smell of the G.Tox body wash—it makes me feel brand-new.
The care taken in making world's best salt scrub—one that wakes my body up after the workout, sloughing off the dead skin cells and sealing in moisture with amazing oils—means so much to me.
One a week, I use a GOOPGLOW peel pad right before I go to bed. It's a powerful exfoliator and leaves my skin looking and feeling great the next morning.
Once I get out of the shower, I wash my face with the enzyme cleanser from Dr. Barbara Sturm. I'm a huge fan of this line. The cleanser has vitamin C, and I'm trying to be intentional about getting more vitamin C in my life. Clean and nontoxic products are really important to me: The skin's our largest organ, so what we put on our body is just as important as what we nourish it with from the inside.
I use Alitura gold serum with plant-based retinol, astaxanthin, and CoQ10, and then the moisturizer with bee propolis. I take bee pollen as food medicine, and I like it for my skin, too. Then I use clean, mineral-only sunscreen. I like Vive Sana—it's great.
Before I get dressed, I put on Agent Nateur deodorant: I'm mindful of everything I put on my skin—a lot of stuff can be absorbed, and this is an area where you sweat so much. I love the scent, and it really works.
6:30AM

By this time, I've turned on CNN—watching it slows me down while I'm getting ready. I like being comfortable but crisp-looking for work, so I love pieces like this from KILN: These black patch-pocket pants are easy and functional and pulled-together—perfect for a typical workday.

These 100 percent cotton pants are piece-dyed and stone-washed for a cool, laid-back look and supreme comfort. They've got a button fly, back patch pockets, and an interior drawstring for comfort and fit—and there's even a cell phone pocket.

Last, I like to spray on a functional scent from Heretic—Dirty Grass or Dirty Neroli. Douglas Little makes them, and he's just a master. I love the clean smell and the concept of using earth medicines as scent.
7:00AM

I pack my lunch. It's usually a recipe from Ketotarian. At the moment, I'm really into the pesto-zoodle (zucchini noodles) bowl with vegan nut cheese. I don't usually make my own zoodles; I get them at the grocery store. I make a keto smoothie—almond milk with fresh green spinach, field greens, adaptogens, hemp protein powder, MCT oil, and a powder from Agent Nateur with spirulina and marine collagen—to go with lunch. It's great for both gut and skin, and I don't mind making it ahead of time.

You may have noticed I haven't eaten breakfast yet, and I won't. I fast until noon just about every day. The intermittent fasting is in the interest of encouraging autophagy, essentially cellular recycling that can help with health in all sorts of ways, from decreasing inflammation to increasing cellular energy. The fasted workout first thing in the morning further encourages autophagy, as does the Earl Grey I drink in the morning—it's made with bergamot from Calabria plus black tea.
7:15AM

My kids are waking up as I'm getting ready to leave. My son's turning thirteen, so he doesn't wake up as easily as he used to, but my daughter's ten, so she's up. My wife's been working out with her trainer in the house, and we all converge for a moment. I say goodbye to everybody and drive to work in my Prius. All day I'm talking to people—I see almost all my patients via webcam, which I do at my standing desk, and then meeting in person with my team. I love what I do, so if I set myself up right in the morning, everything flows.