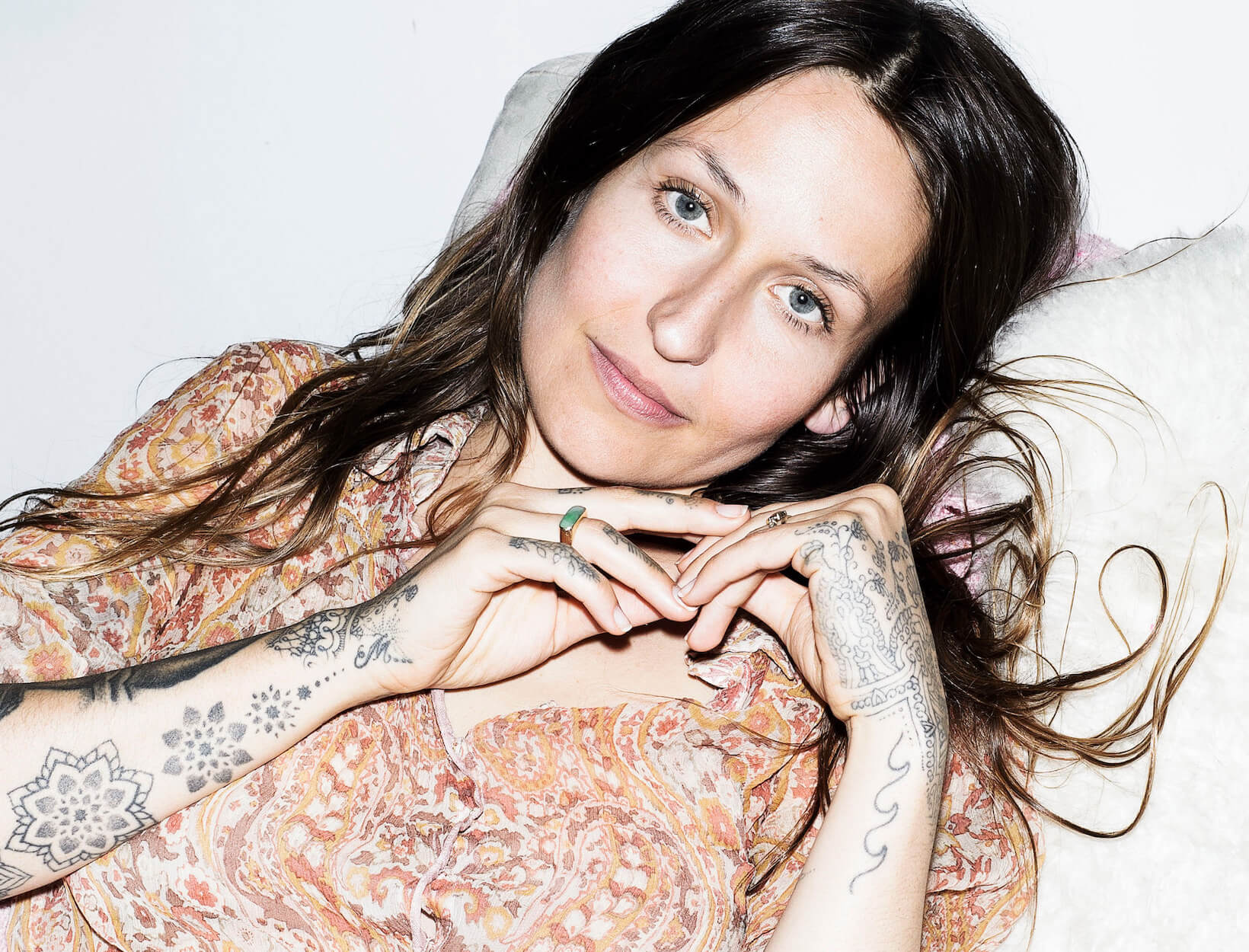 My Morning Routine
Up All Night? That's Okay
Domino Kirke-Badgley |
doula, musician, author, and cofounder of Carriage House Birth
She might have had a long night co-sleeping or have just gotten home from an all-night birth, so her morning might not go as scheduled—and Domino Kirke-Badgley is absolutely okay with that. "A big part of self-care—particularly if you're any kind of caregiver—is staying flexible and going with the flow," says the Brooklyn-based Kirke-Badgley, who cofounded Carriage House Birth, a doula collective and community center with locations in LA and Brooklyn. (One hundred percent of the proceeds from Carriage House Birth are donated to the Black Women's Health Imperative to support NOURISH, a postpartum doula training program designed around the needs of Black birthing families.) She's also a musician with a new single just out and an album on the way, a mom to a fifteen-month-old and a thirteen-year-old, and the author of Life After Birth: Portraits of Love and the Beauty of Parenthood, a new look at the postpartum experience, which, Kirke-Badgley likes to point out, is not a temporary state. "People think of it as a matter of days or weeks, but you're postpartum forever," she says.
Kirke-Badgley's work also involves mentoring doulas, and she finds that many of them—like herself—have the hardest time taking care of themselves. "Often the people doing the healing are the ones who need the most care," she says. The key, for Kirke-Badgley, is to build in moments of self-care—dry brushing before a shower, some found moments of meditation and yoga, and lots and lots of oils for her skin—throughout even the most hectic days. The strategy's clearly working: Her skin and her energy are about as glowy and vibrant as it gets.
6:45 a.m.: We co-sleep with our baby, and I'm still waking up through the night to breastfeed at this point, so I could usually sleep about ten more hours. But my full wake-up time is ideally 6:45, so I can have a little head start, before the kids get up, to start making lunches and breakfasts. There's definitely some morning craziness—the little one usually sleeps in till 7:30, so I have some time with my big one before he's got to kick off to go to school around 7:50, which is really nice.
8 a.m.: Back from school drop-off, I have some tea—there's no caffeine anymore, which is new and exciting and currently taking my entire reserve in terms of energy. My husband and I quit caffeine at the same time, so we had each other for support.
8:30 a.m.: Sometimes a shower. I start by dry brushing—self-care is difficult for me to make time for at the moment, so building it into a routine I already do ensures I get some. Then I've got my Dr. Bronner's in shower, baby. I like body oil with jojoba in it right after I get out of the shower.
goop picks
My obsession really is oils. "You're slithery—you love yourself in oils," is what my husband says. My skin's chronically dry—I've got subclinical Hashimoto's, so I've got dry sandpaper skin—and I love face oils, cleansing oils, body oils, all of it. I bought the goop face oil, and it's delicious. I also love the prickly pear one from Mun.
goop picks

I couple the face oil with rose water spray—best combination.

Pholk Beauty

Honeysuckle Rose Face Mist

goop, $20

SHOP NOW

And then there's tongue scraping. It's just one of those things—once you do it, you can't not do it.

BOKA

Rasana Tongue Cleaner

goop, $9

SHOP NOW

Gua sha stuff is great for your face. My friend, who runs Lanshin, used to live in my building, and she taught me.

Wildling

Facial Gua Sha Empress Collection

goop, $129

SHOP NOW
8:45 a.m.: Breakfast. Eggs and soldiers are always a thing, or some kind of porridge with fruit. In truth, it's generally a sort of scrappy situation: I make something for my little one—eggs or a sweet potato pancake—and I end up eating at least half of that.

goop pick

goop pick

goop Home

10″ & 12″ Frypan Set

goop, $100

SHOP NOW
9:15 a.m.: I give the baby to my husband so I can meditate. It's never the same—it could just be a little prayer, or sometimes I sit for twenty minutes. It's a crapshoot, but I do it.

Bennd Yoga

Sappan Wood Ayurvedic Pranayama Pillow

goop, $140

SHOP NOW
9:35 a.m.: I get ready to face the day. I got melasma from pregnancy and breastfeeding, so I'm extra careful about sunscreen—Josh Rosebrook's day moisturizer is great. I use tinted moisturizer and mascara from W3ll People, and then I use a little highlight cream from RMS, along with the lip/blush cream—it kind of does the whole shebang. And I can't see people who aren't in my family unless I've put on brow tint.
For perfume, I rely on oils. Always oils!
9:45 a.m.: I start my calls with Carriage House—we're a small team, all doulas, and we're all still learning how to do this business. Every day is different, so my schedule moves around a lot. I work, my son naps, and somewhere I squeeze in some stretching and yoga. I don't mean real yoga, more just some vinyasas for thirty minutes between calls, or I get on my stationary bike for thirty minutes. It's a game changer to listen to a friend's music doing cardio—a great excuse to put headphones on and have a listening party where I happen to sweat. I miss my music friends and the whole music world and scene. I'm creeping back into it though: I have a record coming out in the new year and just released a new single.
goop picks
I do a bath a couple times a week, not at any particular time. I put in baking soda and kosher salt and sweat like mad. I really feel the difference, especially if I've been flying or I've been up all night at a birth. I stay in there for twenty or thirty minutes or whatever I can tolerate.

goop Beauty

"The Martini" Emotional
Detox Bath Soak

goop, $35

SHOP NOW

Any opportunity to have a ritual—whether it's exercise or a bath or simply dry brushing—is very grounding, especially for people like doulas, who are on call. This is what I'm teaching doulas—that these things are a must. So if I've done my one yoga class for the day, I'm good; if I go outside and walk a couple miles with a friend, that's a win.