My Morning Routine
The Beauty Favorites That Prep a Nonprofit Leader for the Day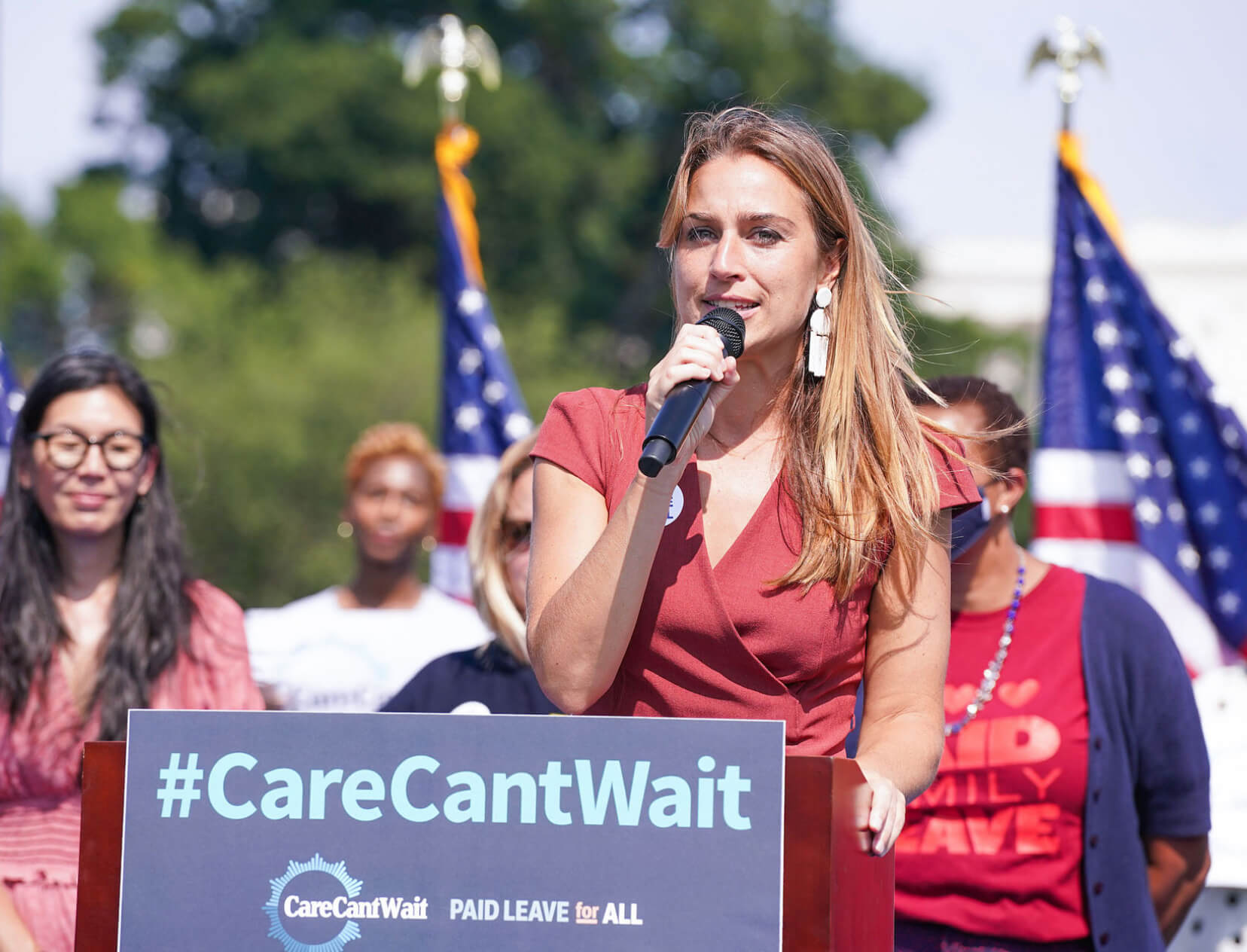 Dawn Huckelbridge |
director of Paid Leave for All
"Women have been shouldering way too much," says Dawn Huckelbridge, director of Paid Leave for All, a national campaign advocating for a paid family and medical leave law for all working people. "A national program would benefit all of us, yielding millions of jobs and billions in wages, boosting bottom lines for businesses, improving public health and well-being, and leading to greater racial and gender equity." We met Huckelbridge at a reproductive health panel hosted by the NYC birthing clinic Oula and, intrigued by her sparkling complexion, were thrilled to find out she's as into clean beauty as we are. "Between my job and my eight-year-old son, I don't have much time for beauty rituals, so I focus on skin," she says. "Keeping it in decent shape—it's sensitive, quick to break out, combination, and somewhat aging—comes in handy when I need to jump in quickly for a media interview."
The Nonnegotiables
Night: Sun-Damage Trick

goop Beauty

Dark Spot Exfoliating Sleep Milk

goop, $98/$89 with subscription

SHOP NOW

Day: Sunscreen and Primer in One

Saint Jane

Luxury Sun Ritual Pore Smoothing SPF 30

goop, $38

SHOP NOW
It wasn't until Huckelbridge had her son that she really understood the necessity of paid leave. "Postpartum nearly broke me even with my privileged, relatively healthy pregnancy and birth," she says. "I remember that whole period with a lot of pain—going to work while my colicky baby was screaming for me and my body was still healing, outrageous sleep deprivation, the challenges of working and pumping. I kept thinking, If it's this hard for me with all this support and a little bit of paid leave, how do the three in four working people in this country with zero paid family leave survive at all?"
The question continues to fuel her. "Every single one of us will need to give or receive care in our lives," Huckelbridge says. "Yet we're one of the only countries in the world without a national paid leave policy. Today in the US, one in four employed mothers returns to work within two weeks of giving birth. A national program would transform our country in powerful ways." To get ready to be part of that transformation every morning, Huckelbridge takes some time to exfoliate, nourish, and sculpt her skin with a few key multitasking potions and subtle makeup all-stars.
7 a.m.(ish)
Now that my son is eight (still hard for me to believe), I sleep a little later, which is one of my favorite indulgences. I'd love to say I stay off phones and email, but a quick scan is usually the first thing I do so that I can be more present until he's off to school.
7:30 a.m.
My sensitive skin likes clean products that feel light. When I was younger, I used only the most basic oil-free products, but these days I'm embracing more oils and hydration and trying to remember SPF every day—sun spots are real. At night before bed, I dab goop Sleep Milk onto my cheeks to tackle sun damage. Then in the morning, I wash my face with this jelly cleanser—it feels fresh and nice, and it's super brightening. I pat my skin dry and spend some time with my boy before school.
7:40 a.m.
Morning coffee is a ritual I still cling to and used to find such pleasure in when my son was a baby. I'm not big on breakfast—dinner is my thing—so I usually keep it to coffee with soy or oat milk, maybe some fruit, and sometimes an egg over leftovers with hot sauce when I've had a late night. My son leaves for school, and I fit in a run or yoga if I can.
8:45 a.m.
I rinse off. My favorite thing is the bodywash from Nécessaire—it's made with finely ground charcoal that's gently exfoliating. I get out of the shower and my skin is just so soft.
I slather myself with Hanahana shea body butter. It's incredibly moisturizing, and I love that it's a Black-woman-owned business focused on social impact. When I'm in the mood for oil, I douse myself in the jasmine one from French Girl. I'm obsessed with the smell of jasmine and have jasmine vines all over my back patio.
I smooth this silky, light moisturizer from True Botanicals over my face and neck. It absorbs instantly.
Then I layer on mineral sunscreen—this tinted one from Saie or the untinted one from Saint Jane.
SPF 30 Cream with Sheer Beige Tint

Saie

Sunvisor

goop, $38

SHOP NOW
9 a.m.
Makeup for me used to involve just Saie mascara and some liner. But a few months ago, I asked my makeup guru friend to tell me which lip colors to buy—and I ordered everything she said, which included more than lip color. She turned me on to the dewy highlighters from Saie and ILIA, which I now love. I sweep them over my cheekbones and across my brows for a subtle dewy glow. Cheekbones are one of the gifts of aging I'm enjoying.
Dewy, Sculpted Flourish

Saie

Glow Sculpt

goop, $32

SHOP NOW

Hazy Metallic Finish

ILIA

Liquid Light Serum Highlighter

goop, $42

SHOP NOW
I love this tinted lip balm from goop—it's called Garnet, and it works for me day and night. You can really feel how moisturizing it is.
9:15 a.m.
I head to either my favorite Capitol Hill coffee shop (it has great chairs) or a downtown coworking space (I gave up my brick-and-mortar office during COVID). I'm definitely someone who likes to leave the house.
Where are we with a national paid leave policy?
"We came closer than ever to making paid leave law a couple years ago; in fact, we passed it for the first time in the US House of Representatives. And we intend to get it over the finish line," says Huckelbridge, who's worked at Planned Parenthood and Supermajority, an organization founded after the 2016 election to encourage women, trans and nonbinary communities, and other marginalized populations to vote. "There's a renewed commitment from the president, new legislation in Congress, and more energy than I've ever seen from people from all walks of life. This is a real moment. If we keep that momentum going and make it clear this is unfinished business that families desperately need, we can pass paid leave this Congress or next."
What can we do at home to help?
"Talk to your elected officials; always, always vote; speak out; and demand more," says Huckelbridge. "We also need to be sure that our elected officials do more than say they support paid leave, that they champion and vote for it. Follow Paid Leave for All on social media for more actions to take and to share your own stories."