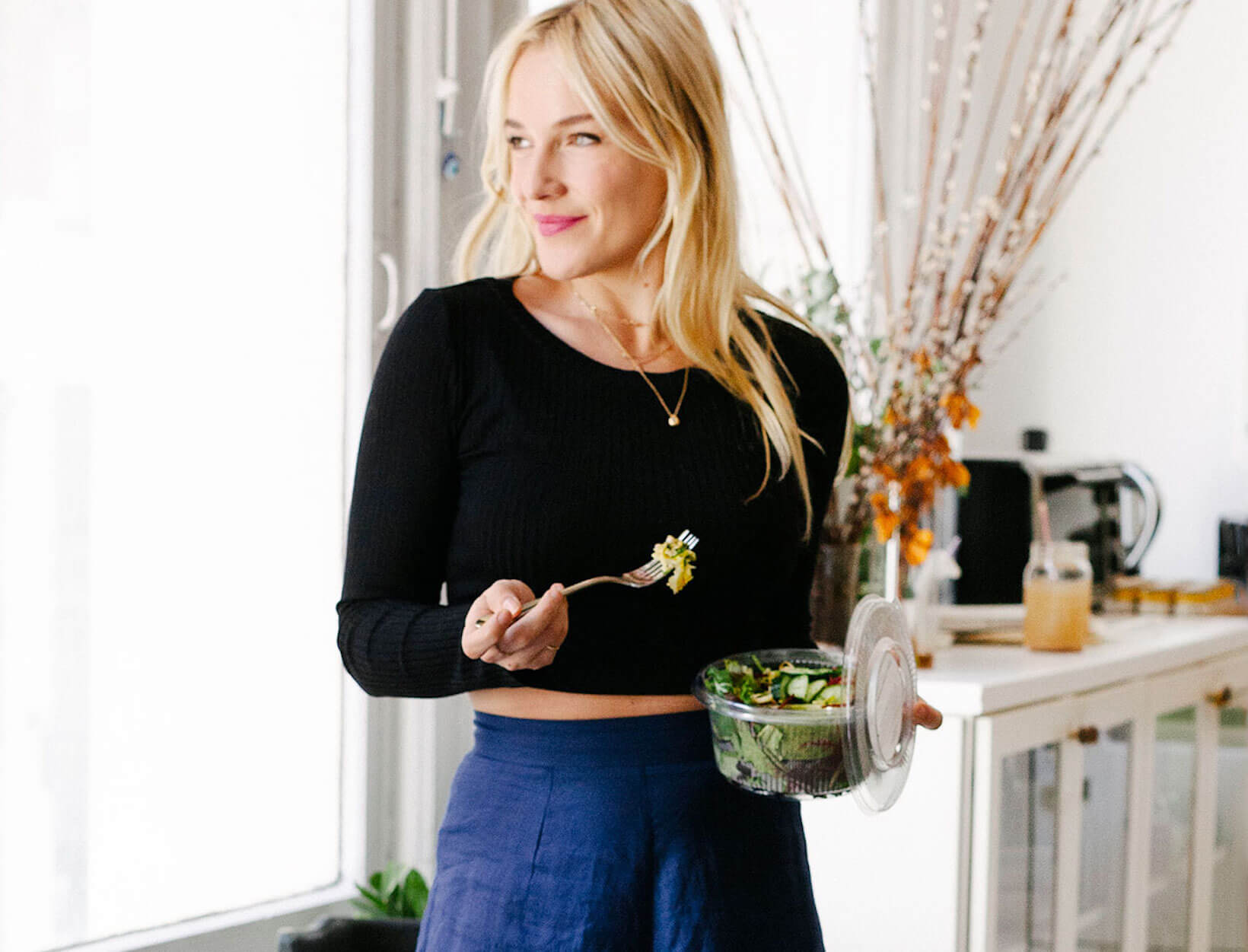 The Beauty Closet Questionnaire
Joy Is a Nutrient
(and the Best Beauty Trick, Too)
goop beauty editors Jean Godfrey-June and Megan O'Neill love to ask—and answer—questions. On their podcast, The Beauty Closet, they're doing both. To familiarize you with each week's guest, we came up with a goop beauty (and life) questionnaire.
THIS WEEK WE'RE TALKING TO:
Danielle Duboise, cofounder and co-CEO of Sakara Life
When her adorably red-onesied newborn, Love, got a bit grumbly as we recorded an episode of The Beauty Closet, Sakara cofounder Danielle Duboise scooped him up and started breastfeeding him. "When I became a mother, I realized that it's not just about maternity or paternity leave," she says. "It's about the culture of the workplace: Are we shaming parents? As founders and CEOs, we have to exemplify what it means to support parents." The conversation with Duboise and her cofounder and best friend, Whitney Tingle, turned to Duboise's shift to clean nutrition after years of diet and body image struggles alongside premed studies and the duo's runaway-success clean food-delivery business, Sakara Life—and it is fascinating to listen to.
Glowy, healthy, and full of energy, Duboise is a walking example of the fact that what we put into our bodies impacts our skin. "My life changed when I realized I'd been so busy counting calories but not counting nutrients," says Duboise. "I'd starved my gut of everything it needed, and it was impacting my mood and how I looked. Food is about getting all the nutrients you need every single day, and within that is joy—also a nutrient," she says. Joy can also do some amazing things for the way you look. Duboise is as enthusiastic about clean beauty as she is about clean, healthy eating, and we got all the details in her goop beauty questionnaire.
First job?
Managing a coffee shop in Sedona.
Currently in your goop shopping cart?
goop Microderm Instant Glow Exfoliator and Vintner's Daughter Active Botanical Serum.
Go-to weeknight recipe?
I eat my Sakara meals consistently every week. That being said, of late, I've been making our No-Bake Sunflower Bliss Bites from our cookbook, Eat Clean Play Dirty. They are perfect because I'm always on the go with two kiddos, plus they are filled with tons of plant protein and nutrient-rich superfoods, they're so easy to make, and they taste delicious! They also store in your fridge for a good amount of time.
Shower or bath?
Shower. I exfoliate every morning with the Goldfaden MD Scrub, then use Dr. Barbara Sturm's Super Anti-Aging Serum, One Ocean Beauty serum, and Vintner's Daughter serum. If I ever have a bit more time after showering, I love to steam my face over a boiling pot with two or three bags of Sakara Detox Tea inside. It's high in antioxidants and steaming always helps my pores.
Blow-dry or air-dry?
How about rarely wash?
Typical hair look (and any key tricks or items it entails)?
Messy-beachy look. Must have a great dry shampoo—I love the Act + Acre one as well as the Captain Blankenship Mermaid Dry Shampoo.
Favorite book?
A Return to Love by Marianne Williamson.
Favorite hotel?
I love visiting my hometown of Sedona and staying at either the Enchantment Resort or L'Auberge de Sedona. I also love the Bowery Hotel in NYC.
Preferred form of exercise?
I love taking walks with my family every morning. It's the perfect way to start the day and a lovely time for us to connect as a family of four. Since the beginning of my pregnancy, I've been taking online classes with Fit Pregnancy Club. Their workouts are amazing for new mamas and help with regaining strength postpartum. I've also taken up boxing, which is so fun and a major workout. I do Melissa Wood videos in between my other workouts. I love that she has quick videos that allow me to get something in even on my craziest days.
Drink of choice?
In the mornings, I love making a mocha latte with our Metabolism Powder. I use a frother and combine walnut milk, cinnamon, a touch of maple syrup, and Metabolism Super Powder so it's frothy, and I enjoy it over a cup of coffee. It's a great way to start the morning and kick-start my day and metabolism.
Essential beauty products?
I swear by our Sakara Beauty Water Drops. I add them to my water daily. This is especially important for me now since I am breastfeeding.* For days when I want to freshen up before an important Zoom call, IG Lives, or an in-person meeting, I start with Glow Lotion—it's light and such a great moisturizer, even when I'm home in dry Arizona. And then I finish with Saie Mascara 101, ILIA serum, and Olio E Osso Balm.
Proudest moment?
Birthing my beautiful baby girl, Star, and baby boy, Love.
Perfect Sunday afternoon?
A morning coffee and stroll with my family in Central Park, two kids napping at the same time so I can read, making homemade pizza with my little one (love Mark Bittman's recipe for crust), and a glass of wine to finish the day.
goopiest thing you've ever done?
I'm so far beyond goopy, I don't even know. Growing up in Sedona, I've been exposed to alternative thinking since I was born, and I'm so grateful for it.
What would you put on your neon sign?
Why are you here?
Lipstick or balm?
I love this balm from ILIA.
Glowy-skin trick?
My glowy-skin trick is eating your water! It's one of our pillars of nutrition and focuses on making sure you're eating plenty of leafy greens and a variety of plants. Focus on eating a plant-rich, nutrient-dense diet and foods high in water content.
Beauty philosophy?
Age with grace. Growing old is a privilege. Say thank you often. Eat lots of organic greens. Sleep when you can, but don't stress if you can't. Have good orgasms. Smile lines are sexy.
No-Bake Sunflower Bliss Bites
Ingredients:
2 cups pitted dates
1 16-ounce jar unsalted unsweetened sunflower-seed butter
½ teaspoon Himalayan salt
2 cups quick-cooking rolled oats
½ cup raw cacao powder
½ cup unsweetened shredded coconut (optional)
½ cup shelled unsalted pistachios
sprinkle of edible dried rose petals (optional)
Directions:
In a food processor, pulse the dates to chop them finely. You may need to add a few tablespoons of boiling-hot water to encourage them.
Add the sunflower-seed butter and salt and process until smooth.
Transfer the mixture to a large bowl and add the oats 1 cup at a time, mixing well after each addition.
Roll the batter into 1-inch balls. If coating the balls with a topping, sprinkle the toppings onto individual plates.
Roll the balls in the toppings and arrange them on a tray or in a lidded container.
Chill in the refrigerator for at least 30 minutes before enjoying. Store in the fridge for up to 1 week or in the freezer for up to 1 month.
---