Why Francisco Costa Wants to Slow Down Your Morning Routine
Created with Costa Brazil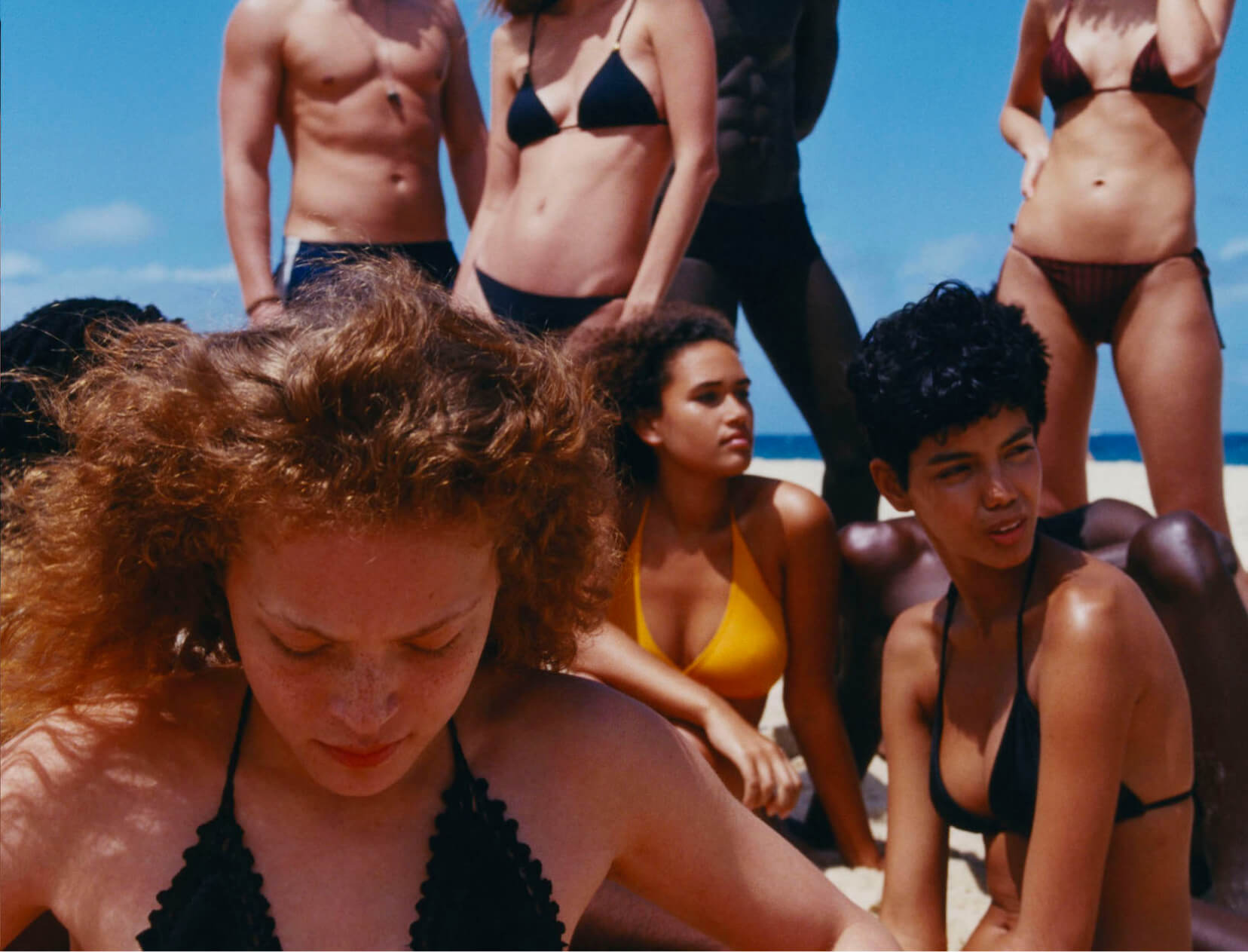 What do you get when one of the world's most famous fashion designers shifts his energies (and signature sexy, uncomplicated sensibility) to dream up a clean skin-care line inspired by his Brazilian roots? A collection of firming skin treatments that brighten up skin and look incredible on a bathroom shelf—Costa Brazil's minimalist-sleek glass bottles and jars are almost sculptural. Known for dressing some of the most gorgeous women on earth (Gwyneth glinting, literally, down the red carpet at the Oscars in a slinky metallic dress in 2011; Lupita Nyong'o resplendent in a gown made of pearls at the 2015 Oscars), Francisco Costa defined an era as the women's creative director of Calvin Klein Collection for 13 years, before turning to beauty. "You can't pay tribute to nature without a clean formula," says the founder and fashion designer, whose pure-as-can-be formulations are also clinically tested for efficacy. His fascination with skin—luminous, supple, healthy-looking skin—started long before he launched Costa Brazil in 2018, he insists, and it helped inspire some of his most sought-after collections.
"My aesthetic when I was at Calvin had as much to do with the clothes as it did with gorgeous shoulders, beautiful lips, and glowing skin," says the New York–based Costa, who finds distinct similarities between smoothing on a plush oil or serum and stepping into, say, a washed-silk dress. "There's an intimacy in getting dressed, whether you're putting something on your skin or slipping into clothes," he says. "It makes you feel good to pour back into yourself, to care for yourself. Paying attention to your skin, especially, creates a ritual that forces you to slow down."
Indeed, the melting textures of any one of Costa Brazil's luscious treatments stop you in your tracks, as does their scent—every formula in the line is delicately laced with the same enchanting, mysteriously earthy one. "The fragrance is the first thing I created," says Costa. "It's mellow, spicy, and woodsy all at the same time, and it smells slightly different on everyone, which I love." The firming body oil, a cocktail of powerfully nourishing botanicals—Brazil nut, tucuma, and pequi seed oils—leaves skin looking springy and plumped.
Smoothing the sweet-almond-oil-and-green-coffee scrub into your body during a shower pulls you instantly into the moment. "You know how after a day at the beach, your skin and body feel so refreshed, you want to have sex or go to sleep? I wanted the scrub to make you feel that way," says Costa. "It's so thick and rich, you can turn the jar upside down and nothing comes out."
Then there's the acai-infused face serum: silky, lightweight, and super skin-boosting. "The serum reminds me of growing up in Brazil: After I'd been playing in the ice-cold waterfalls, my skin would just feel more…alive," he says. "It has that kind of instant energizing effect."
Brazil—Costa is from Guarani, a small, impossibly green town in the mountains southwest of Rio—saturates the entire line (there's also face oil, a body-massage tool, fragrance, and more). It all started when Costa left Calvin Klein in 2016: He took a six-month break to explore the Amazon rain forest—where he'd never been—and spend time with the Indigenous Yaminawá people. "Seeing the way they're so deeply connected to nature—the rising and setting of the sun controls their day, not a bunch of emails—it changed me," he says. "They live off nature and use powerful fruits and plants we've never heard of in sacred rituals and as healing medicine for their skin and spirit."
The first ingredient Costa learned about was breu branco. "It's an amazing resin from the almaciga tree with antimicrobial and anti-inflammatory properties that's been used for centuries for soothing the mind and spirit," he says. "It's considered sacred." Working with local chemists and botanists, Costa found other potent ingredients from the rain forest; slowly, a skin-care line began to take shape. The smoky, sun-warmed-earth-and-crushed-leaves scent of breu layered with patchouli, vetiver, and tropical flowers creates the line's signature fragrance; skin-smoothing, luminizing cacay (rich in omegas and a natural source of retinol) and kaya (a firming superfood that's wild-harvested sustainably and exclusively for the brand by local farmers) infuse the super active Jungle Complex that's put into every formula.
Costa was adamant about making the line clean—it easily meets goop's clean standards and is free of parabens, phthalates, PEGs, silicones, sulfates, mineral oil, and artificial colorants, plus it's Leaping Bunny–, FSC-, and PETA-certified. "There was no other way to do it," he says. "Clean for us means melding science with nature." That deep respect for purity is reflected in Costa Brazil's sustainability efforts: The brand has partnered with Conservation International, as well as other nonprofits, to make sure it's using sustainable sourcing, production, and packaging methods.
Costa's Amazon journey influenced his new brand, to be sure, but he says it still affects his life day-to-day, too. "I wake up at 5 a.m. now. There's something about the silence at that time of morning, even in crazy Manhattan. You find all the answers," he marvels. "I'm still a work in progress, but taking care of myself and making beautiful skin care to help people create rituals and slow themselves down really means a lot to me."
3 Early-Morning Slow-Down Rituals
for Beautiful Skin from Francisco Costa
1
Take a looong shower.
"Standing under the water is so relaxing—I've typically already been to the gym and back by the time I'm in the shower. I dip into the body scrub and work it up my arms, across my shoulders, knead my calves with it, and smooth it along the bottoms of my feet and onto my face. It feels so good and puts me instantly into the moment: Ground murumuru seeds serve as the exfoliant, and the hydrating oils leave your skin amazingly soft. And the scent—the signature fragrance, along with the green coffee—transports me back to the jungle."
Nourishing Green-Coffee Scrub

Costa Brazil

Exfoliante Para O Corpo Body Scrub

goop, $88

SHOP NOW
2
Lavish your skin with serum and moisturizer.
"My older sister is my reference for effortless Brazilian beauty. When we were growing up together, her hair was always air-dried, she never wore makeup, and her skin was clean and fresh. We all should be moisturizing. I'm naturally oily, but moisturizing is what helps keep my skin fresh, balanced, and plump. After washing my face, I smooth on our face serum—it's this light mix of aloe leaf juice, skin-energizing guarana from the Amazon, and vitamin C–rich camu oil. Depending on what my skin needs, I do either the serum on its own or I smooth oil on afterward."
Intensely
Brightening Serum

Costa Brazil

Sérum Para A Face

goop, $135

SHOP NOW

Smoothing Supercream

goop Beauty

GOOPGENES All-in-One Nourishing Face Cream

goop, $98/$86 with subscription

SHOP NOW
3
Massage your body with oil.
"Getting out of the shower and smoothing yourself down in body oil—I put mine on my face and massage it onto my scalp, too—is the easiest ritual. The more oil in your life, the better. We put all these firming, nourishing oils in ours—kaya, cacay, and brightening tucuma seed oil all make the formula so rich. It just feels addictive, having that moment with yourself."