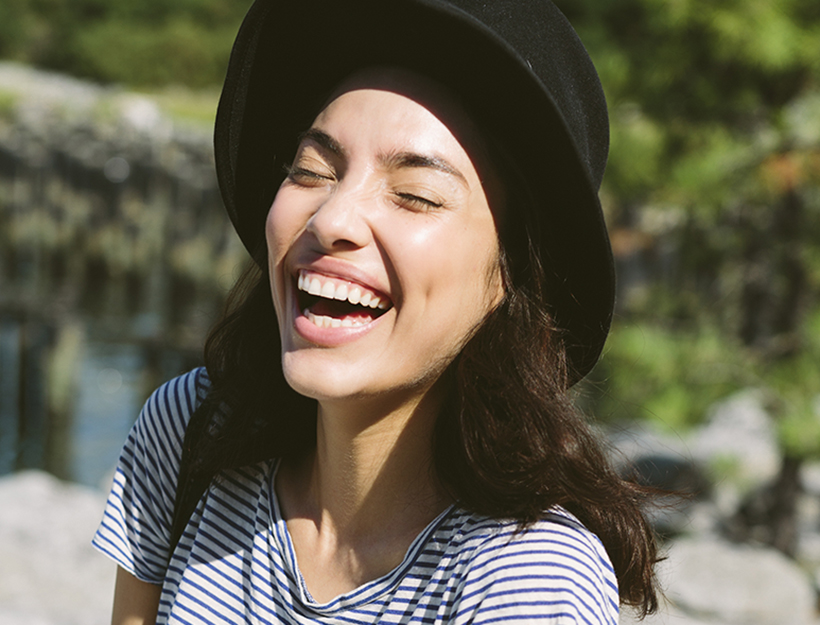 Combating Breakouts: Clear Skin All Summer
Summer is the ultimate less-is-more season, with bare skin on display more than any other time of the year—and it's often the most difficult moment for the blemish-prone for precisely that reason. The key, even as the urge to zap breakouts with ever-more-powerful solutions increases, is to go easy.
Counterintuitively, gentle and consistent beats quick and extreme, both for treating existing breakouts and for preventing new ones. "It's your everyday routine that makes the difference," says New York dermatologist and psychiatrist Amy Wechsler. This is as true for a 40-year-old mom breaking out for the first time in her life as it is for a 16-year-old.
The ideal routine involves cleansing, some combination of all-over treatment, plus moisture, and sunscreen—at the least. Some people have luck adding gentle toners and/or non-comedogenic oils (Herbivore makes amazing ones); many benefit from some form of exfoliation, too. One goop staffer started suffering from breakouts in her late thirties and tried everything, from regular facials to a well-known, conventional-chemical regimen. Nothing helped until the goop Exfoliating Instant Facial started making its way around the office and she began exfoliating with it regularly. "I still kind of can't believe it," she says. "My skin is practically clear."
Making your routine 100% clean is worth the effort: "Many conventional blemish products use benzoyl peroxide, parabens, alcohol, petroleum-based ingredients, artificial dyes, and fragrances…all can irritate skin," points out Karen Behnke, who founded Juice Beauty when she was, in fact, a 40-year-old mom breaking out for the first time. The artificial fragrance is particularly confounding, even if you don't consider its potentially endocrine-disrupting aspect; Behnke says: "I can't figure out why it's so often added to blemish products. The last ingredient a blemished customer needs is an aggravating ingredient like fragrance!"
Even within the clean beauty space, balancing a treatment's power with its potential to aggravate is critical—and deeply personal. Anything that aggravates skin contributes to breakouts, but many blemish-fighting ingredients, from alpha and beta hydroxy acids to natural clays, can dry and disturb skin if used in excess. "Stripping away the skin's precious natural oils—its protective barrier—can actually lead to more breakouts," says clean skincare guru/aesthetician/company founder Tammy Fender, who created her Clarifying Dermagel specifically for women over 30, who she finds need more skin-calming solutions (she uses myrhh, among other soothing ingredients) and more moisture in their blemish products. "Any time your skin is over-dried, the protective barrier needs extra support, or the skin becomes vulnerable to breakouts. Toners made with isopropyl alcohol, for example, are way too harsh."
People with different levels of skin reactivity use May Lindstrom's The Problem Solver—a powder-to-mousse mask made with antioxidant cacao, charcoal, clay, and a roster of nourishing botanicals—differently, says Lindstrom, who designed her innovative clean skin care line to treat her own extremely sensitive skin. "My clients use it three days a week, others two times a month," she says. "You have to work with your own skin. The biggest thing is getting to the very core of the problem, rather than simply addressing the symptoms."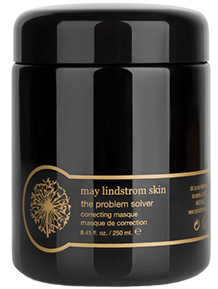 May Lindstrom The Problem Solver Correcting Masque goop, $90
It starts out as a powder (a blend of raw cacao, bamboo charcoal, soil nutrients, and spices), only releasing its potent elements once mixed with water. The resulting mousse targets blemishes and visibly tightens the appearance of pores. Use Lindstrom's facial treatment
bowl
and
brush
to mix the paste.

Tammy Fender Clarifying Dermagel goop, $72 Made especially for aging skin that's experiencing breakouts, this gel is designed to ihibit excess oil without drying the skin. Infused with thyme and myrrh, as well as tea tree to purify, clear, hydrate, and balance, this treatment gently restores troubled skin back to radiance.
"The drying aspects of some treatments certainly limit their use," agrees Wechsler. "For example, I usually don't prescribe benzoyl peroxide for the face—I find it way too drying and aggravating, and it doesn't work that well. The body can tolerate it better, so I like it as a wash for body breakouts. Topical retinoids also cause dryness, so I start with a weaker one and build up slowly."
For mild breakouts, Wechsler likes topical treatments: retinoids (differin, Retin-A), clindamycin, benzoyl peroxide washes for the body, and glycolic/salicylic acid pads. For more difficult cases, Wechsler combines topicals, oral treatments, and lasers. "Orals include oral antibiotics like minocycline or doxycycline, birth control pills, Aldactone, and Accutane," she says. "The best lasers are Regenlite and Isolaz." For severe breakouts, Wechsler says the gold standard in treatment is still Accutane.
Wechsler combines the sometimes-powerful treatments with skin-soothing moisturizer. "I love Solution 10 from Chanel, because it doesn't clog pores, it moisturizes really well, and the soothing silver needle tea extract helps people tolerate drying breakout treatments better," she says.
Similarly, the team at Herbivore Botanicals developed their blue tansy line with an oil—as mentioned above, perhaps the most beautifully-packaged breakout product ever—that moisturizes and soothes. "In addition to clearing your pores of debris and removing both excess oil and dead skin cells, it is crucial to keep your skin hydrated with an oil specific to your skin's needs," says Willie Freitas, brand specialist at Herbivore Botanicals. "Blue tansy essential oil is replenishing for troubled skin."
The need for gentle treatment extends to sun protection, which gets blamed for many breakouts and is often skipped by the blemish-prone—a huge mistake. In general, it's not the oils in them that cause breakouts, it's the chemicals, which are among the most aggravating of all the chemicals used in skin care. "Some chemical sunscreens clog pores and aggravate blemish-prone skin for sure," says Wechsler. "It's a bit of trial and error to find the right one." Clean beauty, in this case, is demonstrably superior to conventional: "Zinc oxide is inherently soothing to skin, so for many reasons it's a good idea to use this physical blocker," says Wechsler. In fact, while it's true that sebum production can increase in the summer, Fender points out that it's over-drying, often caused by sun exposure, that causes more breakouts.
Lifestyle can also make a huge difference. No matter what your age, or how severe your problem, Wechsler (who holds degrees in dermatology and psychology) advises sleeping more. "We heal in our sleep," she says. "Breakouts spike during periods of stress, so controlling that as much as possible makes a big difference!"
A clean diet helps many people (limiting sugar is often especially helpful), as can regular exercise—followed immediately by a cleansing routine of some sort. "Get sweaty gym clothes off ASAP if you get body breakouts at all," says Wechsler. Take a shower, or bring wipes with you (Ursa Major's are especially great in a gym or makeup bag, since they come in single-use packettes; RMS's are made with raw coconut oil, a source of caprylic and lauric acid, both of which have soothing properties.)
Indeed, the sole instance where harsher can be better is in treating body breakouts, which are notoriously harder to treat. "It may be simply that the skin is thicker so topicals don't penetrate as well," says Wechsler, who notes that lasers for face do work well for body. At home, pads soaked in treatment products (like the ones from Juice Beauty, above) exfoliate as you swipe them on, clearing the way for a bit more treatment to actually reach the breakout; alpha and beta hydroxy acid masks like the goop Exfoliating Instant Facial or Fender's Epi-Peel, left on longer than you would for the face, are great too. Clay masks that dry on skin are wonderful to leave on overnight to give the active ingredients a full chance to sink in. The one from LILFOX is amazing as a mask—it's made with clays, charcoal, and raw cacao—but can also be left on overnight as a spot treatment, as can May Lindstrom's The Problem Solver, or Immunocologie's Vital Clay.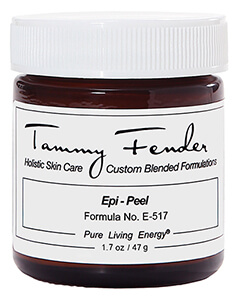 Tammy Fender Epi-Peel goop, $80 Use this clay, spearmint, and Moroccan rosemary mask to smooth away dead skin cells, beautifully hydrate, clarify skin, and increase glow. What's more, it's quick: It takes less than five minutes to do its work.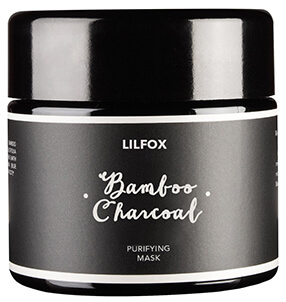 LILFOX Bamboo Charcoal Purifying Mask goop, $55 Made with Rhassoul and Dead Sea clay, activated bamboo charcoal, raw cacao, and soothing organic botanicals, this weekly detoxifying mask is amazing: Spritz with water or toning mist and it turns into a velvety mousse that smells of cacao, lavender, and frankincense. The mousse cleanses, tones, balances, and revitalizes skin, evening skin tone, and restoring balance overall. Incredible for all skin types; especially helpful for oily or blemish-prone.
Beyond any particular formula or ingredient, though, it's the routine—day in, day out, when you have a breakout and most especially when you don't—that will, eventually, change your skin. Expect at least six weeks of non-perfection after starting any regimen—even with dermatologist or aesthetician procedures augmenting your at-home regimen. Top New York aesthetician Mashell Tabe, who treats blemishes with a combination of microneedling, nutrient infusion, and light therapy, says daily at-home care is a critical adjunct to her treatments: "Get professional help if you need it, but consistency and persistence are essential," she says. Clay, charcoal, alpha and beta hydroxy (salicylic) acid, vitamin C, essential oils like blue tansy, extracts like cacao and coconut, and zinc oxide are all good for breakouts because they're inherently skin-soothing. Choose formulas made with them for each step within your routine, and give them time to work. And once they do, keep treating, consistently and indefinitely—don't stop at the end of the summer. "I see breakouts all year long," says Wechsler, "and I do see adult breakouts every day in my office."
Related: How To Get Clear Skin