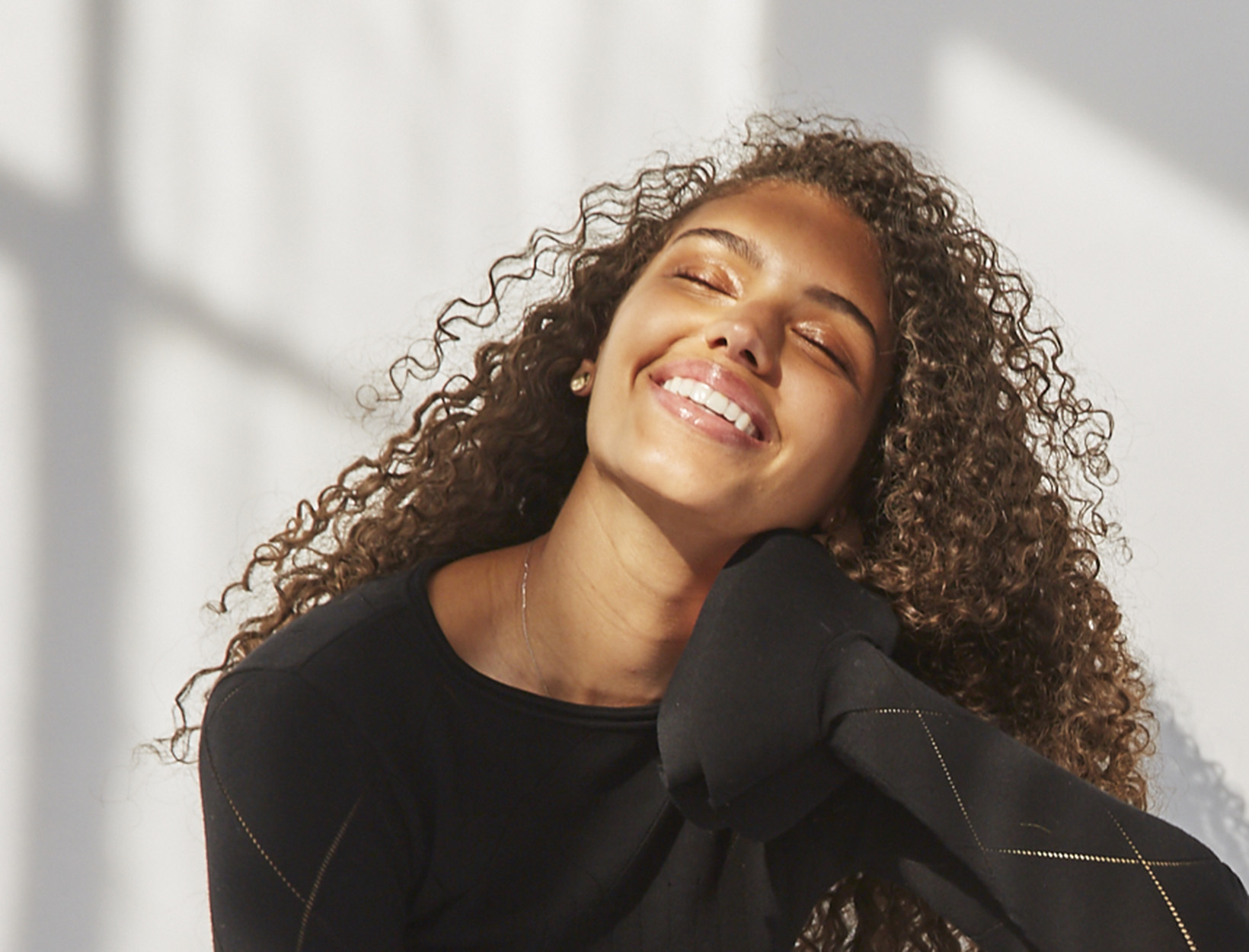 TOMAS MAIER, Jour Knit, goop, $850
Clear Skin for Everyone, at Every Age
Beautiful skin, the kind so astoundingly clear and bursting with life that it prompts actual commentary, is its own rapture. It's also quite rare: Some 50 million people in America deal with breakouts, according to the American Academy of Dermatology, which also says that acne is the most common skin condition across the country.
But bad skin is by no means something to resign yourself to, nor is it something that afflicts a specific demographic—dermatologists report that acne is on the rise in adults. "Both adult and teen acne need topical skincare addressing bacteria, pore clogging, and oil production," says dermatologist Robert Anolik, M.D., clinical assistant professor of dermatology at the NYU School of Medicine. Anolik, who has everything from pore-clearing blue-light machines, topical and oral antibiotics, and cortisone shots at his disposal, says consistent, everyday, at-home care makes a major difference in skin. He also notes that natural solutions can be every bit as powerful as conventional ones. (In one study, a 5-percent gel of antibacterial, anti-inflammatory tea tree oil was as effective as benzoyl peroxide 5-percent lotion in treating mild to moderate acne.)

Here, some clean, non-toxic, but seriously effective strategies for at-home care.
Cleansing and toning discourages bacteria and clears away excess oil. (Again again, consistency is everything—give any new regimen about six weeks before you can truly evaluate how it's working.) Some of our favorite products incorporate elements like charcoal, clay, honey, and even probiotics to treat skin:
Exfoliation also plays a big role in keeping skin clear, Anolik says. Here again, non-toxic choices can equal or even better the power of conventional, filler-, fragrance-, and preservative-filled options. Alpha hydroxy acids (AHAs), for instance, dissolve detritus like oil, dirt, and dead skin cells that clog pores and cause bacteria to thrive. People with normal and combination skin should exfoliate up to three times a week, while sensitive skin types might try a single session once a week.
Soothing skin skin is critical, too: Inflammation of any sort builds on itself. Ingredients like cacao, clays, niacinamide, and botanical extracts like turmeric and licorice root are all different, nontoxic approaches to the irritation problem; we like them in all-over serums or even leave-on face masks.
If your acne is hormonal—interestingly, Anolik says adult acne is often more hormone-driven than teen acne—maintain your topical routine, but also realize that diet may play an even more crucial role. High-glycemic foods, like white bread and sugar, spike insulin and can change the way the body metabolizes estrogen, as well as trigger the stress hormone cortisol, all of which can result in fluctuating hormone levels that wreak havoc on your complexion.

And while it might feel counterproductive to smooth on anything remotely emollient when your skin is in full-on eruption mode, hydration is crucial. "The skin is already inflamed from acne, and drying it out successfully can lead to more inflammation, so existing acne can ultimately look worse and more raw if it's also very dry," he says. Products that dry skin less in the first place—gentle non-toxic cleansers instead of detergent-based ones, for example—are ideal. And avoid using too many products at the same time, which can further irritate skin (trust us: using tea tree oil and alpha hydroxy acid in the same night is a recipe for painful, cracked disaster). As always, everything in moderation—a hard thing to remember when you're facing down a new breakout, but nonetheless, a key to keeping skin clear, long-term.