Clean Skin-Care Routines for Tweens and Teens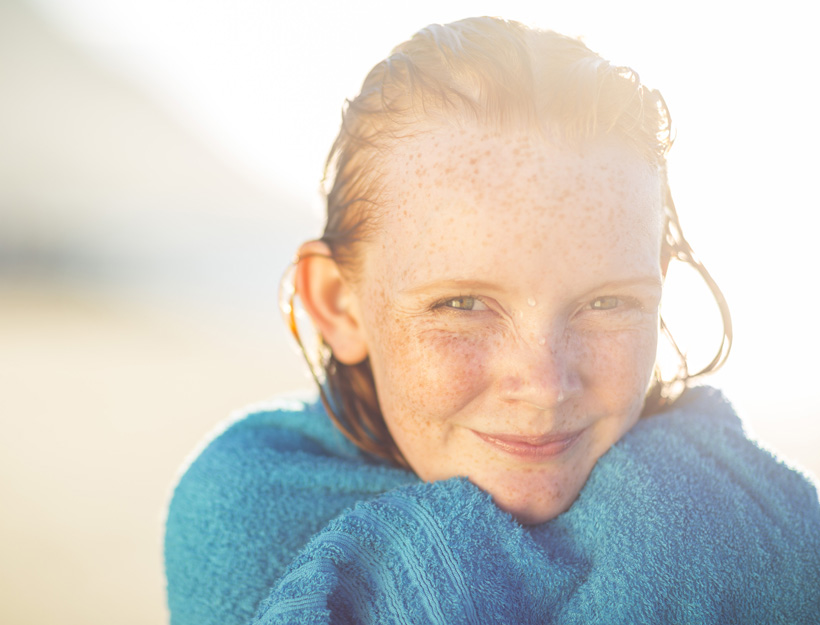 The mystery of exactly how hormones are going to change your child extends to practically every aspect of life, from the way they act, to how they look, to the way they sleep. How—and when—hormones are going to affect their skin is yet another unknowable factor. Childrens' oil glands shut off at about six months of age, says New York dermatologist and psychologist Amy Wechsler, herself the parent of a teenager. "You know how infants get cradle cap? That's the oil glands, activated by the mother's hormones in the womb." Inactive throughout childhood, the skin's oil glands can be among the first changes stimulated by the hormones of puberty. "Acne and seborrheic dermatitis—dandruff—sadly, often comes before the rest of the signs of puberty, sometimes as early as eight or nine," she says. Before that happens, kids' skin doesn't need much beyond clean SPF (more on that later), but once it does, it can show up as anything from mild oiliness to a severe breakout. "For the most part, it's the T-zone, and for the most part, just blackheads and whiteheads," says Wechsler.
New York dermatologist Robert Anolik points out that 85 percent of people between twelve and twenty-four experience problem skin: "Frustratingly, it often continues into adulthood." As anyone who's ever had even a single pimple knows, a bad skin day can be far worse than a bad hair day. "It's so important to address—I always thank parents for bringing their kids in," says Wechsler. "I tell them we can fix this, but it will take some time: No acne patient sees real changes for at least six weeks, so you've got to prepare everyone for that."
Cleansers for Teens
Your moment to teach your child about daily cleansing—the most critical aspect of getting a routine started—is once you see signs of oily skin or breakouts. "It's absolutely something you have to teach," says Wechsler. "It's uncomfortable and weird at first to have soap or cleanser all over your face. Just like you'd teach a kid to shave their underarms or legs, you have to show them how to do it." (Or shaving for boys, which generally comes later, but Wechsler gives the tip that when the time does come, electric razors are much gentler on skin, easier to use, and harder to hurt yourself with than regular ones.)
Because an evening washing is much more strategic, focus on that first. If your child showers at night, take advantage of the fact that they're already wet and cleansing, says Anolik. "To make cleansing a separate step at the sink can be difficult," he says. "I often have them use a facial cleanser in the shower when they are already lathering up. Shampoo to hair, cleanser to face, body wash to body."
"Unless a kid is a really sweaty sleeper, the morning is much less important," agrees Wechsler. "And truly it's just a lesson: Cleanse all the way up to the hairline, behind the ears, the shoulders, the back. And if there's a gentle bar they already use for body, they can start by using the same thing for face."
When considering skin care for kids, Anolik recommends cleansers as opposed to true soaps: "They can strip the skin of its surface natural barrier because they have a very high pH relative to a more neutral skin surface," he says. "Cleansers are more neutral in pH and therefore much less irritating."
Extra Cleansing for Teens
A child involved in athletics is going to need more. "If you know you're going to be sitting on a bus for an hour after a game in sweaty clothes, bring an extra sports bra, and extra t-shirt," says Wechsler. "Think about shoulder pads, and make sure helmets and chin straps are clean, too." Face wipes can be incredibly helpful after exercise—and for cleansing-resistant tweens and teens, can stand in for cleansing, especially if they have salicylic acid in them (Ursa Major's do, and they're individually wrapped, making them especially amazing for travel; RMS's individually-wrapped wipes take advantage of the soothing caprylic acid in coconuts). The nice thing about the salicylic acid in wipes is it stays on the skin, helping to cleanse pores. *It's important to note that going clean with wipes is especially important—conventional wipes contain preservatives, not to mention skin-irritating fragrance in most cases.
Topical Treatments for Teens
If your child is actively experiencing breakouts, the next thing to add in is a topical treatment—used daily all over the face, as opposed to typically harsher "spot treatments". "The spot treatments don't work all that well," says Wechsler. "Acne takes time to clear up either way, and a harsh, drying product often makes it worse." Start with a gentle salicylic acid treatment that's mildly exfoliating yet not drying. Alternately, there are breakout-targeting face oils like Herbivore's Blue Tansy that's infused with skin-calming azulene. Wechsler says she likes to use a retinoid like Differin (a gel form of which just became available over the counter) in the evening after cleansing, and topical clindamicin in the morning if needed. While not necessarily toxic, benzoyl peroxide is irritating, especially to more-sensitive tween and teen skin. "It's not uncommon to have a irritation to benzoyl peroxide products—but they are very effective," says Anolik. "If it's well tolerated and someone has inflamed, cystic types of acne, I do recommend it. A few things to note: Low-concentration benzoyl peroxide can work very well, so typically I don't jump to recommending higher, more irritating concentrations." Wechsler says she uses it most for cases of body acne, and even then likes it in wash form. "Benzoyl peroxide bleaches fabric—clothing, sheets—so it's better to wash it off," she says.
The problem of irritation is a significant one, says Wechsler. "People tend to want to throw the book at a breakout, and they'll layer on drying thing after irritating thing, benzoyl peroxide on top of a really strong clay mask, on top a harsh scrub, etc. Inflammation makes acne worse. Slow and steady treats even serious breakouts." A calming mask, however, can be a fun and slightly silly ritual that really engages a kid.
In-office blue light treatments soothe skin; both Wechsler and Anolik use them with tween and teen patients. For more severe cases, medications like antibiotics and Accutane can be used starting at age 12. Wechsler always emphasizes that if a patient ever has a pimple that's large enough to inject with cortisone that's really bothering them, she'll always make the time to see them that day. If you feel it's merited, never hesitate to drag even a reluctant sufferer to the dermatologist: it's a problem worth fixing.
Clean SPF for Teens
As tough as it is to get your child to cleanse, put at least as much effort into getting them to use sun protection. "So many teens and tweens don't worry about sun tans or burns—many like being tan, and don't worry about the harm it causes," says Anolik. "It's part of their feeling of immortality at that age. Sun damage is cumulative, and the more you get in childhood and tween years, the more evidence of it—looking older than you are, getting skin cancers—you'll have later in life." Girls experiencing breakouts may already be interested in makeup to help cover it up, and since many tinted moisturizers and foundations have SPF in them, this can be a brilliant synergy. "Step it up in terms of quality," says Wechsler, who skips the drugstore entirely when shopping for a tween/teen tint or foundation. "You want formulas made with skin care ingredients."
Clean mineral makeup, made with titanium dioxide has a soothing effect on skin. That said, covering up fresh, youthful skin with full-on makeup is crazy: More translucent SPFs like the one from Vive Sana or Beautycounter are ideal; Rituel de Fille and RMS Beauty both make concealers infused with calming ingredients. For boys or girls who want no tint Ursa Major's SPF 18 is weightless and rubs in incredibly easily.
Above all, don't ignore changes in your tween or teen's skin. "The psychological impact of problem skin is real," says Wechsler. "Knowing that, and bearing in mind that everyone has to be patient at first—that no treatment is going to give you immediate changes—is important." Sleep levels, stress levels, and a high-glycemic (lots of sugar) diet (Anolik mentions low- and non-fat milk specifically) can intensify or even trigger breakouts, depending on the person; family history plays a role, too. It takes a little time, but we'll get there.