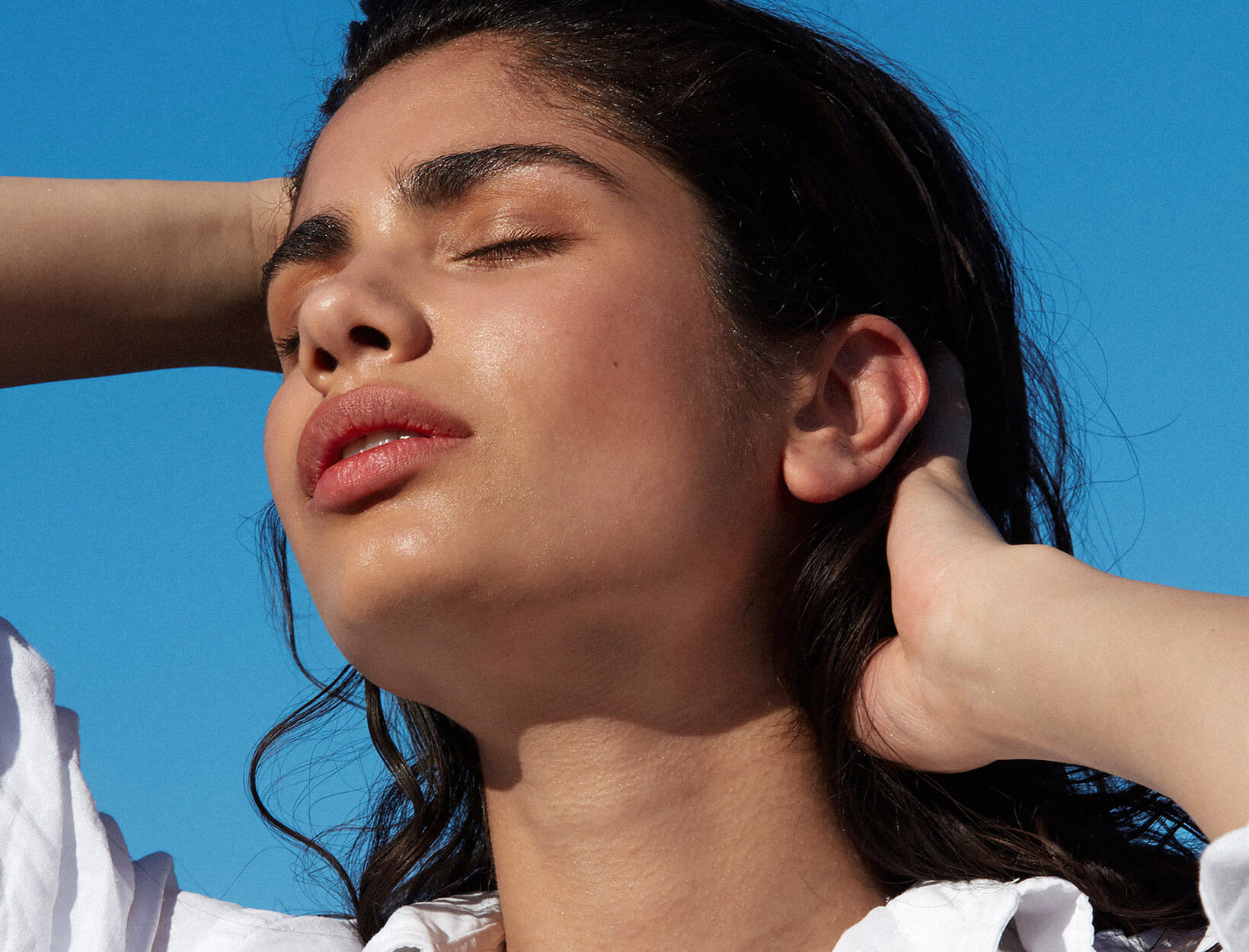 Photo courtesy of Alvaro Goveia/The Licensing Project
A Clean Skin Routine for Morning and Night
No matter what your age or skin type, glowy, healthy skin that's firm, smooth, and supple makes a huge difference not just in how you look but in how you feel. Make a clean start (literally) with a simple routine and clean skin care superpowered with highest-quality ingredients, like a malachite-infused cleanser to refine pores, an ingenious patch system to soothe breakouts, and a daily shot of liver-supporting milk thistle to help leave your skin radiant. We've mapped out what to do each morning and evening—and added in some weekly treatments to keep skin at its best every day of the year.
NIGHT ROUTINE
1

PORE-CLEANSING FACE WASH

The detoxifying malachite and natural AHAs in this daily foamy cleanser refine pores and clear away the day's makeup and grime—the perfect primer for nourishing skin treatments to follow.

goop Beauty

G.Tox Malachite + Fruit Acid Pore Purifying Cleanser

goop, $48/$44 with subscription

SHOP NOW

2

MIRACLE SKIN TREATMENT

This face oil will blow you away. It's clinically proven to help diminish the appearance of lines and wrinkles, improve skin firmness, smooth skin texture, and increase glow, as well as soften, nourish, and moisturize. Made with nine powerful nutrient-dense oils (including the retinol alternative bakuchiol, vitamin-A-rich cacay, and organic amla, a vitamin C superfood), it's a restorative daily treatment with real results: After four weeks of use, 100 percent of women showed significant improvement in skin texture, and 97 percent showed significant improvement in the appearance of fine lines and wrinkles.3

goop Beauty

GOOPGENES All-in-One
Super Nutrient Face Oil

goop, $98/$89 with subscription

SHOP NOW

3

MOISTURE BALM

This delicate yet deeply nourishing rich cerulean balm is both super moisturizing and deeply calming. Made with organic botanicals (olive leaf, St. John's wort flower, and dandelion flower) hand-harvested from an 800-acre Sicilian estate, it's brilliant for any type of skin, including sensitive, and it feels like heaven as you smooth it on. We're obsessed with the gleam and lasting hydration it gives the cheekbones and the delicate eye area.

Furtuna Skin

Rinascita Delle Olive
Replenishing Balm

goop, $185

SHOP NOW
extra credit
1

OVERNIGHT PEEL

The powerful fruit extracts and 15% glycolic acid in these overnight peel pads slough away everything (they're super powerful), so you wake up with glowy, vibrant, impossibly smooth skin. Flip over and use the textured side to soften sun-damaged shoulders.

goop Beauty

GOOPGLOW 15% Glycolic
Overnight Glow Peel

goop, $125/$112 with subscription

SHOP NOW

2

BREAKOUT SOLUTION

We love how quickly—and how well—this ingenious two-step system works to help clear the appearance of blemishes. Start with the individually packaged wipes, which combine salicylic acid, tea tree oil, vitamin E, and alcohol to gently exfoliate stressed skin. Next, apply a practically invisible sticker. There are tiny microdarts on the sticky side of each sticker that deliver hyaluronic acid, salicylic acid, vitamin B3, and sodium hydroxide deep into skin, then dissolve.

Zitsticka

Killa Kit

goop, $29

SHOP NOW

3

AT-HOME DEVICE

This nanocurrent device aims to stimulate collagen and elastin to make anyone's skin look brighter and more supple. Developed by legendary electric aesthetician Melanie Simon, it comes with a totally clean conductive gel—a nourishing, skin-coddling serum that's a treatment in and of itself—that you apply generously before using. The device is incredibly easy and works with your phone to deliver nine different electrical treatments, each targeting a particular skin concern, from sagging and dullness to breakouts. You can do it day and night, weekly, or monthly—the results are incredible.

ZIIP

ZIIP OX + Crystal Gel Kit

goop, $480

SHOP NOW
---
1These statements have not been evaluated by the Food and Drug Administration. This product is not intended to diagnose, treat, cure, or prevent any disease.
---
2Based on an eight-week third-party consumer-perception and clinical study conducted on thirty-three women ages thirty-five to sixty-five.
---
3Based on an eight-week third-party consumer-perception and clinical study conducted on thirty-three women ages thirty-five to sixty-five.