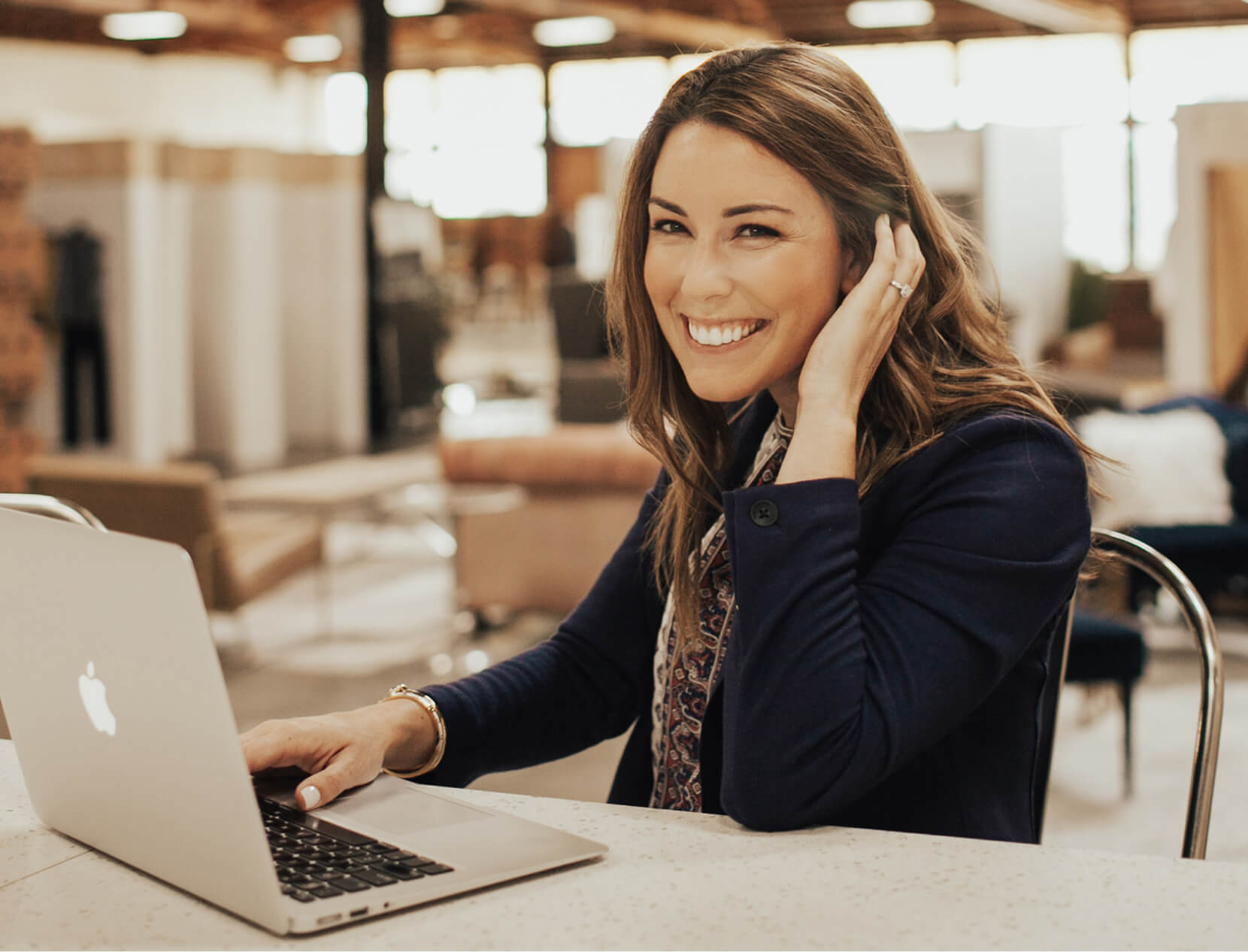 My Morning Routine
Why I Exercise, Shower, and Still Get
Dressed Up Every A.M.
Lauren McGoodwin
|
Founder and CEO of Career Contessa; author of Power Moves: How Women Can Pivot, Reboot, and Build a Career of Purpose; host, The Femails podcast.
She's working to help close the pay gap and sheltering in place isn't stopping her. Lauren McGoodwin, the CEO of the female-focused career search and salary-information platform Career Contessa, also hosts a podcast and wrote a new book, Power Moves, on the subject. "It's busy!" she laughs.
Getting women jobs and even raises, particularly in this climate, isn't easy; before the coronavirus pandemic, women were still earning roughly eighty-one cents for every dollar men were making, according to the pay equity analysis platform PayScale, and the mass unemployment that's happened since those numbers came out definitely isn't improving the situation.
To stay focused, McGoodwin says maintaining a stricter-than-usual routine really helps. "In these weeks of working remotely, I've noticed a huge difference in my productivity, focus, and energy when I get up and exercise, shower, and get dressed for the day," she says. She's not into a lot of makeup, so skin care is paramount. "I've become much more conscious of what I'm putting on my skin, and I'm moving toward clean products after a rosacea outbreak," she says. She took us through her routine:
5 a.m.: I drink a glass of GOOPGLOW before heading out for a walk. I'm obsessed with the power of rituals, and this is a new one for me that's a perfect addition to the morning. It tastes great and takes just a second to mix up—and knowing you're doing something great for your body sets up the entire day.
5:15 a.m. to 6:15 a.m.: I walk for an hour listening to a podcast. My regulars are Digiday and Recode Decode, I also love The goop Podcast, Almost 30, and a good murder mystery, like Over My Dead Body.
6:30 a.m.: At home, I shower, and while I let my hair air-dry for a bit, I wash my face and start with a serum: either the tripeptide one from Beautycounter or GOOPGLOW vitamin C (I alternate). The vitamin C is really strong, and I feel like my skin is better able to absorb other products after using it. I've even noticed I use less makeup on my face since I've started using it.
Then I apply Glow Drops from Barbara Sturm, which leave my skin smooth and hydrated—I really love the finish. Sometimes I dab on a little goop eye cream, which is like a moisturizing secret weapon to keep my concealer from cracking or looking dry.
7 a.m.: While my skin care sinks in, I get dressed and make coffee. I post on Career Contessa's Instagram and see if there's anything urgent in my inbox.
7:30 am: I blow-dry my hair and finish off with Beautycounter's Dew Skin, which is perfect for a no-makeup person like me. I'm learning that you need less makeup when you invest in great skin care and use it consistently. Then I get dressed: My daily uniform is jeans, a blouse, and cute tennis shoes. Starting my day the same way, Monday through Friday, has been a source of calm and control amid the uncertainty.
8 a.m.: I'm not a huge breakfast eater, but I'll sometimes make a smoothie. I write out my to-do list with stars next to my top three priorities, and then it's officially work time.
I sit down with my second cup of coffee and work on the biggest tasks first, until around noon, when I take a break to make lunch. My husband and I sit outside to eat and get some vitamin D. After lunch is when I'm my least productive, so I spend the later part of the day on easier tasks or more fun things like interviewing someone for the podcast. I take breaks throughout the day to help structure my time and get me up from behind the screen. I work until around 5 p.m., eat dinner at 7 p.m., watch some Ozark on Netflix, and then work for another hour or so—I'm most productive around 9 p.m.—before completing my night with a few stretches.
We hope you enjoy the book recommended here. Our goal is to suggest only things we love and think you might, as well. We also like transparency, so, full disclosure: We may collect a share of sales or other compensation if you purchase through the external links on this page.