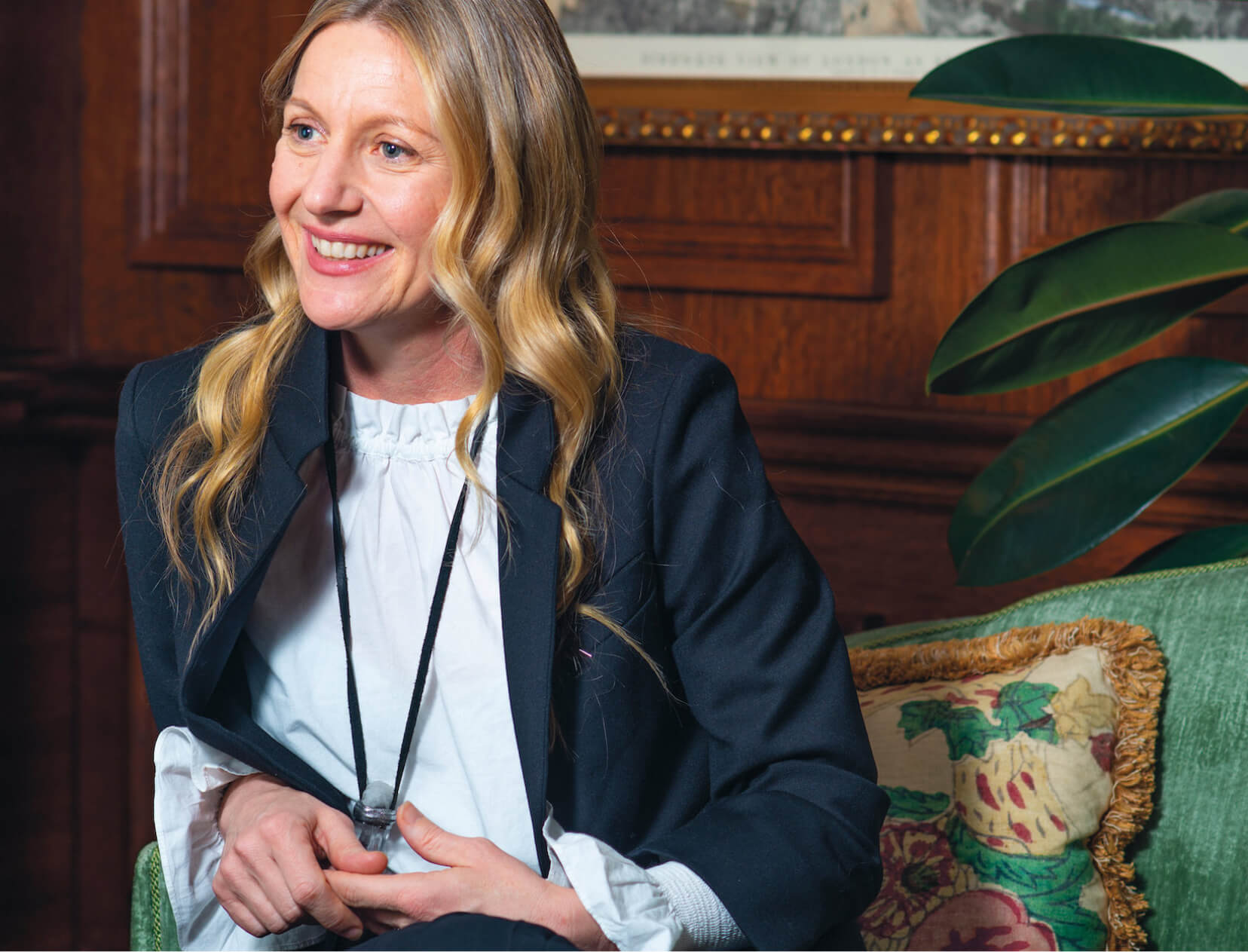 Can Stress Visibly Age Your Skin?
Can the effects of stress show up on skin as increased wrinkles, dryness, and dullness? It's hard to imagine a new treatment designed to restore stress-compromised skin could work so beautifully and so powerfully until you've pumped out a few silky drops, taken in the gorgeous rose-chamomile-sandalwood scent, and witnessed the moisturizing, noticeably smoothing results. What this new (and exclusive-to-goop) serum from UK-based traditional Chinese medicine practitioner, facialist, and acupuncturist Annee de Mamiel (above) does outwardly is make dull, dry, or problem skin look and feel softer, calmer, and more luminous.
How it delivers those results is one of the most extraordinary things about it: The serum goes beyond typical approaches, working in ways not commonly targeted by topical products to help counteract the negative physical effects of stress on skin.
"Stress—either a surge or a more constant release of the stress hormone cortisol in the body—impacts us on an emotional and cellular level. I attribute loss of firmness, thin or tired-looking skin, breakouts, premature wrinkles, dryness that can't be replenished, and other issues to stress," says de Mamiel, whose treatments at her skin clinic in Hertfordshire focus as much on quieting the mind as they do on treating skin (they combine elements of a facial, massage, craniosacral therapy, and acupuncture into an experience so transformative that there's a years-long waiting list). "But the way stress shows up on skin depends on the individual," says de Mamiel, who started ruminating on that idea thirteen years ago. "Because people respond so differently, how to make this serum was a real conundrum. I knew I wanted something that addressed both skin and mind."
de Mamiel knows something about stress: She completely changed her life and career after receiving a cancer diagnosis giving her six months to live twenty years ago and started her practice and company as a result.
de Mamiel carefully chose each ingredient in First Fix to fortify and replenish skin and to work synergistically for different skin types. Neurophroline, extracted from wild indigo, supports skin tone in the eye area. Passioline, a concentrate distilled from maracuja oil, leaves skin smooth and supple; de Mamiel added sea buckthorn, a source of fatty acids, to help support firmness and the skin's appearance in the face of stress. Something called round-headed bush clover boosts radiance, while a blend of intensely nourishing oils—prickly pear, kahai, and pomegranate—flood skin with moisture protection. (In independent clinical trials of women who identified stress as a lifestyle concern, 80 percent of the subjects said their skin appeared more radiant, while 88 percent said their skin felt smoother after two weeks of using the serum.)
How you use it is as important as the ingredients, de Mamiel says: "Warm three or four pumps of serum in your hands and take a deep inhale before massaging it onto your face—aromatherapy is so, so important to help calm the mind, which in turn helps the skin."
Her skill with aromatherapy is well established; de Mamiel's Altitude Oil—an inhalation elixir that combines all sorts of incredible oils—is a bestseller on goop, and the bath salts she's now created based on the formula are an aromatherapeutic dream. "Take a bath!" she says. "There are very real studies on the link between bathing and reducing stress." Sinking into the lavender-pine-lemon-and-peppermint-scented pink Himalayan and Dead Sea salt soak feels like a meditation in and of itself. "The next time you're in the tub," she continues, "submerge your shoulders for twenty to thirty minutes and you'll feel the difference." (Her body oil is also an irresistible, if totally different, form of aromatherapeutic heaven.)
The aromatherapy in First Fix, perhaps unsurprisingly, is next-level: Psychometric testing found its combination of precious essential oils—including sandalwood, Cape chamomile, rose, and vetiver—significantly impacted the positive emotions of test subjects.
On top of its impressive clinicals, the serum receives the same energetic treatments that all de Mamiel products do: Each bottle is meditated over, chanted to, bathed in music, and charged with crystals before it goes out into the world. The extraordinary process is about as unscientific-sounding as it gets, but we firmly believe it helps explain why her treatments light up our skin so spectacularly.
For the best results, use the serum morning and night, de Mamiel says. It's easy to add to any routine—we just added it right into ours, as opposed to switching something out for it. She also gave us a simple four-step routine that works on all skin types for glowy, smooth skin, not to mention a noticeably soothed psyche.