Face Oils and Cartwheels Are My Secret
Written by: the Editors of goop
|
Published on: January 18, 2022
|
Updated on: November 14, 2022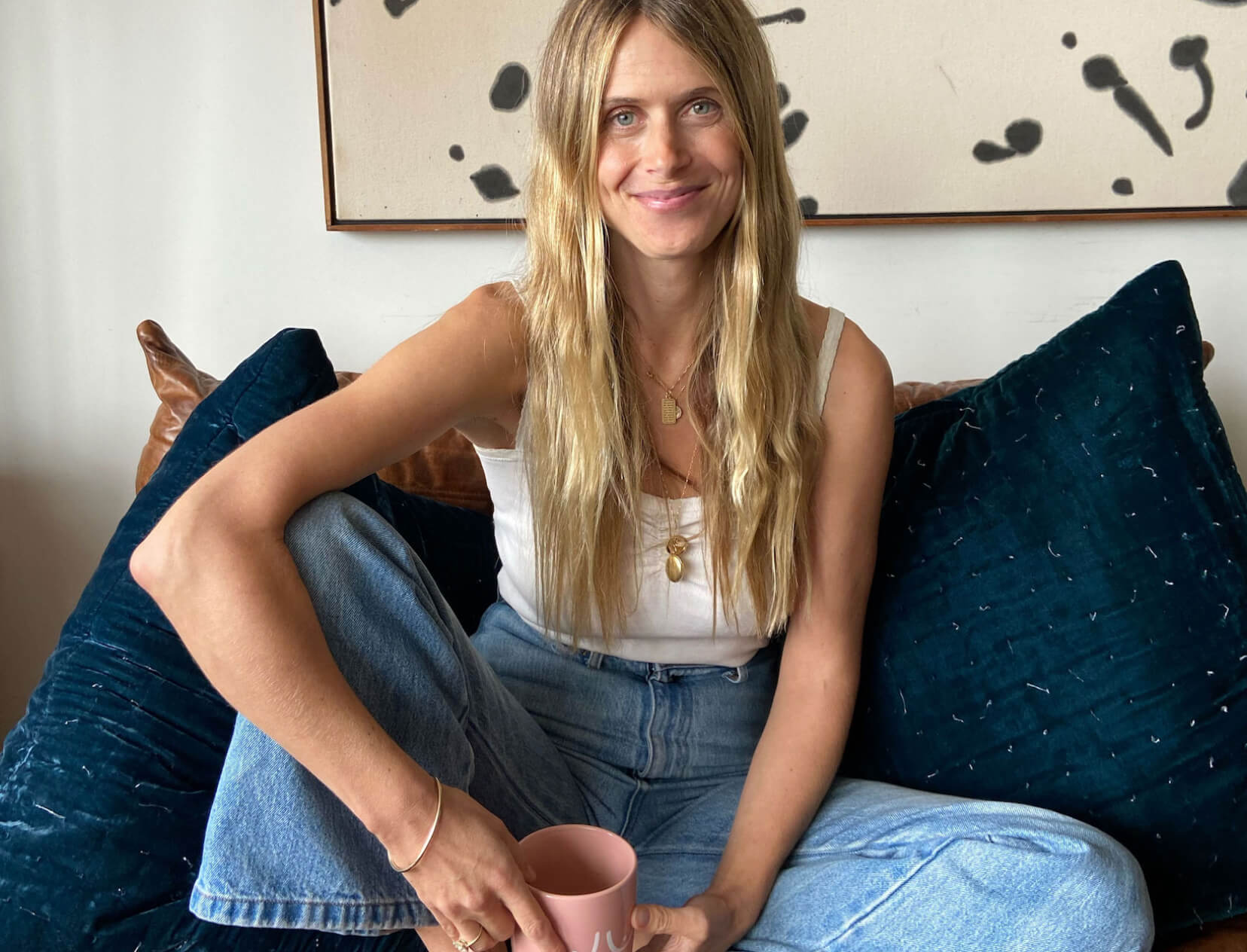 Photo courtesy of Mikey Neff
Hello, My Age Is: 44
Molly Rosen |
founder of Brooklyn Writers Collective, author, and entrepreneur
If you meet Molly Rosen for an early-morning oat milk cappuccino at her neighborhood Brooklyn coffee shop, you won't be sitting down to drink it. "How am I even a writer when I hate sitting so much?" she asks. "Sitting is the new smoking." The forty-four-year-old mom of two prefers an ambling-in-the-sunshine coffee hang to a stationary catch-up, and her easy, sparkly energy matches the sparkle of her (makeup-free) skin. "After twenty-five years in business, I've finally hit my stride," says Rosen, who experienced huge success with her first enterprise, Stone Fox Bride, a zeitgeisty bohemian wedding dress brand beloved by downtown cool girls and celebrities. Now she runs the Brooklyn Writers Collective, where she teaches virtual writing classes ("Pain, Pleasure, and Summer," and "Write the Fucking Book," to name a couple) and leads in-person writing retreats. "I love my job," she says. She founded the collective three and a half years ago after closing the dress brand; some of her wedding clients, going through their own evolutions and divorces, became her first students.
Rosen's a single mom to six- and nine-year-old girls and is in the midst of writing her second book (her first, Stone Fox Bride: Love, Lust, and Wedding Planning for the Wild at Heart, was a hit when it came out in 2017). She balances all the work and responsibility with escapes into nature (spinning one-handed cartwheels with her daughters in McCarren Park, for example), and finding small yet resounding rituals that keep her spirit resilient and her skin glowy and fresh.
1
Listen to your hippie mom about face oil
My mom has shopped at the health food store and taken incredible care of herself her whole life. She always said: "No synthetics, no parabens—and the more oil you put on your skin, the better." I looove oil. I have dry skin, so I slather on almost any oil I can find—jojoba, coconut, a nice avocado. But the goop face oil, in particular, is a miracle; I use it morning and night. It just makes my skin look so vibrant, and I love how it smells.
I just splurged on Vintner's Daughter serum to try it out, and it's powerful. The shea butter cream from S.W. Basics is the shit, and Egyptian Magic balm can fix a lot.
2
Massage is amazing for perimenopausal skin
The more I massage my perimenopausal skin, the more supple it is. I smooth on my goop face oil, then suction my face with facial cups I got off Amazon, working upward to get a little lift. In general, I do lots of vigorous face massage, to wake up my skin and get it nice and plumped. My sister gave me a session with a facialist who's famous for this amazing two-hour face massage, and now I emulate some of what I learned there, again using the goop oil. I also try to get facials once a month at my BFF and facialist Diane Vargas's studio, Heart in Hand, in Brooklyn—I walk out of there with great skin. I also massage Complex Creatures—my friend's breast-cream brand—in every night. It's incredible.
3
Cleanse with a little grit
I've never had an in-office microdermabrasion treatment, but I feel like Microderm comes the closest to what I imagine it might be like, sloughing off all the old skin cells. The texture, the sort of nonsmell—I just love it. I work it in vigorously, for this newborn-baby radiant glow. I look forward to the two days a week I do it. On other days, I wash my face with straight manuka honey—it's kind of grainy and works in a less-powerful but similar skin-polishing way.
4
Look up at the sky
Every morning after dropping my kids off, I sit either on my patio or a bench in McCarren Park for ten minutes to connect with my higher power. I say the Saint Francis prayer, which I think is beautiful. I ask whoever is listening to protect my kids from harm. I make a point of looking up at the sky and sun; drenching myself in vitamin D—and seeing that expanse of blue or white—is good for the head and heart. The secret is a calm nervous system that runs on peace and calm and low cortisol. And warm water with lemon alllll day long.
5
Play up your natural hair texture
I love my hair now, but it took a long time. When I was younger, it was the day of the waif model—Kate Moss, Amy Wesson, Kristen McMenamy—and they all had this super fine, slippery hair that their ears would stick out of, and I had my mom's big hippie hair that I hated. I was so silly—now I love my wavy texture. I wash and condition my hair with Rahua shampoo—it smells like palo santo, and I love it—then braid it up, so that I wake up with nice texture. Sometimes I sprinkle in some dry shampoo from Acure in the morning to refresh.
6
Take a bath every night
I wait all day to get in that Martini bath. It smells like seaweed and rocks and the inside of the earth. I just want to smell it right now. My mom loves baths and always had a wild concoction of herbs and salt we'd soak in when I was growing up—the way Martini smells reminds me of that. I get the water as hot as possible, dump a ton of Epsom salts in, then parcel out a little from the bag each night, so I don't squander it all at once. Then my kids come around wanting some Martini, too. They think it's special and try to get in with me, and I have to explain that this is time I'm taking for myself. I maybe watch a show on my iPad while I'm in there, or just sit in peace. When I get out, the whole house smells like the beach in Michigan after a rainstorm, and the next morning my sheets smell so good, and I just feel purified.
7
Love how you look without makeup
My sister says I have smiley eyes. I've never done needles or injections. I don't know how to put makeup on, but I do love skin care. I really like the goop eye cream; it blends right in and feels nourishing.
8
Balance flexibility with strength
I'm hyperflexible—since I was two, I could put my leg behind my head—but it's actually caused me pain all my life, so I do Pilates and some yoga to keep myself as strong as possible, hence the one-handed cartwheels (and some backbends). Sitting all day makes me feel stagnant and depleted, so my absolute dream would be figuring out a way to teach while hiking in the mountains surrounded by evergreens and fresh air.
goop picks

Manduka

GRP Yoga Mat

goop, $130

SHOP NOW
9
Dress up your vegetables—
and your table
I love a bounty, lots of little plates of delights to choose from—caramelized onions, a challah loaf, tabbouleh, homemade hummus, some pickled vegetables. I try to make it all look sort of Instagram-y. I love Ottolenghi recipes, and I've been cooking from My Father's Daughter for years (I live for the anchovy vinaigrette, so good over a chicory and escarole or cabbage salad, and it reminds me of my dad, who died four years ago this month. He was the king of smoked fish and believed an anchovy made everything better. Each year on his birthday I make a little altar for him with some rye crackers, an onion, a lemon, and a tin of anchovies.) My kids are obsessed with beans and rice—I cook mostly vegetarian, and their dad does meat—so I make that, with lots of roast vegetables, some sort of miso-ginger sauce, pumpkin seeds, lots of avocado, arugula, and chard, plus peppers and cucumbers I grow on the patio.
10
Love what
you do
I feel the most at home with myself after a day of being in it teaching—a hundred hours could go by, and I wouldn't even realize. I own my own company, so I make my own hours, and I love that. I write, teach, excavate stories, and connect with my students from a very real place.
11
Put your phone down
No phone in my bedroom at night, no phone at dinner, and I don't have many apps on my phone. It hurts my feelings when someone I'm talking to is staring at their phone, so I try to stay off as much as I can.
12
Work on serenity from the inside out
When my kids are upset, I tell them calming the body is as important as calming the mind. I put them in the bath or give them a full-body avocado-oil rubdown. They've known about exfoliating their skin since they were little—we call it "scratchy scratchy." We talk a lot about what we're grateful for, people we want to be respectful toward, and being kind. What shows up on your face has a lot to do with what you feel in your heart and brain. Going out for an awesome meal in a great outfit, getting a lot of sun, sweating through a hard workout, taking a Martini bath, spending a day having fun with my friends or kids—all of that brings me joy and makes me feel, and probably look, my best. You can see serenity in someone's face and in their posture.