The Best Serums for Any Skin Type and Concern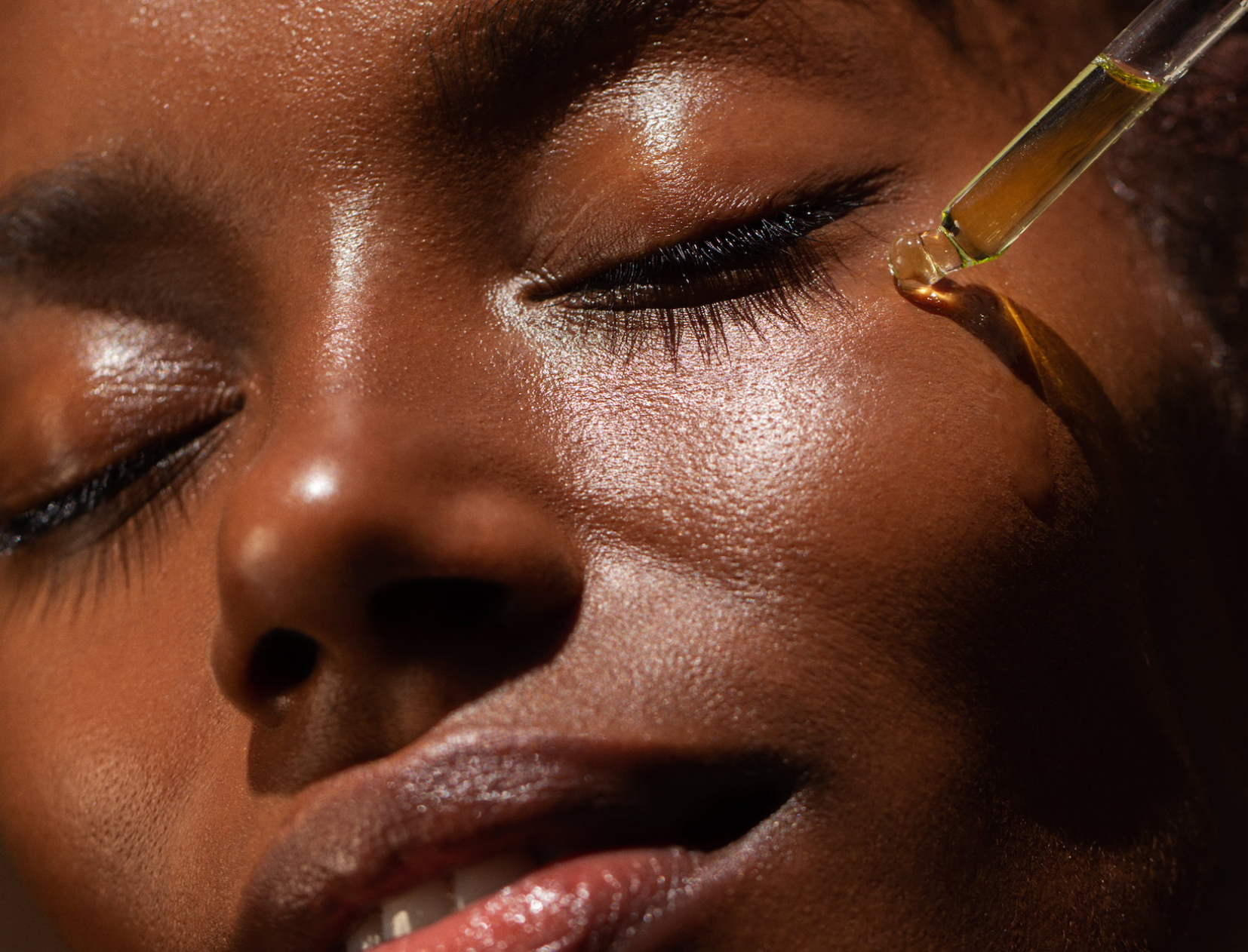 The most active step in any skin-care routine, face serums drench your skin in pure treatment: Botanical extracts, hyaluronic acid, antioxidants, minerals, and other potent ingredients sink in easily and go to work. "Serums are real power tools when it comes to hydration and rejuvenation, so they should be a part of everyone's routine," says Dr. Barbara Sturm, founder of Dr. Barbara Sturm skin care. "The idea is to love and protect the skin while keeping it looking youthful." The serum step delivers benefits—from visibly glowy, moisturized skin to smoothed lines—for just about every skin type. And paired with skin devices, a serum can deliver even more powerful results.
The Best Serum-Infused Masks
The best treatment masks are soaked in pure serum—use them alone or in conjunction with the devices below. Alternatively, there's a new, reusable silicone mask that works with any serum to create a custom mask.
FOR EYES

Created by top makeup artist Jillian Dempsey, these moisturizing, calming biocellulose eye masks are infused with a milky prebiotic serum made with hyaluronic acid and almond oil, which support the skin barrier around the delicate eye area and reduce dryness and the appearance of fine lines. Dempsey knows a thing or two about making the eyes look bright and youthful; when that area is supple and hydrated, your whole face looks better, instantly. (Use it with her vibrating gold bar face roller to supercharge your results.)

Jillian Dempsey

Hydrating Eye Mask

goop, $75

SHOP on goop

FOR FACE

For a brightening, ultranourishing pick-me-up, use this incredible biocellulose sheet mask once a week for up to 30 minutes. It's packed with skin-loving actives like moisturizing hyaluronic acid, plumping marine collagen, and antioxidant edelweiss extract to give skin a beautiful, dewy radiance. The best part? Massage the excess serum that's left on your skin after you remove the mask for a boost—it feels especially incredible after a long flight or before a big event.

Dr. Nigma

Treatment Mask No. 1

goop, $120

SHOP ON GOOP

MAKE A CUSTOM MASK

Choose whatever serum works best for your skin and you can easily convert it into a powerful treatment mask with this reusable silicone sheet mask and eye mask set. Simply smooth on your favorite serum, then place the silicone mask or eye mask on top; leave on for 15 to 30 minutes. When you're done, rinse off the mask and store for reuse—it's beautifully sustainable.

Province Apothecary

Reusable Silicone Sheet Mask for Face + Eyes

goop, $36

SHOP on goop

Shop on Amazon

How to Supercharge Any Serum

SCULPT AND LIFT

Plated in 24-karat gold, this sleek roller uses subtle vibrations to lift and sculpt the face, and the results last for the better part of a day—or night. It also feels amazing, like a firm massage. Dempsey recommends using it for 10 to 15 minutes for optimum results. Pat in your favorite serum (you want to create enough slip with the serum that the roller glides easily), start rolling upward for maximum lifting, and know that the vibrations and pressure are also pushing the serum deeper into your skin than it could go on its own.

Jillian Dempsey

Gold Sculpting Bar

goop, $195

SHOP on goop

BRIGHTEN AND PLUMP

When you combine this tiny nanocurrent device with serum, you supercharge it, says ZIIP creator and legendary Los Angeles electrical aesthetician Melanie Simon. While the ZIIP comes with its own botanical-infused conductive gel, Simon recommends applying serum beforehand. "Look for one with hyaluronic acid," she says. Then you're ready to ZIIP: Choose from a menu of nine different electrical treatments, each targeting a particular skin concern, like sagging, dullness, or breakouts. You can do it day and night, weekly, or monthly—the results are incredible.

ZIIP

ZIIP Ox + Crystal Gel Kit

goop, $480

SHOP ON GOOP

Can I Layer over a Serum?

Yes—layering is a brilliant way to enhance a serum and lock in moisture. The question is, in what order? "The general guideline is to layer starting with the thinnest and building to the thickest," says New York dermatologist Whitney Tan. "It's less about the exact products you use and more about their textures." We, for instance, go back and forth on cream-before-oil—sometimes we switch the order with no ill effects.

1Based on a four-week third-party consumer and clinical study of 55 women ages 27 to 50.

3Based on an eight-week third-party consumer-perception and clinical study of 33 women ages 35 to 65.

4Based on an eight-week third-party consumer-perception and clinical study of 33 women ages 35 to 65.

We hope you enjoy the products recommended here. Our goal is to suggest only things we love and think you might, as well. We also like transparency, so, full disclosure: We may collect a share of sales or other compensation if you purchase through the external links on this page (including links to Amazon).