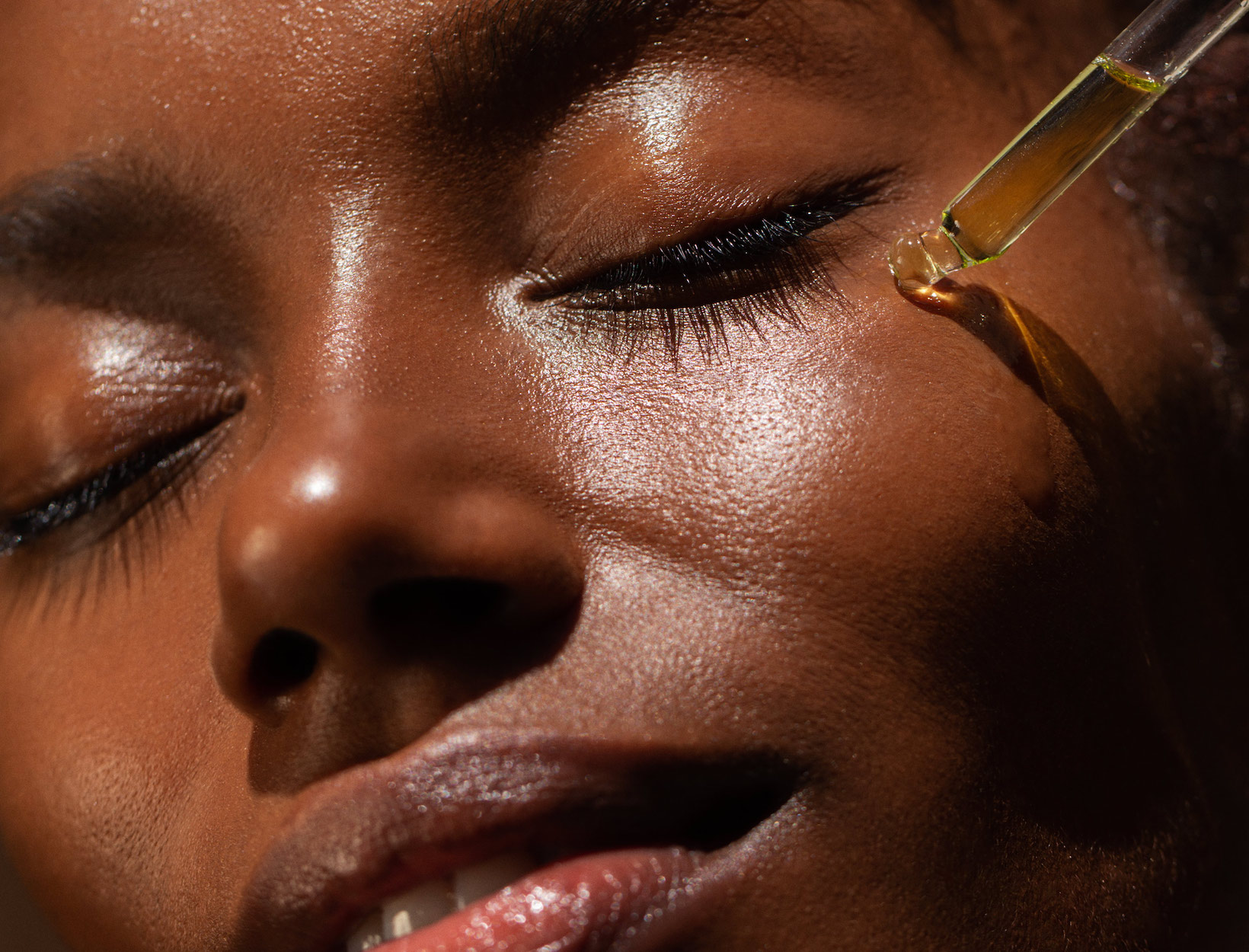 The Serum Secret
The most powerful step in any skin-care routine, a great clean serum drenches skin in pure treatment: Botanical extracts, hyaluronic acid, antioxidants, minerals, and other potent ingredients sink easily into skin and go to work. "Serums are real power tools when it comes to hydration and rejuvenation. They should be a part of everyone's skin-care routine," says Dr. Barbara Sturm, who's introducing two much-anticipated new serums at once. "The idea is to love and protect the skin while keeping it looking youthful." The serum step can have benefits—from visible glow to smoothed lines—for just about every skin type. Now, paired with skin devices, serums can deliver even more profound results.
SERUM-INFUSED MASKS
The best treatment masks are soaked in pure serum—use them alone or in conjunction with the devices below.
FOR EYES

Created by top makeup artist Jillian Dempsey, these ultrahydrating, calming biocellulose eye masks are infused with a milky prebiotic serum made with hyaluronic acid and almond oil, which support the skin barrier around the delicate eye area and reduce dryness and the appearance of fine lines. Dempsey knows a thing or two about making the eyes look bright and youthful; when that area is supple and moisturized, your whole face looks better, instantly.

Jillian Dempsey

Hydrating Eye Mask

goop, $75

SHOP NOW

FOR FACE

Super hydrating, ultranourishing, and soaked in a cooling blend of aloe, chamomile, and antioxidants, these powerful sheet masks leave skin fresh and glowing (they work for sensitive skin, too). When you're done, remove the mask and massage the remaining serum onto skin.

Joanna Vargas

Euphoria
Face Mask

goop, $75

SHOP NOW
How to Supercharge Any Serum

Sculpt and lift

Plated in twenty-four-karat gold, this sleek roller uses subtle vibrations to make the face appear more sculpted; it also feels amazing, like a firm massage. Dempsey recommends using it daily for ten to fifteen minutes for optimum results: Its temporary effects—they last for the better part of a day or night—are absolutely amazing. Pat in your favorite serum (you want to create enough slip with the serum that the roller glides easily), start rolling upward for maximum lifting, and know that the vibrations and pressure are also pushing the serum deeper into your skin than it could go on its own.

Jillian Dempsey

Gold Sculpting Bar

goop, $195

SHOP NOW

Brighten and plump

When you combine this tiny nanocurrent device with serum, you supercharge it, says ZIIP creator and legendary Los Angeles electrical aesthetician Melanie Simon. While the ZIIP comes with its own botanical-infused conductor gel, Simon recommends applying serum beforehand. "Look for one with hyaluronic acid," she says. Then you're ready to ZIIP: Choose from a menu of nine different electrical treatments, each targeting a particular skin concern, like sagging, dullness, or breakouts. You can do it day and night, weekly, or monthly—the results are incredible.

ZIIP

ZIIP OX + Crystal Gel Kit

goop, $480

SHOP NOW
Can I Layer over a Serum?

Yes—layering is a brilliant way to enhance a serum and lock in moisture. The question is, in what order? "The general guideline is to layer starting with the thinnest and building to the thickest," says New York dermatologist Whitney Tan. "It's less about the exact products you use and more about their textures." We, for instance, go back and forth on cream-before-oil—sometimes we switch the order, with no ill effects.

1

Start with serum.

2

Pat on eye cream.

This clinically tested eye cream helps firm and smooth the appearance of crow's-feet, fine lines, puffiness, and dark circles. It's made with active ceramides and nourishing botanicals and helps improve skin hydration for seventy-two hours.2

goop Beauty

GOOPGENES All-in-One
Nourishing Eye Cream

goop, $55/$50 with subscription

SHOP NOW

3

Follow with face oil.

This new high-performance, results-driven face oil from goop doesn't just moisturize; it supercharges skin with active concentrations of powerful botanical extracts, oils, nutrients, and the retinol alternative bakuchiol. After eight weeks of use, 100 percent of women showed highly significant improvement in the reduction of fine lines and wrinkles.3

goop Beauty

GOOPGENES
All-in-One
Super Nutrient
Face Oil

goop, $98/$89

with subscription

SHOP NOW

4

Add face cream for extra moisture.

If your skin needs a little something extra, this luxuriously rich all-in-one supercream—which is made with a megadose of plant-based ceramides, squalane, and seven highly active botanicals—has a unique whipped texture that melts into skin; a single application leaves skin deeply nourished, firmer-looking, and moisturized for forty-eight hours.4

goop Beauty

GOOPGENES All-in-One
Nourishing Face Cream

goop, $95/$86 with subscription

SHOP NOW

5

Finish with SPF.

A final and very necessary last step: mineral sunblock. Think of it as the ultimate youth-preserving supercream. This goop favorite is made with UVA- and UVB-blocking titanium dioxide and zinc oxide, as well as shea butter, aloe, rose hip, and calendula to nourish skin.

The Organic Pharmacy

Cellular
Protection
Sun Cream
SPF 30

goop, $69

SHOP NOW
---
2Based on an eight-week third-party consumer-perception and clinical study conducted on thirty-three women ages thirty-five to sixty-five.
3Based on an eight-week third-party consumer-perception and clinical study conducted on thirty-three women ages thirty-five to sixty-five.
4Based on an eight-week third-party consumer-perception and clinical study conducted on thirty-three women ages thirty-five to sixty-five.