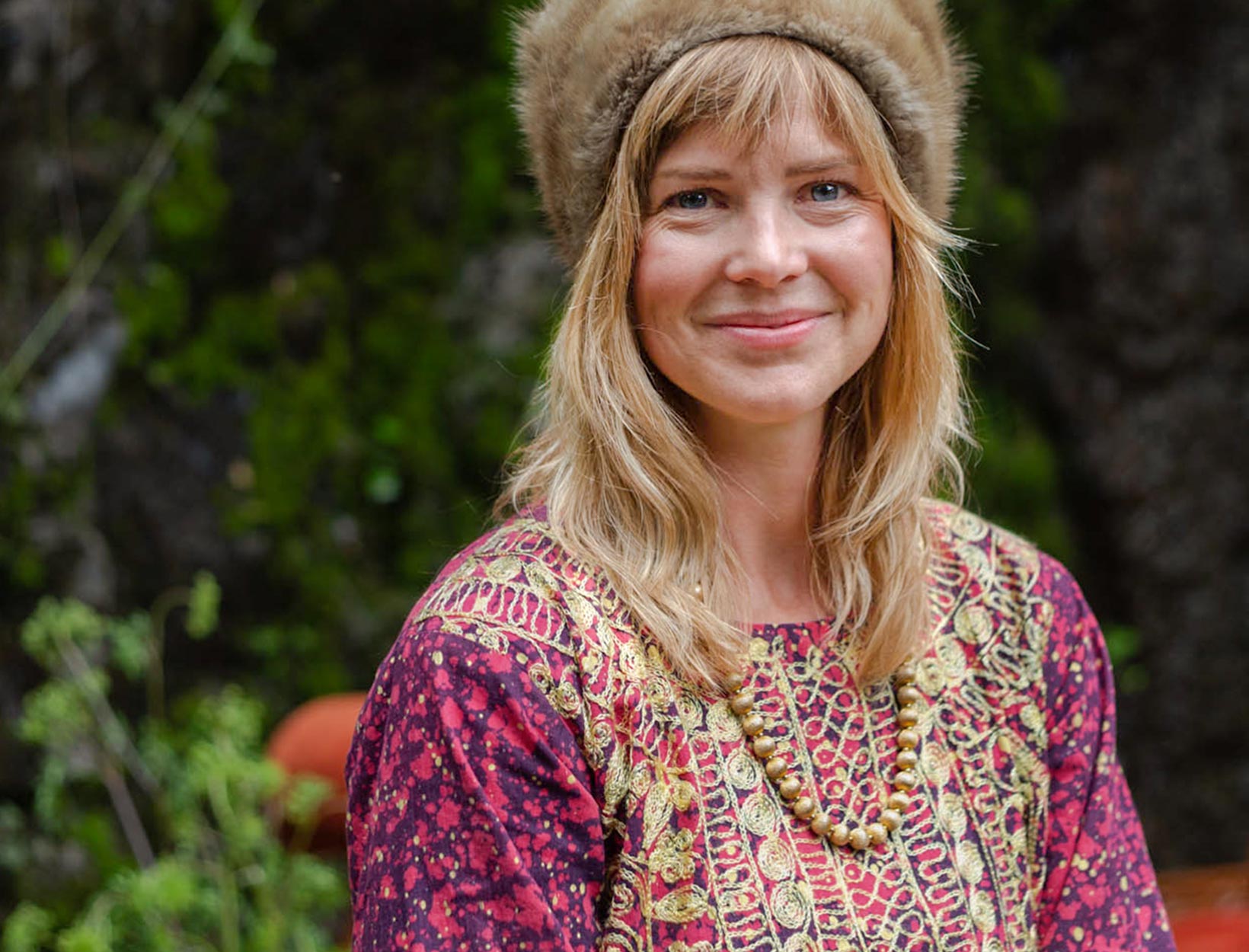 Why This Beauty CEO Embraces Cake
In partnership with our friends at Sangre de Fruta
There's something Alice in Wonderland about picking up a black glass bottle labeled "Garden of Earthly Delights" or "Mille Fleurs." Open it and the exquisite scent that floats up sends you further down the rabbit hole. Feel the silky body serum or unctuous, nourishing cream on your skin, then start seeing the supple, firm, hydrated results, and you have to know more about who made it (Sangre de Fruta founder Allison Weldon) and why her sense-conscious skin care works so incredibly well.
For example, the first time we tried Sangre's new deeply nourishing Mille Fleurs serum, it smelled (like a thousand flowers, of course, plus sunshine, breeze, and a grassy French hillside) and felt so incredible, we almost didn't fully appreciate the way it sank into our skin instantly, leaving it flower-petal soft and subtly gleamy. What amazed us even further: It works as moisturizing, hydrating body cleanser and hair treatment as well.
Weldon says the serum is made with lavender, rose, neroli, and geranium, among other botanicals, but the Sangre de Fruta magic is that it's hard to pick out a single one of them in the symphony of how they're put together. "I included the geranium—to name just one element—for its uplifting qualities, so the serum would feel energizing as it melted into your skin," she says. "But you don't smell it and think, Oh, geranium."
Weldon created the serum—which is lighter than most oils—as something easy and multipurpose for summer that would be both fast-absorbing and skin-replenishing to treat skin after a day spent, say, gallivanting in the sun or floating in the ocean. "It's concentrated but a bit lighter than our body oils, and it has aloe vera and frankincense in it to soothe skin," says the thirty-six-year-old, who lives on Bowen Island, off of Vancouver, known for its forests and winding trails. "I use it for everything: as a massage oil, as a moisturizing body cleanser in the shower, and for my hair, to smooth frizzy ends and add shine."
It's also part three of her morning self-care routine. "First I dry brush—it's so invigorating, especially when I'm feeling low-energy," she says. "The brush from goop has the perfect bristle density. Next I shower with my Garden of Earthly Delights body wash—it's made with rose hip oil, lavender, and other moisturizing extracts. After I'm out of the shower, I smooth in the body serum. Last—if my skin is really dry—I layer a botanical body cream over that. The combination is lovely."
The name Sangre de Fruta comes from a Pablo Neruda poem that helped inspire Weldon's journey. Weldon had moved back to Canada after living in London for three years and owned and ran a yoga studio and café in East Vancouver with her boyfriend at the time. "I loved yoga and alternative health, but back at home, it felt like we were missing the Old World, European richness in our approach to health; the focus was on deprivation and austerity, rather than joy and holistic indulgence," she says. "I read this study comparing how Americans felt after eating some cake, versus how French people felt. Basically, Americans felt guilt, while the French felt celebratory. That concept of looking at indulging as a healthy, joyful thing stayed with me."
Her friend Elena Orrego, the owner of a prominent Vancouver apothecary and herbal dispensary in the '80s, taught her about essential oils. "I'd always been interested in alternative therapies and healing modalities, and plant-based skin care was a natural extension of that," Weldon says. "I started selling the creams Elena and I made at the yoga studio. The demand for them grew, and I refined the formulas, mixing in rare and precious oils." She honed her craft, consulting with holistic practitioners and artisanal soap makers. The relationship with the European boyfriend ended, the yoga studio closed, and making creams exploded; soon, she had a new company on her hands.
Four years after launching with one single, chicly packaged body cream, Sangre de Fruta now makes over forty different products, from face oil and hand wash to hair care. It's also opened an enchanting little boutique on Bowen Island (that's currently doing curbside pickup) and operates two formulating facilities. Weldon herself still develops the initial formulas. "Everything we make has to nourish the skin and bring the wearer aromatherapy benefits, too," she says. Her formulas are sophisticated and complex, infused with ingredients that are biodynamic, wild-crafted, and extracted without high heat for maximum potency. Her neroli hand wash—something we can barely keep in stock at the moment—moisturizes with cocoa seed butter and marigold extract; smells like, as she puts it, "something between orange blossom and damp forest, with an edge of pepper"; and delivers spikenard essential oil along with geranium and neroli.
The brand's gorgeous pump bottles elevate our sinks, showers, and countertops, stimulating the visual sense as well. "Style is important to me, and I wanted the entire brand—including the packaging—to encompass the duality of nature, both the darker and lighter sides," says Weldon. "I want to celebrate beauty and each of our unique types of beauty," she says. "The goal is that my products work, of course, and make you look and feel your best but also that they make you feel like you're indulging. My hope is that they maybe make people love themselves a little more."
A Minimalist's Routine for Great Skin
Tons of moisture, a bit of bronze on her cheeks, some amazing hair care, and Weldon's set for the day.
1
Body Cream for Face
"I actually use this on my face every day. I formulated it to work from head to toe, and I know people like separate skin care for their face, but for me, it's a bit richer than my face cream, and my skin just sucks it up. It's never looked better since I started using it."
2
Brows and Cheeks
"Golden cheeks and darkened brows are my go-to natural look. I dab the RMS on my cheekbones for a little extra glow when I'm going out, and it adds this little flourish of vintage glam, and I love the brush on the end of the Beautycounter pencil—it blends the pigment through seamlessly."
3
The Conditioner That Fixes Everything
"It makes your hair feel natural and flowy, and it's sooo moisturizing. The reason it works for all hair types is the botanicals and oils react with your body and your chemistry. There's no alcohol in here, which is drying and aggravating to the scalp. It also makes a great shaving cream."