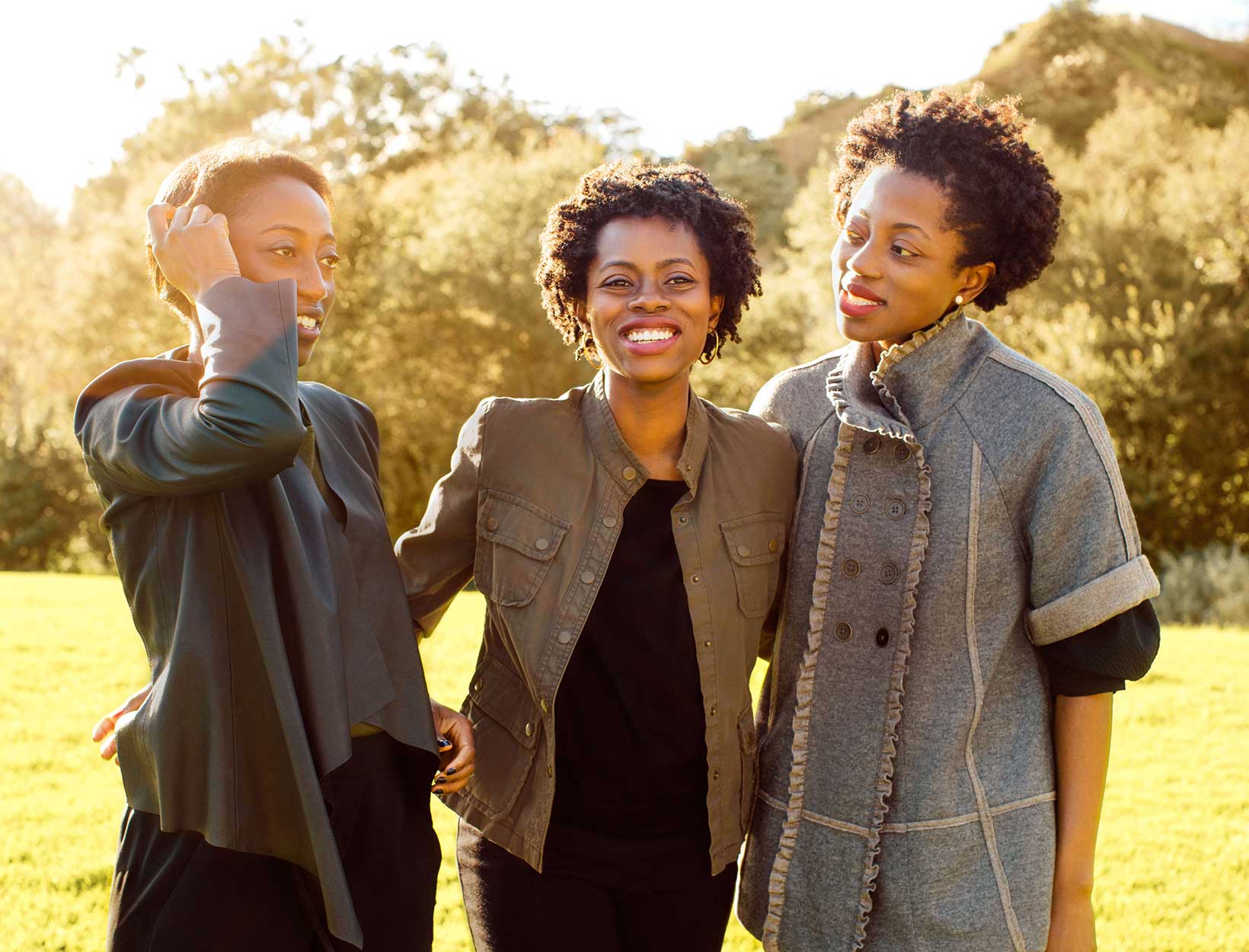 A Dermatologist and Her Two Sisters Make an Instant-Hit Body Butter
Dipping into a giant tub of Karité's skin-coddling body butter is like swaddling yourself in a deeply moisturizing, faintly herbaceous cloud. Three NYC sisters created the cream after finding a miracle ingredient from Ghana, researching the hell out of it, and eventually developing a skin-care line around it. While it helped that one of them is a top dermatologist—forty-two-year-old Naana Boakye, MD (above right)—the line reflects their combined energies and love of pure, powerful plant oils and extracts, as well as clean beauty.
"In my line of work, I come across a lot of patients who have sensitivities to allergens that are common in over-the-counter products," says Boakye, the brand's chief executive officer, who's as gorgeously complected as her sisters, thirty-five-year-old Akua Okunseinde (left), who's the chief creative officer, and forty-year-old Abena Slowe (middle), the chief operating officer. "I have better luck with natural ingredients with a track record that goes back thousands of years."
Born in Ghana but raised mostly in the US, the three sisters grew up practicing Ghanaian skin-care rituals passed down from family members. "Many people there use a raw, unrefined shea butter that's relatively undiscovered here. It's yellow and incredibly thick and hard to spread, but it's by far the most moisturizing thing I've ever used," says Okunseinde. She and her sisters would mix the raw butter with conventional lotions to soften it up, inadvertently contaminating it with preservatives, texturizers, potential endocrine disruptors, and all the rest.
After becoming mothers, the three started to be more aware of the hidden chemicals lurking in conventional skin-care products, and the desire to clean up their beloved cream became the impetus behind Karité.
The sisters use a unique technology that seamlessly blends oil- and water-based ingredients without the need for chemical emulsifiers, enabling them to formulate with a limited number of ingredients and making the butter excellent for sensitive types.
Our favorite, the body butter, contains a 30 percent concentration of raw shea—a source of essential fatty acids and antioxidant vitamins A and E—as well as soothing rosemary-leaf extract and nourishing coconut, sunflower-seed, and palm oils (the latter is sustainably sourced from their family's palm oil factory in Ghana). The wonderfully creamy, luxuriously thick texture smooths right into your skin, leaving your entire body—even the driest patches—supple, gleamy, and soothed. Massage it on right after a shower or bath, when skin is slightly damp, and the ensuing silkiness is especially incredible.
"Our skin is our largest organ, and it's crucial that we pay attention to what we put on it," Slowe says adamantly. "Be kind to your skin."
Skin-Care Advice from
3 Glowing Sisters
The sisters swear by straightforward routines that include exfoliating for an instantly brighter complexion, daily doses of vitamin C to help even tone, and plenty of moisturizing SPF cream. Below are our favorites, combined with their steps.
1

Exfoliate with an Overnight Peel

2

Boost Glow with Vitamin C Serum

3

Moisturize and Protect with Daily Sunscreen