Megan Tries It
Why This Fancy Lip Balm Is the
Best Present Ever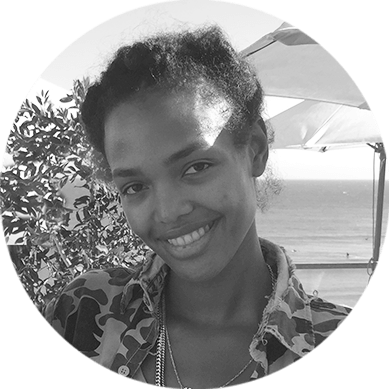 Megan O'Neill is the senior beauty editor at goop. Which is another way of saying she has a passion for clean products, loves anything that reduces stress, and will happily guinea pig herself in the name of wellness.
The best present I've ever gotten was, weirdly, a slice of cake. Chocolatey, buttery, and lusciously rich, with frosting like whipped clouds of sweet cream. Friends brought it over one snowy December night.
"Holy shit," said my husband, a man who'd choose a New York slice or souvlaki from a street cart over a sweet thing any day.
Part of the pleasure of devouring each velvety forkful was that the cake was a thing that winter: Everyone was making the trip out to Fort Greene to get it; a single slice cost more than about seven organic golden-milk lattes. ("It's the principle of charging that much that I take umbrage at," my mom had hissed upon hearing the outlandish price.) It was a small fortune that I—like a lot of people—couldn't bring myself to shell out for. Which is why it was an especially delicious indulgence.
Along similar lines, this pot of lip balm from Dr. Sturm is a total indulgence, one that many people would hesitate to get for themselves. Which is why it makes such a killer gift. It's a gorgeous blend of antioxidants, shea butter, and botanical oils that leaves lips supple, hydrated, and gleamy in the face of arctic blasts, searing sun, and dispiritingly chilly or stiflingly overheated office environments.
The balm's biggest appeal, though, is its chic simplicity. I've watched countless cool-girl types pull it out of a little pouch and casually smooth a bit over bare skin. I now carry mine with me wherever I go, sweeping it across my cheekbones and eyelids for a subtle glow that wakes up my entire face. The unscented formula is somehow light yet beautifully nourishing, and a teensy dab gets me through most of an entire day.
The balm itself is overflowing with clean-ingredient goodness, meaning it contains none of the potentially toxic synthetic fragrance, pigments, or preservatives of conventional lip products (hello, we eat most of what we dab on our lips). Nor is it made with fillers or binders that are designed to give the impression of moisturizing but have no real benefit—it's all good stuff, from purslane extract to hyaluronic acid.
It's a not-nothing fifty-five dollars, but it's also a delicious indulgence, like an extravagant sliver of whipped-cloud cake that not many people are likely to buy for themselves. But buy one for a special friend—or two, if you're feeling flush—and that friend will die of happiness, and, I predict, finish every last drop.
The 3 No-Makeup Makeup Essentials
I Wear with the Balm
1

Luminous-Skin
Serum

Dr. Barbara Sturm

Glow Drops

goop, $145

SHOP NOW

2

Inky Mascara

Westman Atelier

Eye Love You Mascara

goop, $62

SHOP NOW

3

Sexy, Subtle Lip
and Cheek Tint

Balmyard Beauty

Baby Love Balm
Lip + Cheek Tint

goop, $32

SHOP NOW