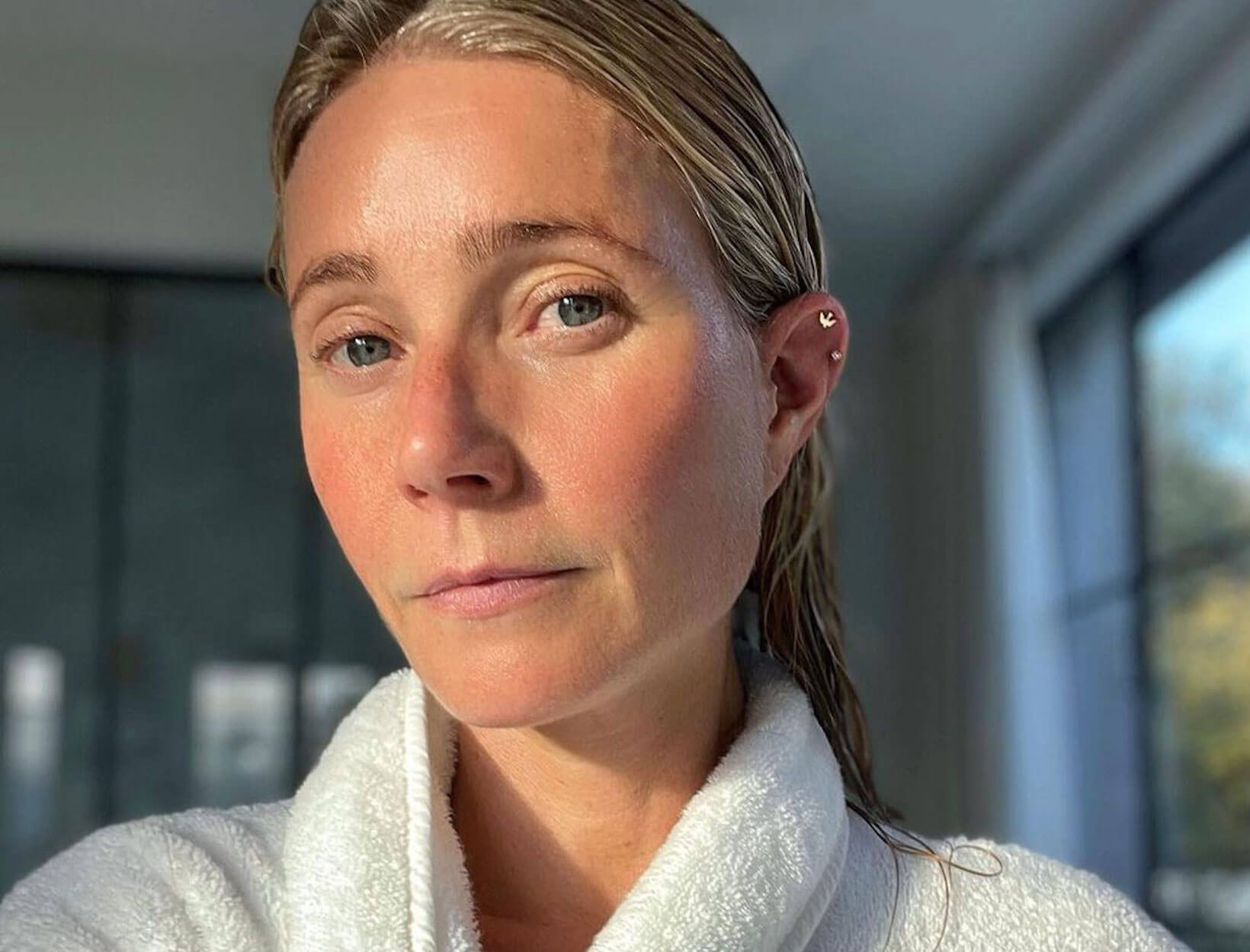 Ask Gwyneth:
Makeup-Free Selfie?
Dear GP, I love you. You're forty-nine and the makeup-free selfies you post are so inspiring! How do you keep your skin in such amazing shape? —Linda
Dear Linda, Thank you—that's such an incredibly nice thing to say. I think the way anyone's skin looks depends on all kinds of things, and genetics are for sure a factor. But I think it's possible to make a difference in how your skin looks and feels with a clean diet, exercise, great supplements, and really great, clean skin care made without ingredients that could harm your health.
I couldn't find the kind of skin care in the clean space that I wanted, which is why we created skin care here at goop. (That's how we decide what to make, as a company: Whether it's clothes, bath soaks, skin care, or vitamins, every single goop-made item is something the goop team and I are personally passionate about.)
I believe exfoliating can help keep your skin youthful-looking and glowing—and every dermatologist and facialist I've ever talked to says the same thing. I love an intense exfoliation—my favorite product is our GOOPGLOW Microderm Instant Glow Exfoliator, which is designed to be used every few days. It's intense—the best—and it really gets in there. Now for use every day (even twice a day), we've made a much gentler but still beautifully exfoliating face wash, GOOPGLOW Cloudberry Exfoliating Jelly Cleanser. It's got this unique, soft, springy jelly texture that feels amazing against your skin. I use it morning and night on days I'm not using Microderm, and the combination gives me next-level results in terms of glow, softness, smoothness, and clarity.
Every few days:

goop Beauty

GOOPGLOW Microderm Instant Glow Exfoliator

goop, $125/$112 with subscription

SHOP NOW
When we were developing Microderm (it was one of the first goop Beauty products, and it's still our bestseller today), I explained to our chemists that I wanted a product that really, really worked to smooth away everything, unclog pores, and leave skin bright, even, and soft, every time. It took experimenting, some failures, some wins, and a whole lot of trying, and then, one day, suddenly, the formula we all were looking for was right there. My skin hasn't been the same since—it only gets better.
To me, it's like a professional facial in a jar. I massage it gently on my skin and leave it on for a few minutes. It's this kick-ass physical exfoliation with four exfoliating microcrystals plus a glycolic acid kicker. I never get over how baby-soft my skin feels right after I use it.
The idea that we could improve our results with Microderm by doing something every day got us all so excited, and the gentle, soft, jelly cleanser really delivers with skin-boosting ingredients like antioxidant kakadu plum, omega-rich Arctic cloudberry, and exfoliating fruit enzymes and bitter orange peel. I love the texture—and that it's safe in any routine, even one that includes other exfoliating treatments.
Clearing all the gunk away by exfoliating makes any treatments I use afterward—serum, oil, face cream—absorb more easily, essentially supercharging them.
I love experimenting with different skin treatments, but the ultimate, for me, is this face oil. Pressing a few drops onto my just-exfoliated, slightly damp skin softens the look of lines (yes, for real) and adds the prettiest touch of warmth.
What's amazing is it's clinically proven to work long-term: It helps firm, minimize the appearance of lines and wrinkles, increase glow, and of course moisturize.
I'm not a big makeup person. I don't wear it regularly, at the office or on the weekend. So those makeup-free selfies I occasionally post are the real everyday me. I feel good in my skin, and I want every woman to feel good in hers, too—that's why we make goop skin care. I see a difference every time I use it.
More Glowing-Skin Bestsellers
goop Beauty

GOOPGLOW 20% Vitamin C + Hyaluronic Acid Glow Serum

goop, $125/$112 with subscription

SHOP NOW