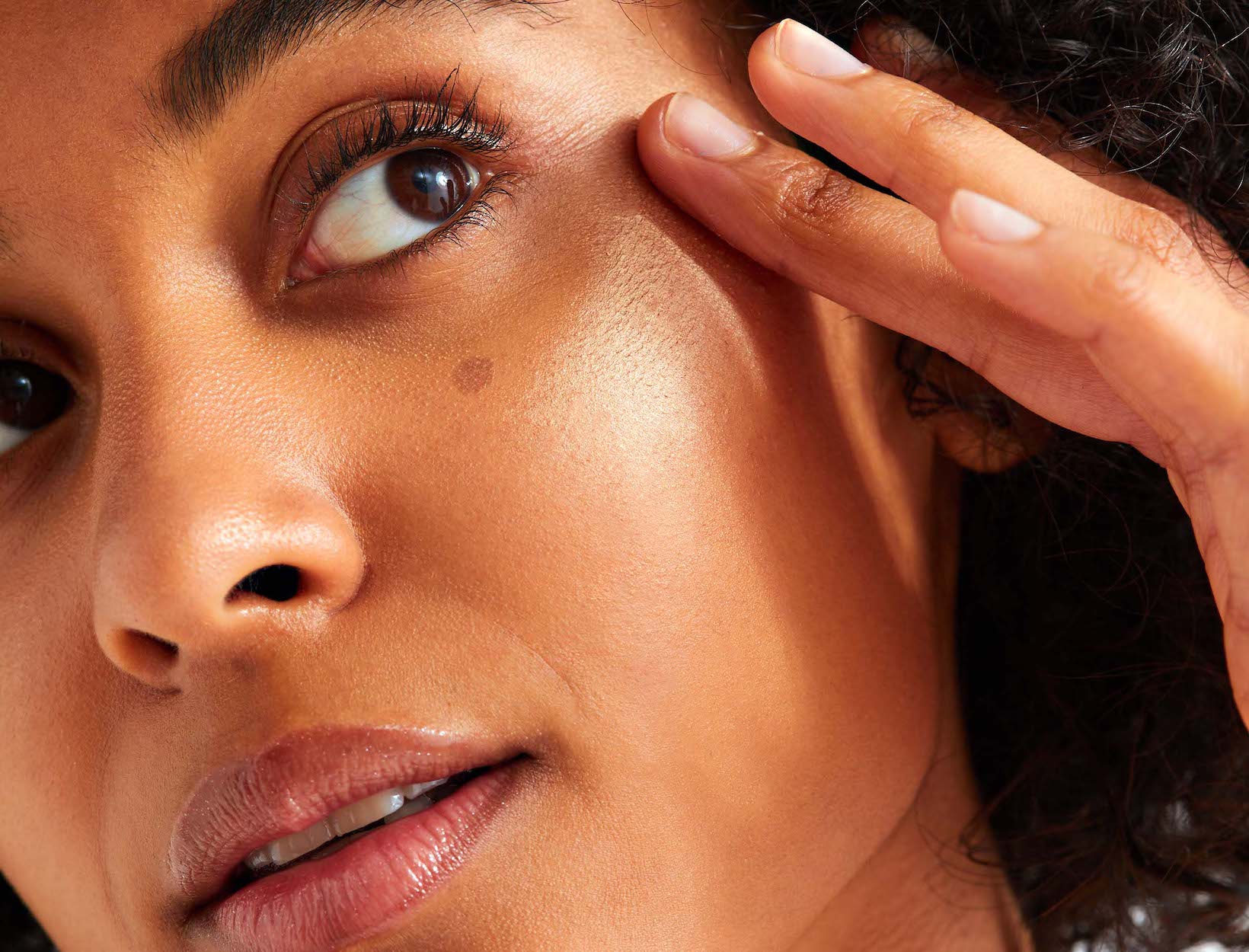 Why Antioxidants Are Great for Skin
Created with The Organic Pharmacy
Why are vegetables and fruits so good for us? There are many reasons, but antioxidants—nutrients that help defend our bodies against free radicals, the unstable molecules produced in normal cell metabolism that can cause illness as well as signs of aging—figure prominently. Plants produce antioxidants to protect themselves from damage caused by UV light and oxygen reactions during photosynthesis. Eating antioxidants is essential for your overall health, with side benefits of better-looking skin. And smoothing on topical antioxidants can take that better-looking-skin benefit to the next level.
A famous example of free radical damage is the way an apple turns brown after you cut it—without the protection of its skin, the apple's flesh turns brown as free radicals react with it. Squeezing a lemon onto the flesh delays the browning because of antioxidants in the lemon juice. "Antioxidants protect against free radicals by donating positively charged hydrogen atoms to unpaired electrons, thereby neutralizing them and their potential harm," says top New York dermatologist Robert Anolik, MD. "Free radicals can lead ultimately to cell damage and cell death."
Just as antioxidants are essential for your overall health, they're a powerful tool for treating your skin. Ingested or smoothed on topically, antioxidants help protect against sun damage, pollution, and even stress, targeting dullness, uneven tone, and loss of firmness. So have spinach and blueberries for breakfast, along with a citrusy, CoQ10-infused wake-up drink and a great multivitamin; indulge in a glass of red wine every so often; and add topical antioxidants into your skin routine wherever possible (our favorites are below) for a closer-to-360 approach.
Pick Your Antioxidant
Because every antioxidant and every skin-care formula addresses skin with its own set of benefits, knowing exactly what you're looking to see in your skin helps narrow the options down.
MSM and vitamin C to lift, tone, and brighten

This ultraluxurious two-step skin-boosting treatment regimen works easily with any routine. You get full sizes of the brand's bestselling antioxidant gel—made with lemon peel and carrot seed oils, ginseng, and alpha lipoic acid to help smooth, tone, and lift—and nourishing oil serum, which helps protect against environmental stress and leaves skin looking gorgeously radiant with grapefruit peel, rose hip, and orange peel oils; MSM; and vitamin C.

The Organic Pharmacy

Antioxidant Duo

goop, $190

SHOP NOW

CoQ10 to firm, minimize lines, and even skin tone

Drink your way to glowing skin with a healthy dose of skin-supporting ingredients: vitamins C and E, grape-seed proanthocyanidins, and CoQ10, along with the critical carotenoids lutein and zeaxanthin. A power shot of antioxidants and nutrients designed to reduce the free radical effects of the sun, pollution, stress, and more, it helps protect against oxidative photodamage, which can lead to signs of premature aging like dullness, uneven tone, fine lines, and loss of firmness. Drink as part of your healthy morning ritual: It tastes of oranges and lemon verbena and looks a little like a sunrise as you mix it with water. The single-dose packets fit easily in a gym bag and travel effortlessly, so you can get the goop glow just about anywhere.*

goop Beauty

GOOPGLOW Morning Skin Superpowder

goop, $60/$55 with subscription

SHOP NOW

Resveratrol to smooth wrinkles and brighten dark spots

From top New York dermatologist Macrene Alexiades, this luxurious, skin-loving serum is supercharged with over 55 active ingredients to leave skin looking gorgeously dewy. Made with research-backed peptides, resveratrol, and blue and red algae; pomegranate and green tea extracts; and superhydrators including hyaluronic acid, olive oil, glycerin, and jojoba esters, the serum delivers impressive benefits: It helps firm and smooth the look of fine lines and wrinkles, brighten and even skin tone, and, of course, moisturize like a dream.

MACRENE actives

High Performance Face Serum

goop, $195

SHOP NOW
Niacinamide to minimize pores and wrinkles and soothe skin

Moisturizing

Dr. Barbara Sturm

The Better B Niacinamide Serum

goop, $145

SHOP NOW

From skin whisperer Dr. Barbara Sturm, this silky, luxe serum made with a unique complex of niacinamide (vitamin B3) and ectoin smooths, moisturizes, and protects against environmental stressors for healthy, radiant skin. Panthenol (provitamin B5) and marine plankton extract help soothe, hydrate, and protect for soft, supple skin. And we can't get enough of the sleek white bottle with a gorgeous pop of pink.

Soothing

Alpyn Beauty

Wild Nettle & Niacinamide Firming Serum

goop, $58

SHOP NOW

Hydrating and soothing, this creamy serum really improves the appearance of both fine lines and wrinkles as it firms. It's made with nettle, which is counterintuitively calming for skin and plays a role in activating vitamin C, as well as rambutan, a plant-based alternative to retinol that's packed with skin-glowifying niacinamide. Use it mornings and evenings for baby-soft skin that's firm and luminous.
Vitamin E to calm and moisturize

Reparative botanicals, powerful active ingredients, and a groundbreaking aromatherapeutic blend work together in this serum for beautiful results on skin. Early studies suggest that Passioline may support elastin and collagen synthesis, and in a clinical trial, when applied around the eyes, Neurophroline helped counteract some of the negative effects of cortisol (the stress hormone) to visibly improve skin tone. Smooth a few drops between your palms, inhale deeply, and pat into skin morning and night to revitalize and rejuvenate.

de Mamiel

First Fix Serum

goop, $216

SHOP NOW
Rose hip to smooth and plump lines

Made with actual diamond powder, this luxurious, beautifully textured cream moisturizes and plumps, leaving skin radiant and luminous. Safflower ceramides, hibiscus, and linseed polysaccharides help increase elasticity and smooth fine lines, while diamond powder brightens skin for a radiant look. The jar it comes in is refillable, and the faint rose scent is just gorgeous.

The Organic Pharmacy

Rose Diamond Face Cream

goop, $418

SHOP NOW
Support a Great Diet and Skin-Care Routine with a Powerful Everyday Multivitamin
With essential nutrients to support immune function, nervous system and cognitive health, thyroid health, bone health, and healthy red blood cell formation, this everyday multi also supports healthy skin, hair, and nails, as well as healthy energy metabolism. Just some of the antioxidants in it: high-potency antioxidant vitamins C and E, lycopene, and beta-carotene, all of which help support skin's natural resilience to ordinary sun exposure and other environmental stressors that contribute to skin aging.**
Why Antioxidants Make
So Much Sense in Sunscreen
Mineral sunscreens act as a physical barrier to block and filter out incoming UV rays, but no sunscreen is 100 percent effective. Antioxidants help in reducing UV-induced free radical damage on skin.
Antioxidant Green Tea in Makeup?
Green tea helps soothe skin and smooth uneven texture, which is why it's infused into these amazing skin-care-meets-makeup formulas.
Foundation

Westman Atelier

Vital Skin Foundation Stick

goop, $68

SHOP NOW

This brilliant creamy stick is foundation and concealer in one—it melts into skin, leaving skin fresh, glowy, and flawless. It's made with active ingredients to soothe (phytosphingosine), moisturize (vegetable-derived squalane, camellia seed oil, and coconut oil), and protect (antioxidant plant compounds) skin, while the pigments are delicately balanced to blend beautifully. Use with the Foundation Brush for the most flattering, ultranatural finish.

Eye Shadow

RMS Beauty

Eyelights Cream Eyeshadow

goop, $26

SHOP NOW

Smooth on this beautifully pigmented, exquisitely textured cream eye shadow for a luminous, flattering finish. Made with organic green tea and natural peptide quinoa extracts to nourish and smooth the eye area, each shade has a pretty metallic sheen that's subtle enough for every day yet easy to build into a full-on smoky eye. Dab the color onto the middle of the lid and blend outward—use your fingers for a diffused, soft look or a brush for more concentrated pigment. Bonus: Each shadow comes with a reusable metal key you can attach to the end of the tube to help twist and squeeze every last bit out.
**Not intended to replace sunscreen. Always use a sunscreen while spending time outdoors.