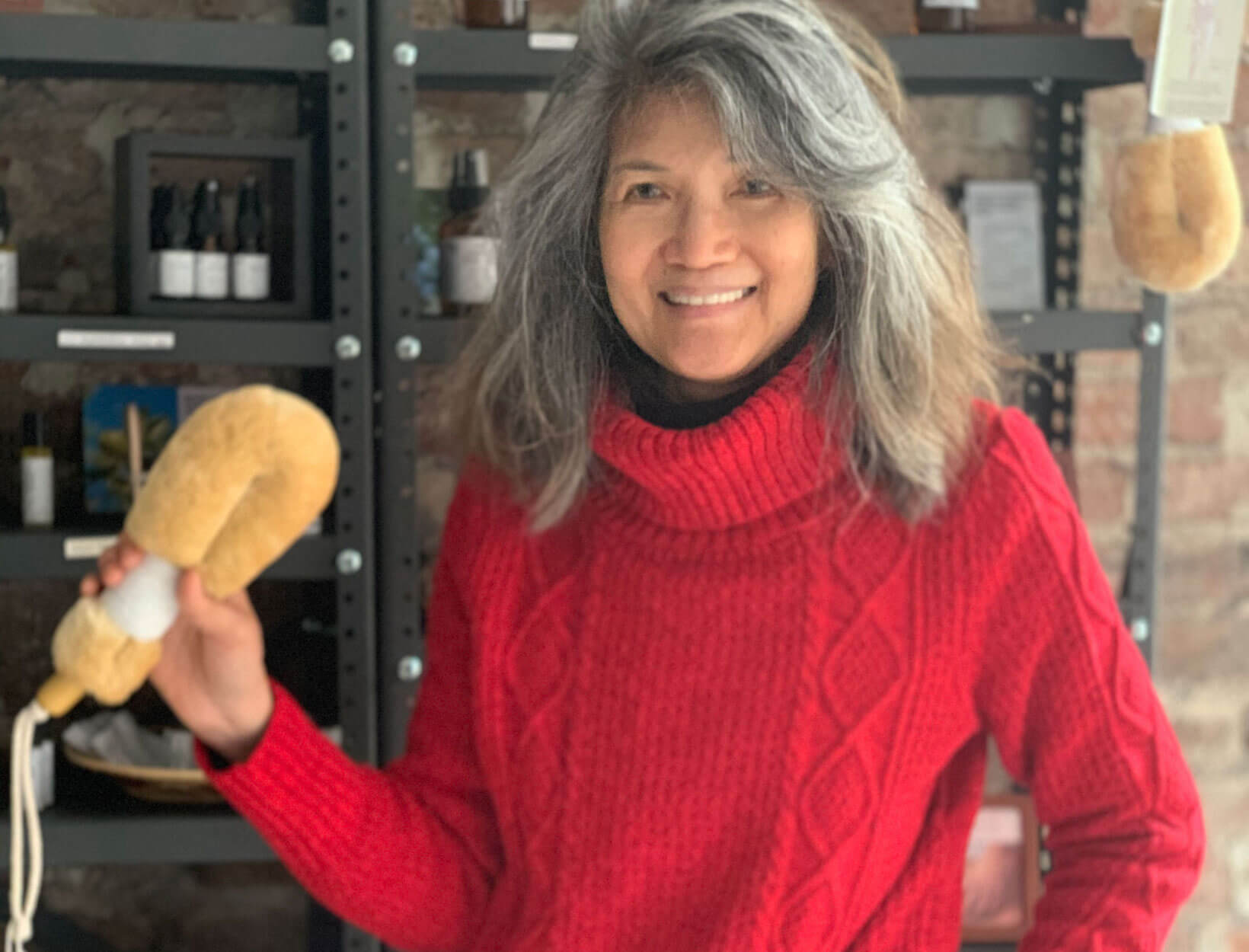 Hello, My Age Is: 69
Eye Cream and Qigong Forever
Anna Lam |
founder of GingerChi spa,
New York City
It's easy to assume that the founder of a clean skin-care spa and boutique looks so impossibly dewy because she's regularly kicking back on her own treatment table. "I wish I had more time for that, but this is a one-woman band," laughs Anna Lam, whose clompy boots, silky skirt, just-dyed blue hair (her 28-year-old model daughter helped—a few days after the above shot was taken), and mellifluous Australian accent cut a strikingly youthful silhouette. "Running and marketing a small business is a lot of work."
GingerChi, the single mom's Chinatown skin studio (its Henry Street storefront is inconspicuous in the way of all cool downtown enterprises), somehow feels at once chic and intimate, and it's the place to go for dewy skin. The facials, massages, and acupuncture, not to mention gua sha breast treatments (for toning and tightening) and abdomen treatments (for supporting digestion and tackling constipation), are amazing, as is Lam's line of skin-boosting oils and serums displayed in front.
Her own skin care—as well as all-star products from other brands—keeps Lam's skin in shape, along with morning Qigong practice, acupuncture, and shoe shopping with her daughter. "Having balance in your life makes you beautiful. No matter what products you use, if your lifestyle or what you eat isn't serving you, the products won't do a thing," says Lam, who was born in Micronesia, in the tropical island country of Nauru, after her Chinese parents emigrated there; soon after, the family moved to Melbourne, where she mostly grew up. "Being a mom, working, meditating, taking time to breathe—that's my balance."
GingerChi is focused on helping people achieve balance, too—in their skin as well as other parts of their lives. "In traditional Chinese culture, qi is the energy that runs through the body," she says. "For example, when you give birth in Chinese culture, you're supposed to eat and bathe in ginger to help rebuild your yang energy, which is associated with the sun, heat, and masculinity. After the rigor of birth, your yin energy, which is feminine, cooling, and associated with water, takes over. That imbalance—any imbalance—can lead to problems, no matter your stage of life."
Here, what she's learned so far about skin, hair, movement, and more.