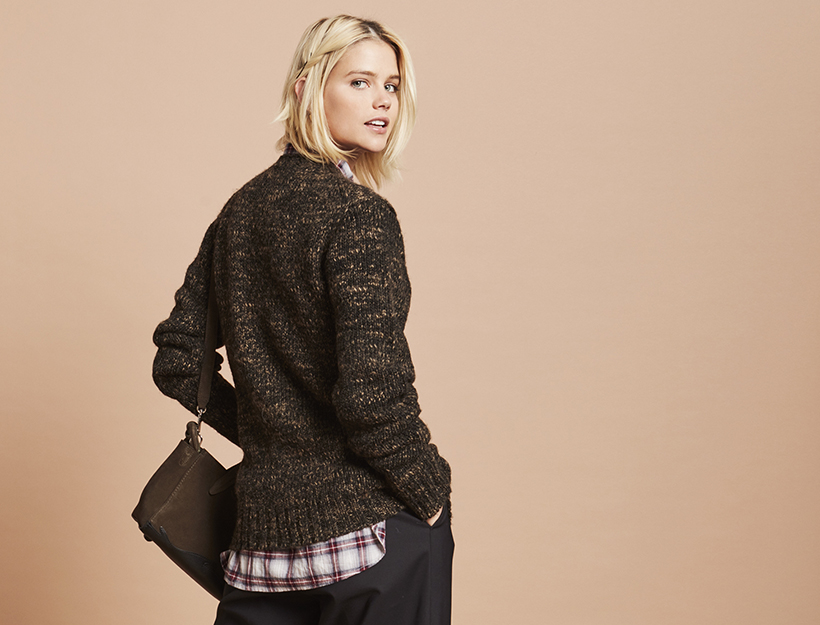 An Easy Work-Morning Routine
Like the foolproof dress + shoe combination that pulls everything together instantly, a streamlined a.m. routine reduces decision-making, and leaves you looking amazing—all day (and, if need be, into the night). The right amount of makeup for work, of course, depends on you and your particular job, but getting the moisture/primer/SPF/glowy-skin equation right is the key, no matter how much or how little lip/eye/cheek you wear with it.
Skin Is (Just About) Everything
People tend to focus on coverage, but think instead in terms of showcasing the great skin you do have—which, even if you suffer from breakouts or other imperfections, is still the majority of your face. The trouble spots are just spots, so maximize beauty by focusing on what's great. People tend to think of skin as the backdrop—when truly, it's the main event. So spend most of your in-front-of-the-mirror effort on skin protection, moisture, and texture.
When you wake up, smooth on face oil—if you like, cleanse first, but it's fine to do on bare skin. For normal and dry skin, the oil from goop by Juice Beauty smooths and hydrates like crazy, leaving skin soft and glowy. For oily or breakout prone skin, the Lapis oil from Herbivore helps calm, so skin feels smoother, beautifully hydrated, and less vulnerable to breakouts.
Let the oil sink in for a few minutes; in the next, most critical step, you're looking to amp up glow and freshness. Whether that ends up being a single product or several depends on your skin. It's worth spending the time it takes to find your perfect product, or combination of products: If you watch a professional makeup artist, the number of products they blend together to create the ultimate combination is kind of mind-blowing. Once you've found yours, it becomes a quicksilver moment of prep—a quick massaging-in as opposed to a lengthy, technique-heavy procedure—that leaves your skin feeling and looking its best all day, and does more to keep you youthful-looking and glowing than any nighttime routine.
How important is daily SPF? There is truly nothing more effective–not creams, not Botox, not plastic surgery. And the truth about conventional "daily moisturizers" is that most are made with chemical sunscreens, which, besides being known skin irritants, degrade in sunlight, so that SPF you're counting on could be gone by the time you step out to lunch. Clean, mineral SPFs sit on top of skin until they're washed or sweated away, they soothe, and they can reflect light to subtly blur imperfections.
You can use SPF with or without a primer, which treats skin to extra glow, imperfection-blurring, and makes any makeup you put on afterward stay put much longer. Unlike conventional, largely silicone-based primers, these give an extra dose of light moisture, which is why most makeup artists smooth primer on right before applying makeup. GP often wears little on her face but Juice Phyto-Pigments Illuminating Primer, which casts a glowy, candlelit effect on skin.
Primer/SPF combinations (clean ones, mind you) can give you everything you need in a single shot: Pot of Shade from Kypris gives skin a gorgeous, subtle gleam and a solid mineral SPF 30.
If you like a bit of color, Beautycounter Dew Skin rolls all the above functions into one, delivering SPF, moisture, and skin tint in one fell swoop.
For true foundation fans, Ilia's hydrating liquid allows your skin to be the star while smoothing, evening, and subtly perfecting it. It is best layered over SPF; the combination is incredibly flattering.
Foundation is no match for hiding undereye circles, or for breakouts, or age spots; for true coverage, you need concealer and a brush. Cover imperfections once, and keep the coverage local—you only want concealer on the part that's discolored.
For the undereye-circle obsessed, "prime" the undereye area with a lighter, liquid concealer—smooth in like you would a moisturizer to brighten the area and smooth any lines. Then, using a concealer brush, apply a thicker concealer like "Un" Cover-Up from RMS only to the area you're trying to cover, then pat lightly (don't rub) to blend.
For breakouts or age spots, use the same concealer brush technique with a slightly drier concealer, like Phyto-Pigments Perfecting Concealer from Juice Beauty—the drier texture will help it stick to the area.
Powder isn't always necessary—it depends whether you like a dewier or more matte finish. If you don't like it, use oil-blotting sheets like the gorgeous ones from Tatcha throughout the day as you need them. Or, apply translucent powder with a big fluffy brush; dip in powder and shake a little off on your hand before smoothing over your face.
Eyes-Lips-Cheeks Are the Icing on the Cake
Beyond great-looking skin, you might need nothing, or you might want a bit of blush like Tata Harper's bestselling lip/cheek tint; Very Popular looks good on an incredible range of skin tones. If you're amazing with eyeshadow, a slight smoky eye or neutral lid might make sense, depending on your job, but for the most part, focus on defining your eyes and looking as alert and awake as possible, as opposed to artfully made up. If you find yourself applying multiple coats of mascara, do a bit of (invisible but super-defining) black or dark brown liner, only at the base of your upper, outer lashes. Using a dark pencil, like the ones from Ilia or a flat liner brush and dark shadow (wet or dry), work the pigment as close to the base of the lash as possible. Your eyes should be more noticeable, but not noticeably lined; then finish with mascara, which you'll need fewer coats of; we're obsessed with the Juice Beauty one.
Lips are up to you, from highly pigmented gloss to a lowest-key slick of balm. Below, some of our current favorites: