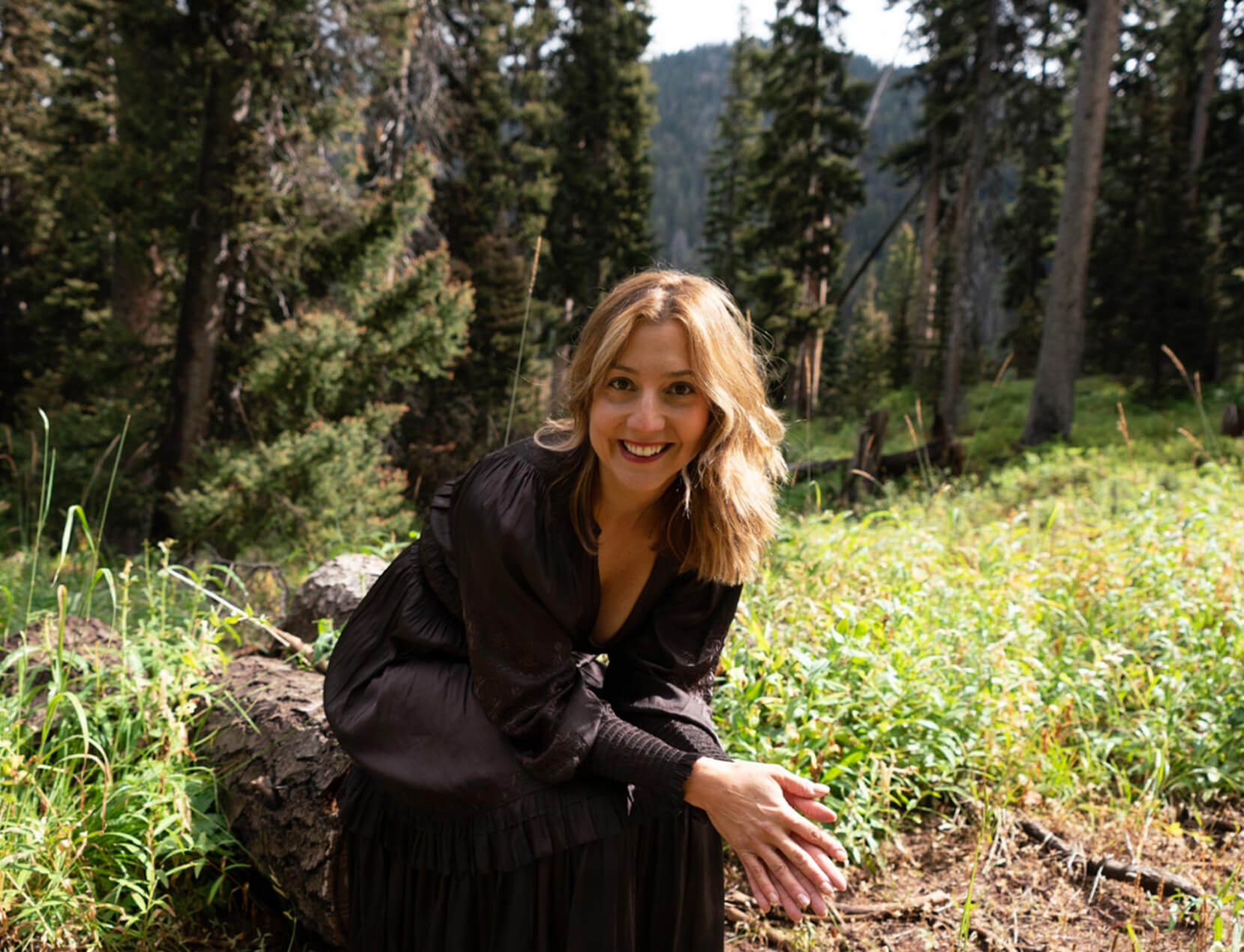 MY MORNING ROUTINE
Pink Serum, a Jumbo Glowy-Skin Drink, and a Wildflower-Dotted Hike
Kendra Kolb Butler
|
founder of Alpyn Beauty
A bracing morning hike (or ski, depending on the time of year) on a trail overgrown with wildflowers, backyard moose spottings, and setting up homeschool for her three-year-old and five-year-old is how Kendra Kolb Butler starts her days in Jackson Hole.
She moved to the mountains with her husband, then-newborn son, and German shepherd five years ago, when she'd had enough of the breakneck pace of life as a beauty executive. The area's fields of sage and calendula (not to mention its drying high-altitude air) inspired her to create the Alpyn Beauty Bar, and then, seeing a hole in the market with the boutique's moisture-hungry clients, she created a high-performance skin-care line, Alpyn Beauty.
Made with sustainably wild-crafted botanicals—plants that are harvested from their wild, high-altitude habitats as opposed to being cultivated—every product is supercharged with protective extracts that help plants flourish in harsh climates. ("Alpine glow" is the name for the gauzy pink sunlight that soaks the mountains at sunset.) The mountain hike Kolb Butler starts her days with is enviable—and so is her easy but powerfully glow-inducing skin routine.
6:45 a.m.: I wake up to two little boys crawling into my bed, then I'm up to get coffee. I'm fueled by lots of coffee and a massive ice water with a packet of GOOPGLOW Morning Skin Superpowder sprinkled in. If I chug it in the morning, I have a little extra pep in my step, and I like to think my skin is more glowing. If time allows, I make either a triple-berry ginger smoothie or a hard-boiled egg with salt and pepper.
7:15 a.m.: I cook the boys a kid-friendly breakfast (like GP's huevos rancheros) and check in on the family of moose in the backyard to see if they decided to wake up in the same place where they went to bed. A mama moose and her twin calves have taken over our property. They don't even move now when we open the door!
7:45 a.m.: I set up homeschool lessons, put out crayons, markers, and arts and crafts, and then get ready for the day. I rip off my Skin chemise—I own several—rinse my face, and brush my teeth. Regardless of whether or not I'm in a rush, oral hygiene is my favorite part of getting ready. (When I was little, I wanted to be a dentist.) I'm obsessed with Davids toothpaste and Cocofloss—the texture!—and after using them, I feel like a new woman. My hair and outfit could be a mess, but if my teeth are shiny and clean and I have a good lip shade on, I'm ready for anything.
8 a.m.: Morning hike! In the winter, I hike the boot pack at Snow King Mountain Resort (with my skis in my pack) for a quick ski down. Now, in summer, I love the Wildflower Trail at the base of Jackson Hole Mountain Resort. Ray-Bans, The goop Podcast, and my army jacket from G. Label—it's lightweight and also roomy enough to layer a sweater underneath as the mountain air turns a bit cooler—are my three essentials to get through the climb.
9:30 a.m.: Back at home, I take a quick shower. Right before I get in, I smooth my Creamy Bubbling Cleanser onto dry skin to wash the mountain off. It really exfoliates, works on blackheads, leaves my skin refreshed, and has a nice lather. (It's also the best makeup remover.) I leave it on as a mask while I shave, wash my hair, and think deep thoughts.
9:45 a.m.: I get out of the shower and layer on my Survival Serum. It makes my skin glow as if I've just taken a yoga class. It's made with licorice root and vitamin C to brighten and resurface. I got the idea for it looking at the sunlight on the snow one morning. It was sparkling and just looked perfect, lineless, bright, and so smooth. I wanted to bottle that.
I follow the serum with Melt Moisturizer. Whipped and fluffy, it's just irresistible and smells like a mountain forest. It's made with bakuchiol, because I was breastfeeding when we came up with it—I wanted a retinol alternative that would help my skin, which was basically falling apart after childbirth. A little bit goes a long way.
9:50 a.m.: For my body, I smooth on a bit of Jao Goe Oil, especially on my dry hands and feet. I never leave the house without a quick swipe of the Henné lip tint for that cool-girl-who-doesn't-try-too-hard kind of vibe. Maybe it's because I know the founder, Laura, who is that cool girl—she just exudes confidence. It gives a very natural hint of color that's perfect for summer. I usually throw on something like my G. Label pullover and a pair of jeans for a day of calls with investors, retailers, and my team. I'm crushing on Jane Winchester jewelry right now—jewelry makes such a difference when all you can see is someone's top half—I wear her wishbone pendant right now for good luck, and I swear it helps.
10 a.m.: I get in the car and swing by Alpyn Beauty Bar to check inventory. (We're doing curbside pickup, and one customer at a time is allowed inside.) We sell the goop product line, which we can barely keep in stock.
10:30 a.m.: I head to our office. Because of social distancing, currently only my husband and I go in; our full-time employees are working remotely. It's a beautiful open space with big windows that look out on Grand Teton National Park (which we donate 1 percent of every Alpyn sale to). My husband and I have offices across from each other, and we love to diffuse oils—eucalyptus and bergamot are my favorite—in the vitruvi while we work. My husband keeps the Nude Glass whiskey decanter on hand for a moment of relaxation after a long day.
Before I know it, I'm back home to play with the kids and talk about their day and make dinner.