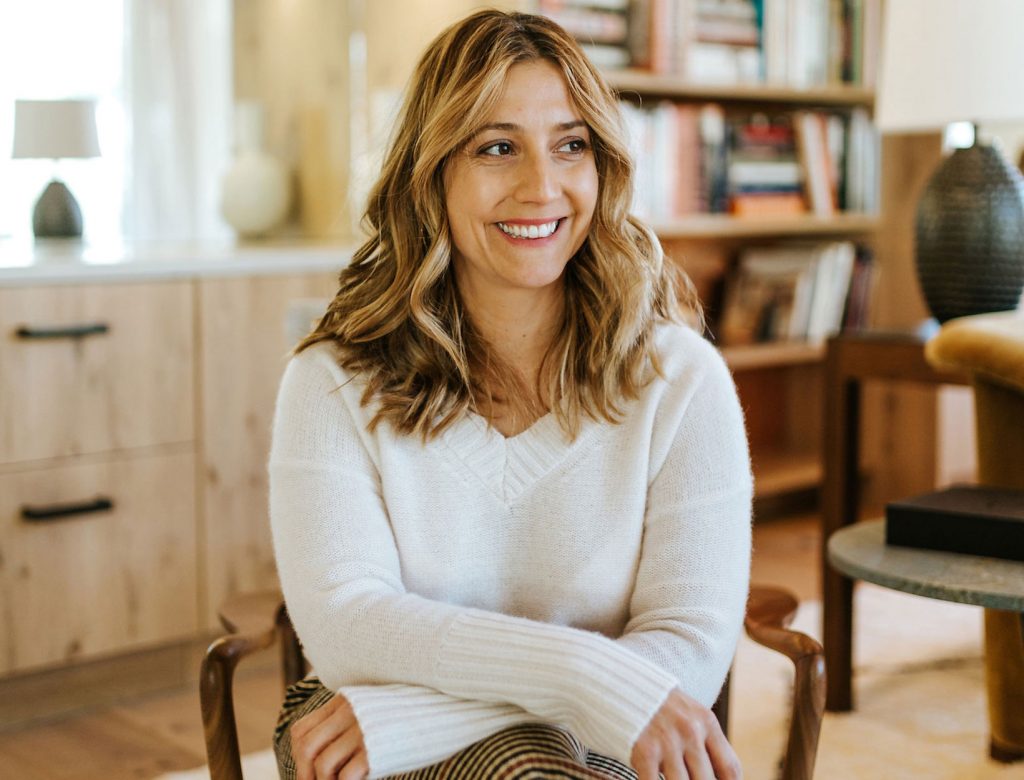 Female Founders: A (Former) Big-Beauty Executive on Wild-Crafting Skin Cream at 10,000 Feet
FEMALE FOUNDERS
A (Former) Big-
Beauty Executive
on
Wild-Crafting
Skin Cream at
10,000 Feet
Perhaps the only upside to workplace inequality is it has driven a lot of amazing women out of corporate America—and straight to the helm of their own companies. We decided we didn't want to just cheer them on anymore. We wanted to meet them and interview them and write about them. With that, we give you: Female Founders, a column featuring women who create, design, and inspire.
After fifteen years of (happily) working in PR and marketing in NYC at beauty companies like Givenchy, Clarins, Coty, and Dr. Dennis Gross, Kendra Kolb Butler was ready for nature, fresh air—and a break. Her husband, baby boy, and German shepherd were, too. "We knew we needed a drastic life change," she says. "I remember the day we made the decision: I was driving, and somebody on the radio said, 'Sometimes you have to jump off of the cliff and build your wings on the way down.' I took it as a signal from the universe. We quit our jobs the next day; our friends and family told us we were crazy. But how were we ever going to know if we didn't try?"
The family landed in Jackson Hole. Butler loved her new life but missed working in the world of beauty. "There were no stores to get my beauty fix like I used to," she says. "I figured if I wanted a beauty store where I could discover new brands, play with products, and explore, I couldn't be the only one." She was right. Her first Alpyn Beauty Bar store—stocked with clean, high-performance favorites, like Tata Harper, Jao, and Uma—was such a success that she quickly opened a second.
Butler's big idea got bigger as she interacted with clients and spent time in the mountains. She was struck by the way high-altitude plants grew and flourished in the same harsh environment that caused dry skin and premature wrinkles in her clients' skin. She learned to wild-craft plant oils from a local farmer, found the results were too good to keep to herself, and made a second leap. Alpyn Beauty—with products like the brilliant, super hydrating Melt Moisturizer and the creamy Bubbling Cleanser—is both inspired by the mountains (a new serum mimics the effects of alpine glow) and sourced directly (and sustainably) from them. So has she ever looked back? Well, what do you think?
A Q&A with Kendra Kolb Butler
Q
Did you always want to run your own business?
A
I've always wanted to do something I felt truly passionate about that also paid the bills. I've been fortunate to know many female entrepreneurs, some of whom mentored me. I spent my early career working behind the scenes in PR and marketing, and I was so focused on helping others get where they needed to be that I never really envisioned myself in their role. But then, when inspiration hit with an idea that I felt had legs, it felt like a natural progression.
What I've learned is that if you can dream it, you can do it. We all have the power to create something—we just have to learn to harness that power, to nurture and grow it.
---
Q
You ended up founding two companies—the store, then the skin-care line. Was skin care always in the plan?
A
No—definitely not! Working so much in the store that first year, I was interacting with a lot of women who lived in Jackson year-round (and I noticed changes in my own skin, too). It dawned on me that the plants were not only surviving in the same environment; they were flourishing and thriving. As I started experimenting with oils from the plants I had wild-harvested, the results were undeniable.
---
Q
How have customers at the store shaped the line?
A
If it weren't for my clients at Alpyn Beauty Bar, none of this would've happened. They talked to me endlessly about the effects that our mountain environment had on their skin. They encouraged me to find solutions that would help them, and they brought products back when they felt that they weren't working for their skin.
When I first got the idea to wild-craft, I gave out free samples of what I was making at home and asked my store clients for feedback—they were the perfect focus group. I am so thankful to the women of Jackson Hole!
---
Q
How did you get the idea to base the line around alpine plants?
A
These plants were thriving in a harsh climate that was really taking a toll on my clients' (and my own) skin. Clearly, the plants were onto something…they had figured out a way to adapt and survive in the most extreme elements. My gut instinct was that the plants would teach me something.
---
Q
Why was clean and nontoxic important to you?
A
In the beginning, it was because I was pregnant and breastfeeding through the formulation process. I came from a clinical skin-care background, so I needed the products to compete with the efficacy of that category. It was hard making them without the ingredients we didn't want in the formulas, but we did it.
---
Q
What exactly is wild-crafting?
A
Wild-crafting is the sustainable practice of harvesting a plant as it grows in its natural environment. The plant is never harmed or killed. An example would be picking a strawberry from a strawberry plant—it grows back. Wild-crafting is brilliant for skin care, because we utilize the plants in their most natural form. My plants have to grow at altitude in extreme weather with low oxygen levels, really close to the sun. All of these challenges make them strong, resilient, and incredibly hardy.
---
Q
What were the biggest roadblocks to success?
A
We weren't prepared for how quickly the line took off. There was a lot of work to do, and there were many positions to fill, so my business partner and I wore many hats—and we still do. You need humility as an entrepreneur. You have to be willing to do anything and everything to help the business grow. Every task is important, whether it's sending out a UPS package or negotiating with a major retailer.
---
Q
What's your favorite product so far and why?
A
I got the idea for the PlantGenius Survival Serum looking at the glistening, sunlit crystals on the surface of the snow and observing how they made everything look smooth and even. I wanted to bottle that phenomenon—and I think we were able to get pretty close! The serum has great results over the long term, but it also has an immediate soft pink glowy effect on the skin. I'll run into a client in yoga class or the grocery store and I can actually tell if they're wearing Survival Serum, because their skin will have this ethereal illumination and glow.
---
Q
What are you most proud of?
A
My one-on-one connections with clients. When I'm in the store and someone comes up and tells me how happy they are with their skin, the fact that I was able to create something that makes someone else feel genuinely happy brings me so much joy and satisfaction.
---
Q
How did your previous career prepare you to be an entrepreneur?
A
I had lots of autonomy in my previous positions, as well as mentors who allowed me to make mistakes and learn from them, developing resilience. As an entrepreneur, you're creating something out of nothing, so mistakes are common. Moreover, sometimes a mistake actually leads to something great!
---
Q
Where do you hope to take your business next?
A
We are debuting the brand across the country and hope to expand internationally by the end of 2019. That said, it's not a race to grow; it's more about finding the right partnerships and making the right products to serve and excite the Alpyn customer. One step at a time, slow and steady has always been my motto.
For me, it's not about marketing trends; it's about searching for things that aren't being talked about or maybe haven't even been thought of yet. There are so many healing plants living in these forests and valleys, so I'm constantly searching (literally in my backyard!) for the next great ingredient.