My Morning Routine
Backyard Elk Sightings, Meditation, and Lots of Moisturizer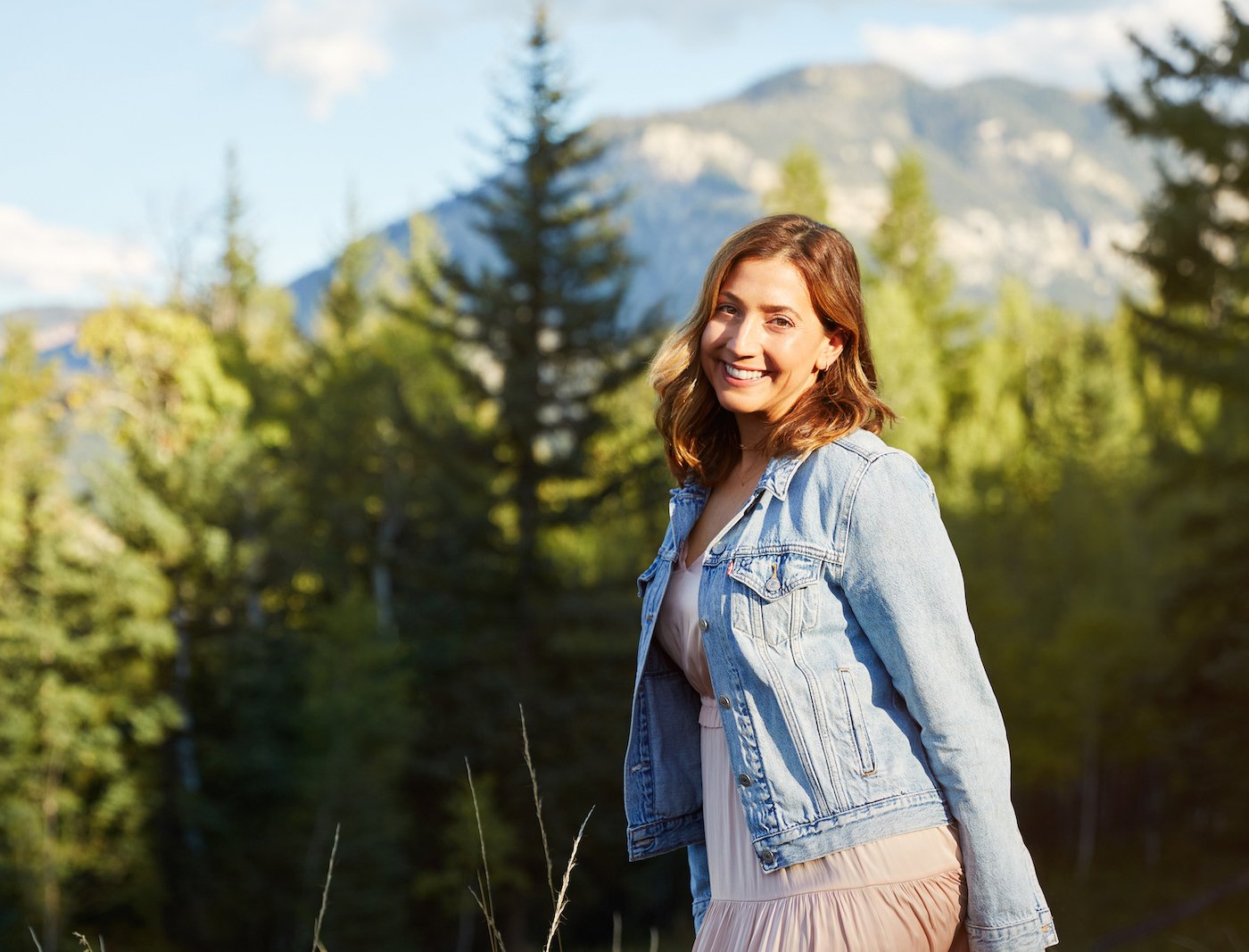 Moving to the mountains of Jackson Hole, Wyoming, with her husband, then-newborn son, and German shepherd eight years ago, when she'd had enough of the breakneck pace of life as a beauty executive, has most definitely agreed with Kendra Kolb Butler.
The mountains' fields of sage and calendula (not to mention their drying, high-altitude air) initially inspired her to create a shop called the Alpyn Beauty Bar; then, seeing a hole in the market with the boutique's moisture-hungry clients, she created a high-performance skin-care line, Alpyn Beauty.
The line has been such a success that she's had to close the store to focus on the products. Made with sustainably wild-crafted botanicals—the plants are harvested from their wild high-altitude habitats as opposed to being cultivated—every product is supercharged with protective extracts that help plants flourish in harsh climates. Alpenglow is the name for the gauzy pink sunlight that soaks the mountains at sunset and sunrise, and Kolb Butler says she aims for glow with just about every product. Perhaps unsurprisingly, she wakes up with (and sometimes before) the sun.
5:30 a.m.
---
My alarm goes off. Depending on what happened the night before, I either get out of bed immediately to work out or I hit snooze and go back to sleep until 6:30 a.m. I swear by getting eight to nine hours of sleep—it's my secret weapon to looking fresh and youthful.
6:30 a.m.
---
I do 10 minutes of meditation. I used to struggle with it, but it makes a huge difference in my focus and concentration throughout the day. I usually sit on my back porch, but if it's too cold, I do it in my bedroom.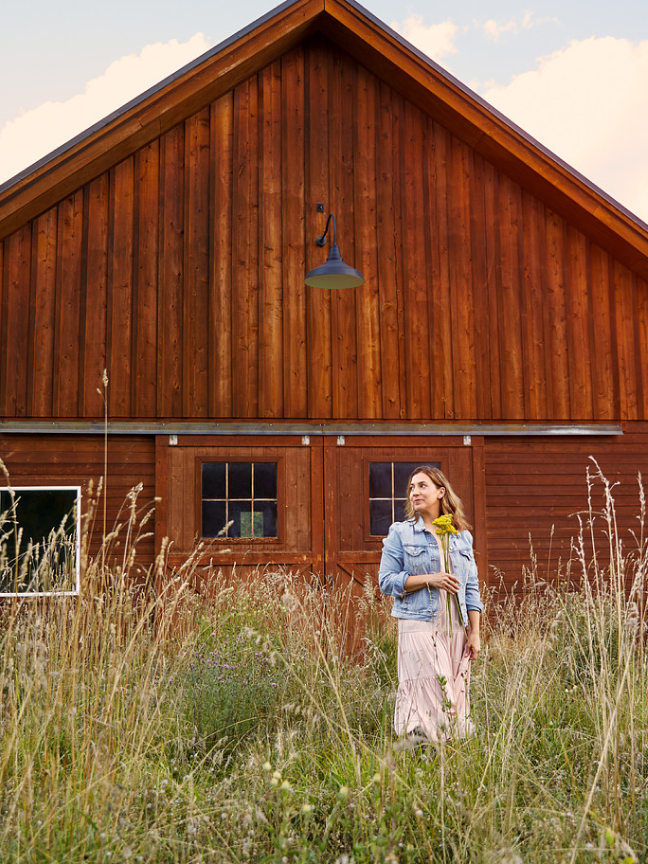 6:45 a.m.
---
My kids wake up and greet me in the kitchen, where I'm making an oat milk coffee in one of my favorite mugs. We check out the backyard to see what animals are walking around. This time of year, it's usually elk—the males are especially beautiful, and we have names for all of them based on their antler shapes.
Richard Brendon

Pinstripe Mug

goop, $27.20SHOP NOW
7 a.m.
---
I avoid checking my phone before I go into the office, but I often cave and glance through the day's schedule before I take a quick shower. Right before I get in, I smooth my Wild Huckleberry Radiance Recovery Peel Mask onto my face and leave it on as a mask during the shower. It really exfoliates, works on blackheads, and leaves my skin refreshed, and I love the pillowy texture. Once or twice a week, I do the Shinebath hair mask—it makes my hair shiny and silky. I scrub down with Nécessaire's body exfoliator. When I get out, my skin is so bright, smooth, and plump, and my hair is so soft.
Alpyn Beauty

Wild Huckleberry Radiance Recovery Peel Mask

goop, $56SHOP NOW

goop Beauty

Nutrient Shinebath Hair Mask

goop, $55/$50 with subscriptionSHOP NOW

Nécessaire

The Body Exfoliator

goop, $30SHOP NOW
7:30 a.m.
---
Once out of the shower, I smooth UMA's anti-aging body oil all over. It's so hydrating. For my face, I mix a few drops of self-tanner with Alpyn's Ghostberry cream for the ultimate fresh, dewy glow—it's so hydrating and barrier-protecting, so my skin stays soft and moisturized all day long (and my makeup goes on like butter). Most days I'm in a rush and the cream is all I need, but if I have extra time, I put on a few drops of my Wild Nettle serum first for the instant firming and plumping benefits. Afterward, I dab on my eye cream to smooth and hydrate.
Alpyn Beauty

Super Peptide & Ghostberry Barrier Repair Cream

goop, $62SHOP NOW

Alpyn Beauty

Wild Nettle & Niacinamide Firming Serum

goop, $58SHOP NOW

Alpyn Beauty

PlantGenius Line-Filling Eye Balm

goop, $62SHOP NOW
My hair is fine and tends to feel flat and lifeless, so I quickly run leave-in conditioner through my hair before blow-drying for volume and lift.
goop Picks
I curl with this incredible iron. It's so easy to use (cordless!), and I love the wave, bounce, and texture I get.
Harry Josh

Cordless Ceramic 1" Curling Wand

goop, $325SHOP NOW
I put on my uniform: jeans, a white T-shirt, and Birks. I add this beautiful Jane Win necklace to pull it all together—I'm always getting compliments on it.
AGOLDE

'90s Pinch-Waist Jeans

goop, $218SHOP NOW

Birkenstock

Arizona Shearling-Lined Birkenstock

goop, $160SHOP NOW

Jane Win

Lucky Embellished Coin Pendant Necklace

goop, $298SHOP NOW
I'm a makeup minimalist, but I had a makeup lesson with Stefanie Fritz, and she completely reenergized me: I'm obsessed with Saie Slip Tint—it's the prettiest light coverage with SPF (a must). For a little pop of color, I dab the Colorblur Glow Balm in Venus on my cheeks—it just wakes my whole face up. I always finish with a swipe of Tower 28 mascara—it's the best.
TOWER 28 BEAUTY

MakeWaves Lengthening and Volumizing Mascara

goop, $20SHOP NOW

goop Beauty

Colorblur Glow Balm

goop, $34SHOP NOW
7:45 a.m.
---
I head out to drop the kids off at school (hoping there isn't a traffic jam due to a herd of buffalo or elk on the way). The views of the Tetons on the drive are breathtaking. Then I head to our office—it's a beautiful open space with big windows that look out on Grand Teton National Park (which we donate 1 percent of every Alpyn sale to).