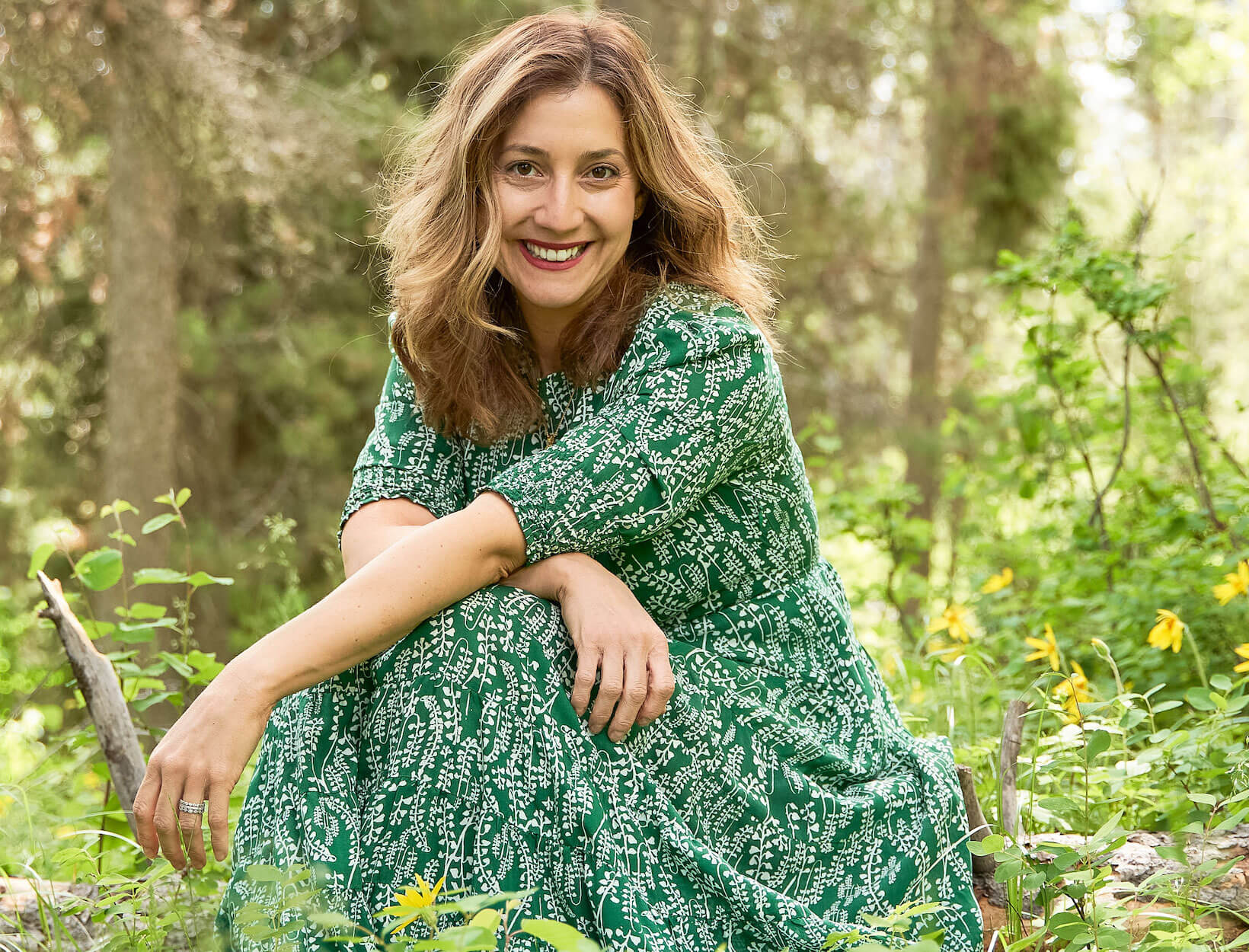 Hello, My Age Is: 42
Mountain Time
Kendra Kolb Butler
founder, Alpyn Beauty
A few years into her forties, baby-faced Kendra Kolb Butler's workspace looks a lot different than it did in the corporate boardrooms of her thirties—we recently caught up with her hand-harvesting nettle in a field near Jackson Hole, Wyoming, for her newest blockbuster serum. But her skin looks significantly glowier than it used to. The Alpyn founder credits her drastic lifestyle change (she moved from NYC to Jackson Hole, had kids, and started first a beauty boutique and then a skin-care brand), the increase in confidence she's felt as she ages, and clean, high-altitude-sourced skin care.
"I thought I looked okay when I was in my thirties living in Manhattan working a corporate job, but I didn't feel my best," she says. "Now, living in Jackson Hole after two kids, I'm in a slightly bigger pants size but have never been happier, and I think that shows on my face."
"People do say that I don't look my age or that I have a 'baby face,' though I'll admit it happens less now than it used to," says Butler. "My husband is older than I am and still gets carded frequently, so the competition is heating up!" What she finds especially flattering is a new comment that pops up more and more: "People say they feel like they've known me forever. I love that. I've heard studies saying thirty-five is the favorite age of most women, but I'm not so sure. I like the confidence that I seem to gain year after year by making mistakes and learning from them. It's like a new form of currency, beyond swiping the youth card." Her advice for acquiring that currency works no matter what your age.
1
Moisturize like hell
Living in the mountains, the air is so dry. Every day, I use my PlantGenius Melt Moisturizer after a good exfoliation, and if I accidentally miss an application—either morning or night—I feel it. Cleansing regularly makes your moisturizer work better. When I hear skin-care experts say you don't have to cleanse in the morning, I nearly lose my mind: There is so much cell turnover while we sleep, I feel the need to wake up and just clear it all off—it's as natural to me as brushing my teeth.
2
The right ingredients can change your skin
I'm very into the retinol alternative bakuchiol and skin-smoothing niacinamide right now, as well as stinging nettle, so I combined them all in my new serum. Stinging nettle does exactly the opposite of what its name suggests for your skin—it's great for sensitive, reactive skin types. So the serum soothes as it treats your skin to all these amazing ingredients.
3
Wear extra sunscreen
We need a lot of sunscreen here. At 6,200 feet elevation, you can get a burn walking from the parking lot to the grocery store, so I layer on my Unsun every day. The Organic Pharmacy is my favorite for a long walk or float down the Snake River.
4
Move more to feel better
Neither one of my parents exercised when I was growing up; good for them because they looked great, but I always craved it. Before I was old enough to play organized sports, I was running around my block for exercise—they thought I was nuts. After a good workout, I feel like my synapses are firing, and problem-solving just seems so much easier. During the pandemic, I've been doing livestreamed workout classes on Bande a minimum of three times a week. My favorite thing about group classes is watching the other people also struggle through the hard moves (camaraderie) and spying on their workout clothes. I get to scratch my people-watching itch while getting a good butt-kicking!
goop Pick

Varley

Cary Bra

goop, $70

SHOP NOW
5
Follow your instincts
I look and feel amazing when I'm working out daily and eating healthily, but there's also something delightful about snuggling up with my kids on the couch, having a glass of wine with a chocolate chip cookie, and skipping the workout. I've learned to follow my own instincts instead of living by a rule book. But balance is everything: If I'm having an off day, I try to get outside as fast as I can for a short hike or even a walk down the street to turn everything around.
6
Fine-tune your "no" skills
At forty-two, I've stopped trying to appease those around me as I did in my twenties and thirties. If I'm not into something, I just say no. My time is my most valuable asset. I do the things that I like and spend time with the people who make me happy. If life continues to get better and better by fine-tuning this new me, bring on fifty, please!
7
The Energy of a Smile is Unstoppable
The best advice I was ever given about aging came from my grandmother: A smile that reaches your eyes still looks the same no matter how old you are.