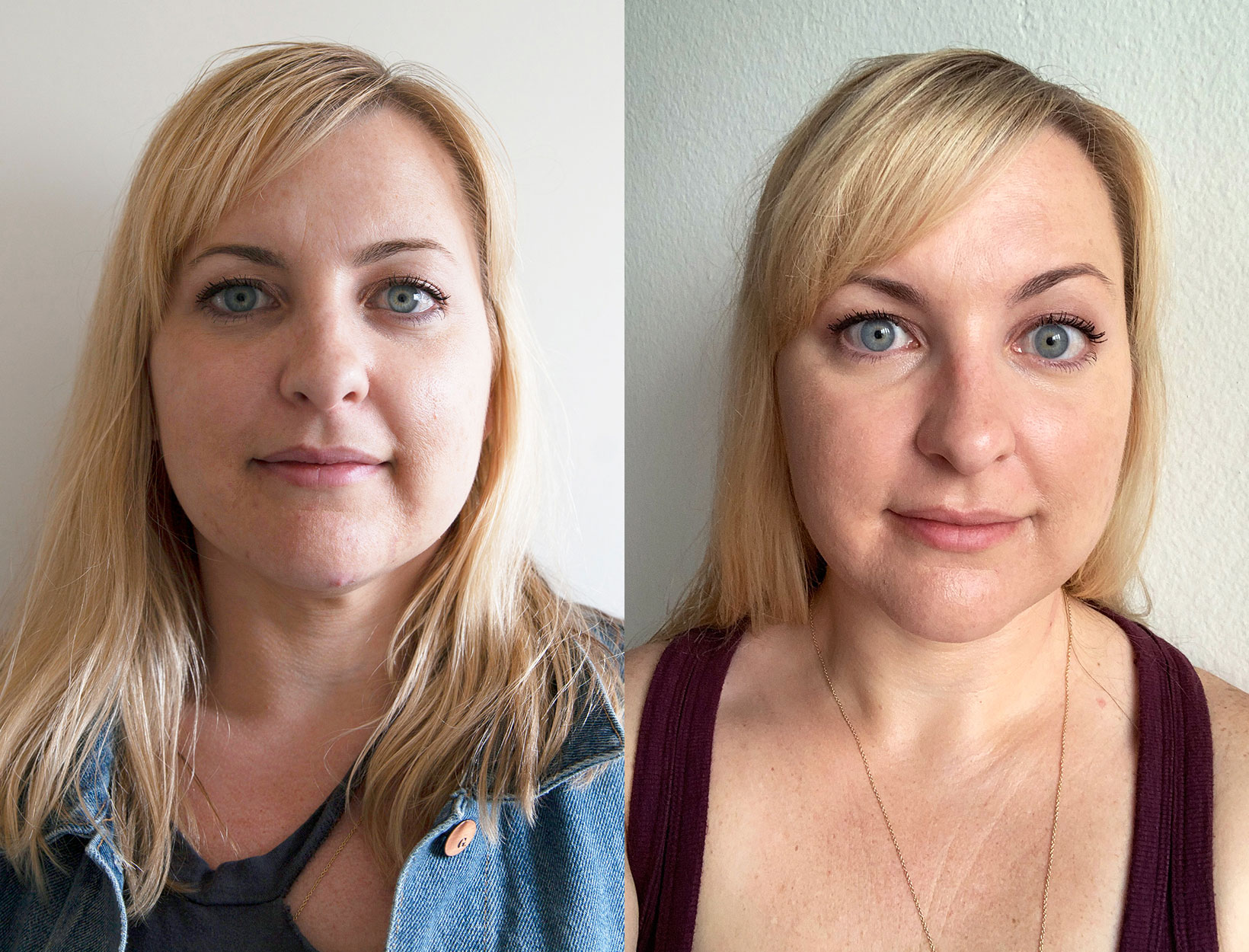 Boot Camp for Breakouts
We worked with Emilie Pacheco at goop for years, and, like many of us, she got into clean beauty, a process which she says really helped clear her skin. Encouraged, she decided to try what's called the breakout bootcamp at LA's Vanessa Hernandez salon. Here's her story. (Spoiler alert: She's more than pleased.)
I've been insecure about my skin for as long as I can remember, suffering from blemishes I wanted to hide under layers of makeup. Unfortunately, the thick makeup only made it worse, giving me even more to hide.
My introduction to clean, nontoxic skin care changed that. I started using clean beauty products and exfoliating more regularly, and my skin started to change. Gradually, the breakouts became fewer and farther between—and compared to the face full of acne I'd been living with, a few zits here and there were nothing. I started telling everyone about the way regular exfoliation and clean products had changed my skin, but my evangelizing always came with a caveat: "My skin is usually really bad. This is actually the best my skin has ever looked."
A CLEAN BEAUTY ROUTINE FOR CLEARER SKIN
A CLEAN BEAUTY ROUTINE FOR CLEARER SKIN
Once a week:

Every few days:
Every day:
No-makeup makeup:
Then I signed up for the skin-transformation bootcamp at Vanessa Hernandez salon in LA: six weeks of weekly facials, plus a microneedling session (which I loved—it makes your skin look airbrushed). Most people visit Hernandez every six to eight weeks, but if you're looking to totally revamp your skin as I was, they'll build out a custom plan for you.
Week One
WEEK ONE
I got my first treatment—definitely not a fluffy facial. No massages, no extra steps in the process, just a clear focus on working to clear up my current acne, clear the scarring—especially on my left cheek, where my acne scars are most prominent—and diminish some fine lines and dark spots in the process. The extractions were deeper and more intense than any I'd had before. According to Hernandez, beyond what you might think is causing the acne is a "seed." Not removing this seed, she says, is why other facials I'd had gave me that "it gets worse before it gets better" effect. She showed me the "seed" and some of the gunk coming out of my face (it was gross and also fascinating—I loved it). The next steps were multiple types of microdermabrasion, a collagen mask, an oxygen treatment, moisturizer, a light mask, and then an overnight peel that I left on until I washed my face in the morning. She said my skin might be red for a couple days.
After the treatment, my skin felt very soft. I wasn't super red—I don't get red easily (probably because I've done so many really aggressive treatments on my skin to try to clear it up over the past decade and then some). I wasn't sure if it was just the lighting in that room or if I really did already see an improvement in the scarring. I practically skipped out of the office to my car to drive home and kept trying to not touch my face to feel how soft it was.
The next morning I woke up and practically ran to the mirror to see what my face looked like: definitely a bit glowy. My chin (where the active acne situation had been going on, and which had gotten the full overnight-peel treatment) was a bit red, but nothing a little tinted moisturizer and a touch of concealer couldn't handle. My cheeks and the skin around my eyes looked healthier and plumper. I was so excited—I couldn't wait to see how my skin would change over the next six weeks.
week two
WEEK Two
I had a "checkup" that was sort of a half facial—some extractions, one type of microdermabrasion, a collagen mask, and some moisturizer. The amazing thing that happened after that appointment was that I didn't get even one new breakout over the following week. My skin continued to look glowy; out of the blue, a friend at the gym told me how great my skin looked—and I was wearing no makeup. That had literally never, ever happened to me before.
week three
WEEK Three
This week was another full facial similar to the first one, just in a slightly different order. My skin felt soft and looked to me like it had a totally new texture: very smooth. The apples of my cheeks seemed even more plump and glowy. I had a little redness after, but it was gone by morning. I noticed the acne scars on my cheek were starting to fade, too.
Weeks four, five, and six continued in the same vein, and the results just kept getting better. I stopped wearing foundation every day, transitioning to a little tinted moisturizer and maybe a little concealer. People now regularly compliment my skin, which is an experience I really had never had before. "Your cheeks look almost poreless," someone will say, and I can't believe it, but they actually do. My skin looks and feels soft, plump, and smooth, and my blemishes are very few and very far between.
Now that the facial bootcamp is complete, I'm continuing my exfoliation routine to maintain the clear skin I never knew I could have. To keep my just-had-a-facial glow, I use the GOOPGLOW Microderm multiple times a week, and I'm treating myself to an overnight acid peel once a week, too, with the GOOPGLOW Overnight Glow Peel.
My advocacy for clean beauty no longer includes a caveat about bad skin, just an additional shout-out to my favorite facialist, Vanessa Hernandez, who's saved me from breakouts, hyperpigmentation, and acne scars. And you can bet I'll be back there, getting a facial every six to eight weeks, until at least the end of time.