My Nighttime Routine
Less Is More, and Simple Is Best—for Beauty and Beyond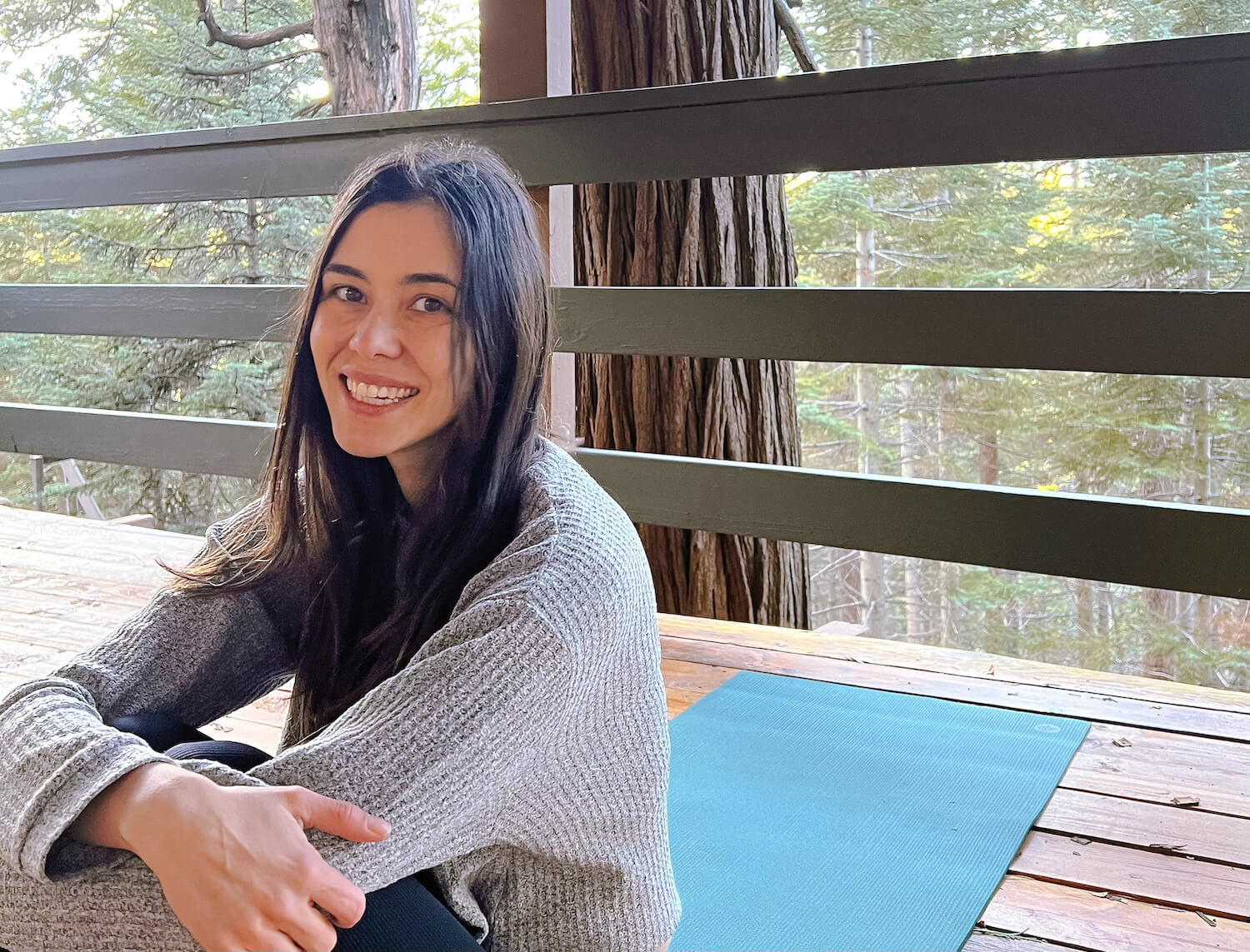 For Arie Noji, forest bathing is sort of a 24/7 arrangement. The beauty-product whisperer (she's had a hand in several goop Beauty bestsellers) lives in a forest high in the California mountains; from there, she's masterminded a new brand with a focus on doing more with less, creating less waste overall, and looking at sustainability from multiple perspectives.
It's clean, of course, and her first product is wildly multipurpose. "I love the idea of leaving the smallest environmental footprint you can," says Noji, a mom of two. "So anything I'd make would have to be sustainably sourced and made with recycled, recyclable packaging and, where possible, upcycled ingredients—but most of all, it was important that one single product do many different things. The sheer number of products you buy really affects the environment." The solution: a does-it-all oil that works for face, body, and hair—and as moisturizer, cleanser, hair styler, bath oil, and more.
Made with three oils—moisturizing avocado, calming prickly pear, and antioxidant maracuja—that are all by-products of the food industry (they're extracted from the pits and seeds that are normally thrown away), the multitasker contains no water and absorbs with incredible ease, leaving both skin and hair soft and deeply nourished. "It's all you need," Noji says.
Her evening routine shows off just some of the ways to use the oil. Her days are spent hunched over a computer in full launch mode (she starts the day with a hike with her husband after dropping off their kids, six and nine, at school, but it's heads-down after that), so winding down after the workday is important. Here's how she does it.
arie's nighttime routine
5:30 p.m.
I finish up for the day and take a short hike through the forest or do some yoga on my deck among the trees. After sitting at a computer for most of the day, I get energy flowing and breathe some fresh air.
6:30 p.m.
I cook dinner for the family while we listen to music together. I've been doing more plant-based recipes, and my oldest son loves to help—it's something I look forward to each night.
8:15 p.m.
Once the boys are in bed, it's time to wind down. I like to shower at night—to relax and cleanse away the day. I turn off the lights and light a candle while I shower. Since my hair's pretty dry, I wash it every two days with something really moisturizing. I love the Moisturising Shampoo Bar from Abhati Suisse. On shampoo days, I use the extra foam from my shampoo to cleanse my body; on the other days, I use the GOOPGLOW body polish—it's a scrub and a cleanser in one—to get a deep cleanse. It smells like you're bathing in the forest.
On nights I'm lucky enough to indulge in a bath, I pour drops of My Only Oil in the tub and soak while I drink a glass of wine. The formula is cleansing and locks in hydration, so when I get out, I just towel off and my skin feels so soft, clean, and moisturized without my having to use any other products.
8:30 p.m.
After a shower, I smooth the oil all over to seal in the moisture. It feels velvety on my skin and sinks right in, so I don't have to wait to slip into my pj's. If my hair's damp, I apply a few drops to the ends to help define my waves, tame frizz, and boost shine. I let my hair air-dry—the oil helps lock in the moisture.
8:35 p.m.
I don't typically wear makeup, but I do wear sunscreen during the day, so I have two options for cleansing: One is I massage my face with a few drops of my oil, then wipe everything away with a warm washcloth. Once a week, I use the GOOPGLOW Flower Acids Resurfacing Toner to help even my skin texture.
After I cleanse, I apply a few more drops of My Only Oil on top of my damp skin to keep it extra moisturized.
9 p.m.
Once I'm finished cleansing, I head to the living room for quality time with my husband. Some nights we have a glass of wine by the fireplace, catching up on how our days went, and other times we just relax on the couch and watch a good show—we love comedies. They keep us laughing together, which is the best form of self-care.
10:15 p.m.
I settle into bed with a good book. I drink a glass of water and put a bit of My Only Oil on my lips before I go to sleep so when I wake up, they feel nice and soft.