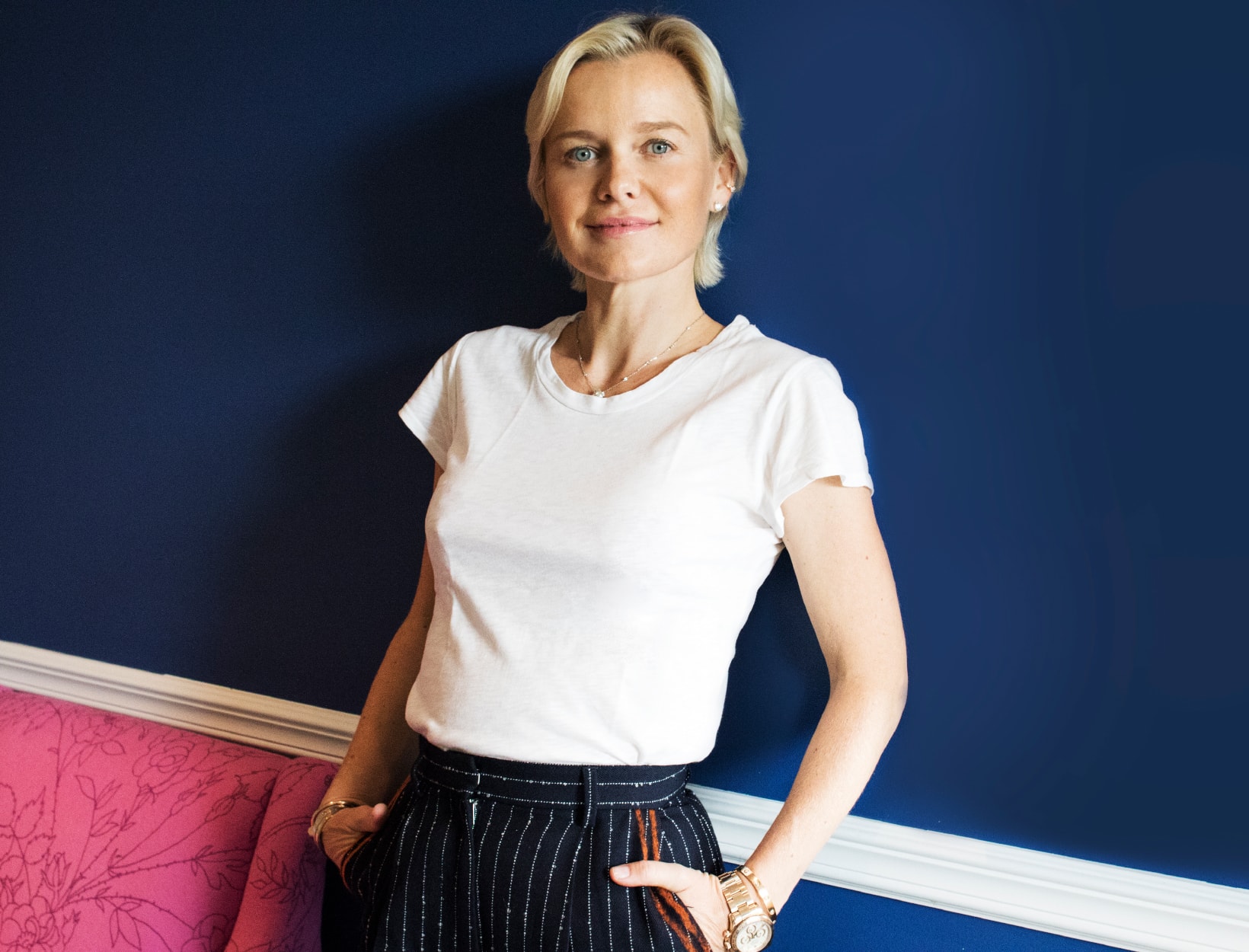 Photo Courtesy of Anthony Deeying
A Skin-Whisperer's Guide to a Fantastic Complexion
With busy skin clinics in both Dusseldorf and Munich, Barbara Sturm, M.D. started her career in molecular orthopedics, but has evolved into a specialist in aesthetic medicine and non-surgical skin-rejuvenating treatments. She famously developed a "blood facial," where healing factors from a patient's own blood are re-injected into skin, rejuvenating it in much the way PRP treatments help heal joints and injuries in orthopedics and sports medicine.
Based on her clinical experience, Sturm developed a "blood cream" and has now followed it with a full skincare line that incorporates ingredients like hyaluronic acid and the botanical purslane extract.
Unlike much of the conventional medical community, Sturm is adamantly clean and nontoxic in her approach to topical products. She maintains that anything that causes inflammation—from potentially toxic synthetic chemicals to deep, skin-abrading lasers—works against healthy skin. Here, a look at her clinical practice and research into skin, aging, diet, supplements, skincare, injectables, lasers, threading, and more:
A Q&A with Barbara Sturm, M.D.
Q
How did you become interested in nontoxic skincare/concerned about toxins in conventional skincare?
A
In my twenties, I had problems with dry skin and small breakouts. I tried every product on the market and got facials every three weeks, but nothing could make my skin fundamentally healthy and glowing.
Lots of so-called "luxury skincare" turned out to be full of toxic and harsh ingredients and fragrance, and left my skin feeling like it was burning.
Q
How did you decide to start making your own?
A
When I made the jump from anti-inflammatory orthopedics to aesthetics and created the blood facial, I got the idea to try to create a cream with no toxic ingredients that works with the body's own healing factors. My patients were always asking me for recommendations, so I'd tried everything that was out there—and never found the right solution. To create that first blood cream, I worked with anti-inflammatory scientists from Harvard, and the Universities of Miami and Pittsburgh on both ingredient science and anti-aging cellular protection. I called the cream "MC1"—and it was a big success, with me (I never had skin problems again), and with my patients. But it took more years of research and clinical testing before I felt my full range was ready.
For both the blood cream and the product line that followed, I left out any irritants that could cause inflammation, which is one of the main factors in aging.
Q
If inflammation is at the root of much of aging, do you believe that skincare with known irritants—say, in chemical sunscreens—can prematurely age the skin?
A
Of course! Fighting irritation is at the heart of my work—and my skincare line. Irritants, whether caused by chemicals and ingredients, food, nutritional deficiencies, or the external environment all cause inflammation, and inflammation is one of the worst culprits for aging.
Q
How important are factors like diet and lifestyle for skin?
A
You are what you eat. Everything you put into your system shows eventually on our organs—and the skin is our biggest organ. It's interesting: Our skin is the only organ we see directly, so if we break out after eating something unhealthy, what is happening to the organs we can't see, inside?
A healthy lifestyle and especially a healthy diet benefits every organ, including skin. I find breakouts now are mostly caused by pollution, environmental-, travel-, work-, and food-related stress, as well as by hormones. So if someone has acne-prone skin, I like them to get their blood checked for lactose intolerance, hormone levels, and allergies; they should also check all ingredients in their skincare routine and take out anything that contains aggressive ingredients.
People do not always get what they need from their diets. In general, there is a correlation between levels of certain vitamins and botanicals and skin quality: If your vitamin A is depleted, for example, your cell regeneration will be poor and the result will be dry, flaky skin.