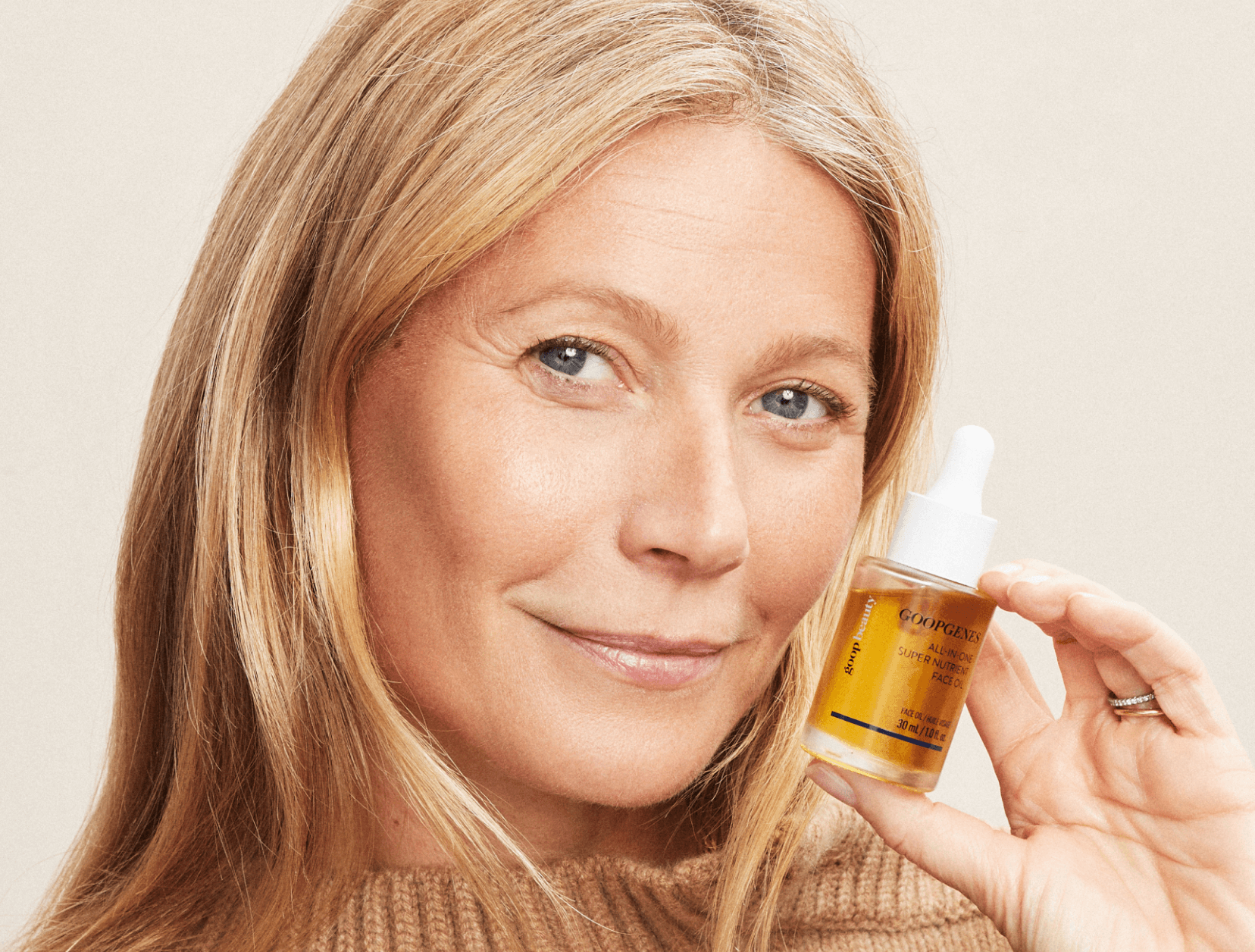 Resolution: Great Skin
Life—and every habit, good, bad, or indifferent—shows up on our skin, the emerging science of epigenetics tells us. Once a year at goop, in January, we focus our efforts on healthier diet, exercise, and wellness routines. This year, we're making great skin a priority, starting with a new goop face oil that delivers absolutely amazing results. "This is the year," says GP. "I'm always into skin care—much more so than makeup—but now I'm taking it to the next level with this unbelievable little bottle of face oil."
Face oil isn't often associated with clinical results, but this use-it-every-day, clean-as-can-be one does much more than moisturize and leave skin feeling fantastic: In clinical studies,* 100 percent of participants saw softer, smoother skin after four weeks, and 100 percent of them saw a highly significant improvement in the reduction of fine lines and wrinkles after eight. The results for improved firmness, brightness, texture, and moisture levels are similarly impressive.
Made with nine powerful, nutrient-dense oils (including the retinol alternative bakuchiol, vitamin-A-rich cacay, and organic amla, a vitamin C superfood) plus clinically tested extracts like Schisandra fruit and squalane, the oil works as a daily treatment that feels incredible as you smooth it on and leaves skin instantly more moisturized. Over time, the noticeable benefits start to accumulate, so it's a habit that really makes a difference. "You have to try it to believe it," says GP, who, along with goop staffers, is making (and sticking to) some serious skin resolutions this year.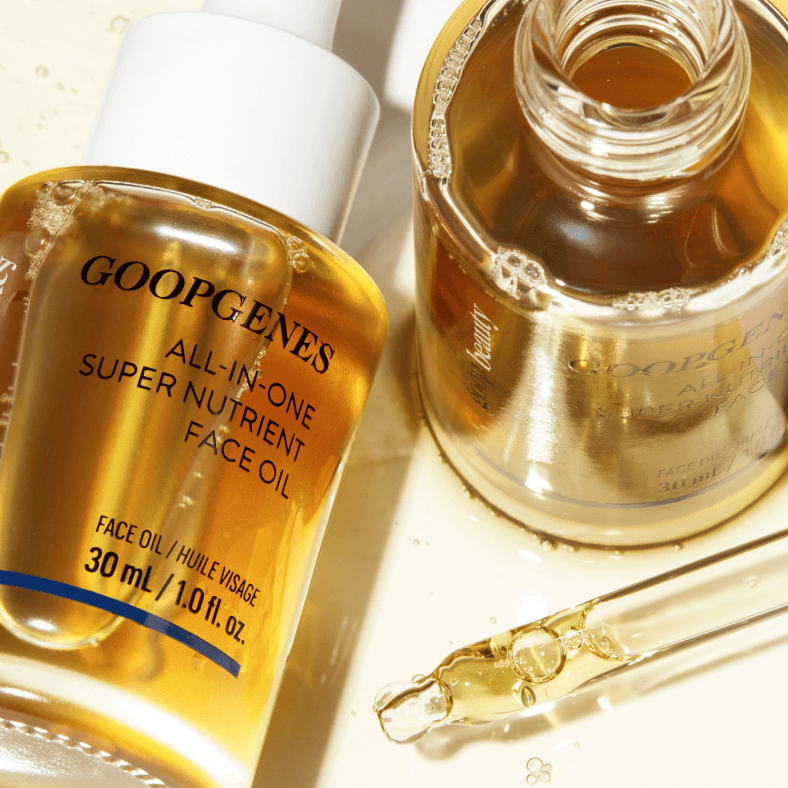 GP's Resolution:
Glowy, Firm, Even-Toned Skin
"It's amazing what the new face oil has already done for my skin. I'm combining it with exfoliation— GOOPGLOW Microderm—as well as vitamin C. I apply the C onto clean skin every day, and it makes a noticeable difference. Then I go in with the GOOPGENES eye cream. I also want to do a bone broth cleanse, work on healing leaky gut, and eat more greens, all of which are good for skin. Somehow, through this COVID autumn, I've managed to overindex on meat, potatoes, and pasta."
—GP
1

"This is truly an at-home facial in a jar, and I use it three times a week after a workout and a shower. It leaves my skin glowy and soft and makes all my other skin care work better."

goop Beauty

GOOPGLOW Microderm
Instant Glow Exfoliator

goop, $125/$112 with subscription

SHOP NOW

2

"A famous makeup artist taught me everyone looks better with a little eye cream, and this one even goes to work on your crow's-feet."

goop Beauty

GOOPGENES All-in-One
Nourishing Eye Cream

goop, $55/$50 with subscription

SHOP NOW

3

"I smooth this on every morning—it's the ultimate for noticeable glow. I wait a few seconds, then layer the oil on next—best combination ever."

goop Beauty

GOOPGLOW 20% Vitamin C +
Hyaluronic Acid Glow Serum

goop, $125/$112 with subscription

SHOP NOW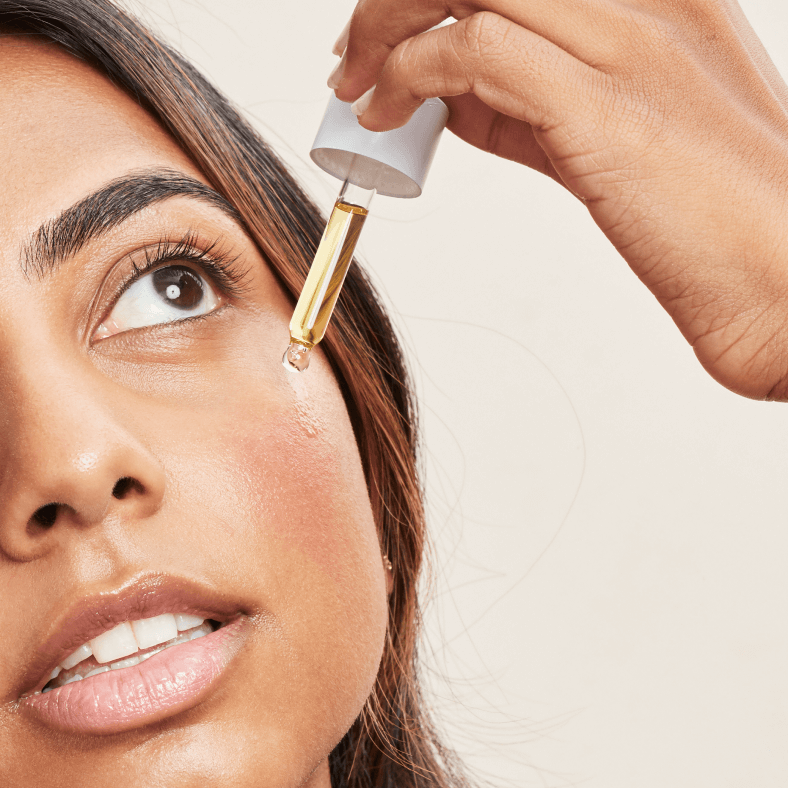 Vineela's Resolution:
Refresh My Makeup with Oil
"I learned the best trick for when you're looking tired and think you need a little extra makeup in the afternoon: Pat the face oil on over your makeup (avoiding your eyes). It refreshes your whole look instantly and gives you the best glow, I swear. And it feels like a hug that leaves your skin incredibly soft. Since I've been trying out the oil, I'm wearing less makeup. When I feel good about my skin, if I do my lashes and a little cheek color, I'm good to go!"
—Vineela Yerragudi, product manager
1

"A tip for bare skin: Massage the oil into your face with the Wildling gua sha stone for the best glow, super hydrated skin, and sculpting."

Wildling

Facial Gua Sha Empress
Collection

goop, $129

SHOP NOW

2

"I tap this lip and cheek tint onto the apples of my cheeks for a fresh, glowy look. It's so easy and can be all you need once your skin is in great shape."

Tata Harper

Volumizing Lip and Cheek Tint

goop, $39

SHOP NOW

3

"I curl my lashes to look more awake, then swipe on a few coats of Mascara 101—I love it!"

Saie

The Lash Kit

goop, $40

SHOP NOW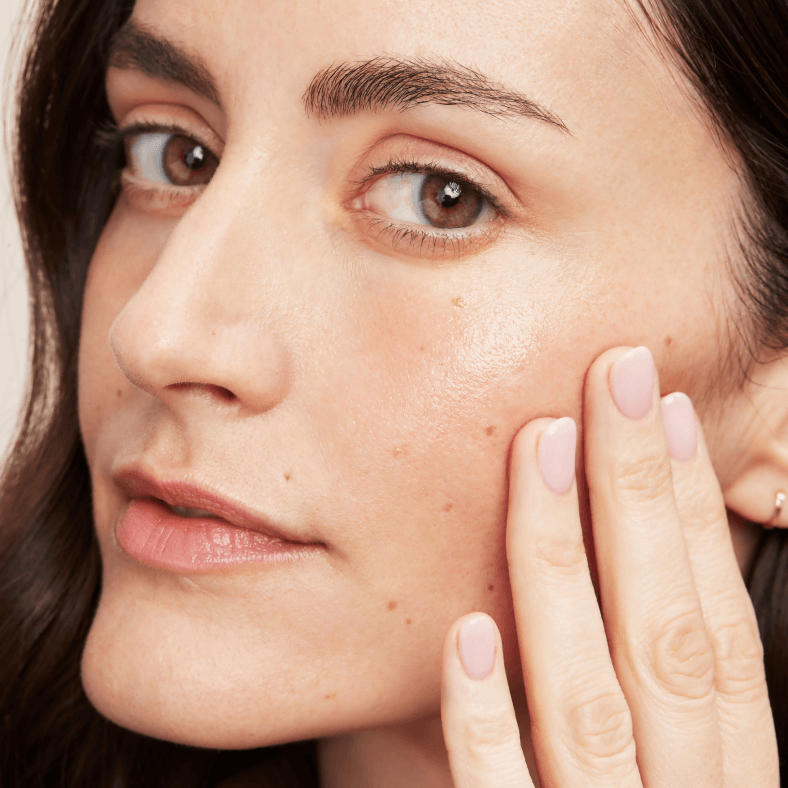 Laurel's Resolution:
Get More Moisture
"Right now, dryness is chasing me everywhere—especially inside my mask—so I've been consistent with the new face oil, and it's paying off big-time: I use it lightly in the morning after exfoliating with GOOPGLOW Microderm, then press it on after layering a skin essence under my favorite hyaluronic serum. It also helps that I've been on a hefty no-sugar, no-dairy, no-gluten, hiking and Pilates regimen."
—Laurel Stovall, private client manager
1

"I press this on and all its water-based nutrients flood right into my skin. I follow it with two layers of moisture to keep my skin in great shape."

Vintner's Daughter

Active Treatment Essence

goop, $225

SHOP NOW

2

"I layer this under the goop face oil and my skin just loves it."

Dr. Barbara Sturm

Hyaluronic Serum

goop, $300

SHOP NOW

3

"The best exfoliating scrub—it polishes my skin and leaves it
soft and smooth."

goop Beauty

GOOPGLOW Microderm
Instant Glow Exfoliator

goop, $125/$112 with subscription

SHOP NOW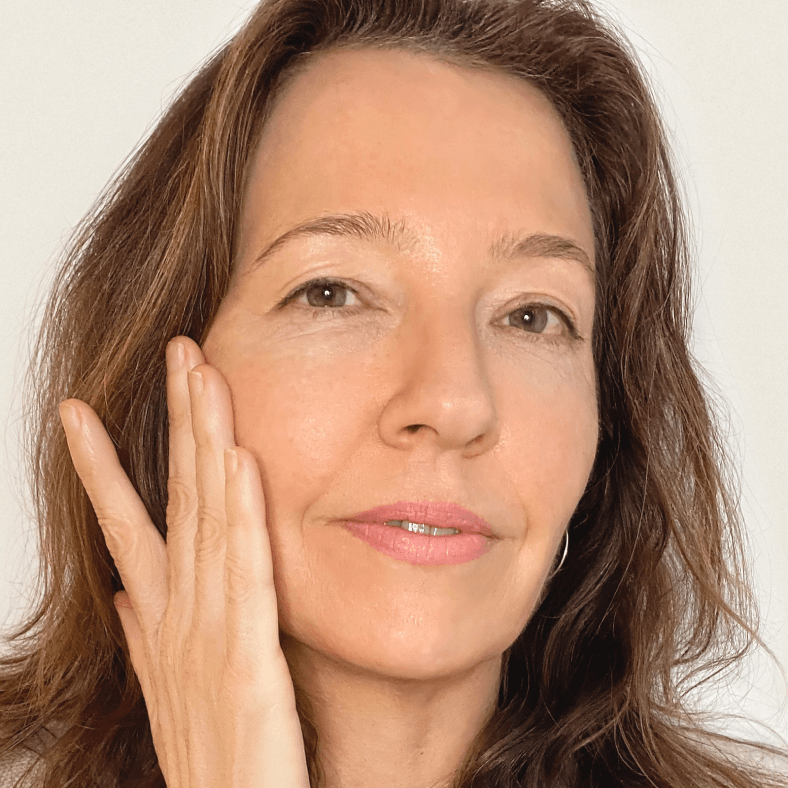 Jean's Resolution:
Firmer, Smoother, Dewier Skin
"Because the face oil addresses the appearance of wrinkles, improves firmness, and increases moisture levels all at once, there's just nothing like it. Layered with GOOPGENES face cream, it's amazing. And to superpower that combination, all you need is a major exfoliating peel once a week, while you sleep. If you have to be stuck mostly inside, you might as well feel (and look) nourished, dewy, and glowy."
—jean godfrey-june, beauty director
1

"At fifty-six, I need all the moisturizing I can get, and this rich cream delivers, plus it improves firmness, wrinkles, tone—everything. It's brilliant layered with the oil."

goop Beauty

GOOPGENES All-in-One
Nourishing Face Cream

goop, $95/$86 with subscription

SHOP NOW

2

"Once a week, swipe this skin miracle on before bed (no other skin care necessary). Wake up to a noticeable weeklong glow; follow with face oil."

goop Beauty

GOOPGLOW 15% Overnight
Glow Peel

goop, $125/$112 with subscription

SHOP NOW

3

"This ultrahydrating SPF 30 sinks right in—and daily sunscreen is the habit that makes the biggest impact on your skin, period. I do it unless it's a full-on deluge or a blizzard."

Kypris

Pot of Shade Heliotropic

goop, $75

SHOP NOW
Megan's Resolution:
Nourishment for Oily Skin
"One of the best, most skin-balancing things I do for my problem skin is massage it with a few drops of this face oil morning and night. It's loaded with active botanicals like amla (a source of vitamin C) and bakuchiol (which has similar brightening effects to retinol but is not sensitizing). My skin drinks it up. My routine is an oil cleanser in the shower; next, an amazing new serum I've fallen in love with; then the face oil; and last, mineral sunscreen that blends easily into my skin."
—Megan O'Neill, senior beauty editor
1

"I wash my face with this in the shower. You'd think with oily skin, I wouldn't want an oil cleanser, but this one really works. I looooove it."

Tata Harper

Nourishing Oil Cleanser

goop, $82

SHOP NOW

2

"Three pumps into damp skin after cleansing is magic for my skin: It's hydrating, full of antioxidants, and soothing—and it works for
every skin type."

Furtuna Skin

Porte Per La Vitalità
Face and Eye Serum

goop, $185

SHOP NOW

3

"My last step every morning is a creamy blob of this amazing sunscreen, which leaves a subtle sheen. And yes, I take vitamin D, too."

The Organic Pharmacy

Cellular Protection
Sun Cream SPF 30

goop, $69

SHOP NOW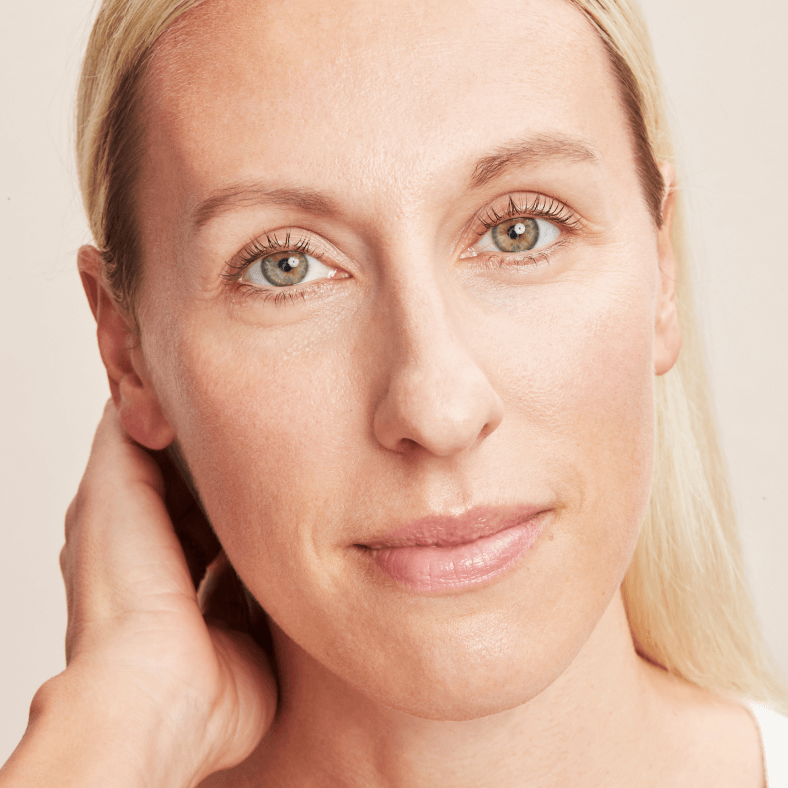 Ali's Resolution:
Brighter, Smoother Skin
"My skin-care goal (besides some major laser on my broken capillaries) is to exfoliate and layer on moisture afterward. I love this face oil—it adds that extra moisture I need. I like my skin bright, a tad shiny even, and this creates an even brightness from chin to forehead, ear to ear."
—Ali Pew, fashion director
1

"Once a week, this peel is just amazing for my skin. I put it on, go to sleep, and wake up feeling
tighter and glowier."

goop Beauty

GOOPGLOW 15% Overnight
Glow Peel

$125/$112 with subscription

SHOP NOW

2

"The best makeup-remover-cleanser-toner-tonic combination."

Furtuna Skin

Acqua Serena Micellar
Cleansing Essence

goop, $78

SHOP NOW

3

"I mix this with the face oil for the ultimate texture on my skin. It's rich and dewy, and it leaves my skin feeling so soft."

Dr. Barbara Sturm

Sturm Face Cream Women

goop, $215

SHOP NOW
---
*Based on an eight-week third-party consumer-perception and clinical study conducted on thirty-three women ages thirty-five to sixty-five.