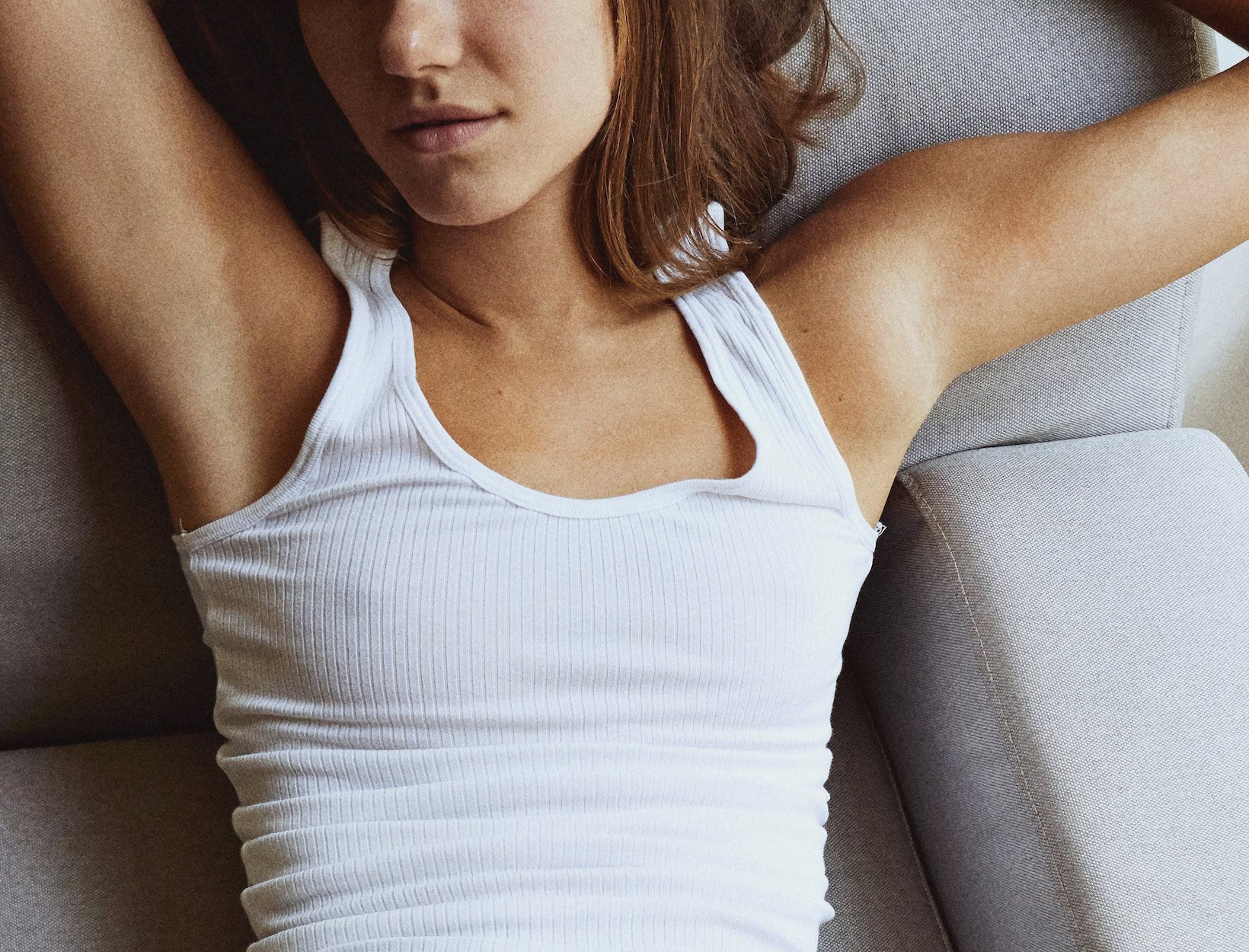 Photo courtesy of Benjo Arwas/The Licensing Project
The Guide to Clean Deodorant—Plus Our 5 Favorites
The Guide to Clean Deodorant—
Plus Our 5 Favorites
We are there: Cracking the code for a nontoxic deodorant that really, truly works wasn't easy, but it has been cracked. While potential health problems associated with applying conventional antiperspirants and deodorants to the body have been talked about for decades, the alternatives were less than reliable and often so weak as to not have an effect beyond the momentary scent of a few essential oils or herbs. If you had an important presentation or a big date, even the most health-conscious person could not be faulted for keeping a backup conventional product somewhere in the back of the closet.
Studies connecting antiperspirants and deodorants to breast cancer and Alzheimer's have been inconclusive, though receive a breast cancer diagnosis at most major medical centers, and you will be told to stop using antiperspirants and deodorants that may irritate the skin. Parabens, which may be found in antiperspirant and deodorant formulas, have been found in breast cancer tumors, but because these diseases are complex, it is nearly impossible to draw conclusions about causality.
That said, depositing elements like synthetic fragrance (an ingredient that can legally be used to mask hundreds of other ingredients) and aluminum onto the thin skin of the underarms does not seem worth doing, especially because clean beauty companies have developed deodorants that do not and still keep you smelling fresh. They're pretty incredible—and have to be tried to be believed. Clean deodorants come at the problem from several different angles: Some employ botanical and clay powders to absorb wetness; others use essential oils and plant ingredients to target odor.
"Formulas based in propylene glycol, parabens, triclosan, silica, and more have been on the market for over a century now," says Jamie Schmidt, the founder of Portland-based Schmidt's, who began her business after getting pregnant and undergoing a detoxifying paradigm shift of her household and personal-care products. "But it isn't that these ingredients are actually better-performing than natural ones. If you prioritize a formula that is condensed and fast-absorbing to provide immediate results, you need to apply only a very small amount compared to conventional deodorants to get long-lasting effects."
The deodorant formula Schmidt developed immediately started selling out at local farmers' markets. "It was an instant hit—it works," she says. "Local markets and sales reps started asking for it in huge quantities, and before I knew it, the business took on a life of its own as word of mouth spread." Now Schmidt's is nationally distributed and growing by leaps and bounds (the ylang-ylang scent is a softly floral goop favorite).
Rachel Winard, the founder of Soapwalla, which makes a cream deodorant with a devoted following, says it took her some 2,000 tries to perfect her cream formula—which is beloved among goop staffers, not to mention ER nurses, professional athletes, and politicians. "It functions under high-stress conditions," says Winard, who started Soapwalla because she "needed a natural deodorant that would last throughout the day, smell good, and not upset my super sensitive skin." Because it's a clean formula, there's nothing gross left on your fingers after you use it: "I rub the rest into my hands or run it through my hair—it's a great hair texturizer," she says.
Getting the efficacy right is the hardest, agrees Emily Doyle, founder of Ursa Major. "After that, it's about dialing in the experience and then making it consistently. A deodorant stick is a hot-pour product, and that creates a lot of challenges in terms of ingredient stability and consistency," she explains. Finally hitting on the perfect silky-feeling, beautifully scented combination was satisfying, she says: "People love the whole experience. And they love the peace of mind in using a clean, safe product."
The switch from a conventional deodorant to clean one can involve a transition period: The body adjusts, and it can scare people back to their chemical deodorant. But while this adjustment can be rough, it's totally worth it in the end.
Our 5 All-Time Favorite Clean Deodorants