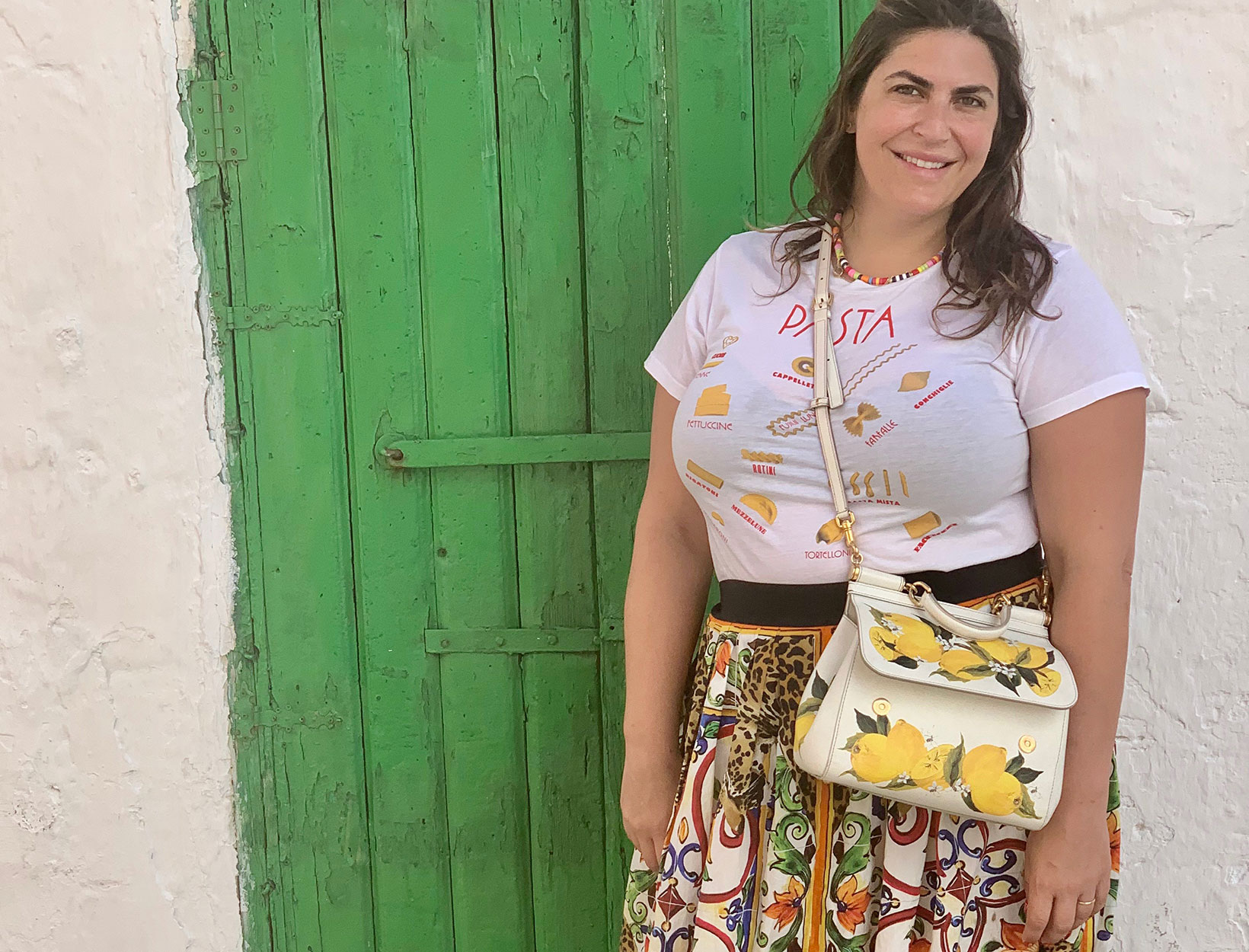 There Is No Destination with Size
The idea that changing our body size is going to fix what's wrong in our lives or even our psyches is a lie, says Katie Sturino, the founder of The12ishStyle blog and Megababe. Her journey to self-acceptance brought her fame, two successful businesses, and a modicum of happiness. "I work at self-acceptance," she says. "It's a process and a practice—there's no destination to reach with it, either. But it's worth it."
Megababe is a beauty company built on the idea of making physical products that name and fix problems experienced by women. "You feel really alone when all your friends are wearing skirts in the summer and you have to wear jeans or your thighs will chafe," she says. "So I asked my people—on my blog and Instagram—what they were using, and I learned quickly I was definitely not the only one. So why hadn't someone come up with something for this problem? I decided: I guess I'll be that person." Thigh Rescue became her first product, and it still sells out regularly. "Naming problems is almost as important as doing something about them," she says. "Naming it gets rid of some of the shame around it."
Bust Dust emerged from a similar thought process. "These are problems people have. Never speaking of them and not solving them just makes people feel that they're the only ones with the problem," says Sturino. "I love summer near a water feature when you're wearing no clothes, but summer in NYC is where this line was born. If I don't have Bust Dust and Thigh Rescue, I just can't do a hot, sweaty day." In January 2020, she rolled out Squeaky Clean, a citrusy-scented hand sanitizer.
She started her blog, The12ishStyle, in 2015, after a decade of working in fashion, and it was an expression of her waking up to the power of accepting her own body. Here, she discussess how that evolution came about, along with the steps she took (and still takes) to move toward and maintain that acceptance.
How I Stopped Blaming My Body Size and Changed My Life
I was a Midwestern girl, and I was living my NYC Carrie Bradshaw dream. I had an internship at Chanel for two summers, and that was it for me. I loved it. Still, I felt really different from most of the women I worked with. I've always been tall with a big frame, and back home it was like, okay, boys are shorter. But in New York, it was much more intense—it seemed tied to success.
Feeling so different from the people around me deepened my complicated relationship with food and exercise, so that rather than those things occupying 10 percent of my brain, they started occupying about 70 percent of it. I began following the diet-workout cycle, assigning blame to my body when things didn't work the way they promised they would.
If I didn't perform well in a meeting, for example, I'd think: No one wants to hear your ideas—you don't belong here! You're different! I'd assign the blame to my body.
I spent a decade looking up to the size twos and the size zeroes, thinking that's how you get it all, that's how you figure it out, get your sh*t together. But a decade in, I started to realize those women were exactly like me—their size didn't protect them from blaming their bodies, from feeling different, from disliking their bodies. They were chasing the same never-arrived-at ideal that I was. There's no destination with size.
As this was dawning on me, I had an aha moment: I was featured in a style profile on Man Repeller. When it came out, many of the comments went like "Wow, I've never seen my body in a fashion layout before! Thank you!" It really hit me because: me neither.
That loosened the lid a little, and then I got divorced. I had been working so hard to try to be something I wasn't, ignoring all the side comments, thinking, I deserve this. What I learned, again, is you can hate your stomach all you want and skip the cheese plate and still get divorced. Controlling your body shape doesn't protect you from heartbreak—or life.
The lights really started to come on. I noticed most of my friends—super talented successful women—all obsessing: Do I look awful? And by the way, I still get more questions from under-size-12 women than from over-size-12 women. What's the point of working so hard on your body if you're still going to hate it? I had a friend who'd gained twenty pounds tell me she couldn't start dating until she lost the weight. The secret is you don't have to wait for anything. You can start today, whatever the thing is: love, career, your dreams. Life is too short.
7 Ways to Shift How You Feel about Your Body
Step 1
Notice how you're talking to yourself. Once you start to notice, just recognize it as a pattern. I'm not trying to get you to say something nice, just not to say anything negative. Truly, you can just say nothing.
Step 2
Since we're not going to talk about the body, what about your brows or your lashes, your outfit, or something else you've done or worked on that you really like. Notice that. Like: "My hair looks amazing."
Step 3
Question the self-made rules. You know: "I can't wear jean shorts," "I can't dress in something teenager-y and cute," or "I can't do a tank top." That's a big part of my message: You can wear whatever makes you happy.
Step 4
Pay attention to how you're feeling in different situations. What situations trick you into making comparisons and judging yourself or other people? There's always that one friend on Instagram who makes you feel bad—mute or unfollow them! You've got to do the same with people in your life who make you feel bad. You can't always mute or unfollow people in your actual life, but you can talk to your family: "My weight is no longer an issue for discussion. My body is no longer open as a dinner topic." It's hard to eliminate people you have history with, but if you've got people you're never going to get anything from, people who encourage body negativity, then you've got to try. For me, when I'm confronted with things from my past, that's when my psyche's most vulnerable. Those old thinking patterns come back, and it's like: They're going to think I'm fat. Know what those vulnerable situations are for you so that you can be ready for them.
Step 5
Humor definitely helps—it helps with accepting a lot of things. I would say humor's behind a lot of what I do, like Supersize the Look. [Editor's note: Sturino takes celebrity style photos and styles herself in the same vein—it's absolutely brilliant and full of great styling ideas.] If we don't do a bit of winking and laughing, life is harder. If you take everything on in such a deep way, life is not easy. When I'm included in articles, I see all these ugly comments—they're so angry—I can't take all that in. Who knows, they might all be trolls and not even real. I am the average size for a woman in this country, you know? My good friend, the model Hunter McGrady, jumps into her comments and writes things like "Don't be silly" on the bad ones.
Step 6
Create a bubble. You don't even need to look at any of the comments anyway. This is similar to step 3. Create a bubble of positive messaging around yourself. We spend so much time on our phones, looking at other people. So look at people who make you feel good, listen to people who make you feel good. There was the new cover of Sports Illustrated, for its most diverse issue ever, and it was still two people with same body. I just can't get past that. There are brilliant, stylish, cool Black women who step out of the body paradigm, too: I like to follow Roz "The Diva" Mays (@rozthediva), Jessamyn Stanley (@mynameisjessamyn), and Imani Randolph (@champagnemani), just to name a few.
Step 7
Accept that body acceptance is nowhere near the end of the work. Self-love such a big topic—bigger than how you feel about your body. You can accept your body and still not think you're good enough. I know I can help you with your body, but I can't make you feel like you belong in the room.
My 3 goop Obsessions Right Now

Since the start of lockdown, I've been trying to get more health and wellness going for myself at home. I could not be more into these three right now.

"I've been working with this, and it's fantastic."

OPTP

LoRox Aligned Foam Roller

goop, $54

SHOP NOW

"Once a week, I swipe these on before bed,
and I wake up with the softest skin."

goop Beauty

GOOPGLOW 15% Glycolic Acid
Overnight Glow Peel

goop, $125/$112 with subscription

SHOP NOW