Brow Boot Camp
Written by: the Editors of goop
|
Published on: February 4, 2021
|
Updated on: February 4, 2021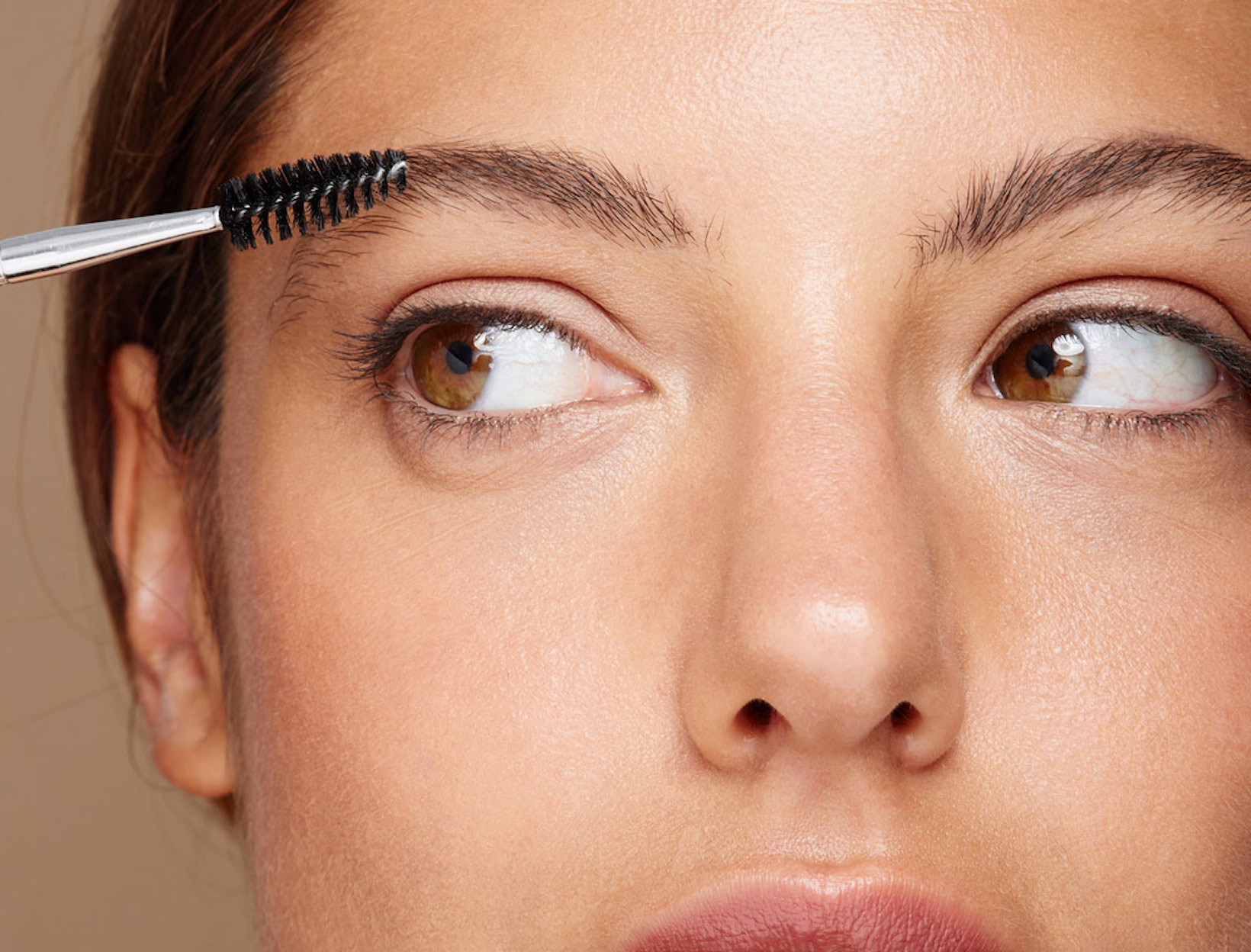 Beautifully sculpted brows can make an enormous difference in the way you look, whether you prefer sleek and defined or fluffy and natural. (You may even find you need less makeup after a great brow shaping.) While many of us are still unable to get to the salon, our favorite brow experts' step-by-step tips make doing it yourself—with the help of some pretty incredible simple-to-use tools—easier than ever.
1
Look at the shape
Bone structure, facial features, and hair texture all play a role in what brow shape looks best on you. "In most cases, your natural brow shape looks best," says Kristie Streicher, a cofounder of LA's brilliant Striiike salon and the brow whisperer known for the feathered brow. "The goal is to lift and accentuate your arch and make the brows as symmetrical as possible." Where your brows should start, arch, and end should be mapped out fully before you start to tweeze, as it's easy to overdo it without strict guidelines. To find where your inner brow should begin, Streicher likes to draw an invisible line from the outer corner of the nose straight up toward the forehead. To find the arch, hold the pencil at the outer corner of your nose again and point it diagonally so it aligns with the outer edge of your pupil; the arch goes where the pencil hits your brow. Finally, angle the pencil diagonally from your nostril to the outer corner of the eye; this is where your brow should end.
If you've previously had your brows shaped professionally, just clean up rogue hairs that have grown in to reveal the shape again, says Josh Beeler, the brow and lash specialist at Brooklyn's much-obsessed-over Shen Beauty.
2
The best tools give you control
"The right tweezers and scissors are sharp, precise and easy to use," says Streicher. "That gives you control." Streicher herself created this brilliant, indispensable brow kit with the highest-quality brow brush, along with tweezers and scissors by Rubis, the gold-standard Swiss tweezer manufacturer.
3
A shower
softens your skin
The best time to tweeze your eyebrows is after a shower, says Streicher: "Your brow hair comes out a lot easier when the skin is warm and supple."
4
Oil your brows
Just before picking up the tweezers, Streicher advises smoothing a drop of oil into your brows to help soften the skin and brow hair. "It makes the process of plucking much less painful," she says. Choose an oil that absorbs easily and wait a minute for it to sink in so the hair won't slip through the tweezers. Similarly, Beeler, known for his natural-looking, brow-pigmenting microblading technique, preps skin with ointment. "It helps protect the skin from irritation and reactivity," he says.
5
Get in front of the mirror
(not a magnified one)
"Never use magnifying mirrors when you're tweezing," says Streicher. "They can give you a false sense of brow fullness and you can really overdo it." Ideally, situate yourself in natural light. To further avoid overtweezing, Streicher recommends stepping away from the mirror every few hairs. "Assess how your brows look, then, if you need it, do a few more," she says. "Err on the side of plucking less."
6
Brush before you tweeze
Brush your brows upward with a naked mascara wand or an old toothbrush so you can more easily trim anything sticking out above your brow line. "These are hairs that you might want in the brow for fullness and darkness, but they're just too long," he explains. "You don't want to tweeze them out just because they're long. Use your brow scissors—they're smaller and easier to control." (The Rubis scissors in Streicher's kit are beloved by aestheticians everywhere.)
7
Less is more
When in doubt, don't tweeze it. The biggest mistake clients make, Streicher says, is too frequently and randomly tweezing and trimming any and all hairs that grow in. After focusing on precisely what needs to be tweezed, begin by tweezing the most obvious offenders. "Hold the brow skin taut with one hand," says Streicher. "Holding the tweezers in the other, grasp each hair close to the root, pulling sharply in the direction of growth." Continue slowly and conservatively.
8
Wait six to eight weeks
Tweeze only every six to eight weeks—and never in between, says Streicher. "This trains the hair to grow on the same cycle," she says. "It's also the best way to grow in areas that have gotten too thin or sparse." Everyone's growth cycle is different, but six weeks is the minimum amount you should wait.
9
Soothe the skin
After tweezing, Streicher recommends a soothing, nourishing gel-cream to help cool and calm the skin. If you get professional brow shaping and coloring treatments, like microblading or tinting, Beeler says it's important to use SPF and avoid getting retinoids, AHAs, and BHAs on the treated area. "You don't want to irritate the skin further, and it helps the color last," he says.
10
Use color for
definition and fullness
Speaking of color, it's a great tool. "Sometimes people will tweeze the remaining hairs in a sparse area of the brow just to make it look neat," says Streicher. "This is a mistake. Instead, use a brow pencil to fill in and you'll preserve the errant hairs and get your brows looking healthier and fuller. "The questionable hairs may well grow in during your next growth cycle and fill in your shape—if you give them the chance," she says.
If you tint your brows, as the color starts to fade (after about two weeks), Beeler loves brow gel to boost depth, fullness, and crispness. "Brush up and out with the brow gel as you apply it," he says.
11
Virtual consultations
are pretty incredible
We can't recommend virtual brow appointments more highly. Though you might imagine they evolved out of necessity during COVID, Streicher actually started doing them almost ten years ago. "I give clients guided grooming instructions down to each hair, tips on how to properly fill in brows, and product recommendations," says Streicher. "Certain clients have always loved it, but now, of course, everybody wants it." Shen Beauty makes a great "brow from home" custom tinting kit, which a team member first safely delivers, then Beeler walks clients through the step-by-step process via FaceTime. And ever since we learned about LA brow guru Chanel brow artist Jimena Garcia's digital brow workshops and master classes on our podcast, we've been obsessed.
12
Know your (salon) options
While many of us are still avoiding unnecessary contact and plucking our own brows for the time being, salons have stepped up safety standards, and many are seeing clients. At Shen Beauty, for example, staff are COVID-tested weekly and wear face shields while performing services. If you are going to a salon, the variety of brow-perfecting services you can get is certainly wider, and we've listed them here. An important note: Microblading, microfeathering, and brow tinting all involve chemicals that do not pass goop standards for clean.
Microblading or Microfeathering
What it is: A semipermanent tattoo technique used to create the illusion of fuller, more-defined brows (especially for those with light or sparse brows) by creating tiny hairlike strokes throughout the entire brow. Microfeathering, a technique created by Streicher, is similar to microblading but uses iron oxide pigments (they are considered the safest semipermanent pigments to use on skin) to fill in sparse areas, not the entire brow.
How long it lasts: Eight to twelve months.
Sugaring
What it is: Similar to waxing, this treatment gently removes hair from the root using a room-temperature or warmed-up paste made of lemon, sugar, and water (and occasionally essential oils, honey, or salt), plus a paper or cloth strip.
How long it lasts: Four to six weeks.
Waxing
What it is: A hair removal treatment where warm, soft wax is applied to the brow and hairs are removed with a paper strip.
How long it lasts: Four to six weeks.
Threading
What it is: A technique where a single thread, coated with antibacterial wax, is twisted into a mini-lasso shape and used to pull hairs from the root.
How long it lasts: Four to six weeks.
Tinting
What it is: A custom dye treatment to temporarily darken brows and enhance fullness.
How long it lasts: Three to six weeks.