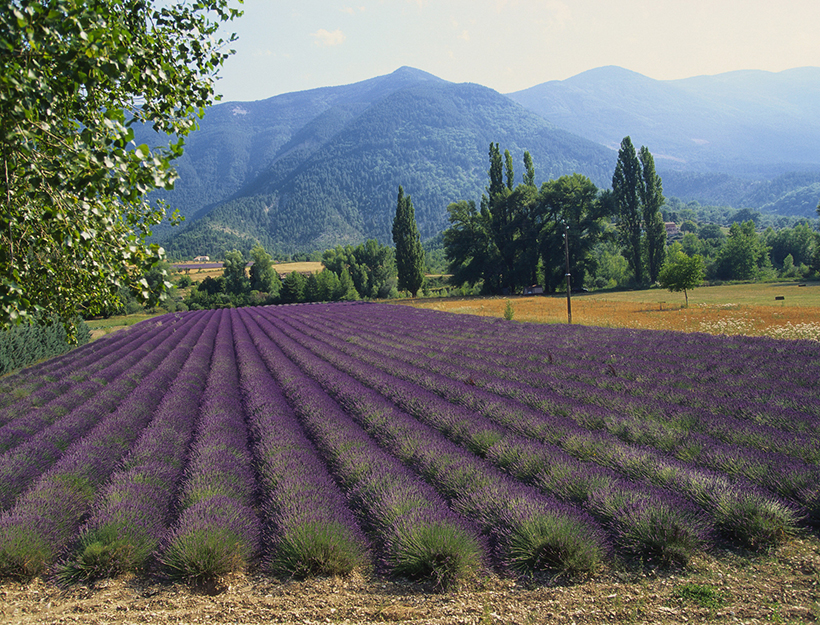 How Aromatherapy Can Help
Step off a busy street in NYC's Chelsea into what initially looks like a small juice bar and you find yourself in an ever-unfolding health and wellness space called Naturopathica: Beyond the appealing juices and intriguing-looking, cobalt blue bottles of products, enormous glass decanters line the shelves, each one dispensing a different essential oil or herbal extract. The apothecary aesthetic has been co-opted by makers of everything from lipstick to bubblegum flavored bath gel, but this is the real deal: Founder-slash-CEO Barbara Close is a master herbalist and healing arts practitioner, and her clients come for serious treatment of both chronic and acute conditions. She employs all manner of healers and therapists, but aromatherapy—an ancient tradition that's also been co-opted by conventional perfume and bath companies—is at the center of almost all of them.
Whether your issue is something as specific as an injured muscle, or as widespread as adrenal fatigue, depression, or hormonal issues, true aromatherapy—as opposed to, say, an artificial fragrance pumped into bath salts or a face cream formula—can be truly transformative in much the way diet changes, an exercise program, or regular meditation can be. "Aromatherapy and essential oils are some of the most potent healers for the mind and body," says Close.
They've gotten a bad rap over the years, says Shrankhla Holecek, the founder and CEO of UMA Oils, whose family has been organically farming and formulating essential oil treatments for the royal family in India for centuries. Between the unrealistic claims that have been made surrounding them on the one end—Holacek has read accounts claiming essential oils cure everything from cancer to ebola—and the artificial fragrance imitations on the other, there's a lot of confusion: "Smelling a synthetic, perfumed candle is not going to give aromatherapeutic effects,"she says. "By the same token, if you have a health problem you need to go to the ER for, essential oils are no substitute!"
But essential oils can help tremendously with chronic issues from anxiety and depression to migraines, says Holecek. "They're therapeutic, and therapy is a process, and an investment," she continues. Close points to the fact that aromatherapy has been studied extensively as a tool for stress relief and mood enhancement in cancer patients: "It's been shown to improve quality of life for those with limited treatment options," she says. Close also sees it as enormously beneficial for people suffering from adrenal fatigue.
The active chemicals within essential oils are well studied, and their effects well documented, says Close: "Their chemical makeup gives them many antibiotic, antiseptic, analgesic, anti-inflammatory, and antiviral properties. This is common knowledge in Europe, where essential oils are frequently used in hospitals and clinical settings." Eugenol, the major active chemical in clove oil, for example, is widely used for dental pain. "You'll find it in practically every dentist's office, all over the world," says Holecek.
Essential oils do their most powerful work transdermally—when you put them on skin, they're absorbed into the bloodstream in varying degrees. "People think you're just reacting to the smell of an essential oil, but the transdermal effects are much, much more powerful," says Holecek. "The transdermal effects are about four or times that of smelling the aroma." The flip side of this power means essential oils have to be used carefully, as they can have decidedly drug-like side effects, including acute toxicity, if misused. Read instructions carefully to understand whether the oil is meant to be put on skin, or inhaled only.
Inhaling the oils affects the body in subtler—but significant and often complementary—ways. "Scents, when inhaled, stimulate the olfactory nerve endings at the bridge of the nose," says Close. "This, in turn, activates the limbic system of the brain, the predominant area influencing memory, emotion, and psychological functions."
"The sensory receptors involved with smell evoke powerful emotions, which in term affect our physical beings," says Holecek.
Go for a facial at the airy, whitewashed Tammy Fender Holistic Skincare Center in Palm Beach, and you'll first be presented with an array of unmarked bottles of essential oils, and asked to choose three. It's not just about what smells nice: Fender uses a client's choices as a diagnostic tool. "You'd be surprised how many clients choose a scent that they didn't even know they liked—or even one they were sure they didn't like," says Fender. "With pure essential oils, we connect directly with intuition and an awareness of what is needed that is more precise than what the mind knows."
Holecek, too, says that the body recognizes and responds to the chemical constituents in essentials oils: "That's why a synthetic fragrance might remind us of the way an essential oil smells but doesn't have the same effect." Close agrees, and points out that only pure essential oils will have the anticipated effects: "Over 95% of the essential oils produced are made for the perfume and food industries, and they are often adulterated—so have little to no therapeutic benefit and may lead to adverse effects, like headaches and irritation." To identify clinical-grade pure essential oils, look for the Latin name of the plant on the packaging and a notation of "100% Pure", Close says: "Pure essential oils will be stored in dark (amber or cobalt blue) glass bottles to protect the oil from degrading with exposure to light. And be wary of low price tags. Most essential oils require large amounts of plant material to produce a single ounce, so the price should be proportionate."
Fender says with true pure essential oils, she sees enormous benefits. "Our olfactory sense is intimately in tune with both the botanical world and with our own deeper knowing. Unlike the thinking mind, it's not influenced by the latest trends or our cultural history," she says. "Our sense of smell offers a direct link to the pure living energy of the plant kingdom."
Holacek also sees people drawn to the oils that will help them at a particular moment: "Rose oil is very helpful with hormonal troubles and menopause, as is geranium—and it's funny, you see people drawn to these oils as they need them."
How oils are blended also makes a huge difference in their effectiveness."Knowing what quantities to blend so that they work in concert with one another is critical," says Holecek. "On its own, frankincense is both calming and mood boosting–add different oils to it, and you play up certain qualities: Mix it with jasmine or chamomile, and it's calming; blend it with basil, ginger, or peppermint, and it's energizing; combine it with sandalwood for a confidence boost."
Below, a guide to some of the most basic (and easiest to use) aromatherapeutic essential oils and blends—as you get into it, research the benefits you're looking for to try new oils, and know that the simple act of inhaling or applying them is in itself curative: "The process of putting them on or breathing them in, that ritual itself truly multiplies the effects," says Holecek.
Energy
"At our Healing Arts Centers & Spas, we often treat clients with adrenal fatigue from the constant pace of our 24/7 lifestyles—it can manifest in many ways, including insomnia," says Close. "Studies have shown that the use of lavender essential oil for aromatherapy can have a beneficial effect on insomnia and improve patterns of sleep."
"Essential oils that contain phenols, such as peppermint and holy basil, are stimulating and have antiseptic, bactericidal properties," Close continues. Holacek also relies on peppermint, basil, and ginger for what she says are their natural focusing, uplifting effects.
Relaxing
"Essential oils that contain chemical constituents called esters, such as chamomile, lavender, and bergamot, are relaxing and have anti-inflammatory properties," says Close, who uses Naturopathica's Chill formula, infused with relaxing chamomile and bee balm, to de-stress before bed.
The views expressed in this article intend to highlight alternative studies and induce conversation. They are the views of the author and do not necessarily represent the views of goop, and are for informational purposes only, even if and to the extent that this article features the advice of physicians and medical practitioners. This article is not, nor is it intended to be, a substitute for professional medical advice, diagnosis, or treatment, and should never be relied upon for specific medical advice.