The Last Nude Photo Shoot?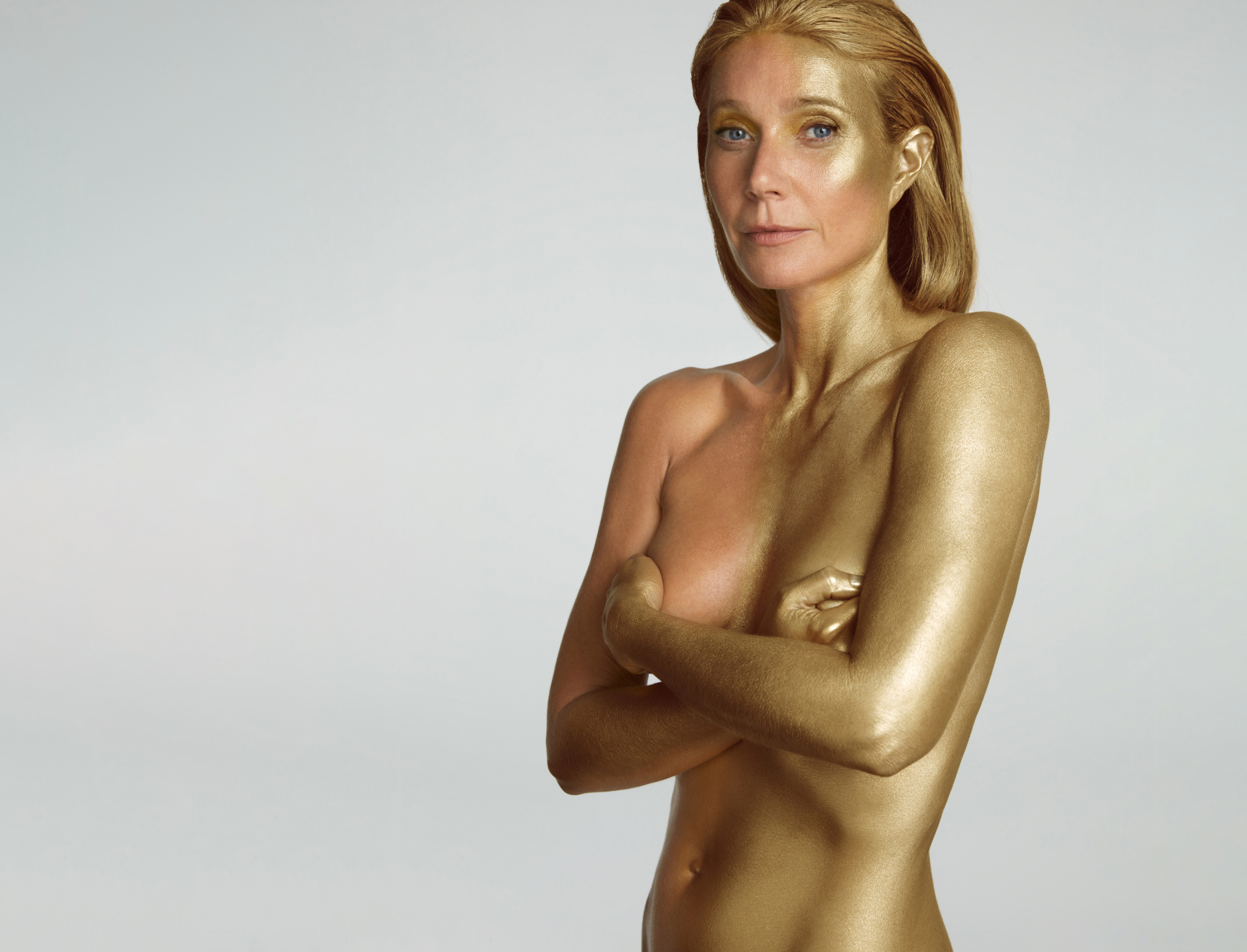 "All I know is that they're painting me gold and that I have to be naked," said Gwyneth, slipping into a studio for a shoot with photographer Andrew Yee one morning several weeks ago. The Goldfinger-meets-2022 shoot was dreamed up to celebrate her 50th birthday—with birthday-suit vibes but about as elevated as it gets. "I feel so good turning 50, and this is about expressing that sense of energy and optimism that I'm experiencing," she continued. "It's more about the female gaze and just a sense of fun."
The shoot itself was fun, involving piles of gold powder—and more skin (and hair) treatments than you might expect. "I was going to be painting GP gold, so I had to make sure the skin on her face and body was very, very moisturized," says top makeup artist Lottie, who's based in LA. Enter GOOPGENES, with the nourishing face cream, eye cream, and lip balm on Gwyneth's face and the famous body butter everywhere else. "I have never felt so moisturized," says Gwyneth. (Lottie herself fell in love with the face cream, and with the lip balm especially.)
After letting all the moisture and skin nourishment sink in, Lottie went to work. "We were going for golden goddess," she says. The key was a rich gold shimmer powder, built up to intensify shine. Everyone ended up covered in gold dust, including top hairstylist Mark Townsend.
"We had so much fun," says Townsend. "And Gwyneth was such a sport. We started the day with less and built to more and more gold. So for the first look—gold details on the eye and a golden hand—I did a big '90s supermodel blowout, pushed back.
"Her hair's got so much volume—a lot of the time when we're working together, it's about taking it down, so in this case I just did a classic big, fat round-brush blowout to get the hair smooth and shiny. She came in with wet, just-washed hair, so I sprayed in a little heat protectant, but that's it. We didn't have to tease it or anything."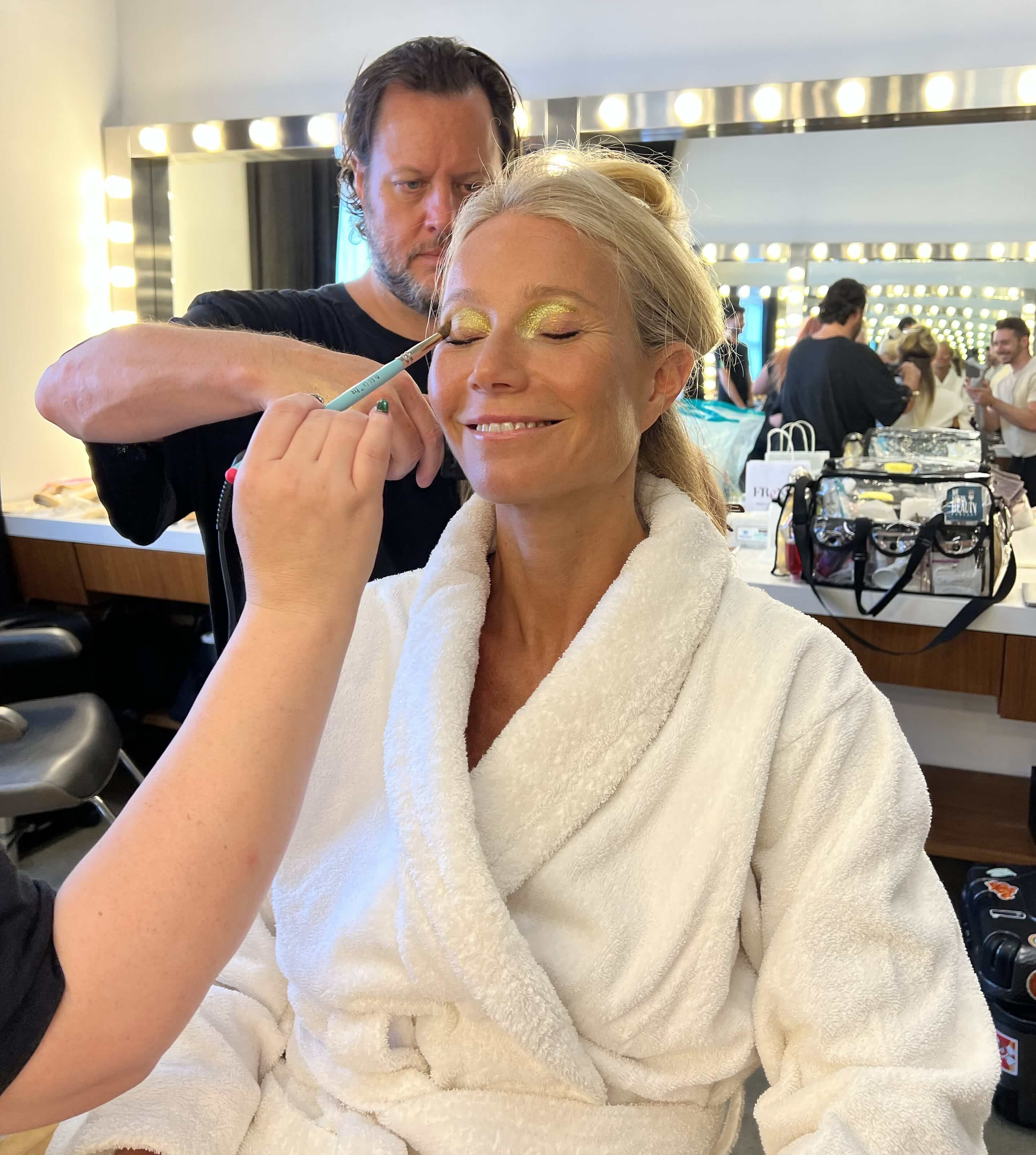 "To keep the volume, it helps to dry your hair in vertical sections, away from the face," says Townsend. "Normally you'd blow-dry in horizontal sections, which is actually harder, so this is an easy look to do at home."
As Lottie added more gold to Gwyneth's face and body, gold also needed to be added to her hair. "We used these cute gold hairpins from Day Rate Beauty to create a simple bun to evolve the look," says Townsend. "Then we got into the really fun bits. Lottie and I agreed it was important that the gold look the same on her skin and in her hair, so we used the same loose gold powder. But in her hair, it was harder to make it look like paint, not powder."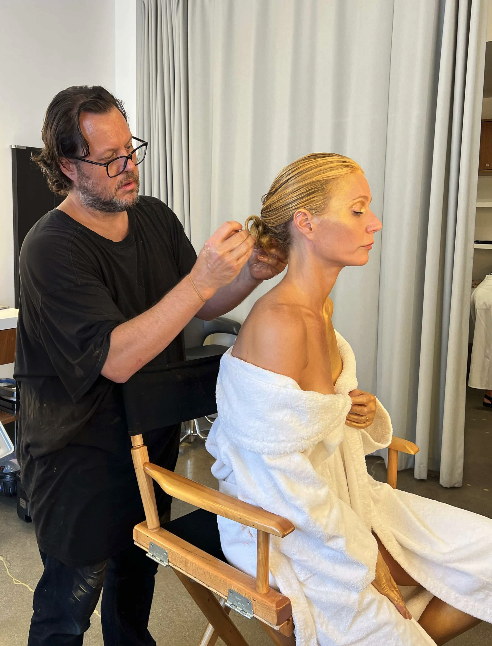 The (Unexpected) Hair Star
The solution, it turned out, was goop hair serum. "I really saturated her hair with it," he says. "I used quite a bit—almost a quarter of a bottle—and it was perfect. And it was great—we squeezed in a hair treatment before she went back to work."

"It's kind of a miracle on my hair," says Gwyneth. "Since I've started using this before I shampoo, my hair looks way shinier and healthier, with less frizz and absolutely amazing texture. It's kind of hard to believe the difference it makes."

A shower was unsurprisingly needed afterward. "We used the G.Tox scrub to get out all of that gold powder," says Townsend.
"Nothing feels as good as this whipped shampoo," says Gwyneth. "The chunks of pink salt massage your scalp, and it foams into this beautiful cream, smells so good, and leaves your hair so soft."

goop Beauty

G.Tox Himalayan Salt Scalp Scrub Shampoo

goop, $55/$38 with subscription

SHOP NOW
So was this, in fact, the last nude photo shoot? Unclear. "I think aging is actually a beautiful thing. We just need to open our perceptions," says Gwyneth. "As you become more yourself, in integrity, your life really opens up."
FEELING A TOUCH OF GOLD?
Whether you're craving a lot or a little, here are our favorite (clean) gold essentials.