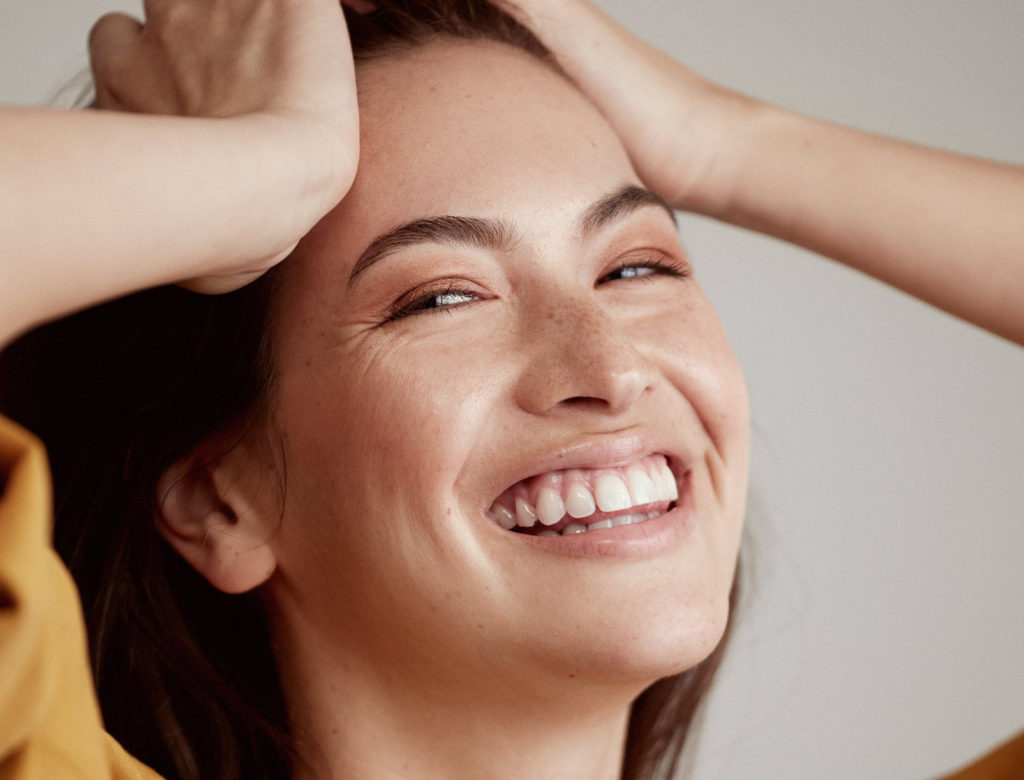 How Easy Beauty Rituals Can Change Your Life (and Your Skin)
How Easy Beauty Rituals Can Change Your Life (and Your Skin)
In partnership with our friends at Prima
To say we're living in stressful times might be the understatement of the century. It's tempting to think of stress reduction in terms of a big event, like a retreat, a massage, or a vacation, but Laurel Angelica Myers, cofounder and COO of the clean CBD-focused wellness and beauty brand Prima, reminds us that it's mindful habits that make the difference day-to-day, and the benefits can really show up on your skin.
Based in Santa Monica just like goop, Prima launched in March 2019 as an education-first resource to demystify the therapeutic potential of hemp cannabinoids and CBD. The company's first product, a miracle face oil called Night Magic (more on that later), launched that summer. Myers, like her cofounders—bestselling author and purpose-driven entrepreneur Christopher Gavigan (she worked with him at The Honest Company, which he cofounded) and award-winning health and cannabis activist Jessica Assaf—has a passion for mission-driven business. (Prima is a Certified B Corp and the first ever CBD brand to be verified by the Environmental Working Group, and it abides by strict clean standards.) Myers is also a busy mom who—like many of us—has a new work-from-home balancing act going.
"I don't know about you, but stress absolutely shows up on my skin!" she says. Myers has some easy-to-implement ways to both de-stress and improve the state of your skin, and she's also incredible at explaining how and why we might use CBD in our daily routines.
A Q&A with Laurel Angelica Myers
Q
Stress reduction has been traditionally looked at through the lens of wellness, but you bring beauty into that mix. How do you see beauty and wellness as linked?
A
From our earliest days, we realized that this was a beauty brand and this was about well-being, and the reality is there's a much blurrier line between those two categories than most people understand: They're connected. Stress impacts so many aspects of who we are. It's estimated that 75 percent of all doctor visits in this country are related to stress—it affects our mental and physical health, and it also affects our skin.
We have only one body and one mind, and they're interconnected: What you put on your skin goes into your body, and how you're feeling mentally can affect the way you look.
---
Q
What's the science behind CBD in skin care?
A
It's important to note that there are so many studies going on in the cannabis space—some on marijuana, some on hemp—a lot of the science is new or emerging. The truth is no one yet understands all of how and why it works.
As our bodies age, it's a long process of cells breaking down over time. External factors, such as sun exposure, chemical exposure, diet, and the like, make it harder for us to maintain homeostasis. Body systems change as we age—hormones are a great example.
---
Q
Skin health and skin challenges are generally the result of a lack of homeostasis—dryness, oiliness, and so on. So what are the mechanisms we can use to help rebalance the skin?
A
We focus on innovative functional botanicals [in our skin-care products], and the CBD is there to help strengthen the foundation.
---
Q
What do you see as the most important beauty rituals in terms of helping us wind down stress?
A
Beauty rituals are often unique to the individual, and number one, simply having a ritual is what's critical—something at the end of the day that signals to the body that it's time to start winding down. It could be something as simple as a big glass of water or a hot cup of tea.
Or—equally simple—there's an opportunity to take a moment for yourself as you're cleansing and moisturizing your face. Some people might have a more elaborate routine; for me, it's ten minutes of taking care of my skin, no matter what's happened in my day. But any sort of pause for self-care can be great for skin health and also mental well-being.
At a mindfulness retreat in Costa Rica two years ago, a teacher was talking about the way meditation can seem really intimidating, like this big thing you have to do, and she said to try to make the little things you're already doing in your day, like brushing your teeth and washing your face, meditative. And it's true! It's easy to take the moment for yourself because you're already doing the behavior. It's just about attaching mindfulness to it. Such an easy way to bring intention and mindfulness into your day: I'm applying my serums; I'm already doing it, so the only step that's needed is to absorb the fact that I'm giving this to myself. Give it value, make it a moment in your day, and that's how it becomes a ritual. A ritual doesn't have to be this complex thing.
Another example: For twenty years, my morning cup of coffee—just a few minutes with it, before my day explodes—has been a nonnegotiable for me. That's a great ritual, too. Applying mindfulness to simple daily actions, taking a minute to ground yourself, is so powerful.
Touch and smell can contribute enormously to the power of a ritual. In the evenings, I give myself a little shoulder massage with our Skin Therapy cream, which is this rich cream with a warm, complex clove-and-geranium scent. It's about the aromatherapeutic qualities of the scent and the sensation in my neck and shoulders that lets me give myself over to the evening and get back into my body and out of my head.
---
Q
What's the best product for a person who's never tried CBD skin care before and already has a skin-care routine they're happy with?
A
The perfect entry item for somebody who's curious is the Enlightenment Serum—it's the best way to incorporate CBD into your skin care without really changing your routine. It's a serum, but I often think of it as a moisturizer booster: Whatever you're using—peptides, vitamin C, antioxidants—it can support and amplify the results you're getting. It's light, with super intense hydration, niacinamide, a saccharide complex, and hyaluronic acid for moisture retention. A little goes a long way. I mix it with vitamin C serum in the mornings; at night, I like to mix it with lactic acid. It's always my first layer.
---
Q
Is layering important with CBD skin care? In what order should we layer?
A
It's important with all skin care—and the most important thing to remember is that oil goes last. If you put oil on first, the stuff you put on afterward isn't going to make it into your skin at all. I like to layer serum first, then moisturizer, then oil. So in the evenings, I smooth on Afterglow as a second step, before face oil. Afterglow is a deeply restorative cream—it leaves your skin really radiant, vibrant, youthful, and just…alive-looking. For me, it's rich enough that I use it mostly as night cream, but people with drier skin love it during the day. It's got this beautiful texture, so the skin can really breathe, and an Ayurvedic adaptogen complex. We've got butterfly-ginger extract (a brightening antioxidant), turmeric-root extract for evening out skin tone and soothing the look of redness, antioxidant ashwagandha for skin stress, antioxidant Indian gooseberry-fruit extract for calming, and four types of hyaluronic acid to penetrate skin at different levels. We did a clinical and consumer study on this one—we are very science-driven, and all our skin care is doctor-formulated. We have independent clinicians we work with, in particular a naturopathic veteran who comes from the world of supplements, with lots of practical knowledge. An ND was important to us—we're about botanicals, which is the realm of a naturopath, as opposed to an MD.
And last, I put on Night Magic, which is an amazing oil. It was our first product—we wanted to rethink face oils: We wanted glowing, not greasy. It's got all these active botanicals, antioxidants, no filler oils, just beautiful, powerful oils for skin. It's midweight, not too heavy, not too light, sort of the perfect Goldilocks formula. After I had my second child, my skin had never been so bad, and three months after using Night Magic, so much had shifted that it was hard to believe it was possible.
So Night Magic, Afterglow, and Enlightenment are a really special combination, but if you're going to try just one, start with Enlightenment Serum.
---
Q
What about for body?
A
After an extra hard workout or if you've got a crick in your neck after a long day, a massage with R+R really supports the body. My brother's an avid trail runner, and he ends up with all sorts of issues as a result. I sent him an early lab sample of R+R because he really doesn't sugarcoat things, and he texted three days later: "What was that? My wife and I are now fighting over it." For people who are living actively, it's therapeutic body care.
---
Q
Why is clean so important at Prima?
A
Clean is a core value. We all felt so passionately that we didn't have to talk about it. You can't be a health and wellness brand and not be clean. There are 2,800 chemicals that we explicitly don't allow—that's much more than what's banned in the EU. Eventually legislation will hopefully catch up. Ten years ago, if you wanted a clean product, you maybe had to compromise, but not anymore. The tech has changed, and the supply chain has changed.
---
Laurel Angelica Myers is the cofounder and COO of the clean CBD-focused wellness and beauty brand Prima.
---
This article is for informational purposes only, even if and regardless of whether it features the advice of physicians and medical practitioners. This article is not, nor is it intended to be, a substitute for professional medical advice, diagnosis, or treatment and should never be relied upon for specific medical advice. The views expressed in this article are the views of the expert and do not necessarily represent the views of goop.