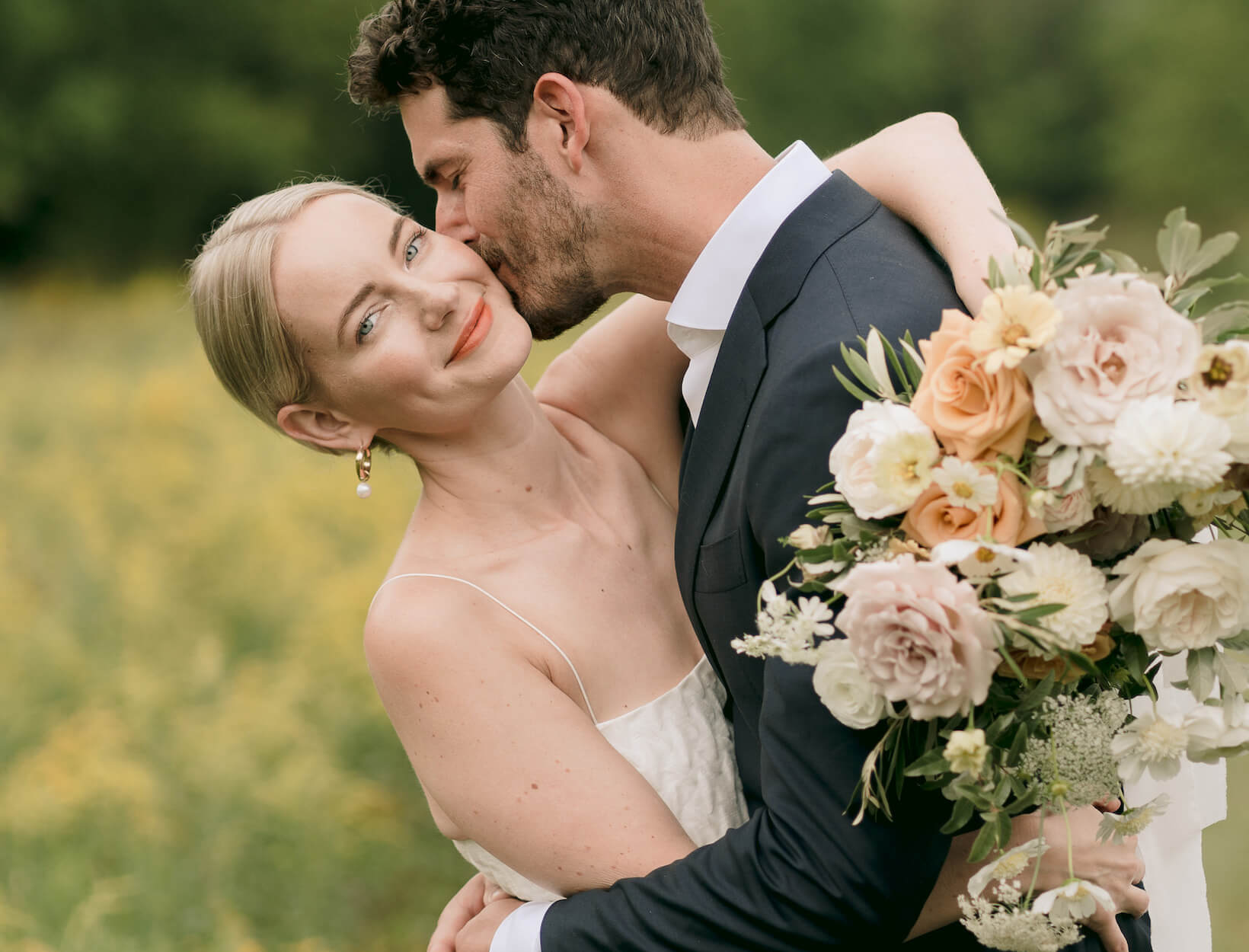 Photo courtesy of Barb Simkova
10 Makeup Tricks for Weddings That
Are Worth Stealing for Real Life
If ever there were a day you'd want to look like your most gorgeous self, it's the day you get married. That said, most people would love to look that way—their all-time prettiest, their most natural, glowing—every day (and night) of the week. Wedding makeup also has to look good in photographs, which, in our TikTok/selfie/always-on society, makes sense for just about every day. And wedding makeup is (ideally) fairly smudge-proof—another way to put it might be emotion-proof—useful in many real-life situations, whether you tear up at the slightest provocation, adore hot yoga classes, suffer from allergies, etc.
Everyday (and Wedding-Appropriate) Essentials:
1.
Do your makeup by a window or take a hand mirror and walk out to wherever there's natural light to check how you look. Westman Atelier's chic lip compact comes with a mirror, plus it delivers endless shade options that can be easily mixed.
2.
Look at pictures of makeup you love—pictures of yourself, people on Instagram, models—to nail down exactly what you're going for. Getting clear on the look you want is incredibly helpful, whether you're doing your makeup yourself, working with a makeup artist, or having a friend help you.
3.
Get your brows done. If you've never had them done before, do it a month or two in advance for the first time to make sure you like the brow artist's work. Then have them done again a day or two before the wedding. The day of, fill in your brows with your preferred (and previously experimented with) pencil/shadow/brow gel for subtle, face-framing definition.
5.
With your skin in great shape, go easy on foundation. We love using Westman Atelier's stick foundation with a brush because it can be used as concealer—which is how we like to think of it.
6.
Faux lashes don't smudge, and these ones look incredibly natural—best bet for a wedding for sure.
For a narrower eye shape

LoveSeen

Iris Lashes

goop, $22

SHOP NOW

Most natural

LoveSeen

Cate Lashes

goop, $22

SHOP NOW

More drama

LoveSeen

Troi Lashes

goop, $22

SHOP NOW
If you don't choose false lashes, to define your eyes best, line them with liquid liner (just the top outer two thirds of your lash line), then wipe away excess with a Q-tip. The idea isn't a lined look at all—it's definition and drama that you'd normally only get from coats of mascara, which can be a heavier look. (Tip: If you don't usually wear eyeliner, line your eyes heavily with pencil the night before—and then wipe it off. Using an exaggerated amount of liner really gets it into the base of the lashes, which leaves you with subtle definition the next day for the ultimate no-makeup eye makeup.)
8.
Keep eye shadow light and natural. Apply less as you get closer to your nose and more toward the crease. If you want more intensity, go darker at the outer corners of the eyes. A dot of sheeny highlighter or even sparkle at the inner corners of your eyes can be pretty, too.
9.
Cream blush—blended at the apples of your cheeks—keeps the skin looking fresh, and a cream is much easier to reapply if you need it.
Minimal powder, dusted just at the T-zone, keeps you from looking too shiny. Powder all over, on the other hand, deadens the skin, so be judicious. Carry the compact with you and reapply as needed.
10.
The prettiest lip look depends entirely on your taste. Don't get caught up in how long a particular formula lasts, particularly for a wedding—given the typical amount of toasting and kissing, you're going to be reapplying no matter what, so go with what you love and what flatters your skin the most.