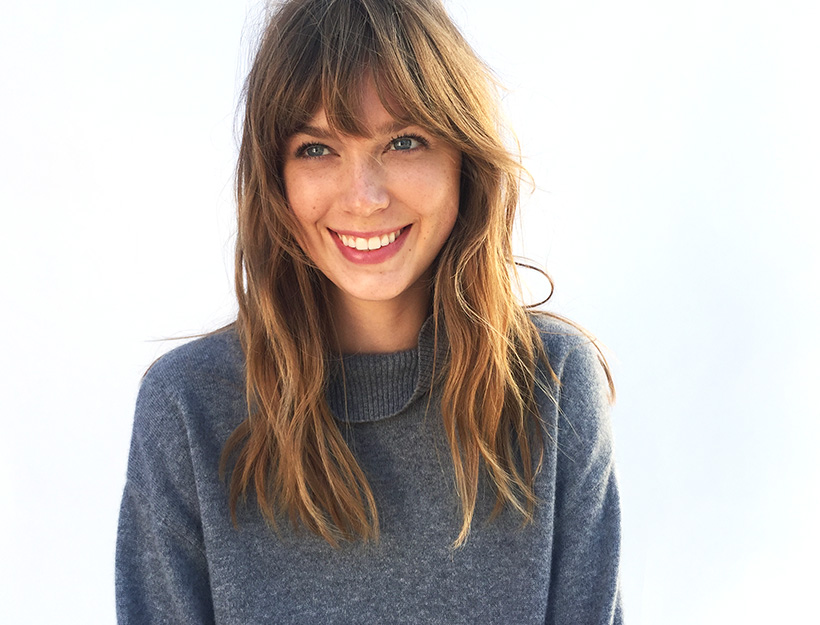 Sweater Weather Makeup and Hair
A super-soft, gorgeously knit, kind-of-gigantic sweater is something of a goop uniform, particularly when paired with slim black leather leggings and boots, heels, or bright-white sneakers. Depending on the shoe, it's a look that's perfect for work, the weekend, a date, or even the plane: Sexy, easy, chic. The makeup and hair that goes best with it is also pretty much a goop uniform: Simple, pretty, not a lot of fuss, gleamy, glowy.
The look—especially when it's cool enough to be thinking about sweaters—should always start with moisture, no matter what your skin type. For anything from normal to dry skin, smooth goop by Juice Beauty face oil between your palms, press into a damp face, and wait three-to-five minutes before applying any makeup; day moisturizer works, too, and everyone—even those with oily skin—should swipe on a little eye cream right before applying makeup.
Whether your skin looks best bare or with a little tint/smoothing/coverage, don't forget SPF, even in winter. Pot of Shade from Kypris gives the slightest hint of blur, Coola SPF 30 gives a barely-perceptible bit of tint, and the Dew Skin from Beautycounter gives even, flattering coverage as it infuses skin with moisture and antioxidants, and tints it for gorgeously smooth finish.
Rather than trying to address dark circles, redness, or breakouts with extra (or thicker) foundation, use whatever CC/BB/tinted moisturizer/foundation to even skin tone, and leave the concealing to…concealer. The coconut-oil-infused RMS un-concealer goes on like a dream with either a brush (we love Bobbi Brown's concealer brush) or your fingertips. Pat to blend—don't rub it in. (When you rub in concealer, you rub it off what you're trying to conceal and onto a another part of your face. Pat lightly for a few seconds instead, and it'll blend perfectly.)
Define your eyes with mascara; the one from Juice Beauty is blackest-black, glossy, ultra-defining, and it doesn't flake or smudge. If you need a little more oomph, a bit of black or brown eyeliner worked into the outer upper lashes will make your eyes stand out without looking like full-on liner. Dot the pencil (the one from Juice Beauty is perfection with the mascara) or liquid (try this one by W3LL PEOPLE—it's the only clean, nontoxic liquid liner we've seen, and it's amazing) at the base of the lashes, then gingerly connect the dots, sticking as close as you can to the lash line. Swipe away mistakes with a damp Q-Tip.
A swipe of natural-looking cheek stain—try the brilliant-but-sheer Lip2Cheek pot from RMS, or Tata Harper's creamy Lip & Cheek tint—leaves a beautiful flush without a lot of texture on the face, like you just came in from the cold.
A polished, softly neutral lip pulls the whole look into focus—though, truly, this look works with pretty much any lipcolor. The model here is wearing Kosås Weightless Lipcolor in Rosewater, which is subtle and pretty all at once—and looks good on just about everyone. You could go darker but sheerer with Olio e Osso tinted lip balm in Currant. Another pretty, easy-to-wear one is Beautycounter Lip Sheer in Rose.