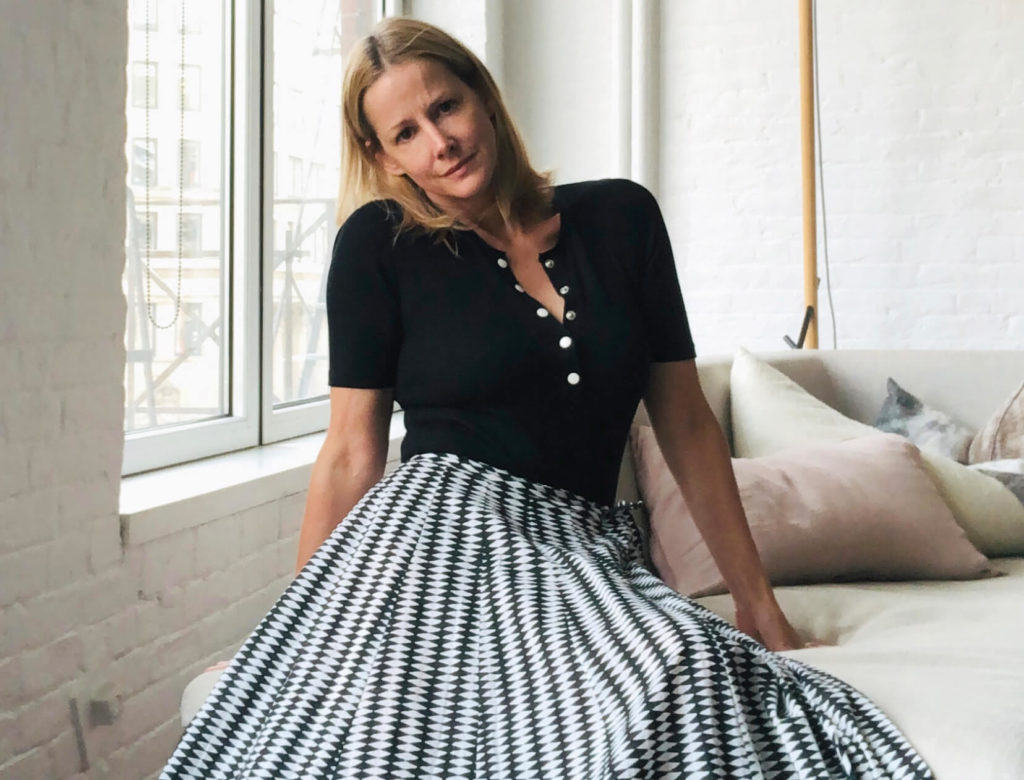 Style for (Socially Distanced) Dating
Style for (Socially Distanced) Dating
A divorce propelled stylist Alyssa Dineen into the dating world. "Smartphones didn't exist when I'd last been single, let alone dating apps!" she laughs. It took the fashion world veteran two years to get the hang of it, but she eventually met her now-longtime partner and, along the way, started a business, Style My Profile, helping people style themselves for dates as well as the all-important photos for profiles and giving advice on bios and even social media. Now that dating has become even more complicated (Zoom! Distancing!) her style and dating tips are even more helpful; we've picked out some foolproof outfits, along with easy, natural-looking makeup and hair ideas to go with.
A Q&A with Alyssa Dineen
Q
How is dating different during the pandemic?
A
Many of my clients have more time than usual on their hands, so I've been encouraging my clients to use the time to try FaceTime and Zoom calls at least to initiate contact. Some dating apps, like Bumble, even have a way to video call (or just voice call) directly through the app, which makes a lot of people feel safer than giving out their number to a slew of new potential dates.
After first meeting on a video call, most clients are having one or two more longer video calls and then moving to a socially distanced in-person date: meeting at a park or going for a walk or going to an outdoor café or restaurant as long as you're able to sit far enough away to be able to take off your mask—it's tricky! Another suggestion is to meet for a bike ride, where it's easier to stay distanced.
Finally, if after meeting while masked, they decide they really want to spend more time together, people are deciding to get tested and then have the freedom to hang out, unmasked, at home. The issue here is you have to be ready to have the conversation of whether you're seeing other people or not. So that can add some unwanted pressure to the relationship.
Many of my forty-five-plus clients feel less comfortable with video chats, so it takes some coaxing. I'm advising the ones who are still not convinced they should try video chat to try out new texting techniques, to reach out to people they perhaps wouldn't, or simply to spend this time updating their profile with new pictures.
Which is a great note for everyone who isn't well versed in taking a selfie—this is a great time to practice at home. Another tip that's become more important: Before a date, look the person up on social media to see how socially conscious and active they are during these times. That's becoming a deciding factor for many people.
---
Q
What's the right outfit for a video date?
A
Of course, you only have to worry about your waist up. Other than remembering to shower first, I advise wearing something nicer than your pj's but something you would realistically be wearing at home. I have heard of people opting to dress up and actually eat dinner "together" for a second or third date, but keep it casual for the first one. Another suggestion for people open to video dating is to pick one evening a week to do a few short initial calls with potential dates all in one night. That way you can pull yourself together for that night—do your hair, put on a little makeup, choose a cute top, and get it all done in one shot.
Perfect video-date tops
Easy video-date accessories
Super flattering
video-date makeup
---
Q
How did you develop the idea for this business?
A
At the age of forty-one, I found myself single after nearly eighteen years of marriage (that math means I hadn't ever had a cell phone while single, let alone used a dating app). I threw myself headfirst into building my personal styling business after working only part-time for years after having children, and I slowly began to dip my toes into the world of online dating. After two years of failed attempts at online dating, I finally got the hang of it and met my partner of (now) three years. He was also divorced and new to dating, so we talked a lot about how the game had changed so completely since our last rodeos. We playfully tossed the idea around that I could be a dating and style advisor, but then when we Googled it and realized it didn't exist yet, it felt like a sign from the universe.
---
Q
The prospect of online dating is almost always daunting until you dive in. What do you say to people who are apprehensive?
A
I remind my clients that they can easily take their profile down at any time—that helps get people over the hump. And many people tell me that after hearing my story, they feel like, well, she's just like me and she found love online, so why not me?
---
Q
What are some techniques for getting psyched to try it?
A
So many clients feel intimidated. I guide them toward one of the swiping apps where we put a few (carefully chosen) photos and a brief bio up and start swiping right away, before they can back out. Clients are always pleasantly surprised and relieved to see how quickly they match with people. The instant gratification gets them excited to keep going.
Get your skin glowing pre-date
1
The night before:
Swipe on an overnight
peel pad and go to bed.
2
In the morning, after cleansing, smooth on hyaluronic acid.
3
Follow with face oil
(depending on your skin
type—oilier skin may just
want the hyaluronic).
4
Seal in the glow with
a great moisturizer.
5
Extra credit: eye cream.
---
Q
How do we find the line between presenting the best version of ourselves and rejecting aspects of who we actually are?
A
Our company motto is "New look. Same you." It's not about making yourself into someone you're not. I help people present themselves in the best possible way but not change who they are. What clients find is a renewed sense of confidence. Not just through new clothes and photos but also in creating the carefully considered wording of their bios. It's about bringing your best qualities to light.
---
Q
iPhone photos versus more expensive options?
A
Honestly, both work. Before lockdown, some clients would really want the photo shoot experience, complete with a makeup artist and hairstylist. Some need headshots for work purposes as well, so in these cases, it makes sense to bring professional photographers in for a shoot. But in most cases, an iPhone does the trick for profile photos.
---
Q
What kinds of pictures generally resonate?
A
Smiling, happy ones! It sounds cliché, but it really is so true. Often clients come to me and wonder why they're not matching with many people. It's almost always because they have too many serious or "sexy" photos and not enough sincere smiles.
---
Q
What kinds of pictures do you advise against?
A
Ha! There is a long list of don'ts in this category!
●

Not more than one picture with sunglasses or a hat

●

No big group photos

●

No bathroom selfies (this one is mostly for men)

●

No selfies in general unless you've practiced a lot

●

No yoga poses (I hear over and over again from men that these are way too common on women's profiles)
---
Q
What are the elements of a great first-date outfit?
A
You need to be comfortable in what you're wearing. And by this of course I don't mean wear your leggings or sweats. I mean don't try something new you've never worn before, shoes that might give you blisters, a top that you have to keep fidgeting with, jeans that are too tight around your waist. I recommend having a first-date uniform: something you feel great in, that you know fits well and that, most importantly, will allow you to walk out the door (or turn on Zoom) stress-free. A first date can be nerve-racking enough—you don't want to add trying on a million things before your date.
---
Q
Advice for profile photo outfits?
A
A profile should grab the attention but not be flashy, showy, or fake. The first two can turn people off from swiping on you and the third is a really bad idea—people will be disappointed when they meet you in person if you don't look like your photos. My goal is always photos that look like you're hanging out at home or at a local café with a friend who happens to take great photos of you. Whatever you wear should be somewhat subtle and not take away from you.
I recommend a little variety with outfits: a few casual looks and a slightly dressier one, and these could be mixed in with an active look or something you would wear for a hobby or interest.
dressy outfit
mellow outfit
active outfit
---
Q
Best makeup for profile photos? First dates?
A
Again, I'm not trying to make someone into something they're not. Unless the client is opting for a full photo shoot, I ask clients to come camera-ready with whatever makeup they would normally wear to work or out to dinner. For first dates, you want to look polished and put-together but not like it took three hours to get ready.
---
Q
Do nails matter? Perfume?
A
Clean nails of course! And I always err on the side of no scent because people have such aversions to and associations with smells.
---
Q
What are the keys to writing a great profile?
A
People are reading through these quickly and in quantity, so you want yours to stand out. When we work with clients, we send them a detailed questionnaire that prompts them to think about themselves and dive a little deeper. But one way people can do this on their own is to take a piece of paper and write down fifteen to twenty adjectives and other descriptors. Think about how your best friend would describe you, your mother, your sibling, your coworker. Write all these down. And then cross off loyal, kind, and funny! As much as we all want to put those in our bio, they are overused and therefore sound flat. Get weird. Get creative.
---
Q
Were there online dating mistakes or successes that you learned from?
A
I made many mistakes! My friends joked around that online dating became my hobby after I got divorced. I had fifty-fifty custody, so I had free time on my hands. What started as a distraction became a sort of research project and then a business. My first mistake was putting up only one photo and no bio. I think a lot of people new to online dating don't realize that this makes a big difference in how many and what types of people swipe right on their profiles: For one, you don't seem that invested. Two, people who are seasoned think that if you have only one photo, you're either hiding something or married.
---
Q
What are the most common tweaks you help your clients make?
A
Sometimes the simplest style changes make a difference. I had one client, a VP of a large company in her fifties, who reached out with the complaint that she seemed to match and get messages only from guys who were solely interested in sex. I looked at her profile images: She had two profile photos, one making a kiss to the camera and the other in a low-cut dress. What she thought of as a little flirty was being interpreted as just wanting sex. With some art direction and help with wardrobe selection, we corrected her issues in no time.
---
Q
You started out thinking this would be a great service for men, but most of your clients have turned out to be women. Why do you think that is?
A
I believe it's because women are committed to improving themselves. Most men think they are great just the way they are, and even if they were to question their own sense of style, they wouldn't think to Google a stylist. Almost all of my male clients are in their twenties. Which gives me hope for that generation of men—they are interested in self-improvement!
---
Q
Have you worked with nonbinary clients?
A
Not yet! But we are very LGBTQ-friendly and supportive and have had many lesbian and gay clients.
---
Q
What's the ideal amount of time and investment for a first date? Is coffee always preferable to dinner?
A
My now-boyfriend told me that when he first started dating after becoming single, he was going by ancient rules that you always took a woman out for dinner on the first date. He was spending hundreds of dollars on dating, and not only that, but he was often stuck on a date for an hour or more, knowing he wasn't interested after the first five minutes! Keep it short at first.
---
Q
What aspects of online dating most surprise you and your clients?
A
So much of online dating is surprising for people: The number of people looking for BDSM, men who think it's okay to text you photos of body parts before even meeting you, and the many people who like to text…and text and text and not actually meet. This is not to be discouraging. I feel that the more prepared you are for all that stuff, the less shocking it will be. With online dating, you take the bad with the good. There are really good people out there—and you can absolutely find them.
---
Alyssa Dineen is a personal stylist and the founder of Style My Profile, a consulting business that helps people style their online dating profiles by giving expert advice on everything from great first-impression photos to pre-date prep.