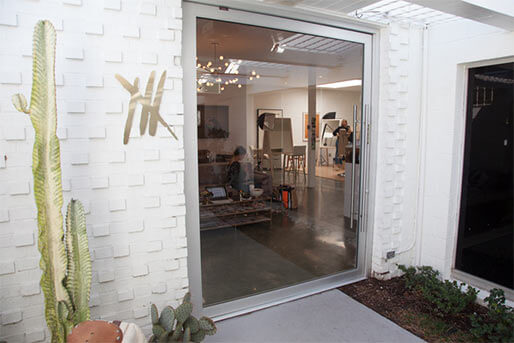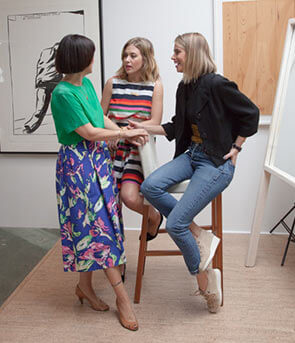 Striiike:
The Day to Night Makeover Edition
It doesn't get much more adorable (or Hollywood) than this: Three gorgeous sisters, who make up the perfect beauty triumvirate, banding together to open their own Beverly Hills studio. Kristie Streicher does the ideal feathered brow (as documented on goop); Jenn Streicher does makeup; and Ashley Streicher does hair. And when they're not on magazine shoots or doing red carpet work, they can all be found at Striiike, where they specialize in editorial mini-makeovers—i.e., a post-work crowd who stop by for a fast hair and makeup refresher before a night out. In fact, they do what they call a Lightning Striiike: All three sisters descend simultaneously for a 15-minute touch-up-and-go ($100). Nothing is more thrilling to all of us at goop than a no-fuss, extra-fast hair and makeup job, so GP gave the Lightning Striiike a whirl before the Baby Buggy Fatherhood lunch last month; and three goop staffers succumbed to more leisurely day-to-night transformations.
GP
GP was in and out (and dressed—in the Michael Kors kitten heel pump, no less) in under 20 minutes.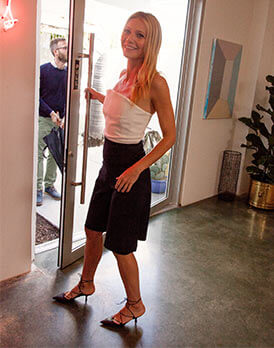 Emily
Marketing Assistant (and bright young thing) Emily Altieri has that whole fresh face thing down for day: So Jenn and Ashley decided to turn her into a Dolce & Gabbana-inspired vixen with a complicated (but easy) braid and vibrant red lip. Kristie has Emily on a regimen to grow out her brows a bit, so she just touched them up and dyed them slightly darker.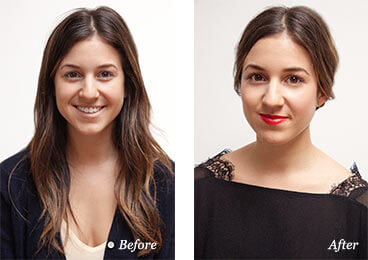 Hair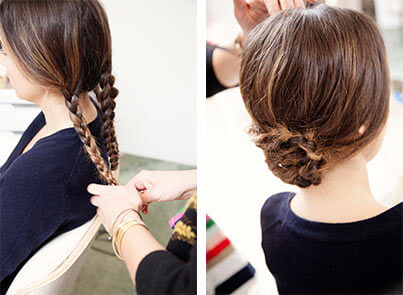 "This is a great style for hair that's a couple of days old, or if you need something up for an outing or event." —Ashley
Use a dry texture spray on roots to get rid of any excess oil and give hair good texture. (Ashley likes SachaJuan's dark volume powder.)
Split hair into three sections at the back of the head like you're going to start a regular braid.
Loosely braid each section and fasten. You should now have three braids.
Gently pull each braid apart a little bit to make each one bigger and more textured.
Next, get creative and loosely start placing the braids and pinning with hair pins. (Ashley likes the ones from YS Park.)
Makeup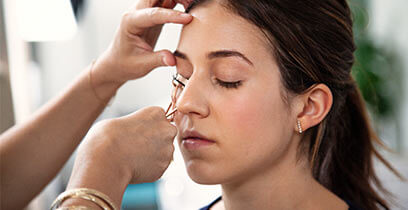 "Because the focus was on her cute braid, I applied a bit of tinted moisturizer, a pop of glowy cheek color, and a bold orangey-red lip." —Jenn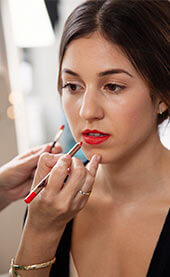 Eyebrows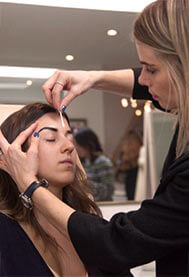 Laurie
According to Fashion Director Laurie Trott, her goal was simple: "I just want the hair I was always meant to have—and an f-me-please smokey eye." Accomplished, right? Ashley accomplished the former by using a flatiron to get the wave, and Jenn went in for a four-step kill.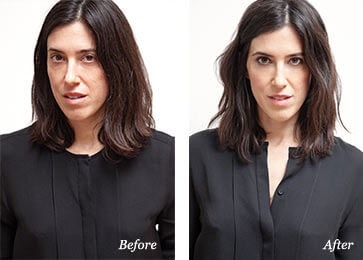 Makeup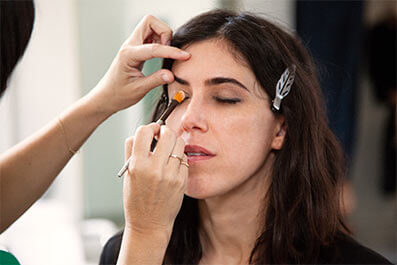 "I gave Laurie a "working day appropriate" smoky eye. I started with an eye primer and then a bone colored shadow over the whole lid. I then used a black liner over her lash line and smudged it with my finger and then used just a bit of a metallic black shadow over that and a bit on the lower lashes, making sure to keep most of her lid light. I finished with a few coats of black mascara. " —Jenn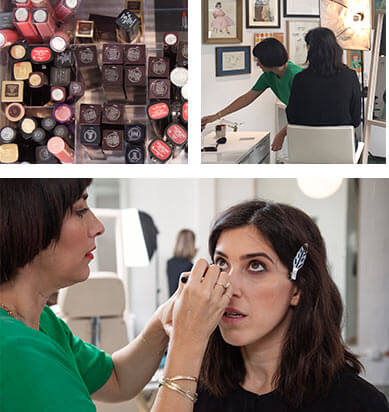 Hair

"This is perfect for second or third day hair." —Ashley
Start with dry hair and generously spray roots with a dry powder spray. (Ashley likes SachaJuan's dark volume powder.)
Tip your head over and run your fingers through your scalp giving a little head massage to work the product in.
Julie
Design Director Julie Jen was an eyebrow virgin: "I have literally never had my eyebrows done," she explained. "Tinting? Who knew." Kristie went to town on Julie, using vegetable dye to bring out her natural arch. Ashley gave her hair some volume, while Jenn perfected her complexion and gave her an overall dewy glow.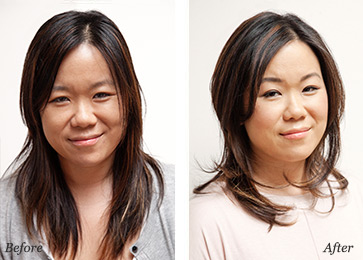 Eyebrows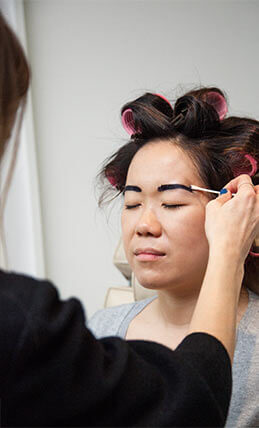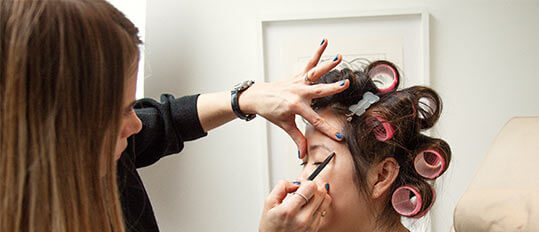 "Brows were the focal point here so I really wanted to show the power of what a great brow can do for the face. Julie had a full brow to start but really needed a shaping. We focused on elongating and lifting the outer arch to create the best frame for her eyes. Even though her hair is black, I started by using a dark brown tint on her eyebrows to fill in sparse areas and create depth. Brows don't have to be dark or over shaped to be strong and frame the face well. We then tweezed all of the lighter, "downy" hairs that surrounded her brows to create contrast. We then used a clear, strong hold eyebrow gel to keep shape in place by brushing hairs up to make look more natural and full."
Hair

Wash with a volume conditioner: Ashley likes 7 because the natural quinoa protein bulks up the cuticle.
Comb through a mousse or volume spray. (Ashley likes Leonor Greyl Mousse au Lotus Volumatrice.)
Flip hair over and then power dry it at maximum volume at the roots until hair is 75% dry. (Ashley likes the GHD Air Dryer.)
Starting at the nape, take 2 x 2 inch sections and round brush using a medium size boar bristle brush. (Ashley likes the ones from Ibiza.)
After you've round brushed your section, replace the round brush with the same size velcro roller.
Repeat over entire head.
Let cool for 15 minutes completely (do your makeup, have a juice, make a phone call).
Spray all over with a light hold hairspray. (Ashley likes SachaJuan's.)
Release velcro rollers and give another spray.
Makeup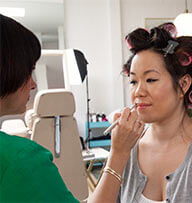 "I concentrated on giving Julie a glowy natural complexion. After applying a foundation primer I followed with an oil-free medium coverage foundation and blended it with a moist beauty blender. I finished with a light reflecting setting powder and a beautiful shimmer blush."
Photos by Jay Hanna