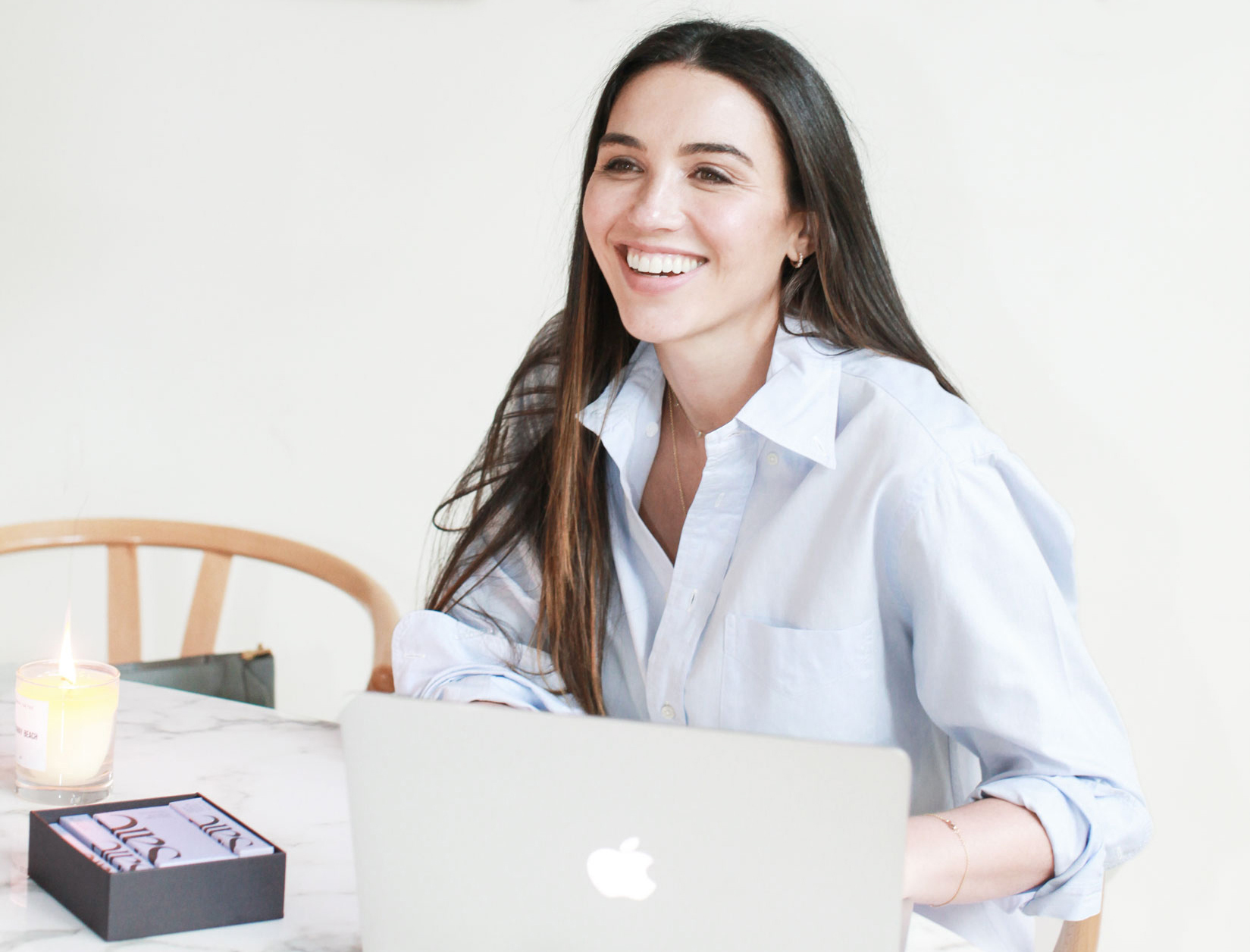 Something Called Glowy Super Gel
Is Really Cheering Us Up
It seems long ago now, but it was actually a recent sunny day when we sat down in a breezy, shaded courtyard on Melrose Place for citrus crostini and vegetarian Niçoise salad with a very surprised, delighted, and it should be noted, glowy Laney Crowell, the founder of the hot new start-up Saie. In a cropped, boxy white tee and high-waisted, dusty-pink pants, she whispered that the line's newest launch, Glowy Super Gel, was selling out across the country. "We didn't expect this," she said, but looking across the table at Crowell's skin, we weren't exactly shocked. "The idea is the filter you wish you had on all the time," she continued. "On Saturday mornings when I take my two-and-a-half-year-old to the playground, I just want to put on one thing that will brighten my face, blur any imperfections, and give me some semblance of being awake and glowy—even when I'm not."
Practically everything in the preceding paragraph makes us wistful—the sunny restaurant, the playground, the idea of something selling out being a positive—and Crowell, like all of us, misses the lives we led just a few weeks ago. But the gel that we took home from that meeting is still delighting us.
We had to try the cool, featherweight gel then and there, and squinting into our makeup-bag mirror, we had to admit that our skin had been transformed pretty much instantaneously: smooth, fresh, and glowy, as if we'd just emerged from the world's best facial. Now, seconds before our next video call, we smooth it on to feel (and look) glowy, rested, less anxious. Crowell does, too: "I really miss the faces and energy from my small team, but it's important for me to show up to our morning call feeling put-together and ready for the day."
A little backstory on Saie (pronounced "say"), which evolved out of a conversation that started on Crowell's clean beauty blog back in 2016. A former fashion editor and beauty exec at Estée Lauder, Crowell got into clean beauty after considering the effects that products—those in her cleaning supplies, as well as the ones in her medicine cabinet and shower—might have on her health. "There were already thousands of options in clean skin care, ingestibles, and bath products out there, but it's harder to formulate clean makeup than it is clean skin care," she said. Existing clean makeup options didn't have the performance, price, or chic packaging Crowell's followers were looking for. "'Mascara, mascara, mascara,' that's what they kept saying," recalled Crowell. She knew where she had to start.
The Curler for
Wide-Awake Eyes

Saie

The Lash Curler

goop, $18

SHOP NOW

Her second product evolved out of the first. "This is a funny story," said Crowell. "A month before we launched, I went to my first meeting with a retailer—the only one I wanted to work with—goop. I'd made an eyelash curler in Saie lilac to give to editors and influencers as a cute gift. But when [beauty director] Jean Godfrey-June saw it, she told me I had to sell it." The resulting sustainable curler is amazingly light, never pinches, and completely sidesteps the dreaded L-shape crimped lash. "It gives you this really gentle curve," said Crowell.

The Flirty-Lash
Mascara That
Never Flakes

Saie

Mascara 101

goop, $24

SHOP NOW

"Many clean formulas end up underneath your eyes, flaking and giving you racoon eyes," said Crowell. "Our thinking was: Develop a mascara that never really dries down. You can wear it from 8 a.m. to 8 p.m. and never get fallout, flakes, or smudging. And then when you go out, you can reapply and you don't get crazy clumping. Also, the brush we chose makes it super easy to mold the lashes." The ingredients include an ethically sourced beeswax from Australia, organic non-GMO shea butter that nourishes lashes, and something called quackgrass. "It's the weirdest name, but it's rich in minerals, which can help strengthen your lashes," she said.

The Allover
Glow for Skin
(That's Now
Back in Stock)

Saie

Glowy Super Gel

goop, $25

SHOP NOW

Crowell's crowdsourcing worked again for the Glowy Super Gel: "People wanted a cooler way to highlight," she said. "They were over strobing, contour, and glitter. So we created this universal pearl mix in this really beautiful champagne color. The particles are small, so you don't get that 'Oh wow, this person just put on a glow product' reaction." It works as primer, and as Crowell's great-looking skin made apparent, it's also gorgeous alone. For an even subtler glow, mix it with foundation or tinted SPF. And for full-on radiance, layer it over foundation.
How Crowell managed to create three bestsellers in her first month was a combination of practicality and a little self-reflection. "When I was working on bringing the brand to life, I meditated every day," said Crowell. "Meditation, by the way, changed my life. I've always been someone who runs on the anxious side, and it's the only thing I've ever found that truly balances me." In her daily meditations, a name kept coming to her over and over: Sarah Tallman, a former coworker. "It was weird—I hadn't talked to her in four years, and we hadn't even been particularly close. Plus I could never afford someone at her level." Crowell reached out anyway. Tallman had just left her job, with the mission of working only on clean beauty. Now, with a new head of product development (and her industry connections), Crowell was able to work with the best labs in the world. "These are labs that would never work with a start-up, but they are also where the best chemists are." Saie's "no" list is also extremely strict. "Over 2,000 ingredients," said Crowell. "No ingredients that are known to be bad for your body.