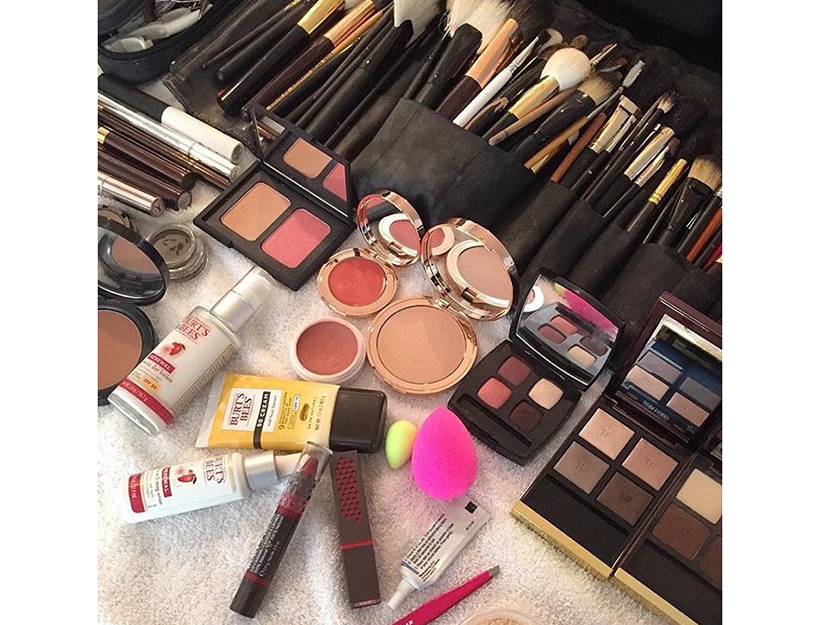 One of the Industry's Best Makeup Artists on Cleaning Up Her Kit
Makeup artist Georgie Eisdell got her start as a teenager in Sydney, Australia, after the hair-and-makeup pro for a theatrical dance performance Eisdell was in pulled out at the last minute. Eisdell stepped in, got her mom to assist her—and won an award for best hair and makeup. "After that show, I realized I wanted to do this forever," says Eisdell, now LA-based. After a final year in school, she studied makeup—and was off to the races. As her career has evolved, she's worked with photographers from Mario Testino to Annie Leibovitz, for magazine shoots all over the world, and on celebrities, red carpet and off (she's a GP favorite). Along the way, she's become devoted to clean, all-natural products: "I wanted to really know what was I putting on and in my skin—and other people's skin," she says. "Natural makeup has really become a huge part of my kit." That passion has translated to a contract with Burt's Bees, and an ongoing commitment to clean-wherever-possible.
A Q&A with Georgie Eisdell
Q
From a makeup artist's perspective, is there any difference—especially color or texture-wise—between clean and conventional makeup?
A
We're really lucky now, as more and more incredible natural products are available, with incredible pigments and real lasting power. There really is no reason not to use natural products!
Texture, for me, is all in how you apply a product. Great color can come instantly—or it can come from building a product.
I really do love the feeling of a natural product going on the skin. It is very different to me—I find it smoother and easier to manipulate, plus you know you're doing something good for your skin.
Q
How do your clients feel about clean and natural beauty products?
A
To be honest, they don't always look at what I'm using. When they ask what something is, or comment on the feeling of a product, that's what I'm interested in. It's genuine.
Q
What's your favorite recipe for no-makeup makeup?
A
Less is more: Great skin goes a long way. If you prioritize taking care of your skin and prep it before application, you don't need as much makeup.
I like to use a little of everything: a little mascara, concealer where needed, tinted moisturizer—I love the mineral one from Juice Beauty, little bit of blush, and a tinted lip balm from Burt's Bees. Blending is the key to no-makeup makeup.
Skincare is everything to me. You have to have a great base before anything can work on the face. I love iS Clinical's Pro-Heal serum under moisturizer. I also love Burt's Bees BB Cream either to use as your base moisturizer, or over the top as a light foundation to even the skin tone.
Q
What's the quickest way to make someone look glamorous?
A
Lipstick and mascara. For lipstick, I love Burt's Bees new ones—not only are they really hydrating, but they last! My favorite thing about them is the pigment: What you see is what you get, so there's no need for layer upon layer. Color-wise, I can't go past a gorgeous red lip. Red is great for all ages and skin tones—it's all in the application and right shade of red. I prefer a red stain for younger women, and a more solid red lipstick for older women.
A good nude can go on every skin tone and age, too—I am loving Burt's Bees lipstick in Nude Nile at the moment.
As far as mascara, my favorite right now is Faux Cils from YSL.
Q
What are the biggest mistakes people make with makeup?
A
Far too much of everything! Natural beauty is meant to shine through and not be covered like wall paint. No one needs to see obvious highlighting and shading, nor do they need to see brown around the hair and jawline.
Q
Do you have any food, exercise, or energy secrets?
A
I could live off oysters and prawns—I love fresh seafood, and I'm obsessed with a restaurant in Manhattan Beach called Fishing with Dynamite. I drink a lot of water, but I love a chai tea or great cappuccino for energy. My favorite drink—not for energy, though—is a delicious glass of red wine. I go to a great class called Training Mate in West Hollywood. It's an Aussie-owned and -inspired circuit training class. I also love Cardio Barre—it makes me feel like a ballerina for an hour. Both are great fun and awesome workouts.
Q
What's your favorite thing about being a makeup artist?
A
Collaborating with other artists and stylists to create each look—I love seeing the end product. I live for the moments when the outfits goes on and they walk out the door or on set. No look is ever the same, so it never gets old for me. I love to experience new things and meet new people, and every day at work is a different experience, so it's always new and exciting.
Q
Any other wisdom you want to drop on us?
A
Makeup: Once you think you're done blending, blend some more.
Relationships: Always have projects.
Life: Enjoy your work, but never forget to really enjoy your life—go on vacations, relax in the sun, have another glass of wine. Treasure every minute of it!