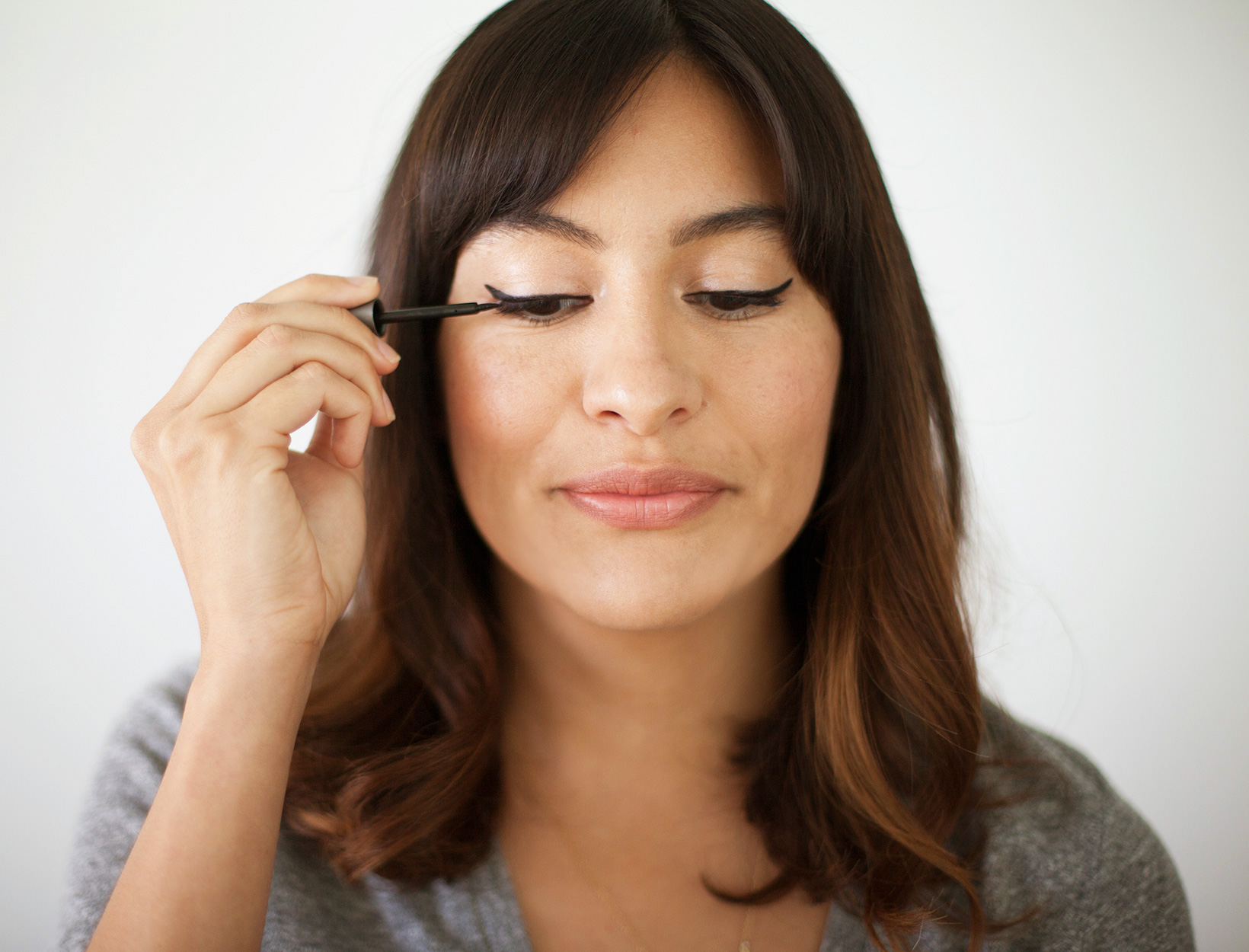 One Amazing Eyeliner, Three goop Staffers
A crisp bit of deep, dark, super-pigmented liquid eyeliner goes a long way toward making anyone look more awake—while you might assume liquid eyeliner is for the more makeup-devoted among us, its intensity actually allows for a more natural, makeup-free look, since you don't have to pile it on to get results. Here, LA makeup artist Miriam Nichterlein created three looks with the new, hotly-anticipated, pitch-black liquid liner form W3LL People—from virtually undetectable definition to full French-girl smokey eye—on three now-wide-eyed goop staffers:
INVISIBLE DEFINITION (and the illusion of thicker lashes)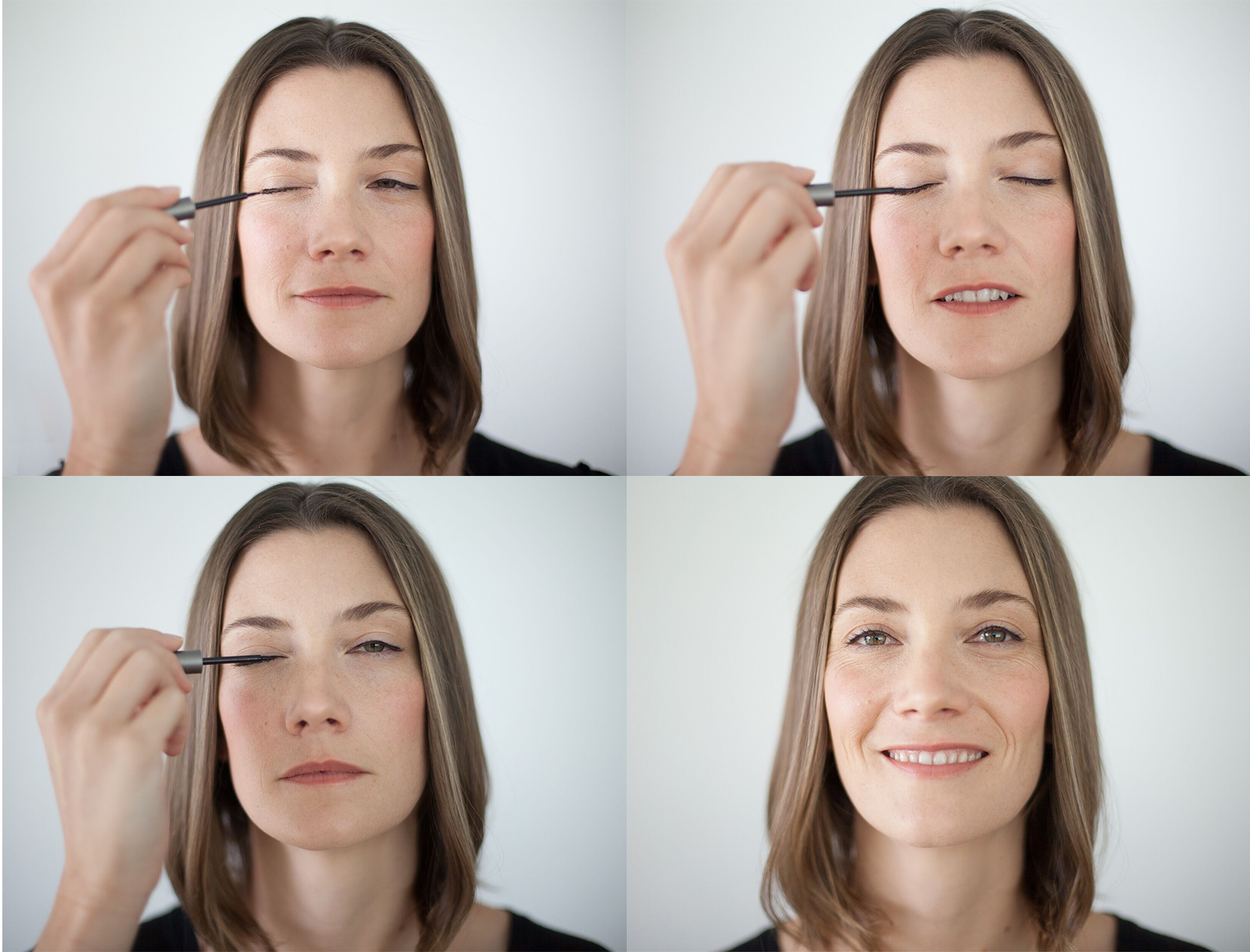 "I'm not a makeup person at all, but I have to say, I love how this looks—it doesn't look like makeup, just that my eyes are more noticeable!"
—Thea Baumann, Food Editor
Apply as fine a line as you can, connecting the dots between your lashes. Work from the outermost point of your upper lashes inward, till you're about a third of the way toward the innermost corner. Open your eye to check your work (some people work with their eye open—that is okay too).

Extend the liner inward from where you left off. Allow the liner to dry, then open your eye to check how it looks, then fine tune with your Q-tip if necessary. Some people will be happy to stop here.

For the final step, go back over the line, working this time from the inside out. Start at the inner tear duct and work outward, meeting with and solidifying the line you had worked inward.
FLIRTY CAT-EYE (bonus: instant style/confidence)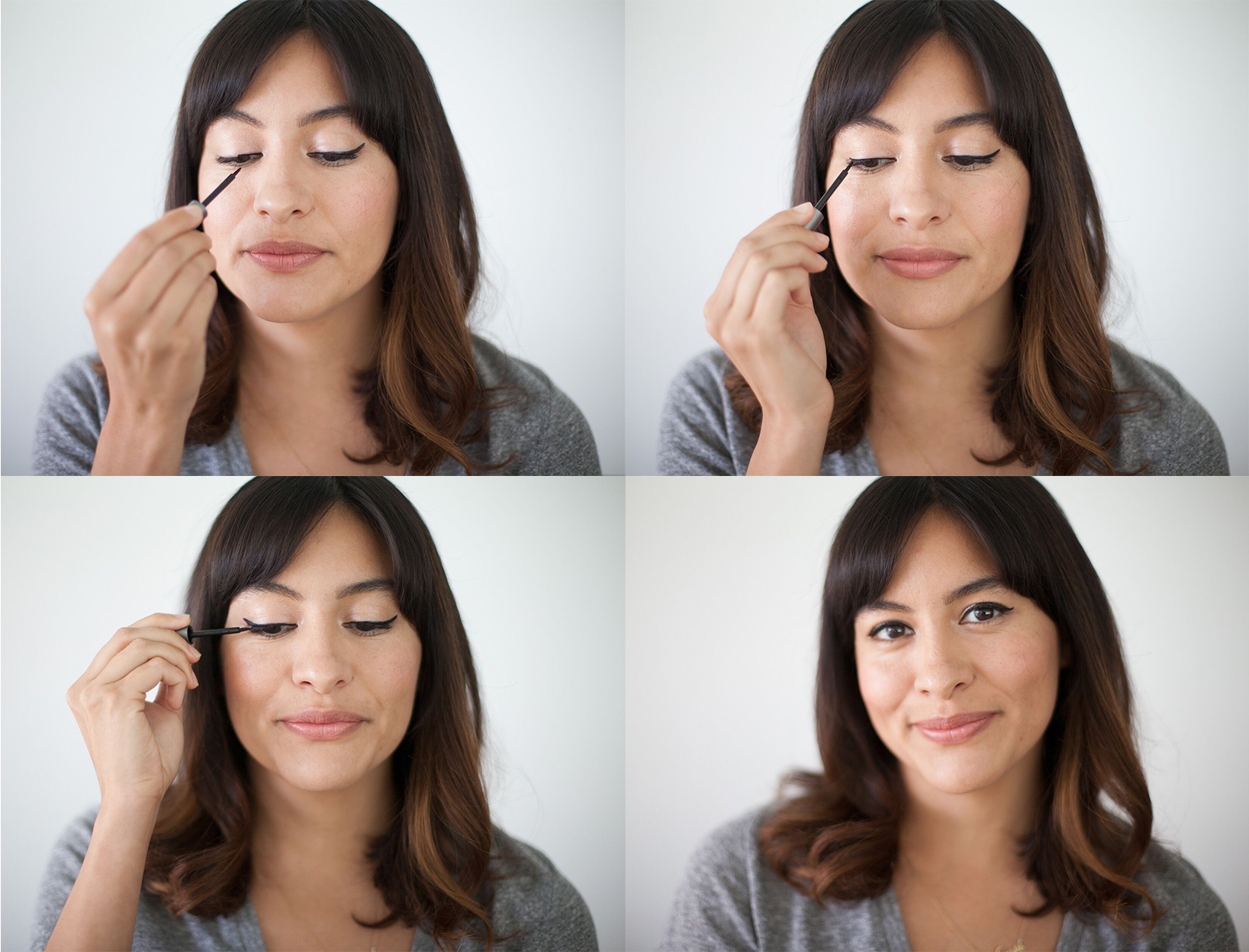 "This look is just so fun—and simpler than I thought! I'll wear it to go
out, of course—it's daring and feminine all at once."
—Jasmin Perez, Social Media Editor
Working from the inner tear duct, apply a fine line (think of connecting the dots at the base of your lashes) from the inner corner toward the center of your eye. If you like, layer the liner and work over the line until it's smooth, even, and the thickness you like (err on the side of thin to begin with–you can always build later). Clean up any mistakes with a Q-tip.

Once you're happy with step one, continue the line out toward the end of your lashes. Stop about 2mm before the end of the lashes (because after this, you're going to extend the line upward to create the cat eye).

Look in the mirror and figure out where you want you liner to end. (You can place a tiny dot of liner at the end point to help guide you where you want to go.) Starting at the end of the line you've already made, pull the liner upward, eventually meeting the point you marked out (or where you want to stop), channeling Sophia Loren. Use a Q-tip to correct the shape if necessary.
DEFINED-BUT-SMOKEY EYE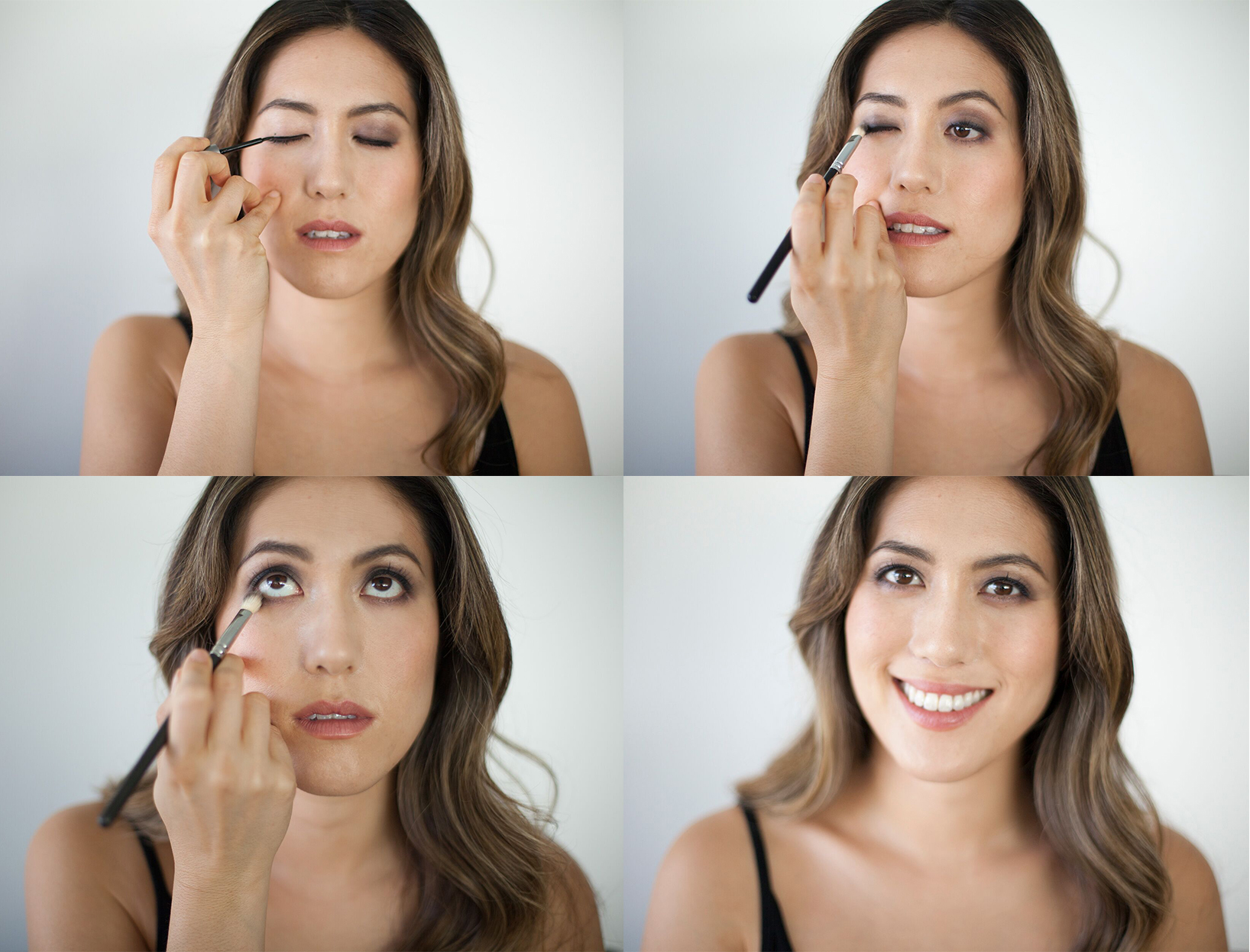 "This is great–you get the sexiness of the smokey shadow,
plus the eye-opening from the liner."
—Diana Ryu, Director of Project Management
Apply a generous amount of liner (follow the directions for Invisible Definition) along the lash line.

Using a soft blending eyeshadow brush (Beautycounter makes a great one, as does Urban Decay), begin to smudge the line, working in circular motion over the lid. Blend and blend until the line gets really diffused. (You can apply more liner and repeat this step for a darker smokey eye.)

Over the top of the diffused liner, apply your favorite eye shadow (we used Rituel De Fille Ash and Ember Eye Soot in Obsidian). Using the same blending brush and circular motion, blend until you love how it looks. You can also work a little eye shadow lightly along your bottom lash line, if you like.
W3LL PEOPLE Expressionist Liquid Eyelinergoop, $18

This incredible (clean, nontoxic) liquid liner is as brilliant for a great cat-eye swoop as it is for subtle, natural eye definition. It's blackest-black and incredibly easy to apply—focus on the base of the lashes and work outwards. After a few minutes of play where you can easily wipe away mistakes, it sets and lasts better than most conventional chemical eyeliners: It doesn't smudge, flake, or fade away, and it's water-resistant. Miraculously, because it's made with skin-calming organic rosemary oil, it's great for people with sensitive skin, eyes, or both. Whether you love dramatic liner or practically none, this is the one for you. TIP: Subtly applied liquid liner means you need fewer coats of mascara to define your eyes.
Makeup by Miriam Nichterlein