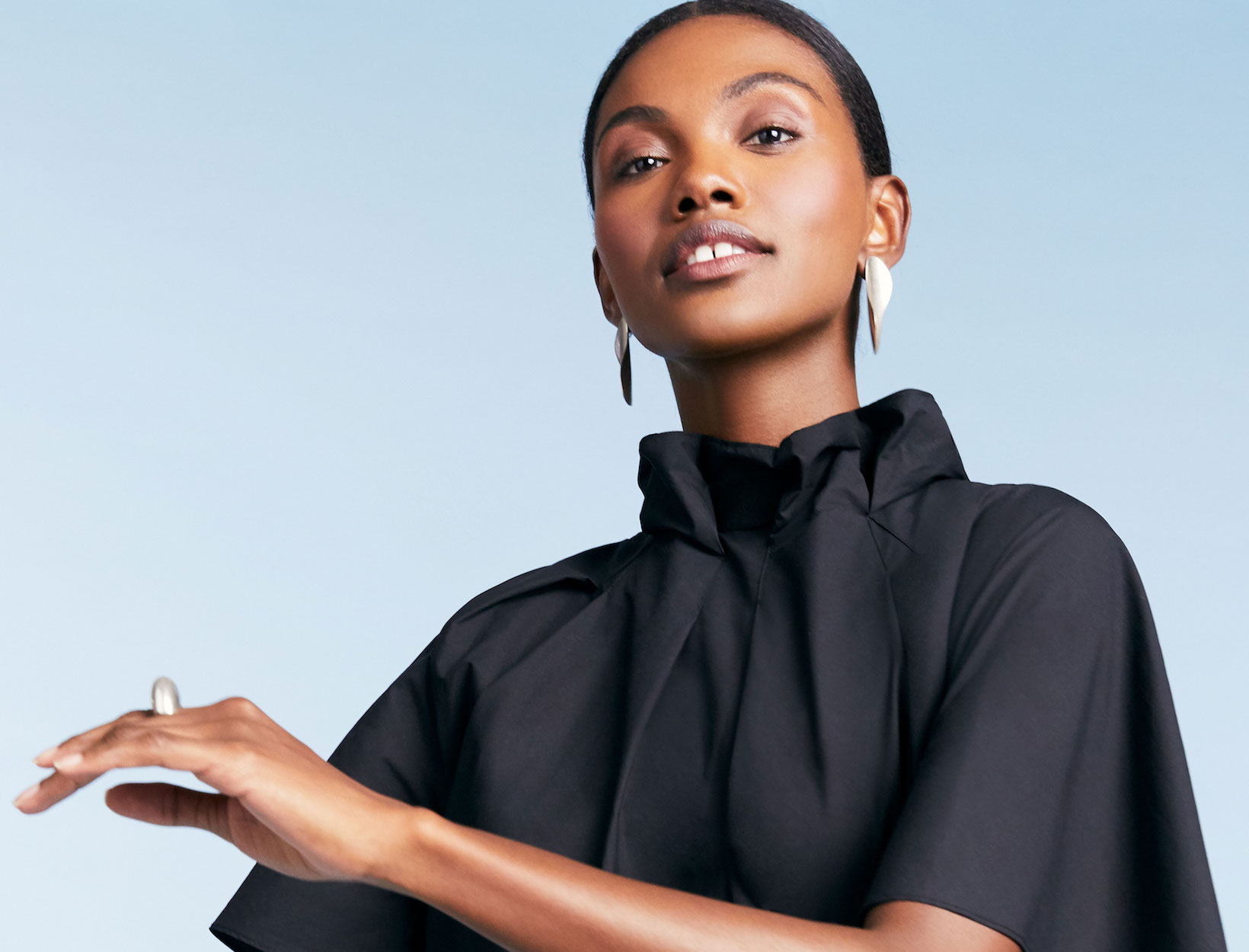 How to Achieve the
No-Makeup Look
The one thing we want right now (along with the bubble-sleeve blousy top and sleek shirtdress from the new G. Label collection) is to look as effortlessly gleamy and crisp as model Milan Dixon does in this shoot. LA-based makeup artist Sandy Ganzer was on set working her magic, so of course we interrogated her thoroughly. Here's how she did it:
1
SMOOTH THE SKIN
To create a softly flawless complexion, Ganzer likes to smooth on liquid foundation, tinted moisturizer, or—our favorite—tinted face oil to even out the skin.
2
CHEEK TINT IS THE KEY
"One of my favorite things to do for a clean look like this is put a little color on the cheeks, then use that same color on the eyes—it brings it all together," Ganzer says. "It's super subtle and a way to look polished without looking like you're trying too hard. A slight wash of color shows that you care but not too much."
"There are tons of products for lips, cheeks, and eyes that you can use to keep it really simple," says Ganzer. She likes to use a brush with clients for the most even application, but for doing your own makeup, she prefers the obvious ease of blending with your fingers.
After doing the cheeks, she smoothed a touch of the blush along the curve of the eyelids with her fingers, avoiding going above the crease. "When you go above the crease, it becomes a little '80s, less French-girl no-makeup makeup," Ganzer explains.
3
HIGHLIGHT
After evening out the skin, Ganzer gently traced luminizing pigment over the high points of Dixon's cheeks and along the bridge of her nose. "This creates some contour without a traditional heavy bronzer highlight. A subtle sheen versus full-on sparkle is always so pretty," she says.
4
DEFINE YOUR BROWS
Dixon has amazing brows to begin with; Ganzer wisely chose to play them up. "I filled in her brows
lightly—the look is so simple. I wanted her brows to be a feature or else everything could kind of get lost." After a flick of mascara, and Dixon was more than ready for her G. Label.